Many people want to deep clean their residence on their own, yet, they do not have the plan nor guidance for such practice. Should we work on a checklist or jump right into the job? In order to solve your problem, Sparkling and Beyond will give you a step-by-step guide of deep clean. Deep Cleaning the whole house is indeed complicated. Therefore, this blog will focus on deep cleaning the living room, one of the most important rooms in your house! These steps should help you better tidy up your living room, making it a more refreshing and restful space.
Step a. Move things away before deep cleaning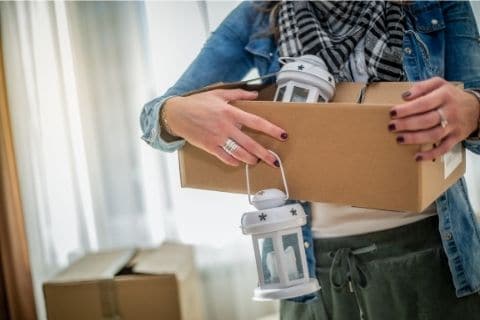 Not every item in your living room is needed and sometimes they can be regarded as clutter or obstructions during cleaning practice.
In order to deep clean your living room, you need to have a clear open space without these objects.
This can be done by putting all of your decorative items away. Once the room is clutter-free, you can start deep cleaning each individual piece of furniture.
Step b. Wipe off the dust in your living room
Before deep cleaning any of the surfaces or pieces of your furniture, make sure that they are free from dust and dirt buildup.
To do this, dusting and vacuuming couches and shelves should suffice. For more tender surfaces, use a feather duster instead of the normal bristle ones so as not to scratch them.
Step c. Deep clean the couches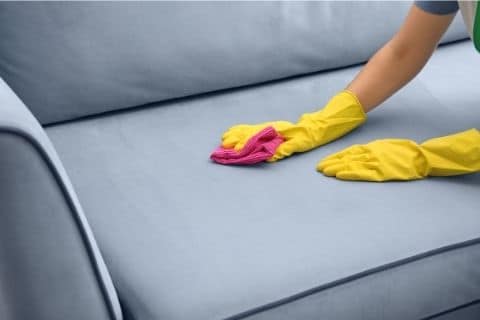 To deep clean your couch, start with vacuuming the cushions and pillows to remove any dirt that has piled up since the last cleaning of these items.
Following this, deep clean your couch with a shallow damp cloth. Make sure not to scrub it too hard as you don't want to damage or scratch any part of the sofa that is usually made out of delicate fabric or suede.
Lastly, dry the couch with a soft towel by blotting rather than dragging across the surface.
This method for deep cleaning can also be applied to other pieces of furniture as well.
Step d. Deal with the shelves in the living room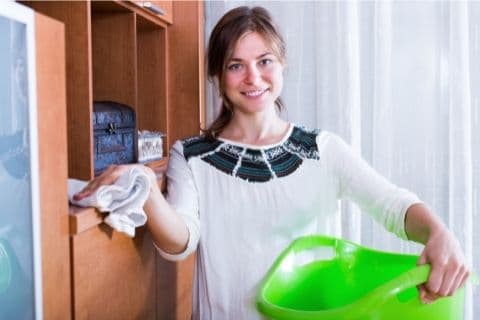 Shelves cleaning is easier to deal with compared to other appliances. This begins by wiping the shelves with a duster after putting all the items away.
Alternatively, you can also clean the shelves with a piece of wet cloth.
This cleaning method can be used for similar instruments such as coffee table, mantel and cupboard.
Step e. Deep clean the rug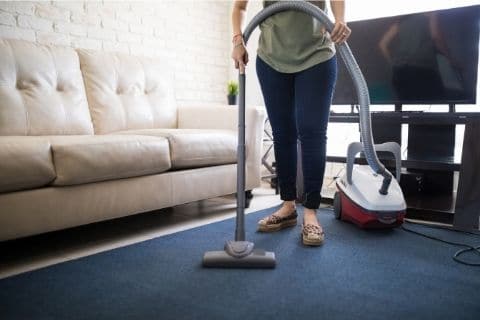 The best way to deep clean a rug is with a carpet cleaner machine, which allows you to use the high power suction combined with compounds for cleaning rugs.
After this, proceed to spray the stain-removal cleaner on a small rag or paper towel and blot them onto stains such as wine, sweat, coffee and other organic stains.
It should be noted that ink stains are not applicable. Make sure to give it enough time to set in before using a vacuum again so that the stain-removal products have enough time to be in effect before being sucked up.
Lastly, allow your rug to air dry for around 24 to 72 hours depending on the humidity and heat of the day.
Step f. Floor deep cleaning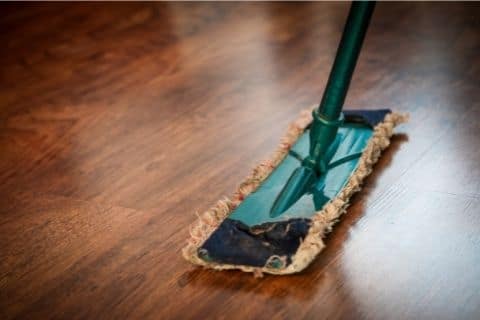 After coping with other furniture, it finally comes down to the last part – the hard floor.
If the ground is heavily soiled, it is best to use a dust mop rather than a regular broom to deep clean since it is designed for picking up larger debris and particles from hard floors.
Finally, go over the entire area with a wet mop using warm water mixed with dish soap.
Wait for the floor to dry completely before putting all the furniture back into place.
Conclusion
Deep cleaning the living room is not complicated yet not an easy job either. Simply remove all the things first, clean all surfaces with appropriate tools and deep clean each furniture with aforementioned methods.
Finally, dust and mop the floor before returning all items to their previous place. If you don't have time to try deep cleaning by yourself, you can book our deep cleaning service at sparklingandbeyond.com or call us on 415-966-1101. We offer a free quote and all kinds of cleaning services to help making your place nice and tidy!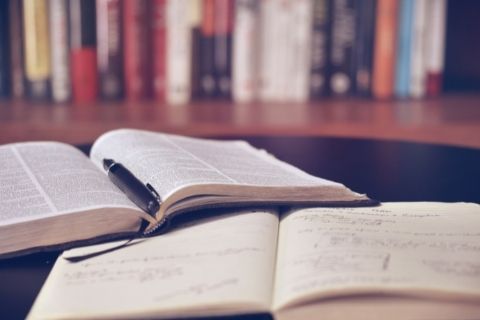 Arno Tseng
Arno Tseng. I love reading and watching TV shows. I also love a cosy, tidy house to relax and enjoy my hobby.