Epoxy floor is a kind of floor coating that is firm and very enduring to heavy objects. It is suitable for places like garages, solariums and busy walkways where heavy instruments and machinery are frequently moved around.
Applying the epoxy coating can prevent the risk of damaging the floor due to the fact that even with constant moving of heavy machines on the surface, the epoxy floor could still remain spotless and in good luster.
However, cleaning the epoxy floor is slightly different from other common flooring materials. Therefore, Sparkling and Beyond will give you some guidance of the epoxy floor maintenance in the following blog.
General maintenance of the epoxy floor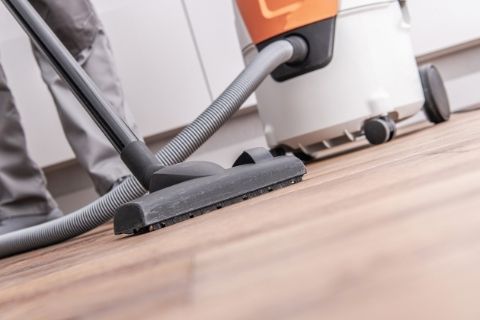 Firstly, it is important to keep the epoxy surface free of grime and sand, particularly when moving heavy instruments or vehicles on such a floor. Small particles like grit will be implanted or leave scratches on the surface if left on the floor.
To avoid leaving behind the gravel, the floor should be cleaned regularly with a vacuum attached with a tender brush. The more you use the epoxy space, the more frequent it should be vacuumed.
Furthermore, you can also scrub or mop the epoxy floor. However, it should be noted that soap-based cleaners cannot be used as they will leave a fog-like layer on the surface and damage the original gloss.
Simply brushing or mopping the floor with warm water is adequate. For more stubborn stains, there is no need to use rough tools like steel wool.
Instead, you can still scrub away the tough dirt with a soft-scrub or mild erosive scrubbing pad. If you want to use commercial cleaners, avoid the ones with citrus or acid ingredients as they will erode the epoxy coating.
Cleaning spilled liquid and other chemical on the epoxy floor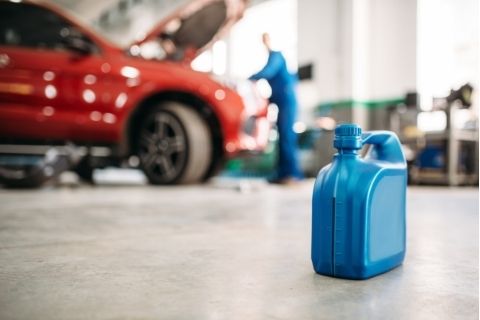 Apart from oil and chemicals, the rest of the spattered liquid is easy to clean as the epoxy floor is waterproof.
Similar to the grit, simply vacuum the liquid before wiping it with warm water.
On the other hand, spilled gas and chemicals used for the car maintenance can be wiped up by disposable paper towels.
Make sure to dispose of the towels safely as they, with the gas and chemical substance, could induce fire easily.
Keep in mind that car related oil and compounds should not be left on the epoxy floor too long as they will ruin the epoxy coating.
How to polish an extra dirty epoxy floor?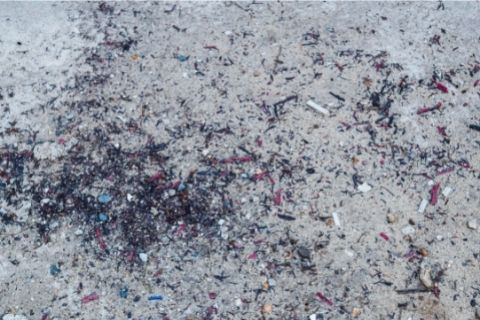 If you want to deep clean the epoxy floor, make sure to move away all heavy equipment and leave the floor empty.
Next, vacuum the whole place to remove any gravel and grime before applying a hard foam mop with warm water to wipe away tougher dirt.
Finally, mix ammonia with hot water (2 to 3 oz of ammonia with 1 gallon of water) and mop the epoxy floor again with this solution.
Conclusion
Although the epoxy floor is highly resistant to heavy equipment, it is actually vulnerable in terms of cleaning as certain products, when applied, can ruin the coating. Soap and acid related products, for example, should be avoided in polishing such flooring material.
In general, this kind of floor is easy to maintain with vacuums and brushes. If there is spattered gas or car-related chemicals on the ground, quickly wipe down with a paper towel to prevent further corrosion.
If encountering extra soiled epoxy floor, a vacuum, mop and ammonia solution would be enough to polish the place thoroughly.
If you have further enquiry, feel free to visit us at sparklingandbeyond.com or dial 415-966-1101 for a free quote and book our services!
Sparkling and Beyond is committed to offer you professional cleaning services for your house or office.
References: