Green living room designs are having a moment right now. We're seeing more sage, olive, and emerald spaces than grey, and we're drawn in by these calming, mood-lifting colors. It's also a very versatile color, with so many different shades available and so many different color combinations that will work. We are now having a lot of green tones that perfectly mix with other colors to create a very beautiful and elegant living room. Let's see how we can change our living room with green color.
Green Living Room Idea 1: Using green wallpaper and/or picture
Wallpaper is a surefire way to accomplish both. From soft, whimsical floral prints to bold tropical-inspired murals, there's a print to suit every style, but we love the retro feel of this textured geometric wallpaper. There's a vintage feel to the space, but it's kept very modern and fresh with the crisp white walls and quirky furniture.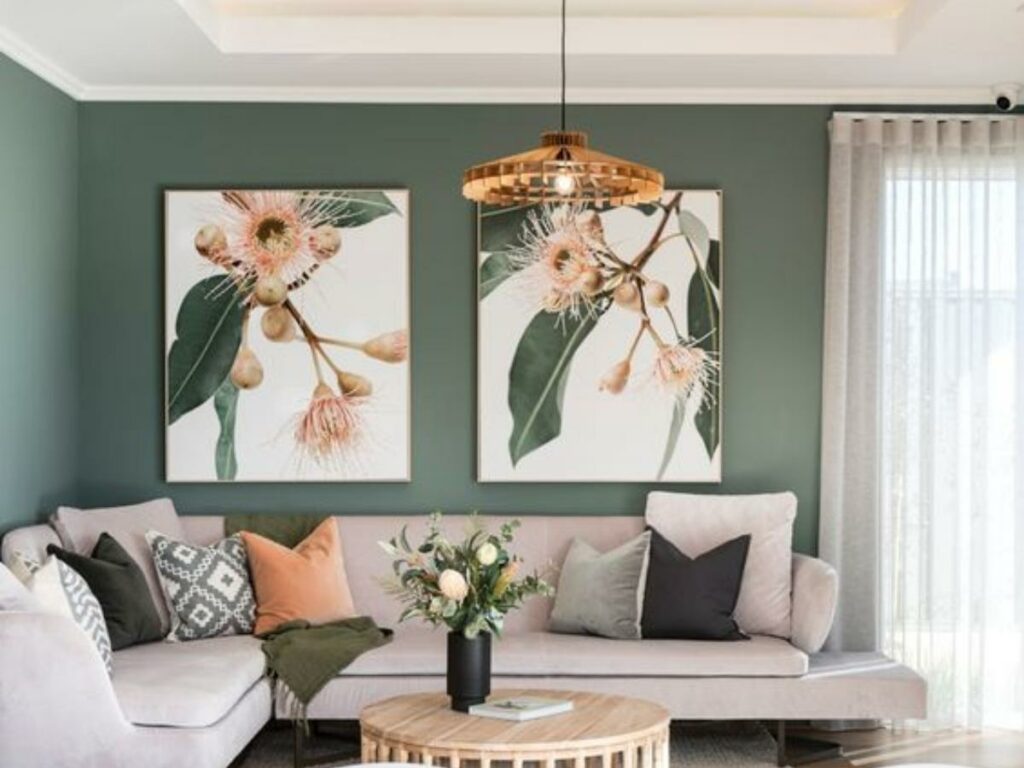 Green Living Room Idea 2: Green mix with White
Fresh green is a really easy shade to work within a living room, it works with both natural and artificial light so you don't have to worry about your room's aspect. It's a very elegant shade too and potentially the easiest green to live with so it is ideal if you are looking for a four-wall color.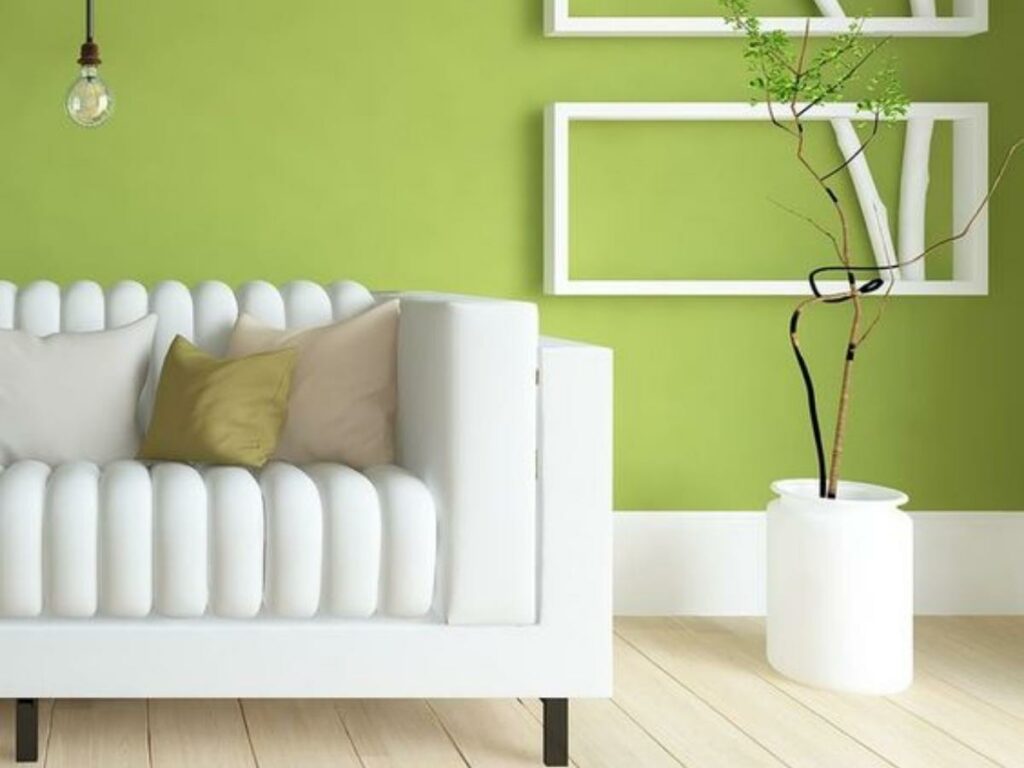 Green Living Room Idea 3: Emerald Green and Black
Pair green with black for a more dramatic look. Emerald green adds drama when paired with darker colors, so pair it with black accents or even copy this green living room idea and paint the floorboards and woodwork black. We love how this pale sage lifts those more sumptuous hues, adding an extra layer of green tones.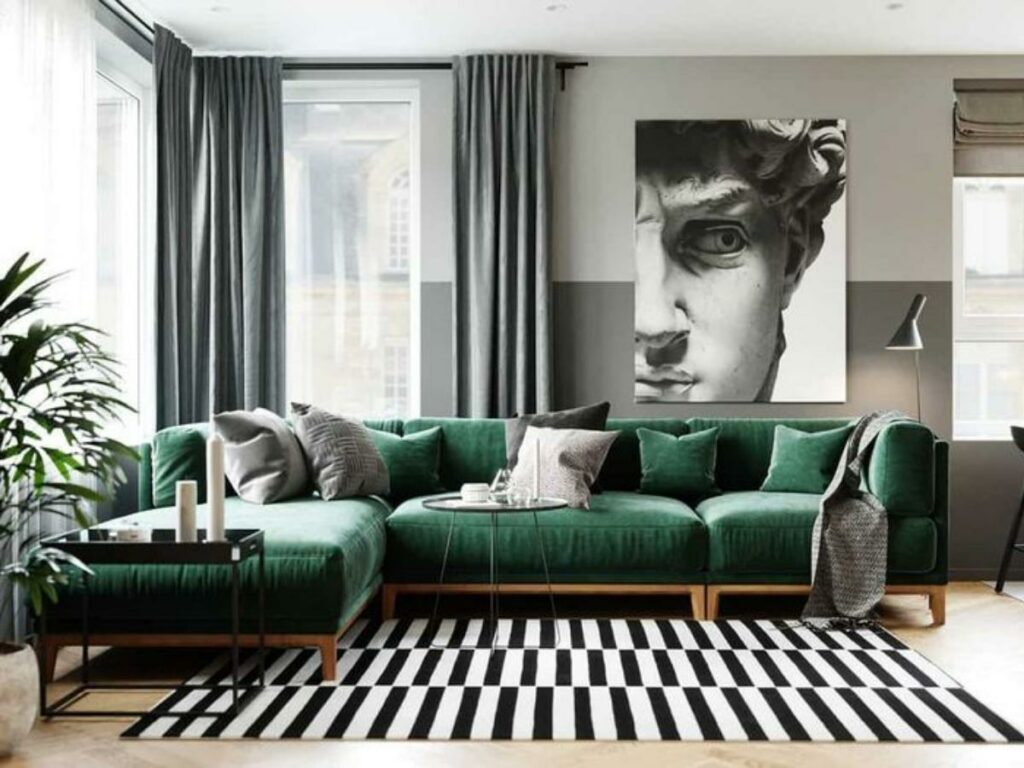 Green Living Room Idea 4: Green and Warm color
If you like dark green or olive green, a combination between green and orange can be a good choice. However, if paired with the wrong colors, olive can appear drab. It often requires a clean light contrast on the ceilings and woodwork to feel fresher and brighter.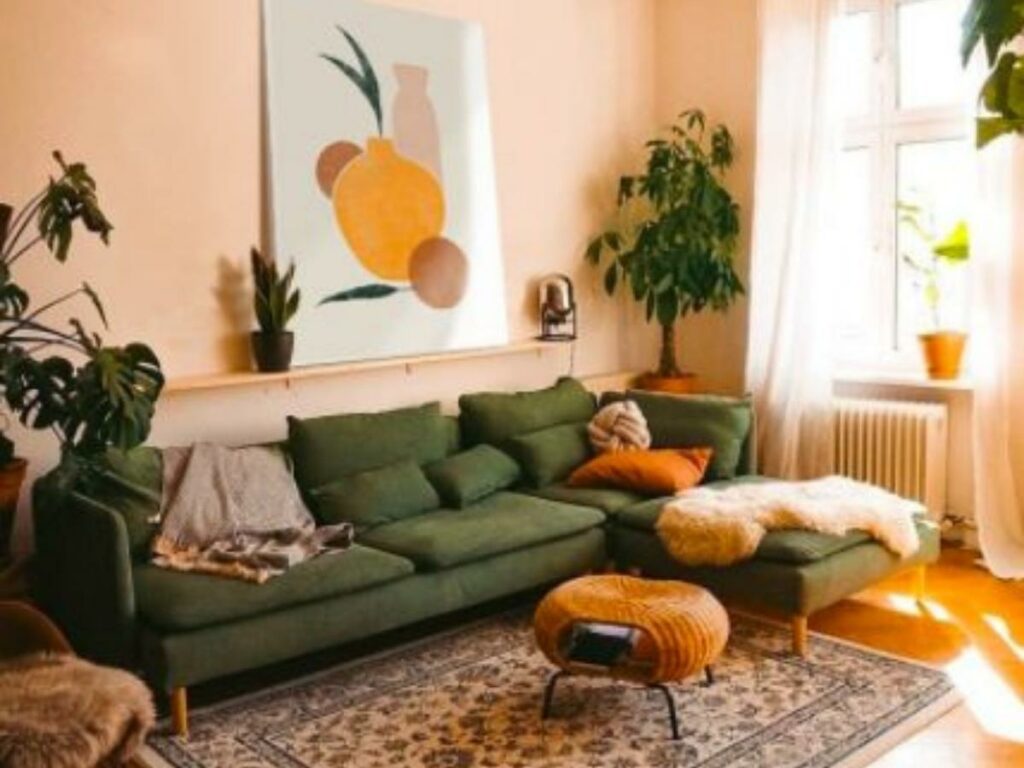 Green Living Room Idea 5: Pastel Greens Living Room
Pastel green appears to be a watercolor with a lovely blend of green and blue tones. It provides a subtle backdrop to all of the prints in this space while also adding depth that a single color would not. Pastel green allows you to mix with many other colors without feeling garish.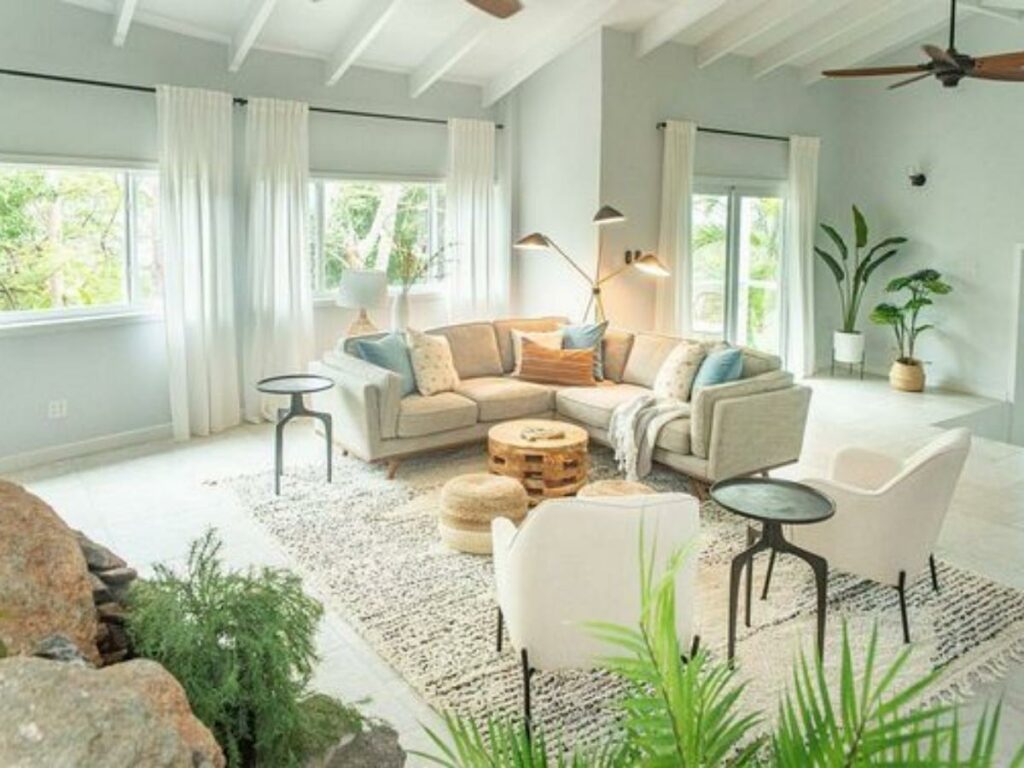 Green Living Room Idea 6: Green with Wooden Furniture
Using a single color for everything – woodwork, windows, cabinetry, etc. – works wonders in a small living room and looks very sophisticated and minimal. Sticking to a single color reduces visual clutter on the walls, allowing you to incorporate more decor, colors, and patterns with your furniture. Despite the busy print mix, the room feels cozy and inviting rather than overwhelming.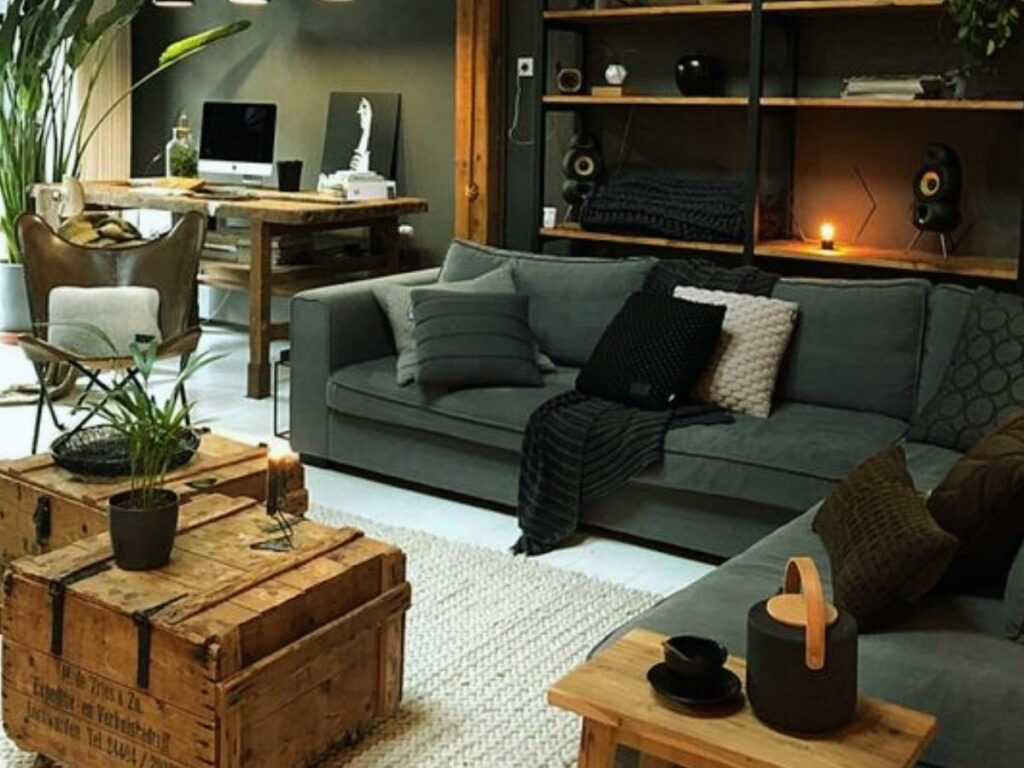 Green Living Room Idea 7: Modernize Living Room with Green And Grey
Grey goes well with a variety of green tones (just look for shades with a more cool grey undertone), but for a clean, modern look, pair a deep, cocooning olive green with a soft mid-grey. Incorporate some dark wooden tones as well for a slightly retro, Mid-century modern feel.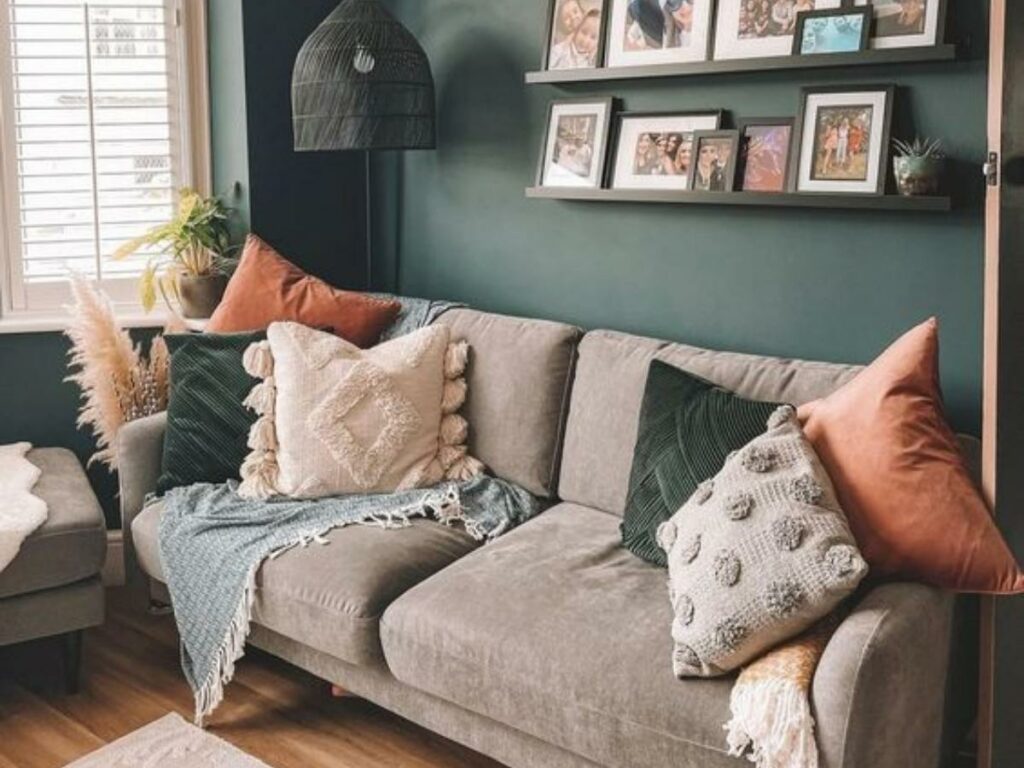 Green Living Room Idea 8: Go Half Way With A Bold Emerald Green
Color blocking is an excellent way to introduce more dramatic shades into your living room without fully committing. See how a really deep forest green comes only halfway the wall in this green living room, while the rest is kept neutral so as not to overwhelm the space. See our example to see how green rhombuses are excellent to decor your home.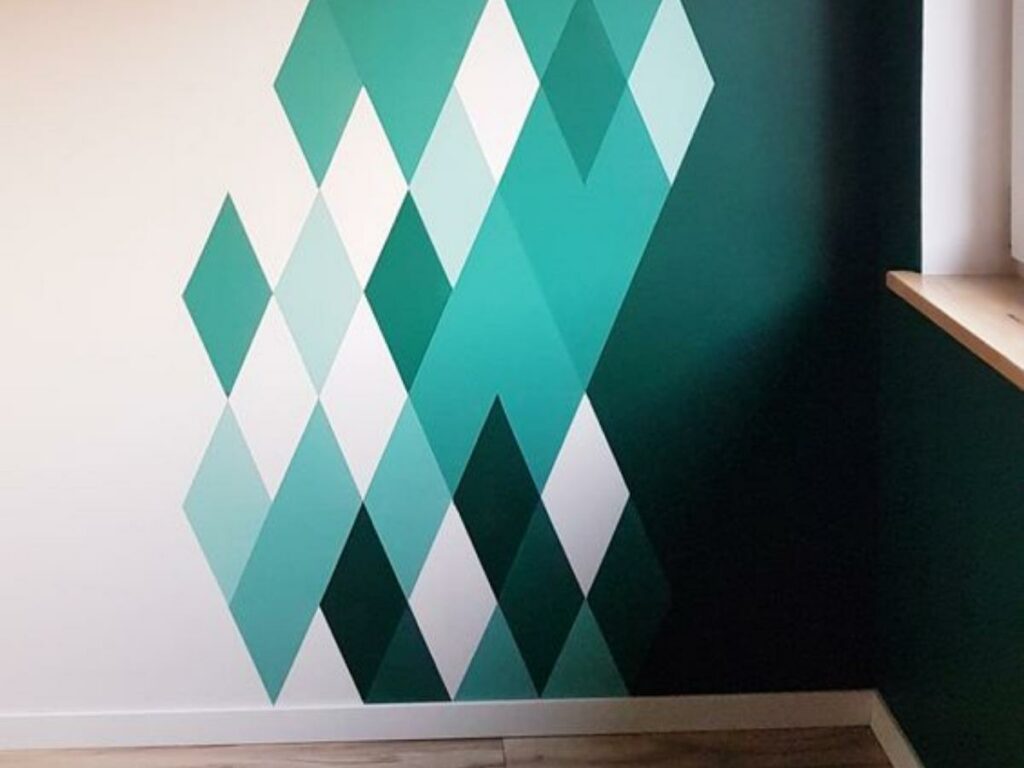 Green Living Room Idea 9: Making A Wall Gallery With Different Green Tones
A big fan of green won't find it is enough to have one green tone in their living room. Mixing different green tones won't let your room be overwhelming. Collecting some wall pieces and following the below design is a good idea.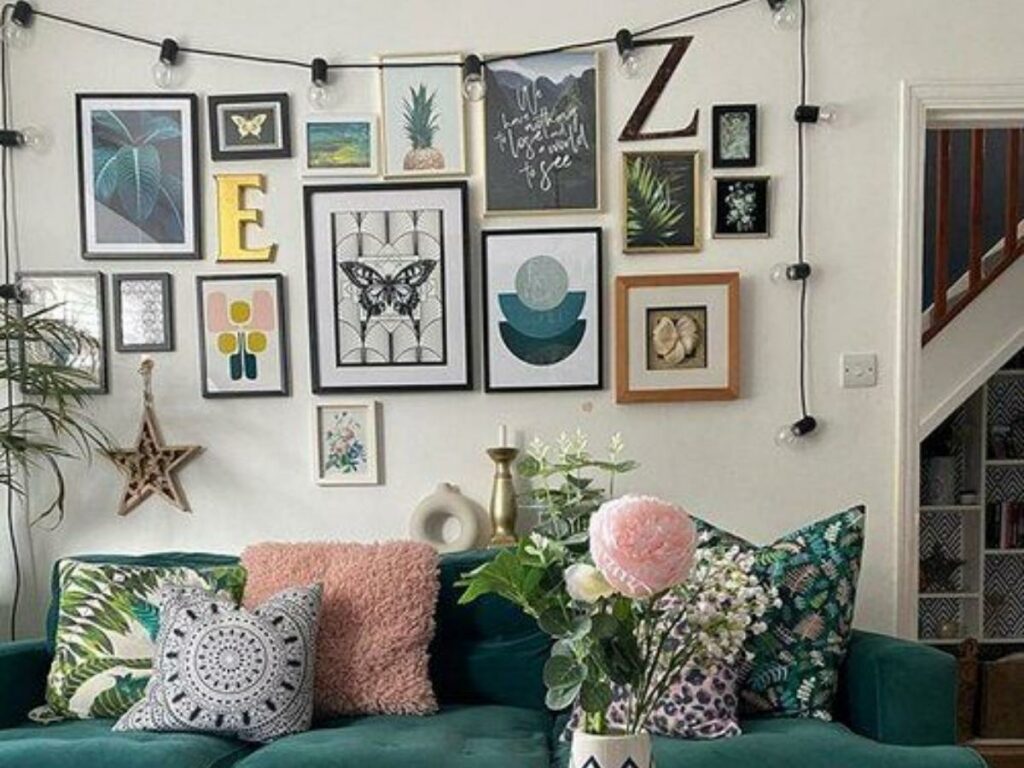 Green Living Room Idea 10: Green with Pink
A vintage living room should have green and pink, dark green along with pastel pink is not a bad choice that gives your living room enough light and warmth. The contrast between green and pink will help the space have a perfect light balance and an elegant hue.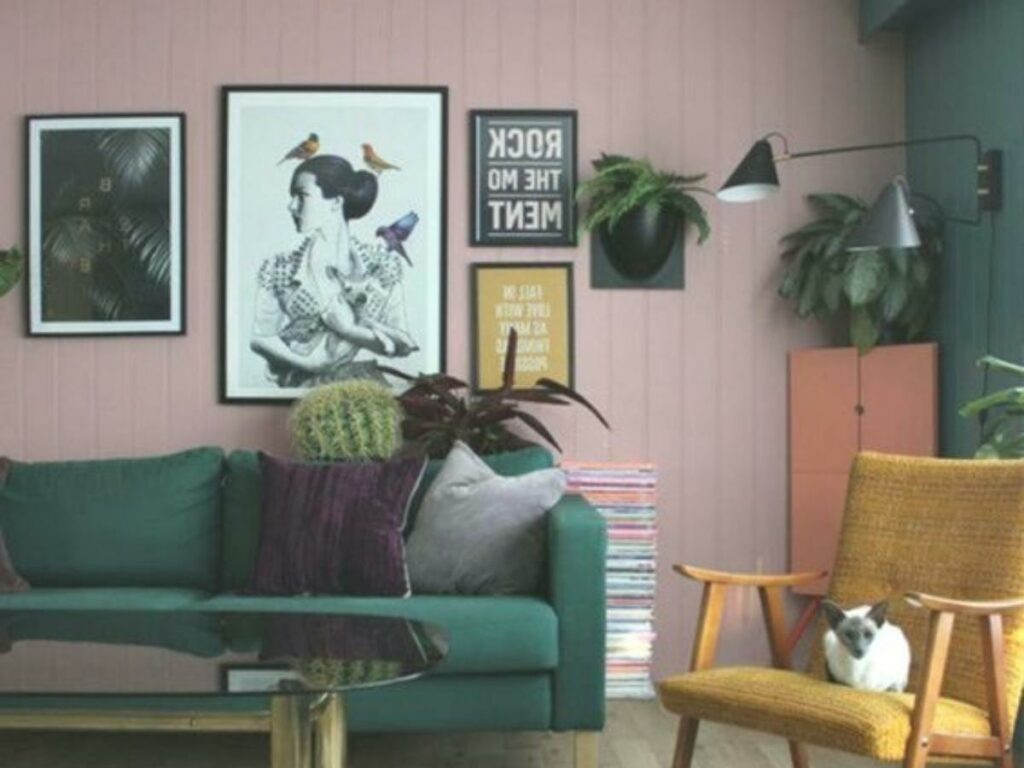 Green Living Room Idea 11: Create a Botanical Garden
Plants are a familiar decoration when creating green space. Hide your stair by hanging plans or making a plan wall as below to make your living room as fresh as a botanical garden.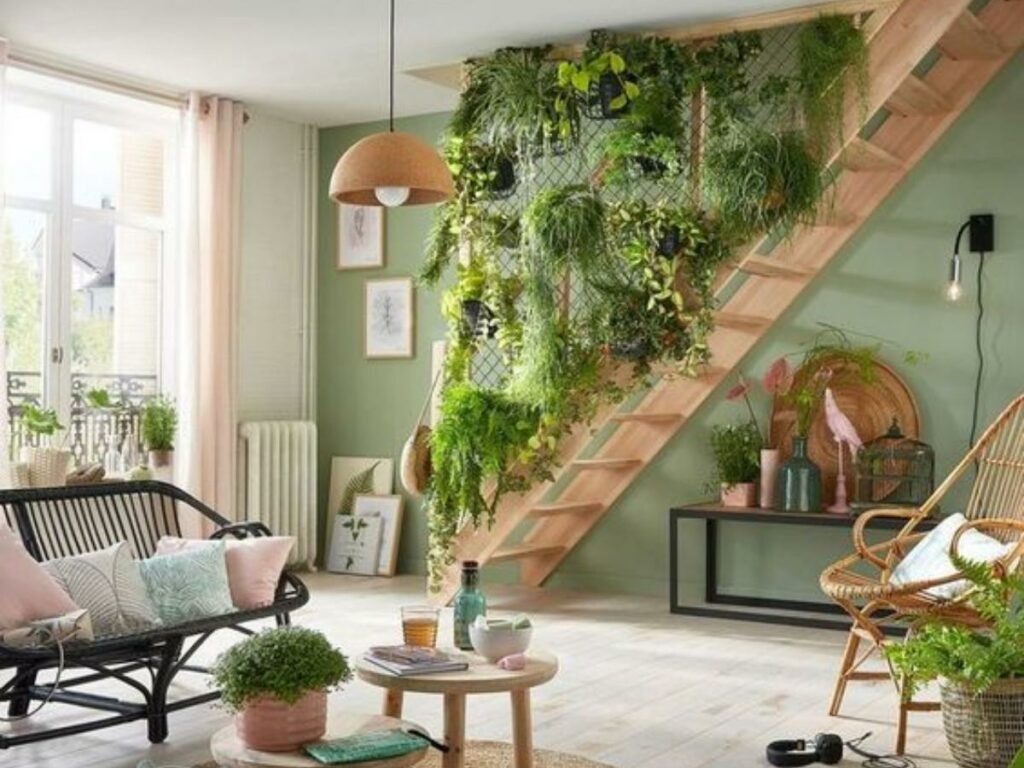 Green Living Room Idea 12: Green and flowers on the wall
If you are not familiar with choosing furniture and decorations, simply turn your living room into a garden with several kinds of creative wall paintings like this.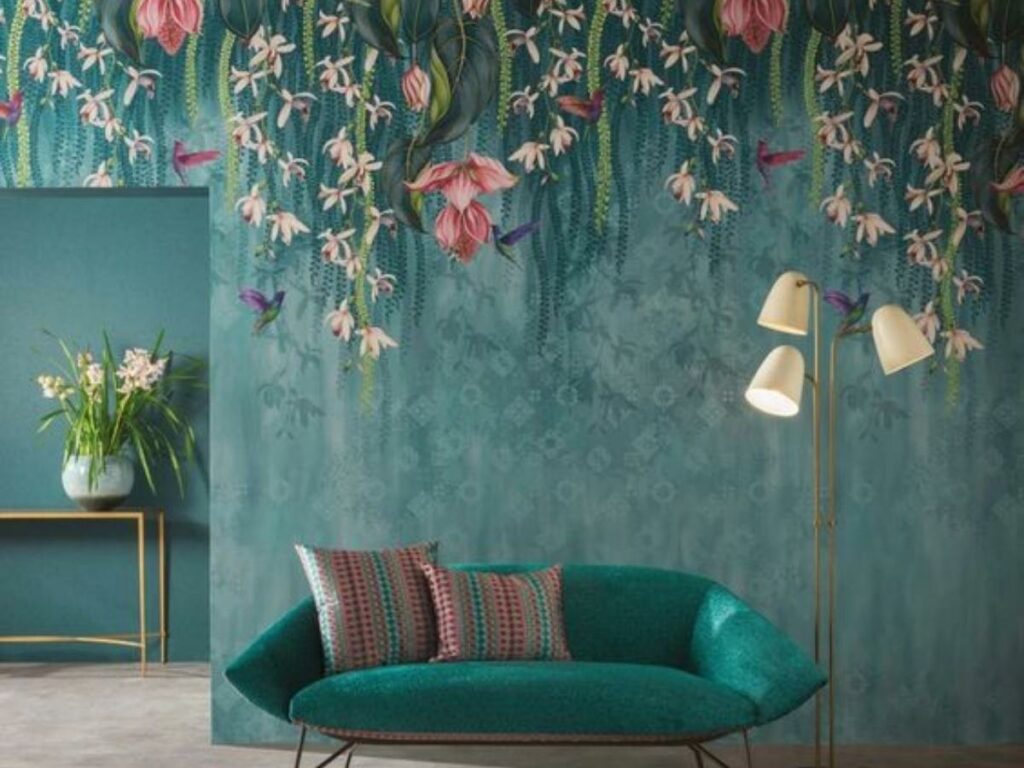 Green Living Room Idea 13: Green with Brass accents
Another living room brimming with plants of all shapes and sizes. This design scheme employs the previously mentioned black, white, and brass formula but omits the blonde wood to create a slightly more opulent overall feel.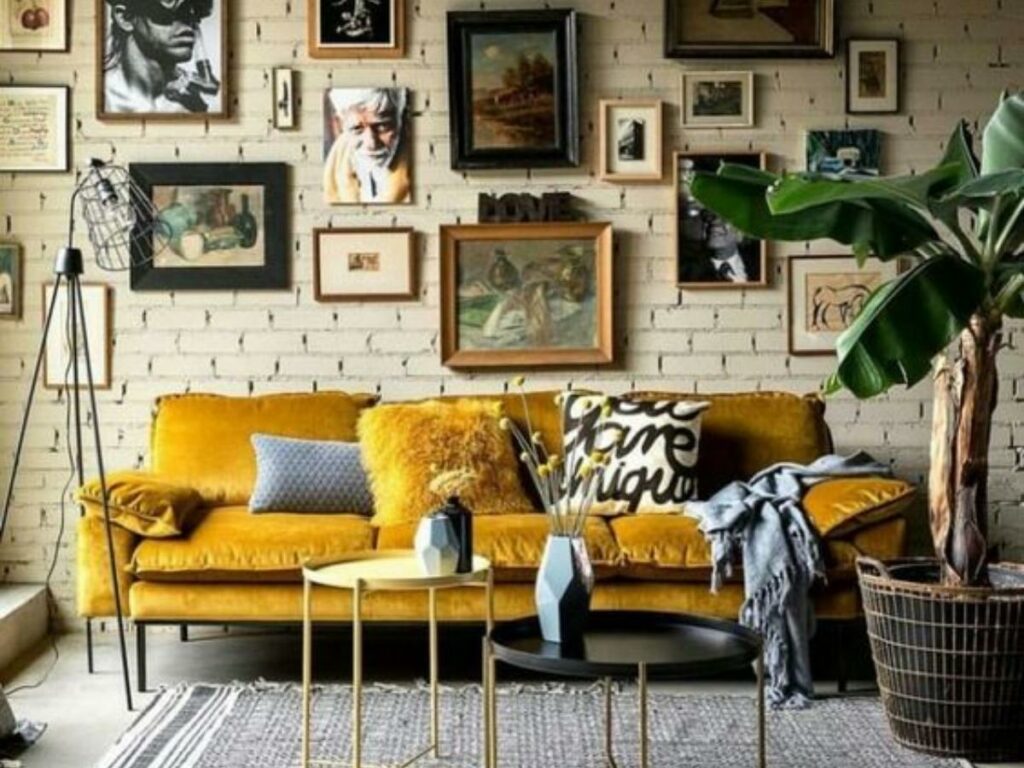 Green Living Room Idea 14: Green and Blue furniture
Mid and dark greens are frequently paired with clean whites, light pinks, or ochres, but green and blue are color wheel neighbors, making them ideal partners. Both are cool colors that can be refreshing; however, choose similar shades – an apple green with a vivid cerulean, for example – or, as we see here, two soft and earthy tones.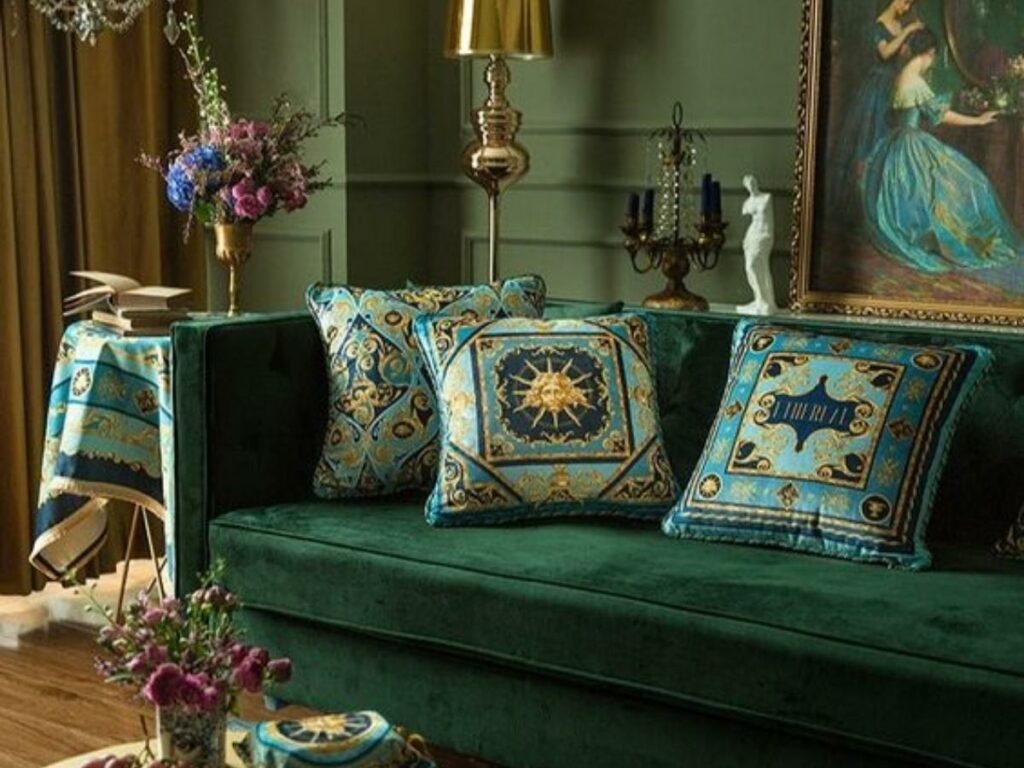 Green Living Room Idea 15: Try Brick color with Mint
It can also look beautiful and sophisticated in your living room! This Dutch home incorporates green in a subtle but still appealing manner. Try a touch of Sherwin Williams Retro Mint on your walls or to accent your moldings and trim for a similar look.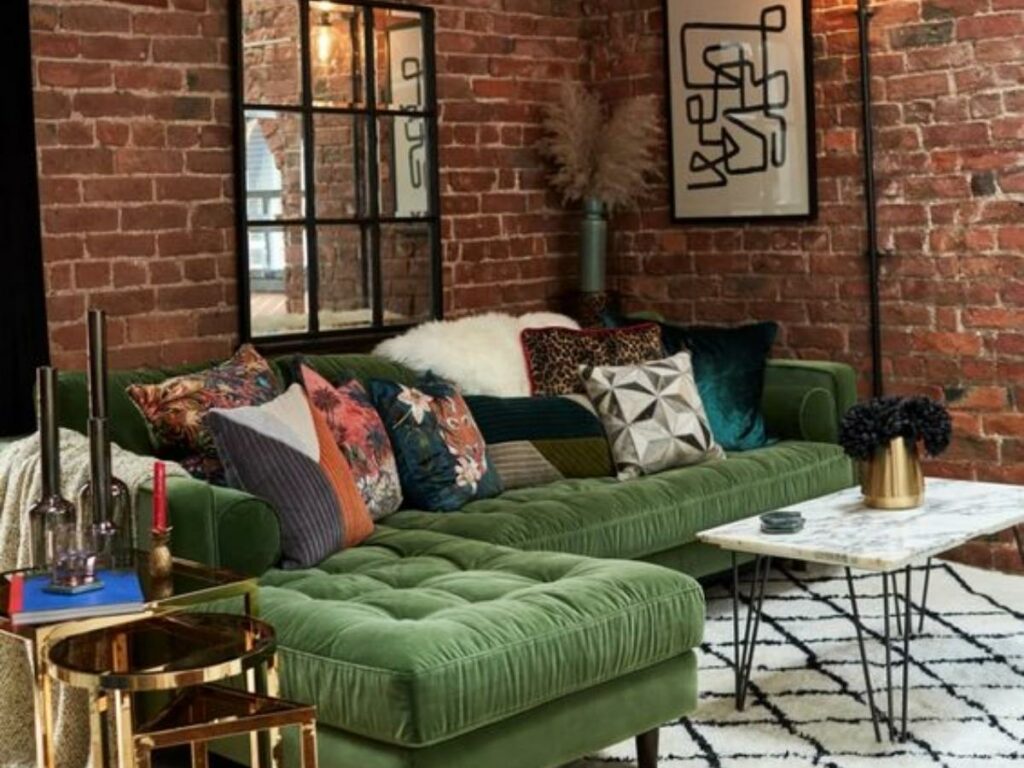 Have you got your own idea?
For nature lovers, green is an endless inspiration that can be used for many spaces from the kitchen to the bedroom. The feeling of freshness that comes from a green wall or some green furniture in combination with other colors can create a unique living room. Hope you have got your own idea to organize and decorate your own living room.
Need some tips? We're here to help
We hope our collection of interesting living room designs with green color has inspired you. If you are planning to refresh your own living space, you might want to hire a professional cleaning team!
You can count on sparklingandbeyond.com to complete your plan easier! We provide you with affordable and reliable cleaning services and a lot of helpful tips.
Feel free to contact us today! Our experienced cleaning experts are waiting for you!
If you want to check our availability and pricing, please check here.
As an interior designer, I have done many researches regarding building a healthy living space. This job is my passion and I am happy that I have helped a lot of customers to improve their living space. Out of work, I like art, I often spend time on painting to relax myself. Completing a colorful painting helps me refresh my energy.