There are always vacant places in our homes, no matter how big or little they are. For instance, the room's corners, the space between the cabinets and the wall, the area adjacent to the windowsill, etc.
Those gaps, on the other hand, can turn into useful spaces if you know how to use them. Hidden storage for small spaces is a smart space lifesaver.
Let's take a look at the hidden storage ideas in the home below to maximize your living space and make it more open.
Combine storage space with furniture
There is typically a lot of room beneath the bed or sofa – these are possible storage locations for small spaces.
You may store items quite neatly by combining detachable drawers or simply woven bamboo baskets that fit into the space of the sofa or bed. Or you can barely tell there's sneaky storage space hidden away underneath the cushion.
This hidden storage idea is more suited to textiles, with plenty of room for guest bedding and extra cushion covers.
Use shelves and seat cushions to make the most of the corners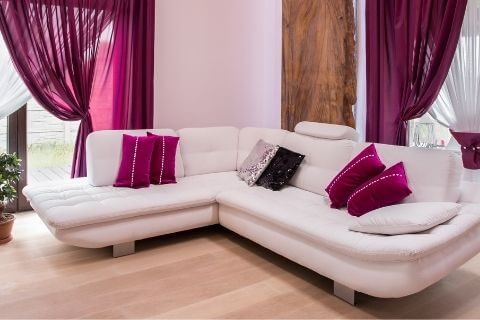 Most of the corners where the two walls meet are left vacant because finding the proper furnishings for such a small space may be difficult. Turning these dry corners into a little bookshelf is one of the hidden storage ideas for you to make them functional and distinctive.
You can buy materials and make your own shelves or use already built shelves. Turning those drab areas into a reading nook is another option. All you need are a few soft cushions and a few lovely trinkets, and you've got yourself a spot to read and unwind at the end of the day.
Use multi-purpose furniture for empty walls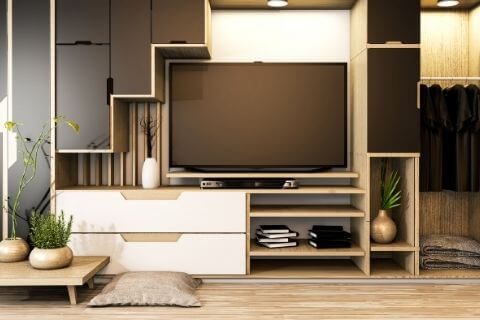 We normally have at least one blank wall in our home; to make the most of this space, search for multi-purpose furniture that can be used for several purposes.
Multi-function furniture is very adaptable, flexible, and versatile. Depending on your needs, you can choose shelves, cabinets, tables, or wall hooks with fancy designs and these hidden storage ideas will help save and make your space more unique and spacious.
Turn stairs into storage and shoe shelves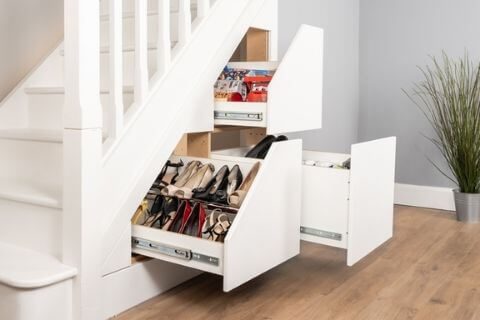 Have you ever wondered how to utilize that awkward space beneath the stairs in your house? Guess what, with a small ingenuity, this tiny area can be converted into a hidden storage space that you'll definitely love!
A well-designed staircase will become great storage for small spaces to help you have more living areas. Each stair step can be converted into a little drawer for shoes or other personal items, which are both practical and unique.
Furthermore, the area beneath the stairs may be utilized to conserve room in the house. Even though stair gaps are typically small, you may still be creative with them.
You may make a bookcase, a tiny relaxing area, or even a novel working nook depending on the size at the foot of the steps.
Make use of the house's corner space to create a little play area for kids.
If you have children, a playground for them is an essential place to have. But that won't be easy if your house is too small and can't set aside separate rooms to make children's playrooms.
However, there are several minor hidden storage ideas that can overcome this issue. For example, create a little play space in the corner of the room.
Sometimes all it takes is a few sketches and a toy shelf to turn an empty area into a miniature home. In this empty place, you may also construct a playground with various ideas. We are sure it will make your kids extremely happy.
Use a closet with hangers to make more space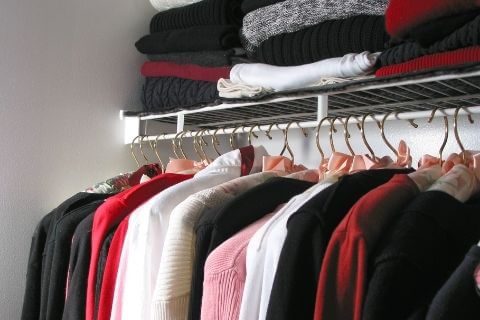 We have recommendations for everything from space-saving hangers to full closet organization, to help you find your tidy bliss.
A home depot closet is created by combining an iron frame truss system for hanging clothing with some wall hooks, as well as a wardrobe system put at the foot of the wall to store knick-knacks, making the room more airy and lively.
It should be emphasized that objects must be folded properly to avoid creating clutter in the home.
Use a closet to replace a room partition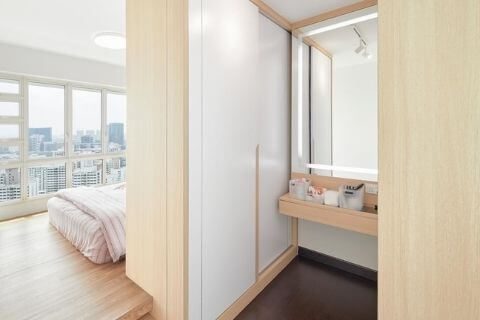 Wardrobes do not have to be close to the wall. In many situations, they can also act as dividers which help save homeowners money and make the space more spacious.
The home depot closet organization hidden in the wall makes the space more modern and less stuffy, not only does it serve as a wall, but it comes with plenty of extra storage space, too.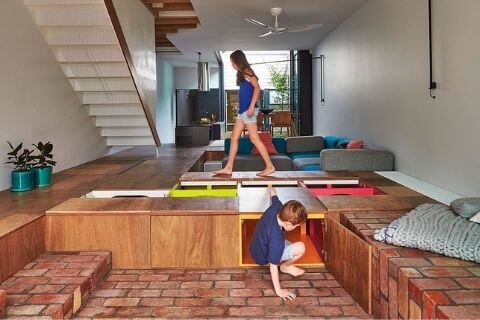 Making use of the space beneath the floor is a great hidden storage idea for small homes and for those who need a place to keep their belongings but don't want to take up too much room.
When the space available in the house is limited, building a warehouse or an attic to store items might be problematic. If you have a limited amount of space, consider building wooden cells under it for extra hidden storage that won't take up any room.
You can build little wooden cells that will split furniture easily while still allowing you access through an opening in one cell.
Utilize the house's height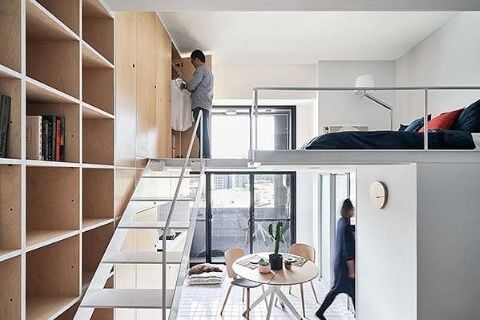 If your home is limited in width but possesses the ideal height, don't forget to make the most out of these advantages. When you need extra living space, overhead storage is extremely handy, making tiny areas feel more open and airy.
In addition to serving as hidden storage ideas, the above shelves may be customized to match the room's decor.
Concealing Columns Kitchen Storage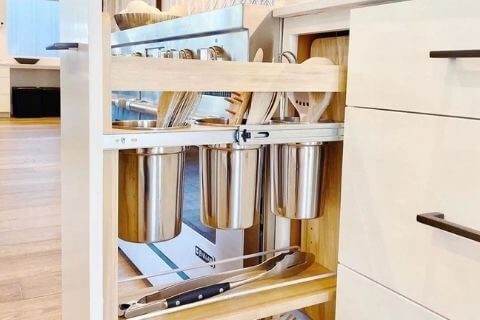 Do you love cooking and collecting recipe books but are falling short of space in your kitchen to house those cookbooks gracefully? Here is an incredible idea that will transform a plain kitchen island into an adorable little cabinet by using the column corners to store your stuff. The column panels are not just a decorative element, but also great hidden storage ideas as stylish doors to the hidden Columns of Kitchen Storage.
If you want to know more about cleaning tips and tricks, check out our website Sparklingandbeyond.org for more valuable content coming up!