Leather couch is a luxury home furniture but requires special care unless it can be damaged. A few nasty stains and spills can detract from the overall aesthetic of a classic leather sofa, especially if they are ignored or cleaned poorly. With these simple cleaning leather couch tips, you'll be able to keep your sofa's quality and beauty for years to come.
Common
leather cleaners
Leather is a natural material so you must be careful when applying cleaner to clean your leather sofa. Using neutral acidity solutions is recommended to remove spills without damaging the sofa. There are a lot of artificial leather furniture cleaners you can find on Amazon, here are some suggestions for natural cleaners:
Before cleaning, you should take a look at your couch to see what kind of dirt will you need to remove. Different kinds of stains should be treated in different ways. Follow our instructions for each kind of stain.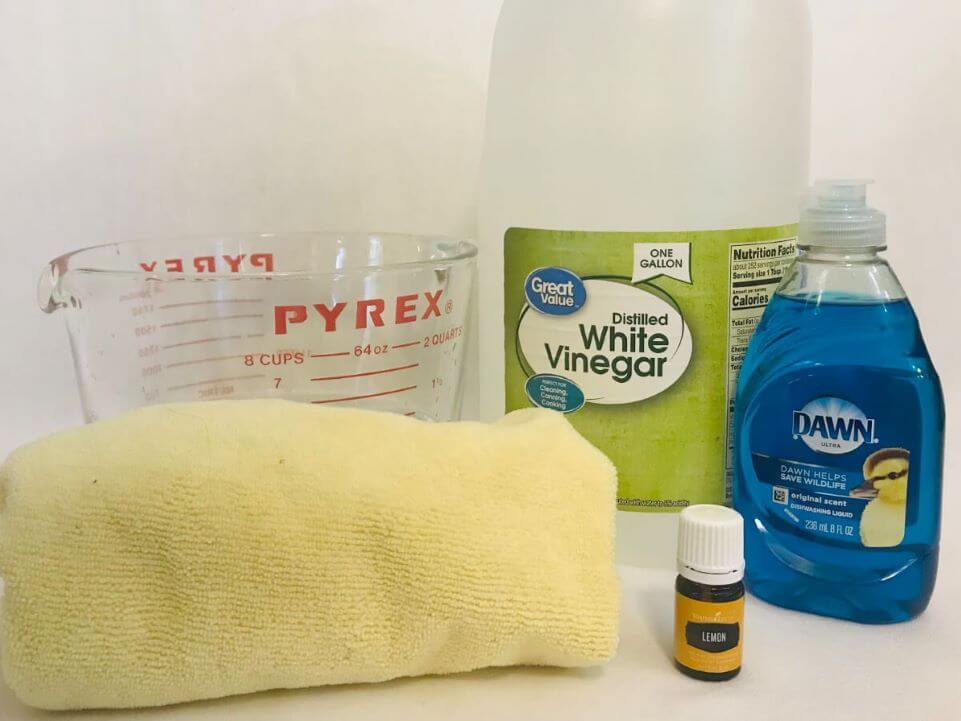 Relate: What is cleaning vinegar and how to use it for the right purpose?
General dirt – How to clean a leather sofa (as well as other leather-made things)
For dust and unknown stains caused by pest or food spills, simply remove them by vinegar with the below steps:
Combine equal parts of water and vinegar to make a cleaning solution.

Using a vacuum cleaner, remove dust, debris, and loose particles from the surface of the leather sofa.

In the event of separation, re-mix the solution and dunk a soft cloth into it.

Wring out the cloth until it is moist (but not soaked), then begin cleaning the unclean sections of the leather.

Wipe off any moist areas using a dry towel once you've cleaned out the problem regions.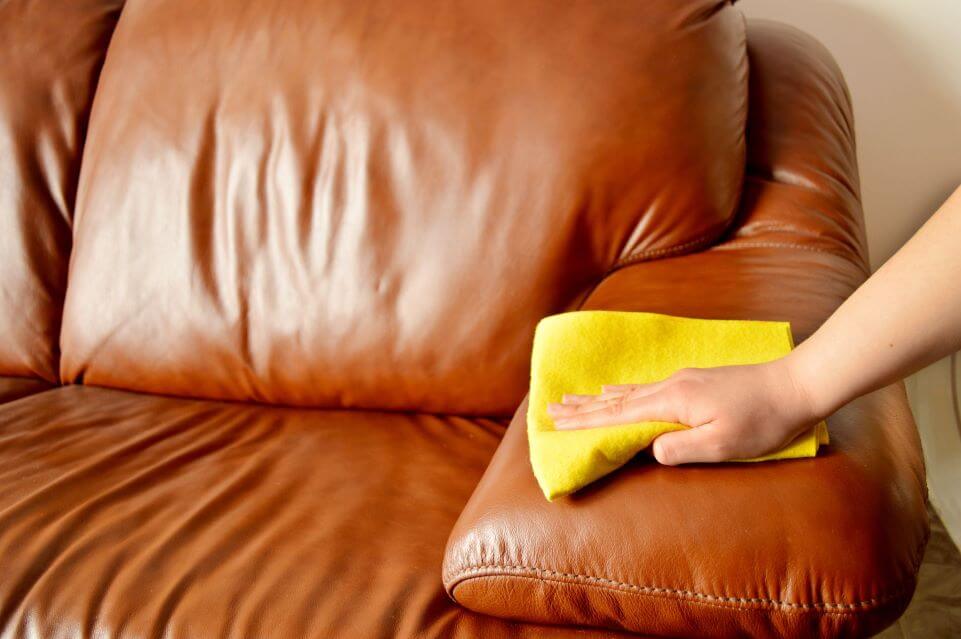 Related: How to clean upholstery by yourself?
Paint, ink stains – How to remove paint or ink stains from a leather sofa
Paint, ink stains or nail polish are the most common stains you may face if you let your children play on your sofa. Treat them with alcohol by following these steps: 
Apply rubbing alcohol to a clean soft microfiber cloth.

Gently dab the ink stain with the cloth (do not rub) until it begins to remove. Repeat with a fresh soft cloth and additional rubbing alcohol.

Using a soft towel, pat the area dry.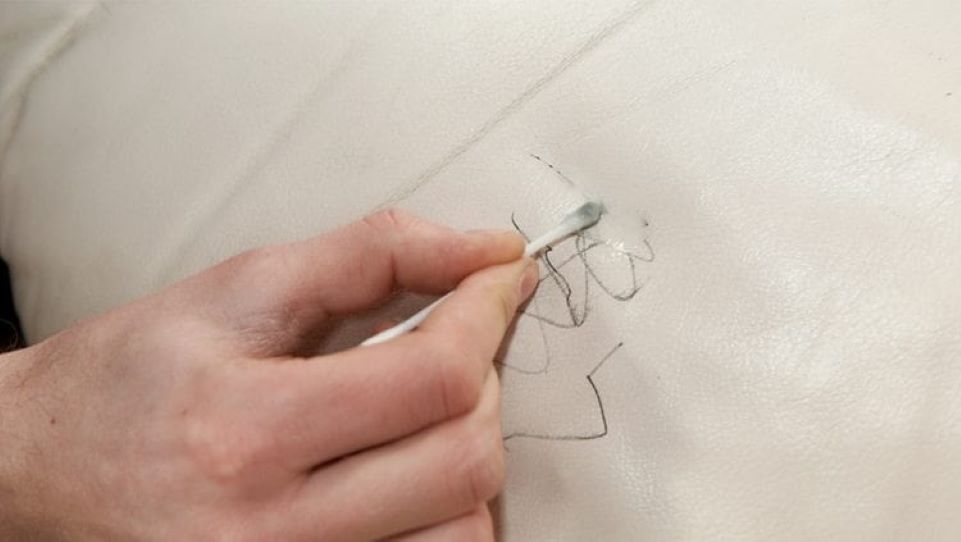 Relate: How to clean a fabric sofa without water
Grease & oil stains – How to remove grease & oil stains from a leather sofa
Baking soda powder is a great treatment for oil spills because of its ability to absorb liquid. Follow these steps:
Apply a pinch of baking soda to the discoloration.

Allow the baking soda to remain for a couple of hours, or until the oil has been absorbed.

Wipe away any remaining residue with a gentle cloth.

Wring out the cloth until it is moist (but not soaked), then begin cleaning the unclean sections of the leather.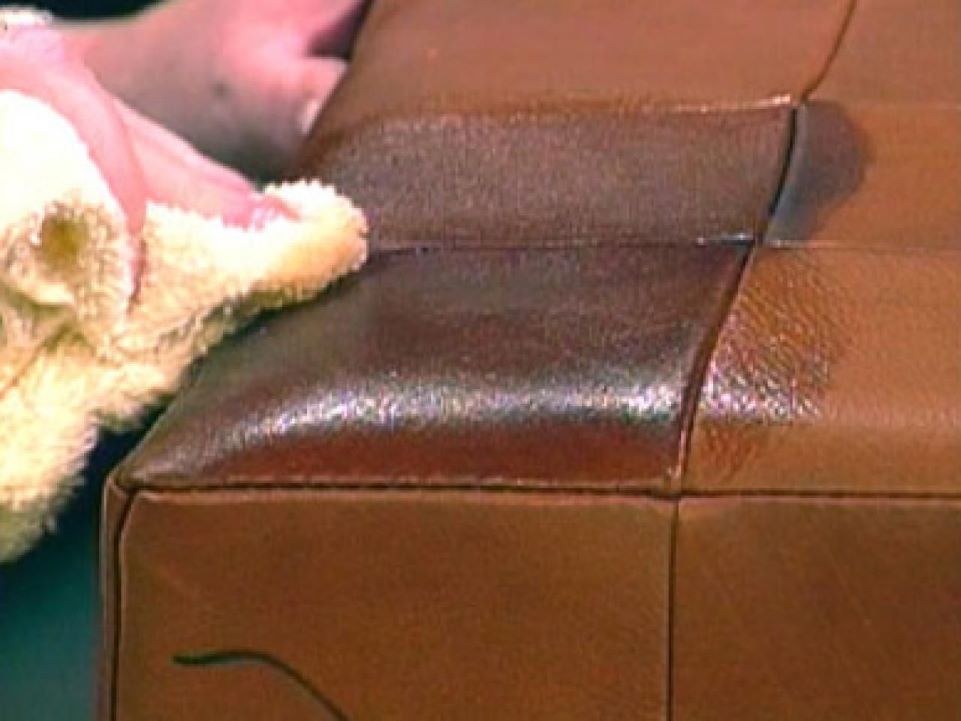 Preventing stains tips
Remove stains and spills as soon as they occur.

Vacuum and clean on a regular basis.

Always condition after cleaning.

Reduce water usage as less as possible.

always check the cleaning codes on your leather piece.
Relate: How to deep clean your living room
FAQs
How to clean white leather
couch
Cleaning a white leather couch involves the same process as a dark leather sofa – you'll need a mild cleaning solution (we recommend vinegar and water). The important thing to remember when cleaning white leather is to practice extra caution with moisture. Too damp, and cloth can leave water stains on the upholstery, so a very mildly damp cloth is perfect for a quick wipe-down.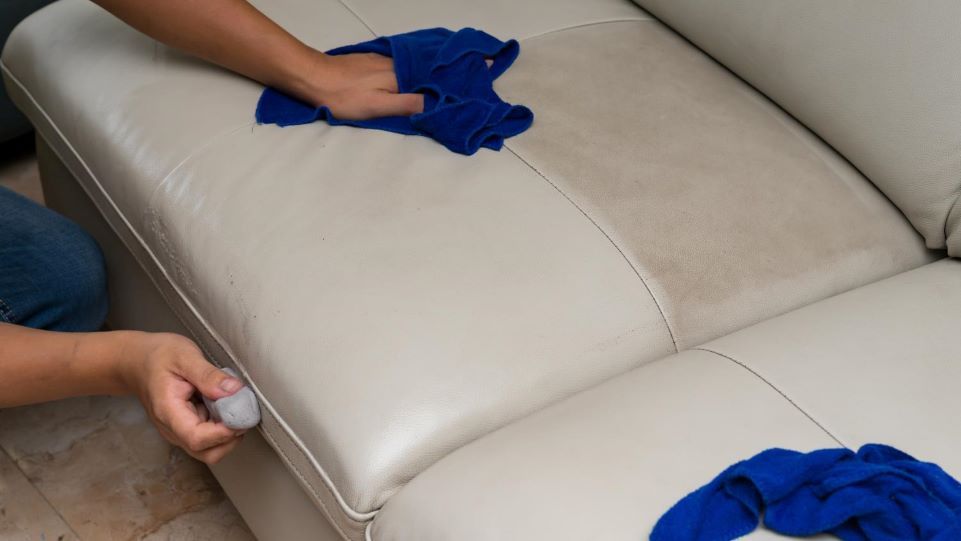 How to clean faux leather
When it comes to cleaning furniture, you have a lot more area to cover. Additionally, before you start attacking with a faux leather cleaner and conditioner, you'll want to bust out the vacuum.
Vacuum off the entire couch to remove any crusty food and loose particles.

Treat any stains using the stain treating methods (the same as genuine leather).

Wet a cloth with water and wipe the whole couch or chair down.

Follow the instructions on a faux leather cleaner/conditioner to treat the entire couch.
How to deodorize a leather sofa
If you find your sofa smell badly, try one of these solutions:
Baking soda:

Sprinkle baking soda onto your sofa where the smell realizes, let it sit on for 15 munites then vacuum it.

Enzyme spray:

If baking soda doesn't work, try enzyme spray. This solution can treat stubborn odors.

Mild soap:

Smell caused by things like foods or drinks can be removed by soap. Dilute soap with water and wipe the sofa. Then dry the sofa with a dry cloth or vacuum it to remove moisture.
How to condition a leather sofa
Deep conditioning will keep your item feeling and looking fresh. Here are the instructions:
In a mixing basin, combine equal parts vinegar and a natural oil – lemon oil or flaxseed oil work well.

Indulge a soft cloth in the solution. Wring it out (so that it is moist but not soaked) and begin carefully wiping down the sofa's surface.

Wipe down the sofa with a clean, dry towel the next day.
Can you use disinfecting wipes on leather?
A filthy sofa can be treated with disinfectant wipes. Wipes are convenient – simply grab one, clean, and toss it away. However, they carry hidden risks that can further harm a sofa. Because of the strong chemicals, it is better to avoid using disinfectant wipes on furniture.
Get help from professionals
Leather couches as well as other leather furniture are excellent decorations for your house and office. When it comes to caring for a leather couch no matter whether it is genuine or faux, make sure you follow all of the directions on the tag. While most items may be washed, some may require the services of dry cleaning. Visit Sparkling and Beyond's website to schedule a demo, our well-trained cleaning team is completely worth trying.
As an interior designer, I have done many researches regarding building a healthy living space. This job is my passion and I am happy that I have helped a lot of customers to improve their living space. Out of work, I like art, I often spend time on painting to relax myself. Completing a colorful painting helps me refresh my energy.