The high level of humidity and heat of a bathroom is a breeding ground for mold growth and bacteria reproduction. With the ideal environmental conditions like that, your light colored and naturally porous grout is prone to build of mold, bacteria and stains. While cleaning your dingy grout and trying to make them sparkling as it used to be is not an exciting idea to spend your afternoon, but with a little elbow grease and effort, you will be amazed by the overall appearance and cleanliness of your bathroom.
In this article, Sparkling and Beyond will share with you some time-tested tips to clean grout in your bathroom effectively.
How to effectively clean grout in your bathroom ?
There is a wide range of cleaning methods to transform the space between the tiles in your bedroom into something sparkling and free of grime. However, in order to maintain the lifespan of the tile grout, we recommend trying the mildest, least harmful cleaning solutions before opting for intense, abrasive ones.
As in some cases, abrasive chemicals will not only damage your tile grout but also leave unpleasant odors, it's better to start with the natural cleaning solutions in the first place. If they don't work, you can work your way up to more powerful cleaning solutions.
So, how to clean the grout in your bathroom naturally ?
1. Clean bathroom tile grout with vinegar and baking soda.
What you will need:
Vinegar
Baking soda
An empty spray bottle
An old toothbrush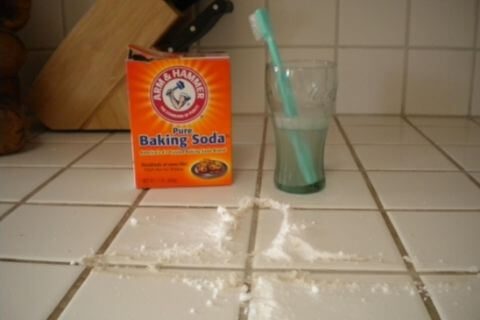 Instructions:
Step 1: Mix seven cups of lukewarm water, ½ cup of baking soda, and ½ cup of white vinegar. Mix all of the ingredients together until the baking soda is dissolved.
Step 2: Fill an empty spray bottle with the mixture, spray the generous amount of the cleaning solution on your bathroom tile grout and then let it sit for about 10 minutes to allow the mixture to work its magic.
Step 3: Scrub away the grime with a toothbrush, pay attention to the grime and mold. You can vividly see it first and then place focus on mold-prone and mold-affected areas.
Step 4: Rinse the area thoroughly and let it air dry.
2. Clean bathroom tile grout with lemons.
What you will need:
Lemons
Borax
An old toothbrush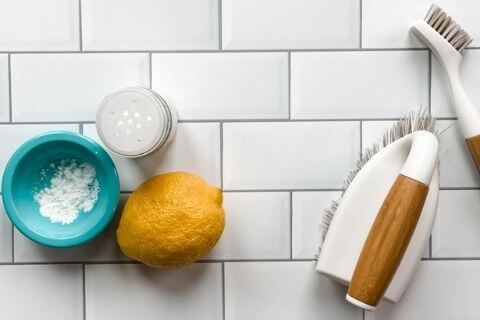 The steps taken:
Step 1: Mix ½ cup of borax, 1 teaspoon of lemon oil and enough liquid soap to form a bathroom tile and grout cleaner paste.
Step 2: Use a toothbrush to apply the mixture to the grout and scrub away in circular motion.
Step 3: Rinse the area with plain water and let it air dry.
Meeting stubborn stains and extremely grimy white grout.
Sometimes, due to the lack of regular maintenance or just laziness, grout becomes stained and dirty to the point that your natural cleaning solutions like baking soda, vinegar, and lemon are no longer effective. In this case, you'll need to use something more powerful to restore the sparkling of the tile grout. That is when hydrogen peroxide comes on its own.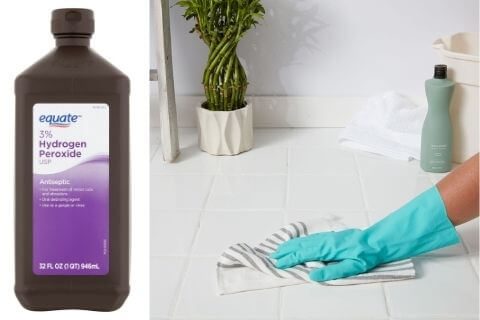 What you will need:
Hydrogen peroxide
Baking soda
An old toothbrush
So, how to clean bathroom tile grout with hydrogen peroxide ?
Step 1: Mix baking soda and hydrogen peroxide in a bowl to form a thick paste.
Step 2: Apply a paste onto the cleaning treatment- needed area by a toothpaste. Make sure to cover entirely the problematic tile grout and let it sit for about 5 minutes.
Step 3: Like the cleaning methods instructed above, use a toothbrush to scrub the grout. Repeat this process until it is completely clean.
Step 4: Rinse the area with water, let it air dry or you can wipe it down with a soft cloth to speed up the drying process.
Tips to keep your bathroom grout sparkling all the times: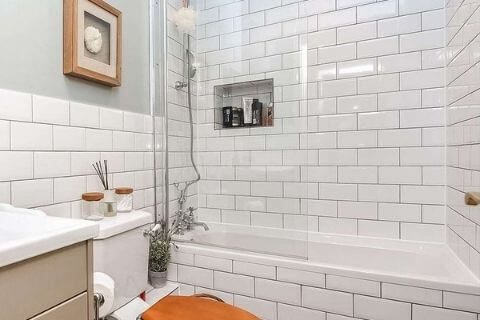 Dry the grout after every single use: Run a quick squeegee on the tile or you can use an old towel to wipe the shower walls every time you shower or take a bath. That might sound like a lot of work, but it would cut down the significant amount of work and money that you have to put in to restore the cleanliness of tile grout in your bathroom in the future.
Using grout sealer: Another effective way to extend tile grout life is to seal the grout lines. The water-resistant property of grout sealer makes a great contribution to keep your grout stay out of mold, stains, and keep it looking its best far longer by locking the moisture out of grout. Read the instructions carefully to make sure you will get the most from the grout sealer.
Weekly cleaning: Giving your bathroom a deep clean at least every week will prevent any build of stains, mold and grime.
Conclusion:
We hope you figure out how to clean bathroom tile grout effectively and get useful know-how about regular maintenance of white sparkling tile grout after reading this article.
The bathroom tile grout can be sparkling and hygienic at all times if you stick to the daily cleaning plan. However, we understand it's not easy to maintain discipline due to your busy work schedule, or just simply because you want to have some time for yourself.
If this is your case, we recommend our standard cleaning service for you. With our service, you won't need to worry about house cleaning anymore and can simply use your time for other things you prefer.
Don't hesitate to contact us to book our professional cleaning service today !