We are usually fascinated with colorful stickers or lovely stickers of some idols sold cheaply in the grocery store. After pasting all the stickers on your room, on the glass window or mirror, you'll feel extremely relaxed and excited when looking at them. However, these positive feelings end soon and you can find they are pesky. Not only that, so disappointed do you realize that removing these stickers requires more steps than sticking them. They often leave permanent marks and glue residue on the surface when you peel them off manually. If you are searching for How to get stickers off mirror, How to remove sticker from mirror, How to take a sticker off a mirror, or How to remove sticker from glasses, Sparkling and Beyond has some interesting solutions for you.
How to take a sticker off the mirror or glasses surface
How are the stickers glued into your mirror or glasses?
Theoretically, the stickers are covered by glue on the underneath surface so that you can easily paste them on any plane surface such as mirror, window, or even the refrigerator outer, etc. When pasting, this glue clings to the surface of the mirror and builds bone between the stickers and sticking surface that how the sticker can stand on your mirror.
Thus, to remove the sticker, it is critical to find a way to break the bone of the glue. Here are some effective methods that Sparkling and Beyond would like to share with you:
1. Using soap with hot water
With a mixture of hot water with soap, high temperature will soften the glue bone and the soap will dissolve the glue so that it can be readily removed. This method is highly recommended for small objects such as small mirror, jar, … that can be dipped in a bucket or bin.
Soak your glass object into the hot, soapy water solution and leave it for about 2 minutes. Then, peel the sticker by hand if possible or use a sponge to scrape the sticker from one edge to another. Finally, rinse with hot water and rub any glue residues left behind.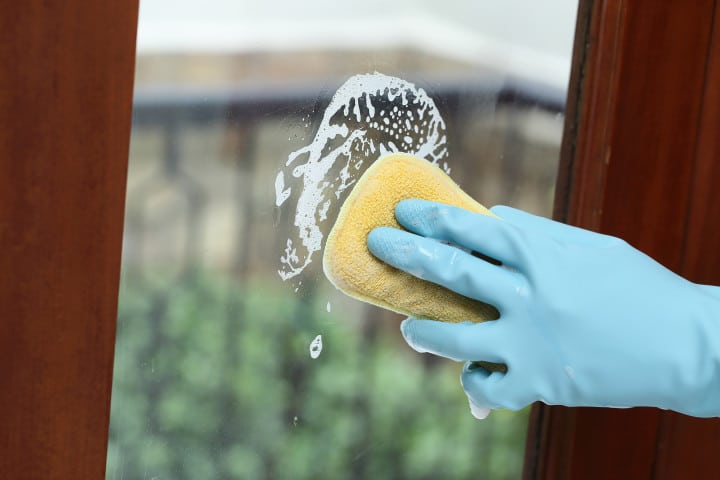 Note: Hot soapy water still works well with large objects. You can dampen a sponge or washcloth into the solution and then use it to cover the sticker. However, the task may take 15 – 30 minutes, you'll need to consider how to hold the sponge this time instead of holding it by hand.
2. Using baking soda with hot water
Baking soda is a magical ingredient that is used in both cooking and cleaning. Baking soda can be mixed with water to create a solution that removes stickers in the same way as hot soapy water.
If hot baking soda water does not work, try baking soda and cooking oil mixture. This natural mixture is completely safe.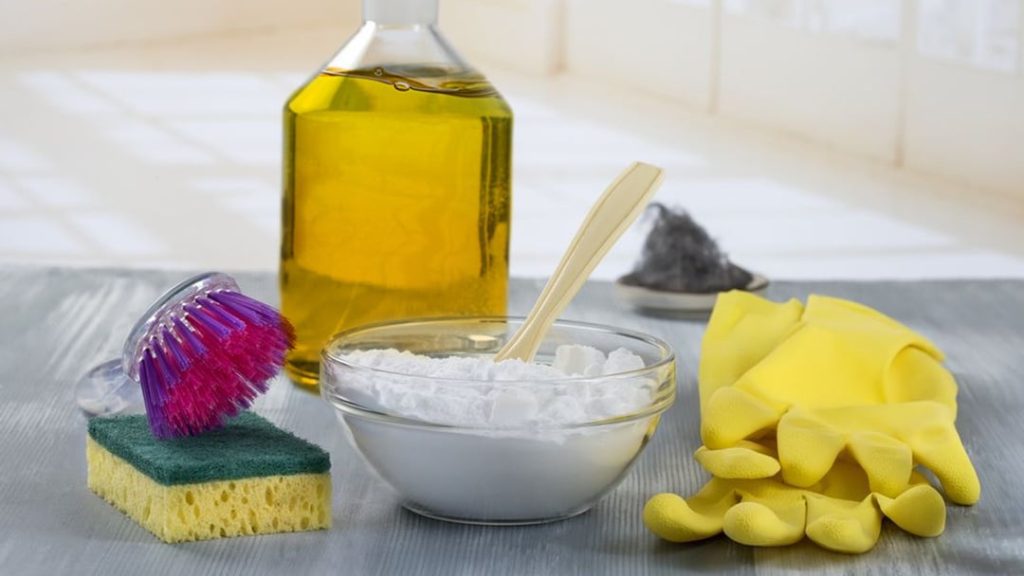 A mixture of baking soda and cooking oil will result in a paste that can be easily applied on any kind of surface. Follow the instructions below:
Step 1: Apply the solution to the sticker
You can apply the paste on the sticker by hand or with a sponge. Do not paste too much solution since it may flow to other parts of your mirror or glasses.
Step 2: Cover nearby surfaces
You can cover the around surfaces of the sticker with paper, cloth or tape to absorb the solution leaks. Especially, some surfaces like plastic, wood, fabric and so on should be carefully protected unless the solution may darken them.
Baking soda is extremely safe for your skin. As long as you clean it up right away, no residue should be left behind, this solution won't cause any problems.
Step 3: Rub or peel the sticker
Let the paste sit on the sticker for about 15 minutes then peel the sticker if possible. Otherwise, rub the sticker with a sponge, a rag or a brush.
The more stubborn the sticker is, the more time the solution needs to work on it. Therefore, if your sticker is still unremovable after 15 minutes of contacting the solution, leave it one night, it will be defeated.
Step 4: Remove the paste
With the dissolving power of baking soda, the glue and the sticker will be softened enough to be rubbed. You can lightly wipe it off along with the paste with a microfiber cloth or rag. Then, rinse the area of the sticker again with the dishwasher and water to remove all the cooking oil left behind.
Out of this, baking soda is commonly used in cleaning some home appliances such as Clean Ceramic Cooktops, Clean An Electric Kettle, Glass Shower Doors, etc.
3. Using Nail Polish Remover
The acetone in nail polish remover is a chemical that is able to break down the adhesives behind stickers. Follow the instructions below:
Step 1: Apply the nail polish remover to the sticker
Like using the baking soda mixture, you should apply the solution on the sticker, then cover the around of the sticker with paper or rag.
Step 2: Get Rid of the Sticker
Let the nail polish remover sit on the sticker for 5 – 10 minutes. Then, peel or rub the sticker away.
Step 3: Rinse with water
After taking off all the stickers, give the mirror or glasses a nice rinse with cold water or glass cleaner.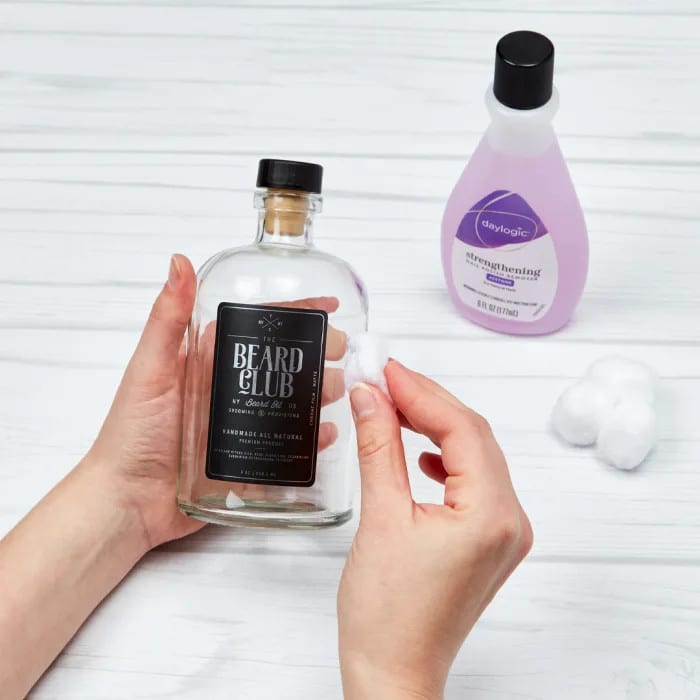 4. Use Heat
Heating is the simplest method used to remove stickers from mirrors or glasses. You just need to heat up the sticker in about 5 minutes with a hairdryer. The glue of the sticker will be melted because of heating making the sticker easier to be removed.
However, this method is only suitable for thick paper or hard plastic stickers as well as glasses surfaces which can suffer slightly high temperatures. Otherwise, it may burn the sticker causing scratches to your facilities.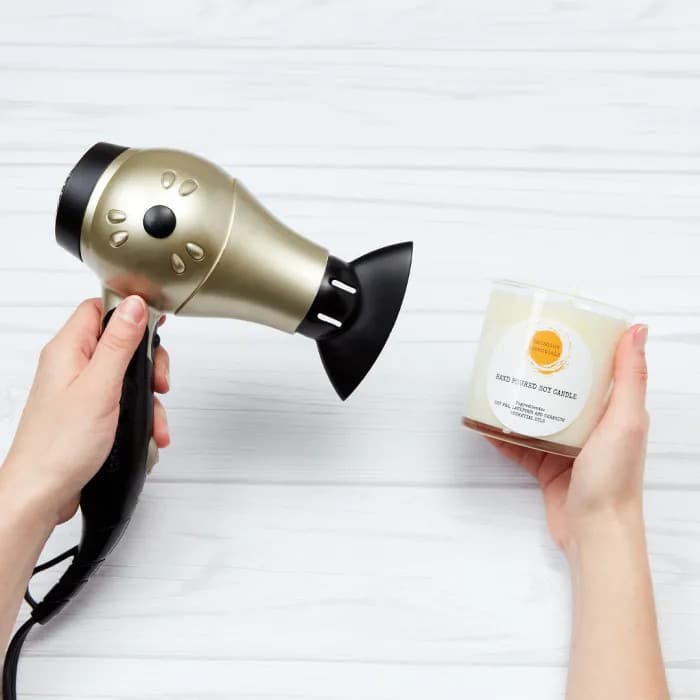 Conclusion
Having some lovely stickers in the mirror or in the window is not a bad choice as long as you are interested in them. However, they won't stay new forever and there will be one day that you need to take them off and replace some new ones. Our tips on how to get stickers off mirror will be definitely necessary for you at that time.
If you are keen on decorating and maintaining your house's beauty, visit our website for more Helpful Cleaning Tips. Sparkling and Beyond is a specialist in house and office cleaning, you can order our Best Cleaning Services to free up your time and enjoy your life. We are always willing to help you at any time!