Your bathroom and shower walls might be perfectly hygienic with stunning white color. After a hard-working day, spending time taking a shower in your clean bathroom will help you reduce stress as it brings you a sense of relaxation. However, it may bring you additional stress when the grout lines between tiles are darkened and it is time for you to apply some special cleaning steps to re-whiten the lines. Follow cleaning tips on how to clean the white grout of Sparkling and Beyond to get the work done. 
What makes the white grout dark?
Grout is a composite material consisting of water, cement, and sand. It is typically used for filling voids under machines or other structural elements, sealing joints and openings in surfaces and reinforcing existing structures.
Grout materials are divided into 3 main types: cementitious grouts composed of a Portland cement base; epoxy grouts, and furan grout. Epoxy grouts, which are white in color, are the most preferred material used for ceramic tiles. 
However, the biggest problem of grout lines is that once the grouting material becomes hard, the surface is not sleek like ceramic tiles and it is not glazed. As a result, even if you wipe the floor on a daily basis, dust and debris will still cling to the lines again causing the color change.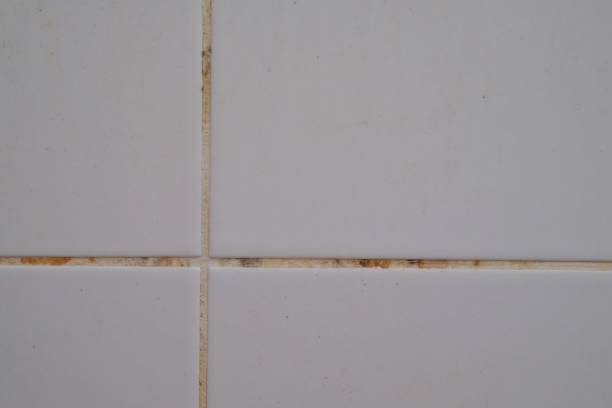 How to clean grout on floors?
No matter what you are searching for, how to clean white grout in the shower or how to clean dark grout floors, the answer will be the same. Follow our steps to turn the grout line to its original color. 
Step 1: Apply a grout solution to clean the dirt
There are several types of cleaner mixtures you can apply to clean the grout tills: 
Recipe 1: Vinegar mix with soda
Simply sprinkle soda onto the grout and spray vinegar afterward. Leave them on the floor in 15 – 30 minutes, chemical reactions between these substances create a foam and dissolve dust and germs.
Interesting: Baking soda and vinegar can be used to clean many other home appliances such as Toilet Jets, Glass Shower Doors, etc.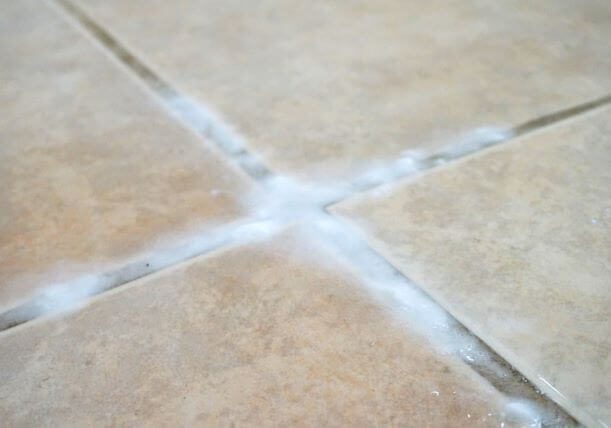 Recipe 2: Chlorine solution
Combine chlorine with water at a ratio of 2/1. Then, pour it onto the grout and leave it on the surface in 5 – 7 minutes (only use chlorine solution when other detergents do not work well as it is a harsh cleaner and it can emit toxic gas if contacted with other cleaners).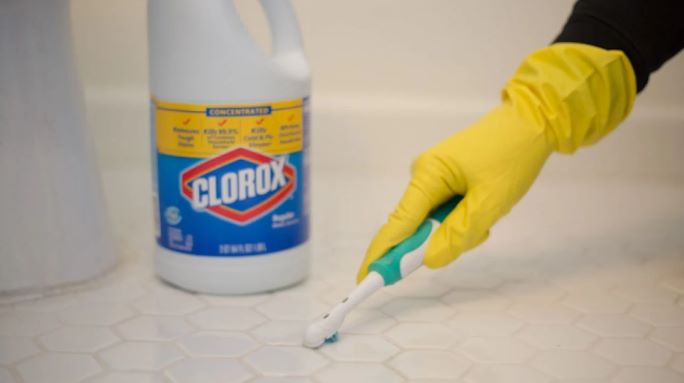 There are many kinds of cleaners that are made especially for grout cleaning. You can get it from a grocery store. Normally, grout cleaners will need to mix with water, follow the instructions of the cleaners to find the approximate amount of water you need.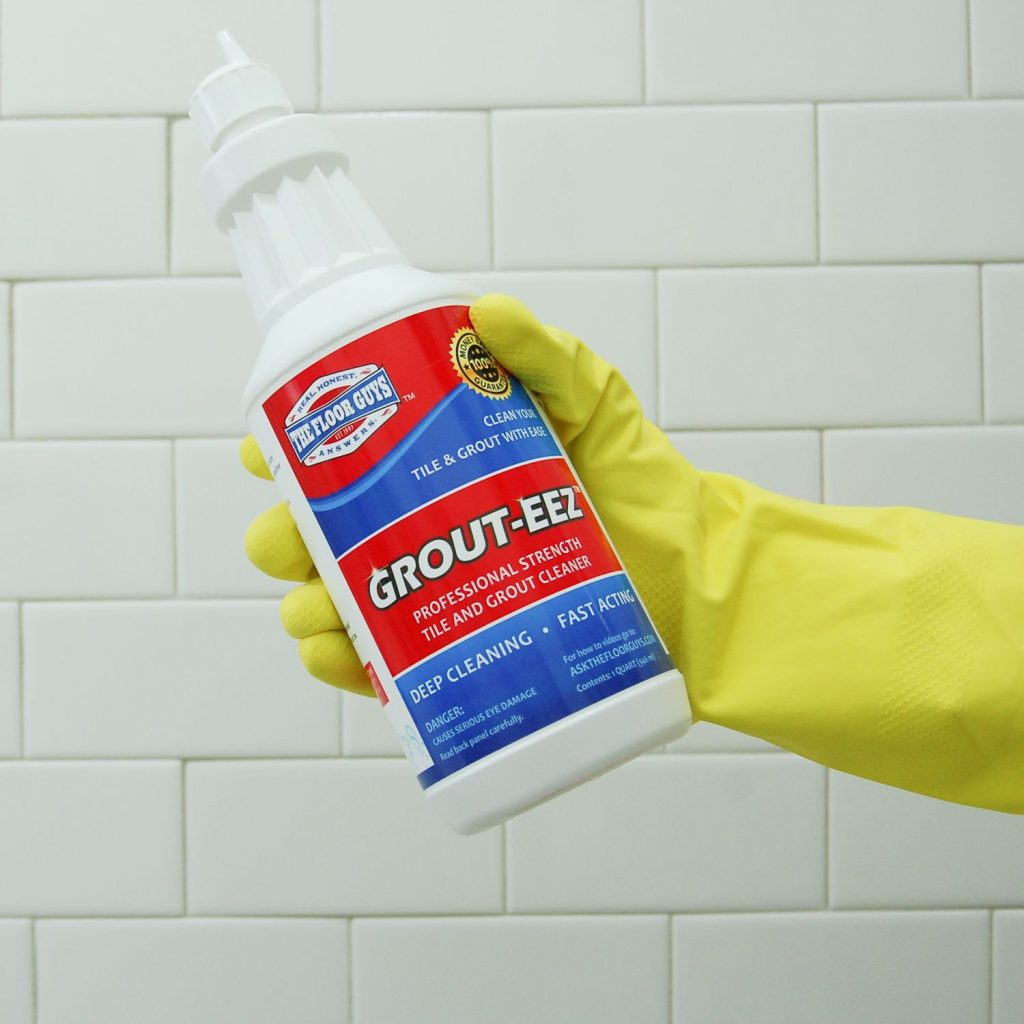 Temporary whitening of the grout: There is a tool called grout pen which is designed especially for treating stained grout. A grout pen applies a layer of waterproof paint on top, which can be tinted to match the color of your tile grout, covering any stains. Many grout pens also contain ingredients to combat mold and mildew and are available at supermarkets and most hardware stores. However, the layer can not resolve the main root of the stain and the paint won't stay permanently. Therefore, this solution is not a thorough solution, you still need further cleaning processes to get a long-lasting result.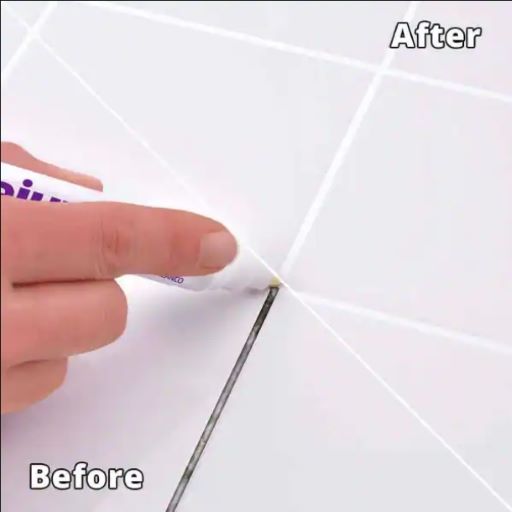 Step 2: Clean the lines
You can use a toothbrush to scrub all the lines and then rinse the floor with water to remove all the solutions.
If you don't like handling scrubbing, invest in a steam cleaner or steam mop, this machine is completely necessary for tackling larger floor areas. This equipment is lightweight and it uses steam power to lift out any dirt from your tile grout, bringing back the shiny clean floor quickly and effectively.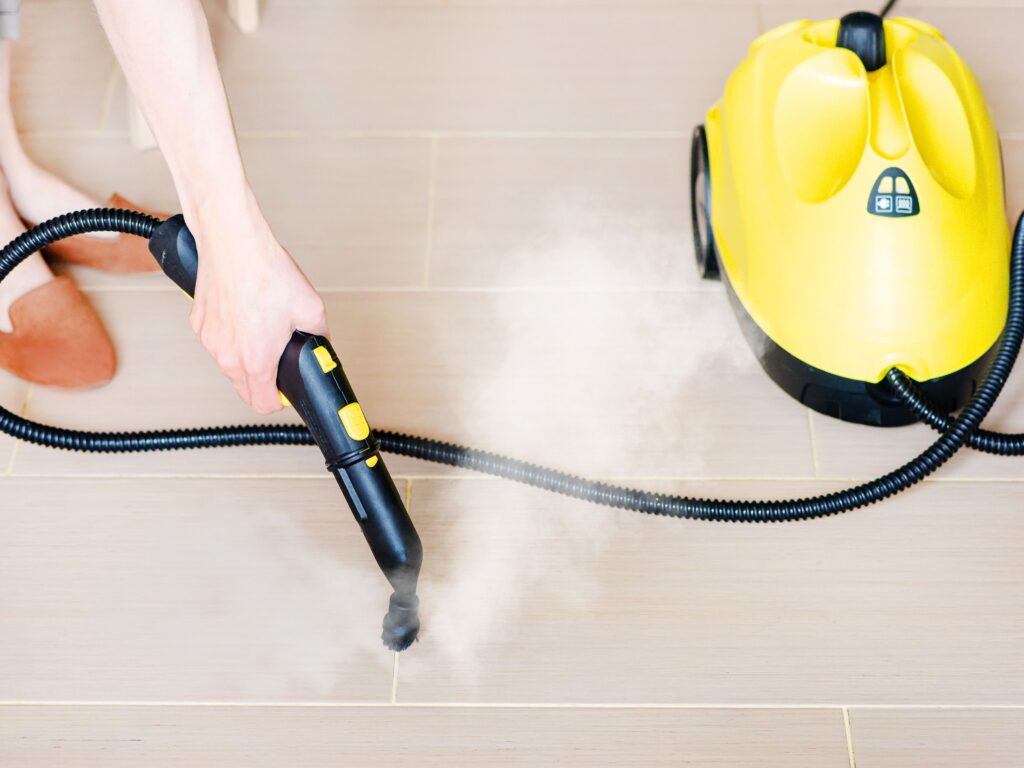 How to keep white grout clean
Staining and damage resistance must be outstanding features of many types of tiles. Grout, on the other hand, wasn't born with the same self-protecting ability as tiles. Without sealing, the grout can easily be stained, or absorb liquid causing darkening. However, white maintaining is not a complex task. 
Obviously, regular cleaning is the best way to prevent your white grout lines from darkening. For high travel density or humid areas, such as the bathroom, you should at least wipe the floor of your toilet once a day after showering. Aegle and mildew won't have a chance to settle in the grout once it is removed immediately.
Not only that, using a high-quality sealant to seal the grout is an effective way to protect the grout from dirt and germ.
Find more cleaning tips
Darkened white grouting may cause headaches if you consider scrubbing all that grout manually. However, with the provided weapon, Sparkling and Beyond believe that cleaning the grout lines should not be a nightmare anymore. Follow all our advice and tips on How to clean white grout to save the beautiful mosaic feature tiles sparkling like new in a long period of time. Besides, with the desire to help more houses keep clean, we have published a lot of interesting cleaning tips on our website as well as a range of flexible cleaning services such as Basic House Cleaning Services, Deep House Cleaning Services, Move-in Cleaning Services, Move-out Cleaning Services, and so on. If you are overwhelmed by household chores, don't hesitate to contact us for professional help.