Are you tired of staring at a blank, empty wall in your living room? Do you long to transform that vast expanse into a captivating focal point? Well, look no further! In this blog post, we have curated 6 incredibly creative and visually stunning ways to decorate your large wall. From unique art installations to vibrant murals and even unconventional shelving ideas, get ready to unleash your inner interior designer and turn that bare canvas into an absolute masterpiece. Get ready for some serious inspiration as we dive into the world of extravagant wall decor ideas – guaranteed to leave everyone in awe!
The importance of wall decor in a living room
The living room is often considered the heart of a home, where family and friends gather to relax and socialize. As such, it is essential to create a welcoming and inviting atmosphere in this space.
One way to achieve this is by incorporating wall decor into your living room design. Wall decor serves as the perfect finishing touch to any room, and the living room is no exception.
It not only adds visual interest but also reflects your personal style and creates a focal point for the room. When done right, wall decor can transform an empty or dull wall into a stunning and vibrant feature that ties the entire space together.
Moreover, wall decor is an excellent opportunity to showcase your creativity and personality. It allows you to infuse your unique taste into the design of your living room while making it feel more personalized and lived-in.
In addition to aesthetic benefits, wall decor also has practical advantages. For instance, if you have a large living room with high ceilings, adding wall art or decorations can help bring the eye level down and make the space feel more cozy and intimate.
It can also help create depth in smaller rooms by drawing attention away from their limited size. Furthermore, decorating your walls can provide balance and harmony in your living room's overall design scheme. If you have bold or colorful furniture pieces, using neutral or muted tones for your wall decor can create a sense of harmony in the space.
On the other hand, if your furniture leans towards minimalism or simplicity, incorporating vibrant or eye-catching artwork
Assessing the size and shape of your large wall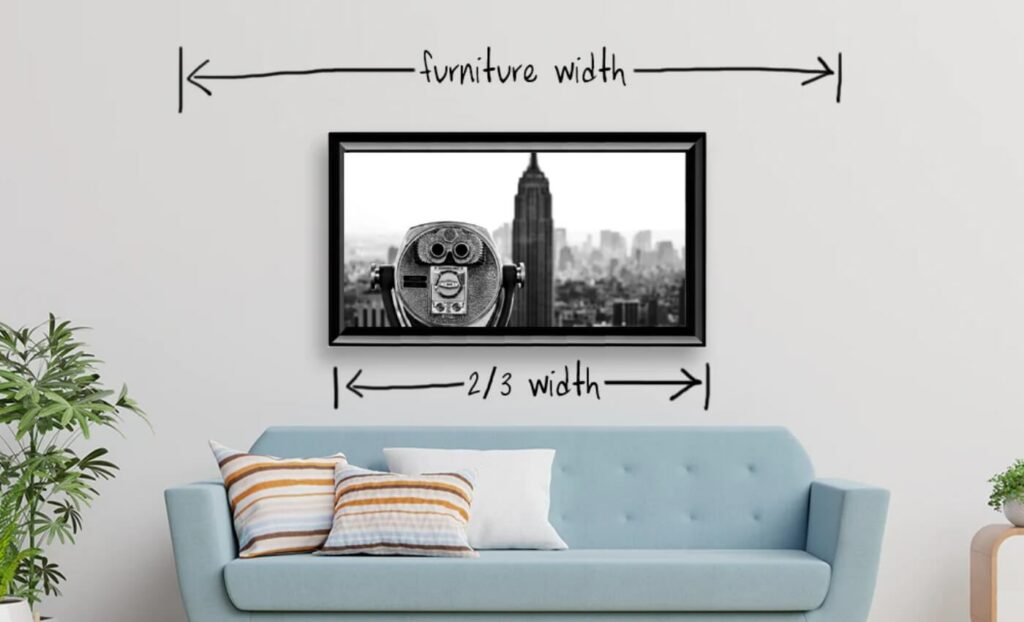 When it comes to decorating a large wall in your living room, the first step is to assess the size and shape of the space you are working with. This will help guide your decision-making process and ensure that you choose the right decor elements for the wall.
1. Measure the Wall:
The first thing you need to do is measure the length and width of your wall. Use a measuring tape to get accurate measurements and note them down. This will give you an idea of how much space you have to work with and will help you determine what type of decor pieces will fit best.
2. Consider Proportions:
When choosing decor for a large wall, it's important to consider proportions. If your wall is tall but narrow, opt for vertical decor elements such as tall framed art or hanging plants. On the other hand, if your wall is wide but short, horizontal elements like gallery walls or shelves filled with decor items can help balance out the space.
3. Take Note of Obstacles:
Another factor to consider when assessing your large wall is any obstacles that may be present on or around it. These could include windows, doors, light switches, or outlets. You want to make sure that whatever decor pieces you choose do not obstruct these features or make them difficult to access.
4. Determine Focal Points:
Before deciding on specific decor items, think about what areas of the wall you want to highlight as focal points in your living room. For example, if there is a fireplace in
Wall art ideas: from traditional to unique options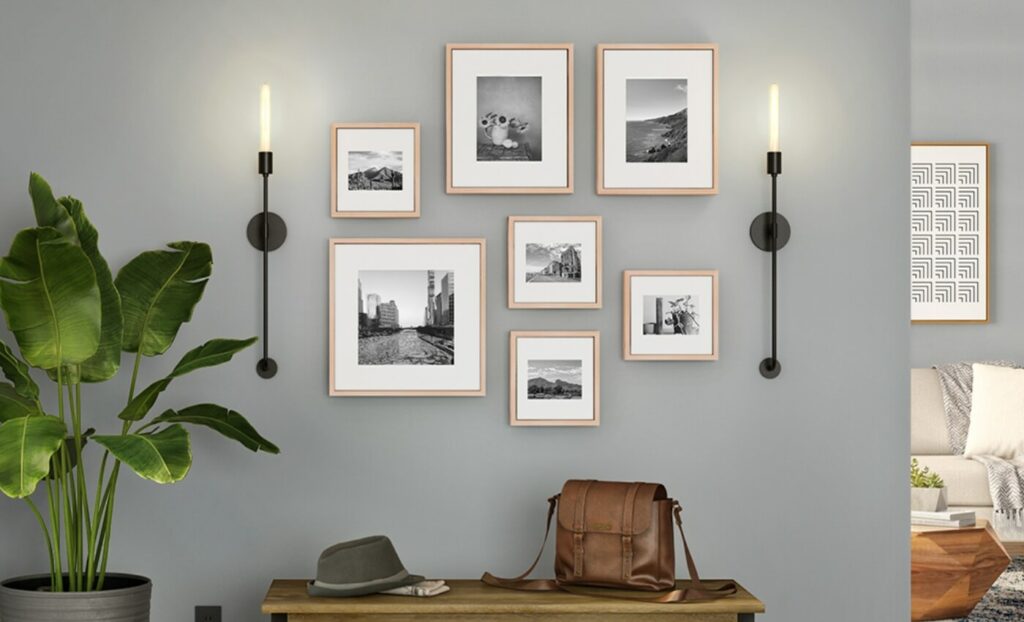 When it comes to decorating a large wall in your living room, one of the most impactful and versatile options is adding wall art. Not only does it add visual interest and personality to your space, but it also allows you to showcase your personal style and interests. From traditional paintings to unique and unconventional pieces, there are endless possibilities for incorporating wall art into your living room decor.
1. Traditional Paintings:
One classic option for wall art is traditional paintings. This could include landscapes, portraits, still life, or any other type of artwork that fits your aesthetic. Traditional paintings add a timeless elegance to a space and can be found in various styles such as impressionism, cubism, abstract, or realism. When choosing a traditional painting for your living room wall, consider the colors and subject matter that will complement the overall design of the space.
2. Gallery Wall:
A popular trend in home decor is creating a gallery wall with an eclectic mix of artwork. This is a great way to display multiple pieces on one large wall while adding texture and dimension to the space. You can mix different types of art such as photographs, paintings, prints, illustrations or even 3D objects like sculptures or woven baskets. The key to creating a cohesive gallery wall is by choosing a common theme or color palette that ties all the pieces together.
3. Tapestry or Textile Art:
For those looking for something more unconventional than traditional paintings or photographs, tapestries or textile art are excellent choices for decorating a
Gallery walls: tips for creating a visually appealing display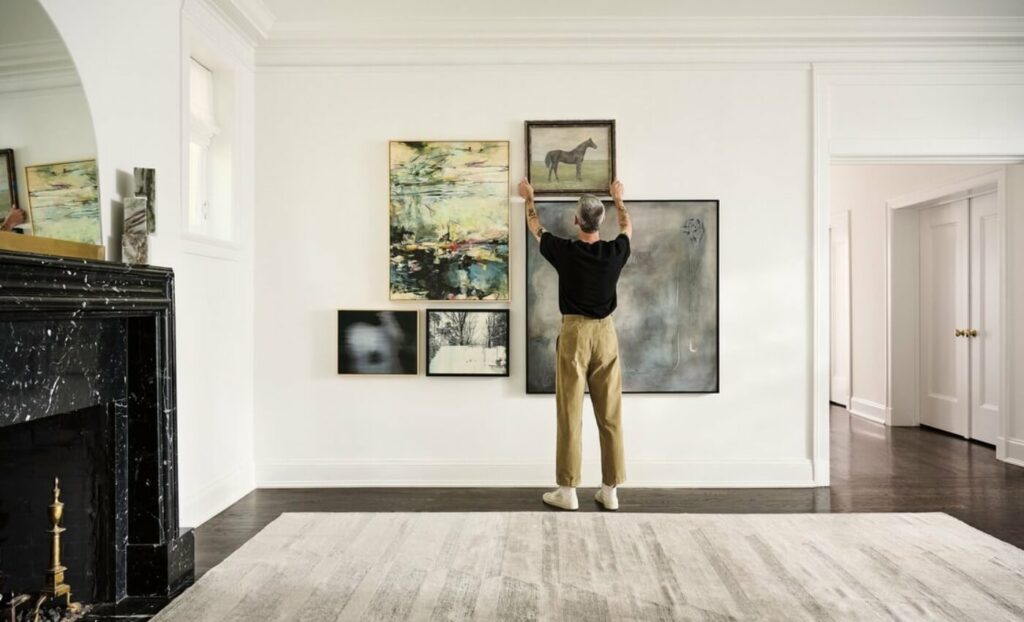 Creating a gallery wall is one of the most popular and visually appealing ways to decorate a large wall in your living room. It involves displaying a collection of artwork, photographs, or other decorative items in an organized and cohesive manner. Gallery walls not only add personality and character to a room, but they also provide a focal point and make use of empty wall space. If you're looking to create a stunning gallery wall in your living room, here are some tips to help you achieve a visually appealing display:
1. Choose the right location:
The first step in creating a gallery wall is deciding where it will be located. It's important to choose an area that is easily visible and complements the overall design of your living room. Some popular locations for gallery walls include above the sofa, fireplace mantel, or on a blank wall opposite the main seating area.
2. Plan out your layout:
Before hanging anything on the wall, it's crucial to plan out your layout first. This can be done by arranging all the items on the floor or using paper cutouts to represent each piece on the wall. Consider factors such as size, shape, and color when arranging your pieces for an aesthetically pleasing display.
3. Mix and match:
A successful gallery wall incorporates different types of artwork and decor elements for contrast and visual interest. Don't be afraid to mix and match different styles such as paintings, prints, photographs, mirrors, shelves or even sculptural pieces. However, make sure there is
Incorporating shelves and other functional elements into your wall decor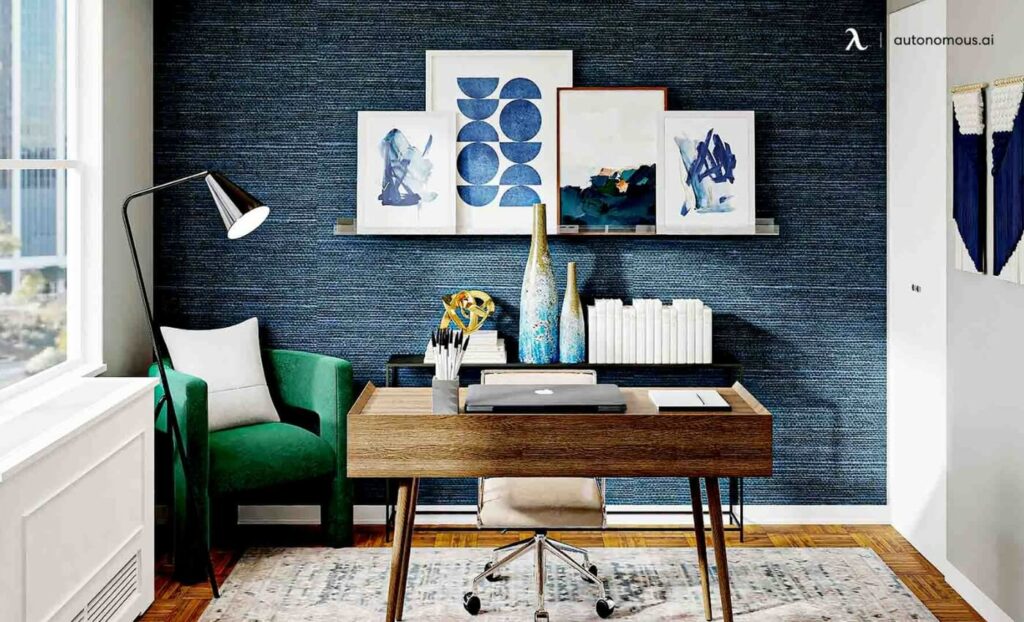 Incorporating shelves and other functional elements into your wall decor is a great way to add both style and practicality to your living room. Not only do they provide additional storage space, but they also serve as eye-catching design elements that can transform your plain walls into a beautiful focal point.
Here are some creative ways to incorporate shelves and other functional elements into your wall decor:
1. Floating Shelves:
Floating shelves are a popular choice for incorporating function and style into your wall decor. These shelves are attached directly to the wall without any visible brackets, giving them a sleek and modern look. They can be used to display decorative items such as books, plants, or photo frames while also providing extra storage space for everyday items like keys or mail.
2. Built-in Shelving:
If you have an empty alcove or niche in your living room, consider installing built-in shelving. This type of shelving is custom-made to fit the specific dimensions of your wall, creating a seamless and integrated look. You can use these shelves to display decorative objects or store items that you want to keep out of sight.
3. Wall-mounted Cabinets:
For those who prefer a more traditional look, wall-mounted cabinets are an excellent option for incorporating functional elements into your wall decor. These cabinets not only provide ample storage space but also come in various styles and finishes that can enhance the overall aesthetic of your living room.
4. Hanging Baskets or Planters:
Incorporating natural elements into your living
Utilizing mirrors to add depth and light to your living room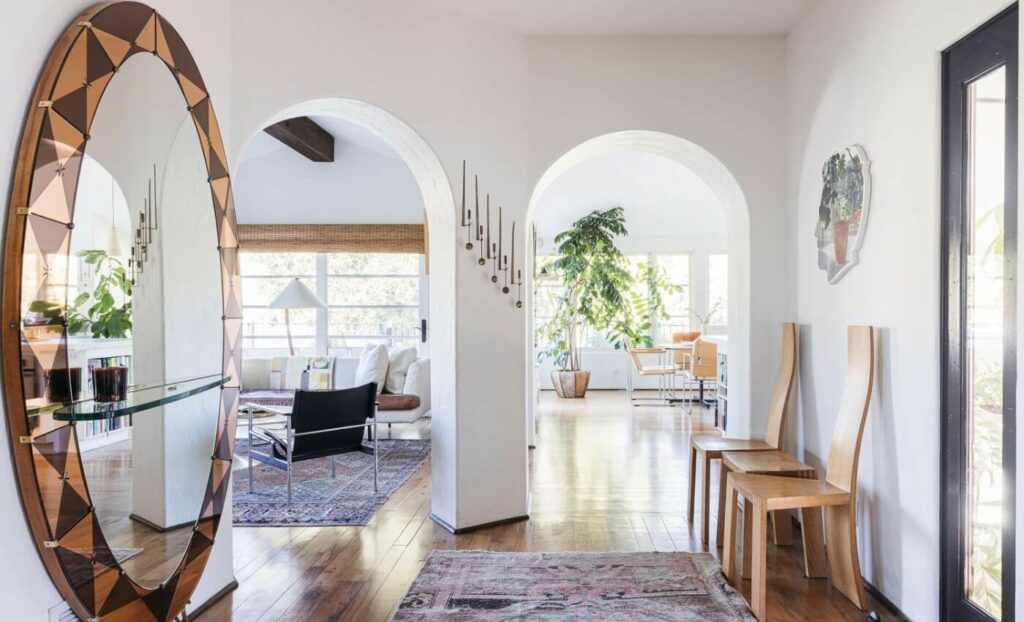 Mirrors are a versatile and functional addition to any living room, providing both depth and light to the space. They can help make a room appear larger and brighter, while also adding a touch of elegance and style. Here are some creative ways to utilize mirrors in your living room décor.
1. Create an Illusion of Space
One of the main advantages of using mirrors in home décor is their ability to create an illusion of space. Placing a large mirror on one wall or multiple smaller mirrors throughout the room can make it feel more open and airy. This is especially useful for small living rooms or those with limited natural light.
2. Use Mirrored Furniture
Incorporating mirrored furniture into your living room design is another great way to add depth and light to the space. A mirrored coffee table or side table will reflect light around the room, making it feel brighter and more spacious. Additionally, these pieces can serve as statement pieces that add visual interest to the overall design.
3. Mirror Gallery Wall
A gallery wall made up entirely of mirrors can be a stunning focal point in your living room. Mix and match different sizes, shapes, frames, and styles for an eclectic look or stick with uniformity for a clean and modern aesthetic. This approach not only adds depth but also creates an interesting display that reflects light from different angles.
4. Place Mirrors Strategically
When hanging mirrors in your living room, consider their placement carefully for maximum impact. Hang them opposite windows or light
DIY ideas for personalized and budget-friendly wall decor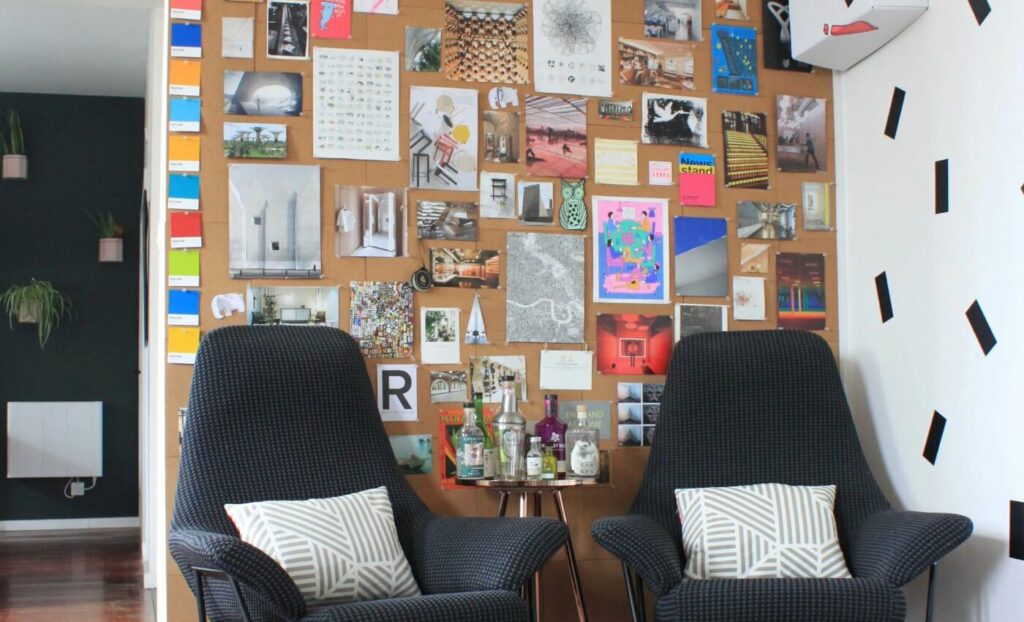 Decorating a large wall in your living room can seem like a daunting task, especially when you're on a budget. However, with some creativity and DIY skills, you can transform that blank space into a personalized and budget-friendly masterpiece. Here are some ideas to get you started:
1. Create a Gallery Wall:
A gallery wall is an excellent way to add visual interest and personality to a large wall. Gather your favorite framed photos, prints, or even paintings and arrange them in a cluster on the wall. You can mix and match different sizes and frame styles for an eclectic look or stick to a uniform grid pattern for a more modern feel.
2. Use Removable Wallpaper:
Wallpaper doesn't have to be permanent or expensive. Nowadays, there are plenty of removable wallpaper options available in various patterns, colors, and textures that can instantly transform your space without breaking the bank. Plus, it's easy to install and remove if you decide to change things up in the future.
3. Hang Plates:
Hanging plates on the wall may sound old-fashioned, but it's making a comeback as an affordable way to add character and charm to any room. Look for unique plates at thrift stores or flea markets or use ones you already own but rarely use in your kitchen cabinets.
4. Make Your Own Wall Art:
Instead of buying expensive art pieces, why not create your own? You don't have to be an artist; all it takes is some creativity and basic craft supplies such as canvas, paint,
Finding the perfect balance between style and functionality in your
After exploring different creative ways to decorate a large wall in your living room, it's time to conclude on the most important aspect of interior design – finding the perfect balance between style and functionality. A well-decorated wall not only adds visual interest but also serves a practical purpose in enhancing the overall ambiance of your living space.
When it comes to decorating a large wall, it can be easy to get carried away with adding too many elements for the sake of style or going too minimalistic in pursuit of functionality. However, striking a balance between these two aspects is key to achieving a cohesive and visually appealing look for your living room.
Ready for a sparkling clean home or office? Book our professional cleaning service with Sparkling and Beyond today!