It can be denied that the cheapest and most impactful method to transform a space is with color. Recently, people have created a lot of painting colors by mixing different basic colors together to fulfill the demand of customers. Despite color diversity, white has never been out of the top choice since it can help lighten your home as well as bring us a sense of clean and pure. However, even white has different white paint colors that are available for your cabinet kitchen. In this article, we will concentrate on the greatest interior white wall paint colors which are perfect for your cabinet.
Top #1: Simply White, Benjamin Moore for White Cabinet Kitchen
Bright white paint with a faint yellow undertone, Simply White OC-117 or 2143-70 has warm undertones in daylight. It is a popular choice for interior walls, ceilings, cabinetry, and stunning trim color because it is a crisp, warmer white.
This contemporary white maintains delicate characteristics to fit all the intricacies of a traditional home while reflecting enough light for contemporary rooms. Put Simply White paint on all the walls to create a space that is uniform and open, or use it on all the cabinetry and trim to go with a darker wall color.
Simply White is part of the Benjamin Moore Modern Farmhouse color palette, and was chosen Benjamin Moore Color of the Year in 2016.
It is vibrant enough for ceilings and trim around walls and windows in a family room and rich enough to lend depth to white kitchen cabinets.
Simply White is the ideal white for a large gallery or accent wall, great room, or to lighten hallways for art exhibition. It makes rooms with high ceilings appear spacious and contemporary.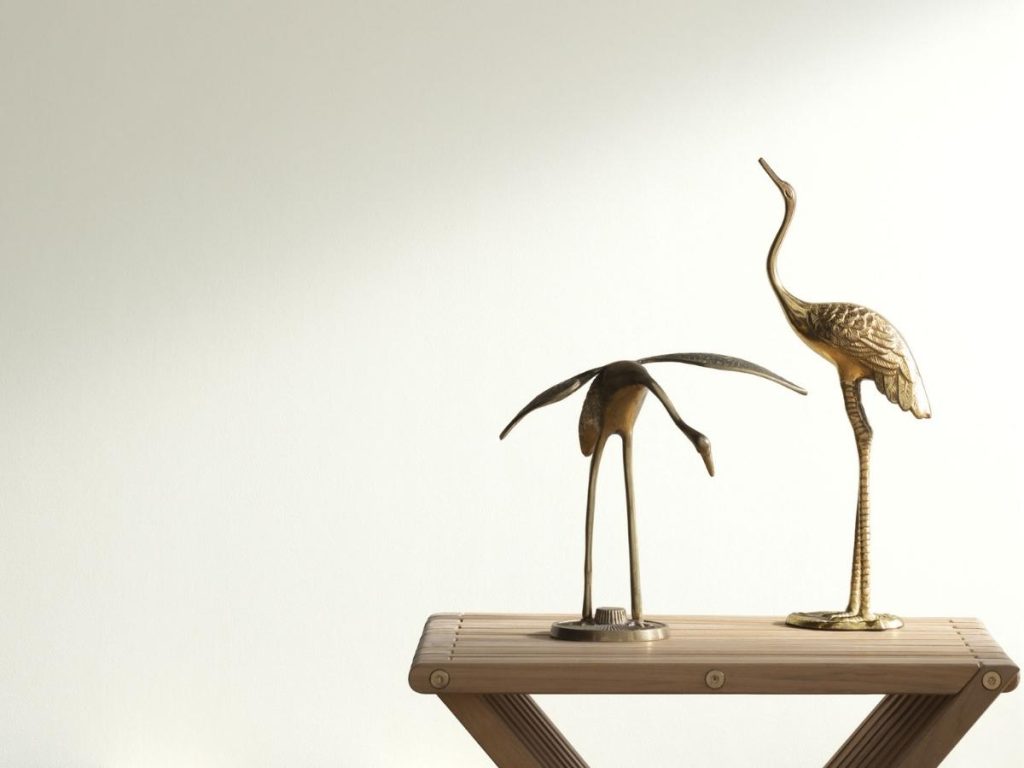 Top #2: Super White, Benjamin Moore for White Cabinet Kitchen
A clear, crisp white paint color that truly is ultra white is Benjamin Moore Super White (PM-1 or OC-152). BM Super White, which has been described as brilliant and shimmering, will brighten a space without making it feel overly frigid. It is a go-to color for folks who desire a paint color that is unmistakably white because it lacks any overt hues. Unique architectural details are well highlighted, framed artwork and vibrant decorations are made to stand out, and the trim looks fantastic.
William Moore Both huge, open rooms and small, private places benefit from Super White. Super White is a great option for kitchens because it increases the way light reflects off of cabinetry and creates subtle color transitions across various surfaces.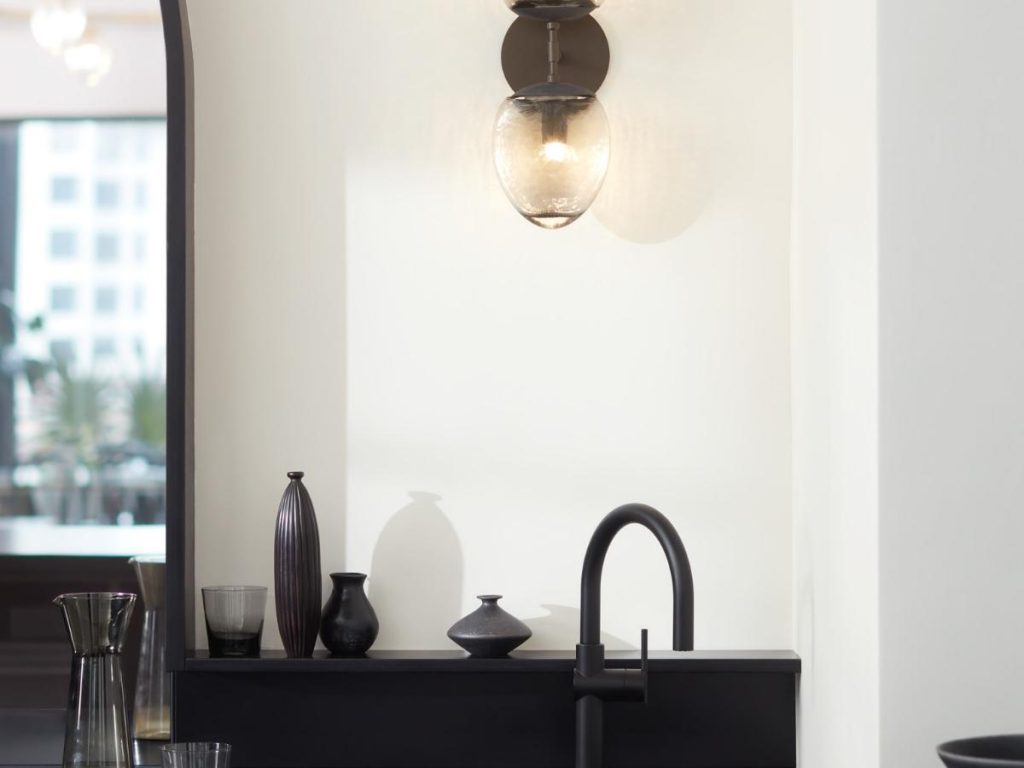 Note: Compared to Simply White OC-117, Benjamin Moore Super White looks cooler and fresher.
Top #3: Figueroa, Portola Paints for White Cabinet Kitchen
If you are finding a white color that is not too light and cool, Figueroa of Portola Paints can be a good choice. Figueroa is inspired from the color white of natural limestone, which provides a sense of earthy and warm. This color is preferred for ancient Roman interior style kitchens, combining with Roman-designed furniture will create a clean and luxury space.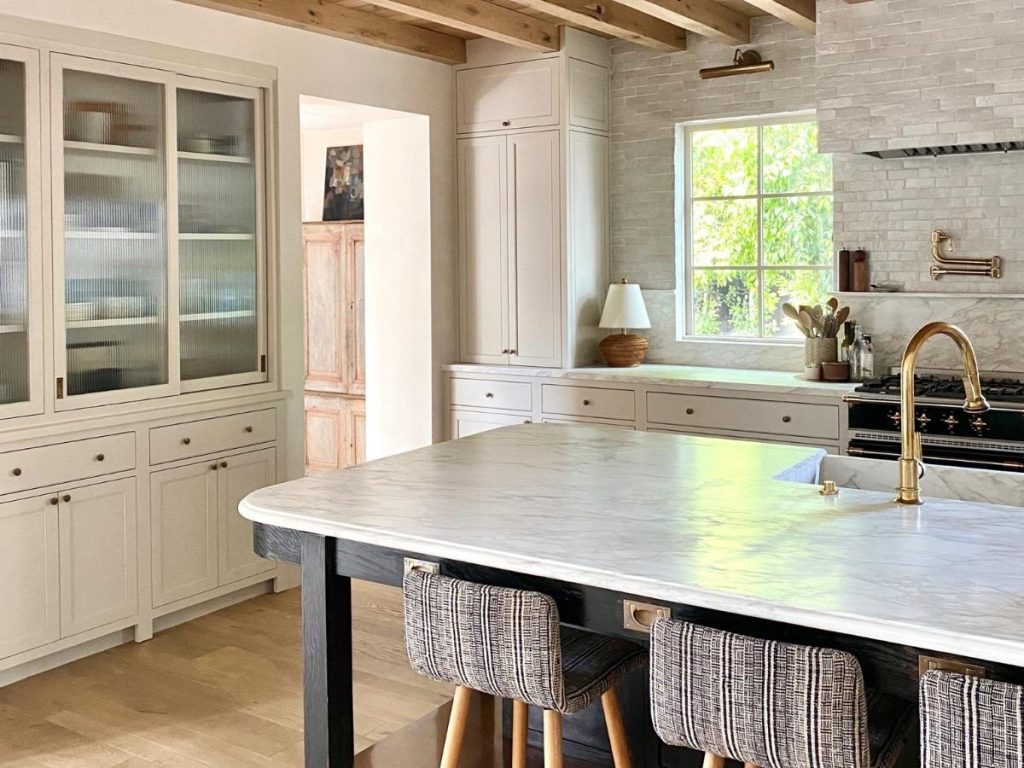 Top #4: Alabaster, Benjamin Moore for White Cabinet Kitchen
Alabaster OC-129 with the Light Reflectance Value of 85.08% is a very youthful and romantic white for kitchens. Alabaster OC-129 has a fatting touch of pink when reflecting light. This color is perfect for romantic people, bringing a sense of freshness but sweetness. If you paint Alabaster OC-129 for your kitchen walls, furnish it with some warm color furniture such as baked terra cotta, the combination is completely brilliant.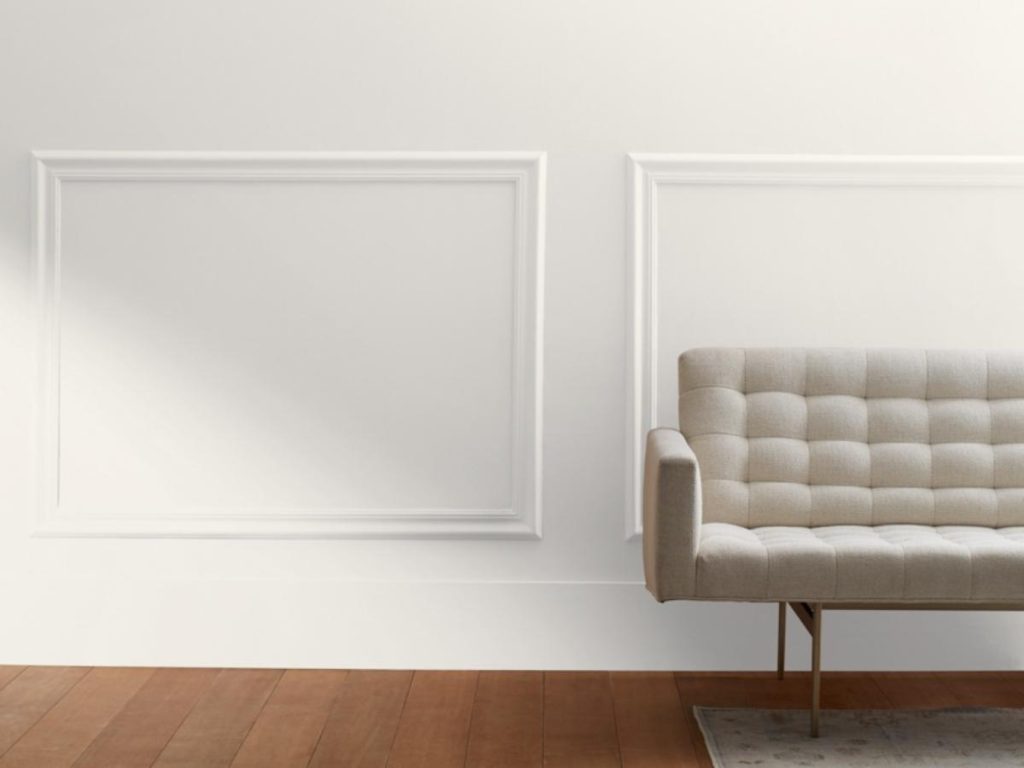 Top #5: Fog Mist, Benjamin Moore for White Cabinet Kitchen
If you are keen on a greige white, take Fog Mist OC-31 into account. There are relatively few undertones to this color but a warm note of greige, but that only aids in the chameleon-like way in which it adapts to the ambient light. Fog Mist is also a worth-trying alternative for a cabinetry colour if you see the pure white is too stark and hard to keep it news for a long time.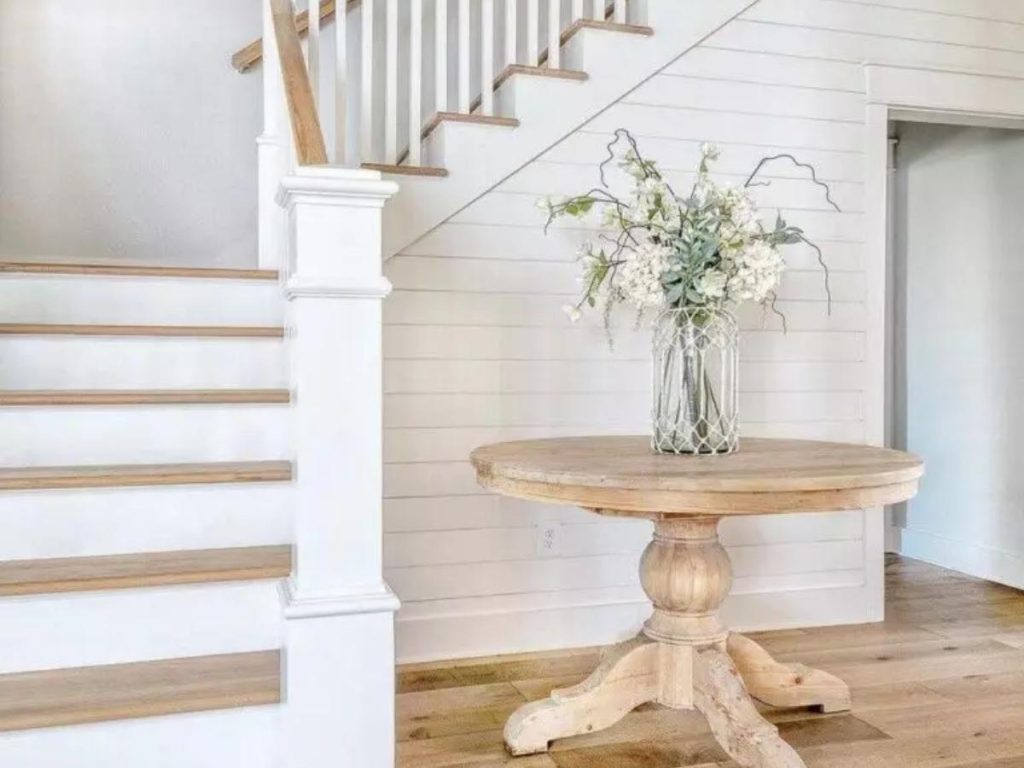 Top #6: First Light, Benjamin Moore for White Cabinet Kitchen
Having rooted in the trendy Millennial pink shade, First Light 2102-70 dresses up your cabinet with a softer pale blush-pink outlook. Pink typically has brown undertones because it is such a pale shade of red.
The cooler pink hues accentuate gray undertones while muting brown undertones. First Light 2102-70 has prominent chilly undertones without becoming a lavender color because of its brown-gray undertones.
Even in South-facing areas with warm, sunny light, First Light avoids being overly peachy thanks to its cool undertones. Rooms with little natural light benefit from this chic pink color because it prevents them from looking dreary.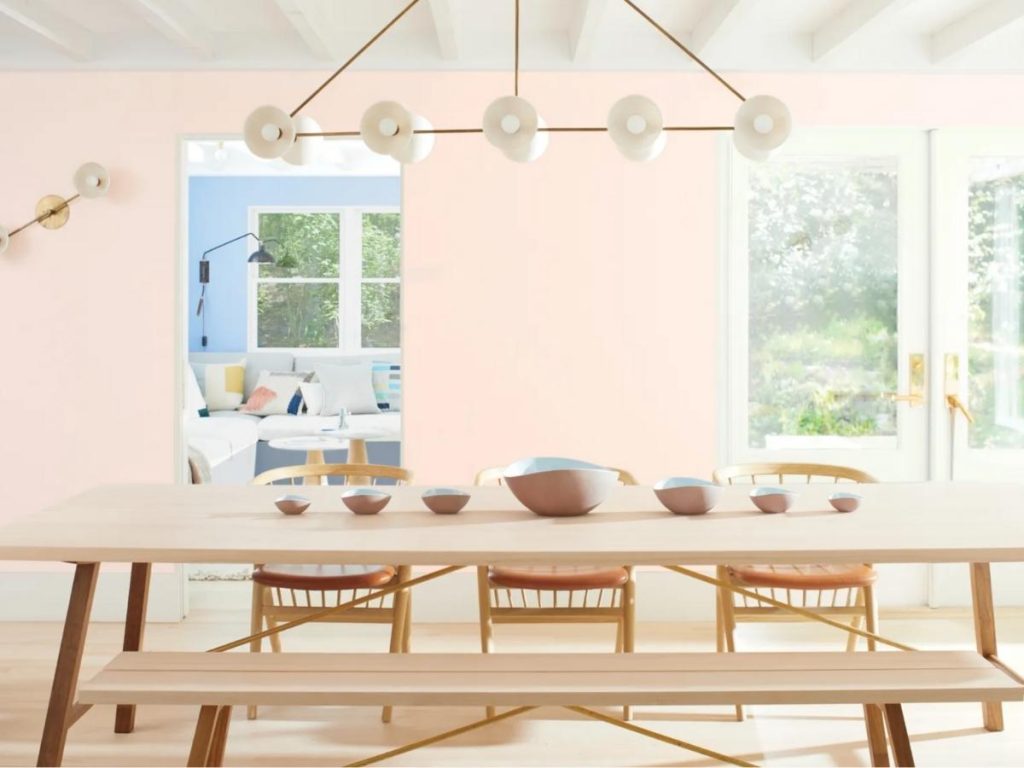 Top #7: Love & Happiness, Benjamin Moore for White Cabinet Kitchen
Love & Happiness 1911 is a perfect neutral color with a warm gray undertone featuring notes of pink. With the Light Reflectance Value of 71.95%, it works brilliantly in a small galley or U-shaped room with little natural light (it gives the nook that much-needed brightness). Although it won't sparkling as pure white, the reflectance provides a warm light to your kitchen.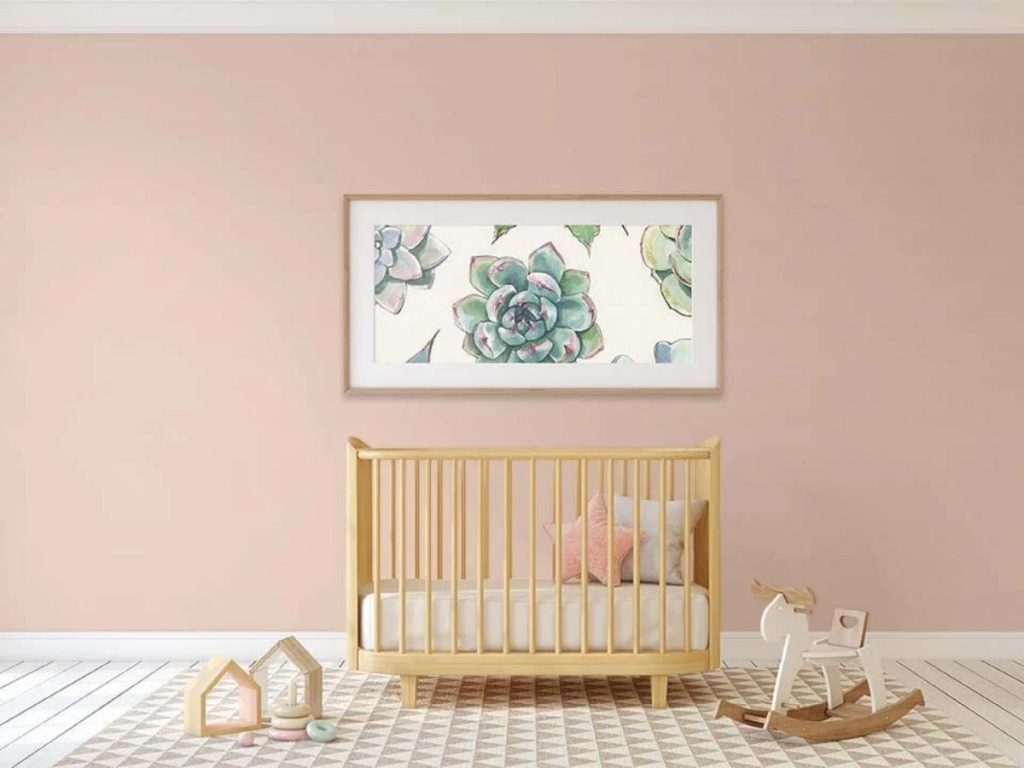 Top #8: Soft Green, Benjamin Moore for White Cabinet Kitchen
Turn your kitchen into a garden-like space with Soft Green 2045-70, the light greenish color with a high Light Reflectance Value, at 81.61%. Soft Green brings a soft hue with a sense of freshness and coolness. Any natural lovers, or the one who is crazy about mint should not ignore this color.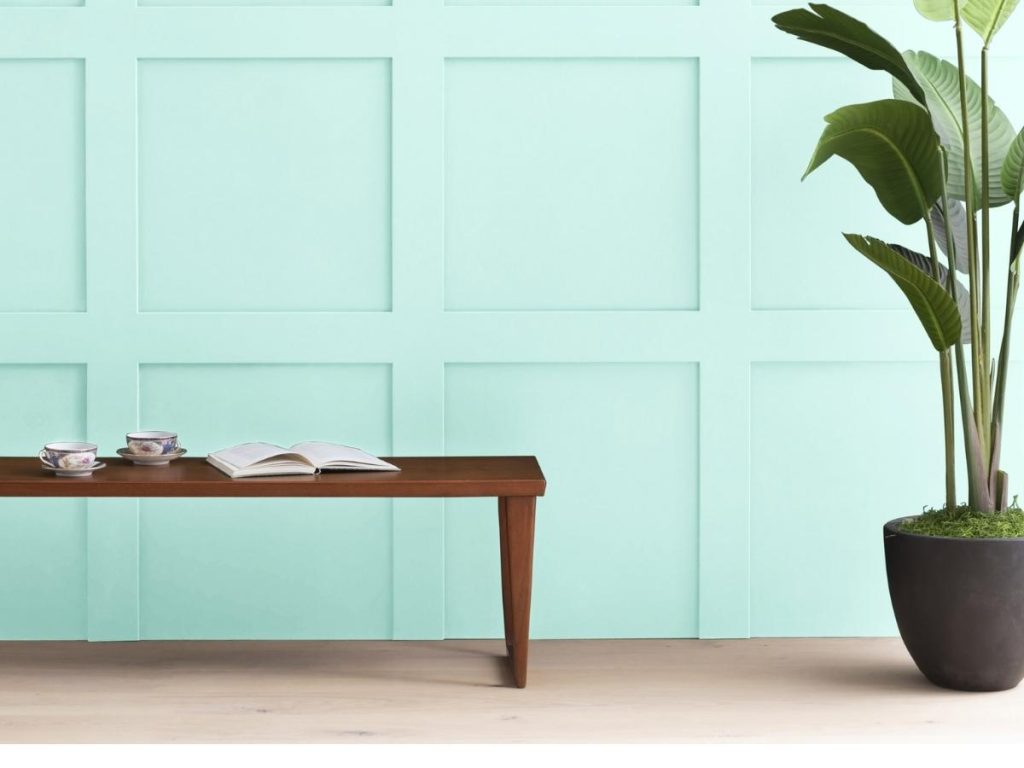 Top #9: Castle Gray, Farrow & Ball for White Cabinet Kitchen
Castle Gray is a fantastic, adaptable shade for residences of many types, inside and out, even though its original application was on the external woodwork of a castle. All-out cottagecore with a traditional green-gray is excellent when used to create depth and balance in bookcases or to ground kitchen islands, or create rooms with low ceilings a ton of depth.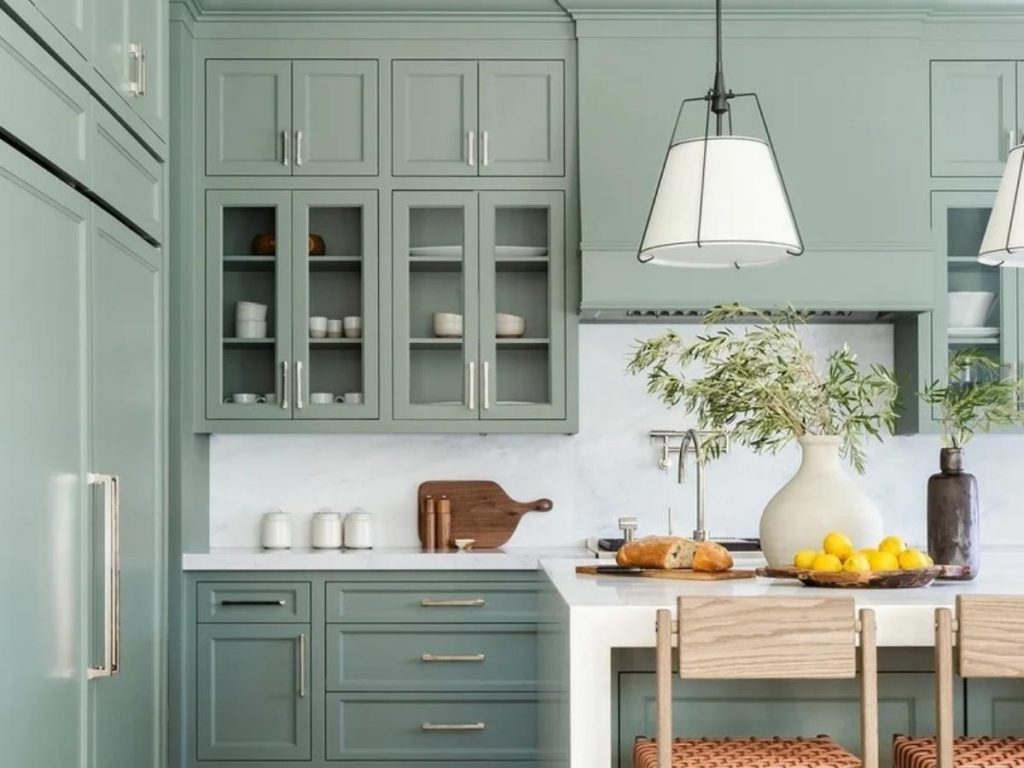 Top #10: Benjamin Moore Gray Owl for White Cabinet Kitchen
If you don't like light colors, why don't you consider Gray Owl 2137-60? A neutral gray that can be used anywhere in your house. Gray Owl 2137-60 is a dark tone color with the LRV of almost 66%, this color brings a rustic and a little ascent hue. With wooden decorations, Gray Owl 2137-60 creates a perfect tropical space for your kitchen.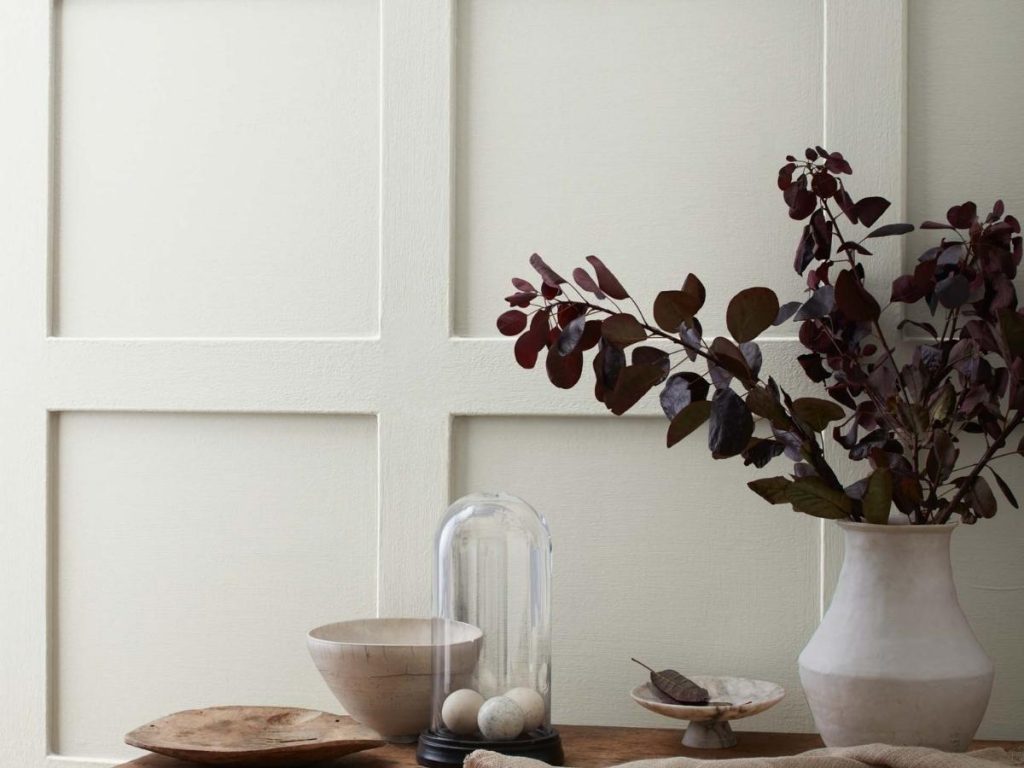 Among all colors, white is still the top choice in 2022 with two different shifts toward cooler or warmer tones. We picture all the colors clearly and real examples of them so that you can consider which one suits your taste.
If you have any other interesting colors, just share your favorite color.
Need some more tips? We're here to help
What to look for in hiring a cleaning service in Alameda, CA. Follow our tips above to see some incredible changes. 
In case you need to refresh your living space, at sparklingandbeyond.com, we provide you with affordable and reliable cleaning services and a lot of helpful tips.
Feel free to contact us today! Our experienced cleaning experts are waiting for you!
If you want to check our availability and pricing, please check here
As an interior designer, I have done many researches regarding building a healthy living space. This job is my passion and I am happy that I have helped a lot of customers to improve their living space. Out of work, I like art, I often spend time on painting to relax myself. Completing a colorful painting helps me refresh my energy.