You want to make sure that your mattress lasts because it is an expensive investment, so learning how to properly clean a mattress is essential. Mattresses need to be cleaned frequently, especially if you have pets, have allergies, or are just a night owl with a penchant for midnight snacks. This is because mattresses can harbor dust mites, dead skin, dirt, and other detritus.
The good news is that it's far simpler to clean a mattress than you might realize. Discover our steps in the following paragraphs to maintain your mattress clean and prepared for years of sleep.
How Often to Deep Cleaning a Mattress
In addition to promoting better sleep, cleaning your mattress twice a year helps minimize sweat, dust mites, and allergies that accumulate over time. Also, it helps keep your sleeping area fresh and clean and aid in the prevention of pest infestations.
Your mattress' materials slowly deteriorate with time, necessitating replacement every 7 to 10 years—a costly need. You may increase the lifespan of your mattress layers and fibers and create a healthier sleeping environment by cleaning it every six months.
Your mattress' materials slowly deteriorate with time, necessitating replacement every 7 to 10 years—a costly need. You may increase the lifespan of your mattress layers and fibers and create a healthier sleeping environment by cleaning it every six months.
Step 1: Vacuum Thoroughly
Unlike vacuuming a floor or carpet, mattress vacuuming requires extreme thoroughness in order to completely cover the mattress, including seams and edges (where bugs and mites tend to hide). Remember that you must also thoroughly vacuum the sides and below of the mattress, so allow plenty of time and back-and-forth movements to complete each area.
Use a brush head like an upholstery attachment to safely and effectively vacuum your mattress.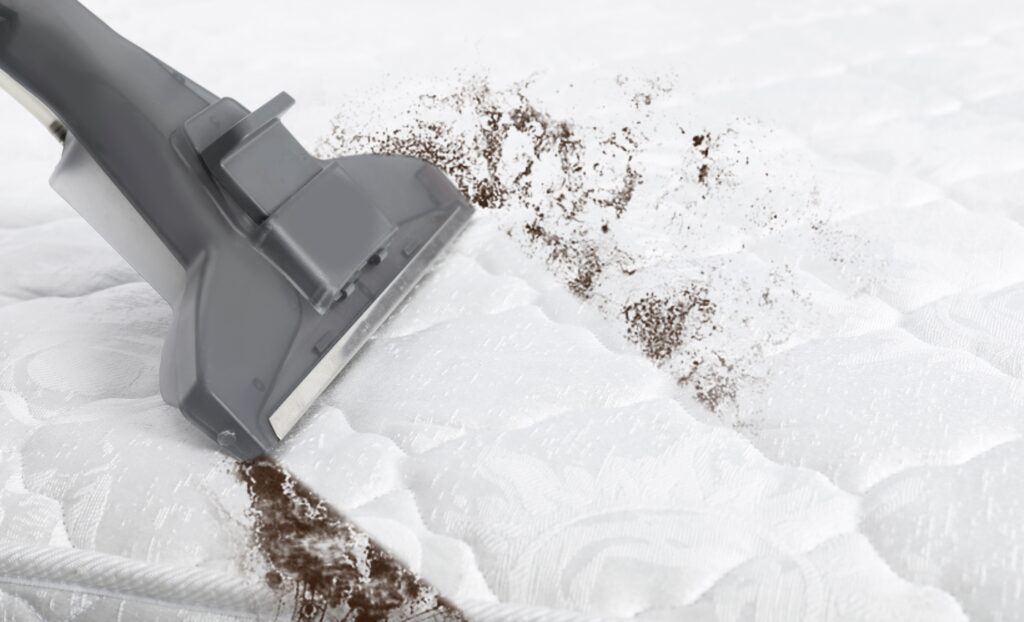 Step 2: Sprinkle with Baking Soda
Despite the fact that baking soda is frequently used as a key component in household cleaning, the goal of using it at this point is not to get the mattress care but rather to get mattress odor removal. To achieve this, liberally sprinkle baking soda over your mattress until a thin, patchy coating is there.
Walk away for at least two or three hours as the powder absorbs moisture and musty or bad odors. Remember that baking soda is more efficient at eliminating odors from your mattress the longer you let it stay on the surface.
Step 3: Mattress Vacuuming, Again
This time, unlike the first time you vacuum your mattress, you don't need to be as thorough because the only thing you're trying to do is get rid of the baking soda, which is only on the surface. Yet, it's crucial to vacuum up all of the powder because it has been absorbing moisture and unpleasant odors from your mattress, which is, to put it mildly, awful.
Start at one corner and go down to the other to complete this task effectively. You can finish everything on time if you vacuum each section in a straight line!
Step 4: Make a DIY Natural Mattress Cleaner
You don't need to use laundry detergent or industrial cleaners when deep cleaning a mattress. In fact, using harsh chemicals or cleaners is strongly discouraged, which is why we use a cleaning solution that is created entirely of natural materials. Combine 1 liter of water, 1/2 cup of white vinegar, 2 lemons, and 1 cup of baking soda to prepare a natural mattress-cleaning solution. You can also add a few drops of essential oil from lavender for aroma, but doing so is optional. Once mixed, pour the solution into a spray bottle and shake well.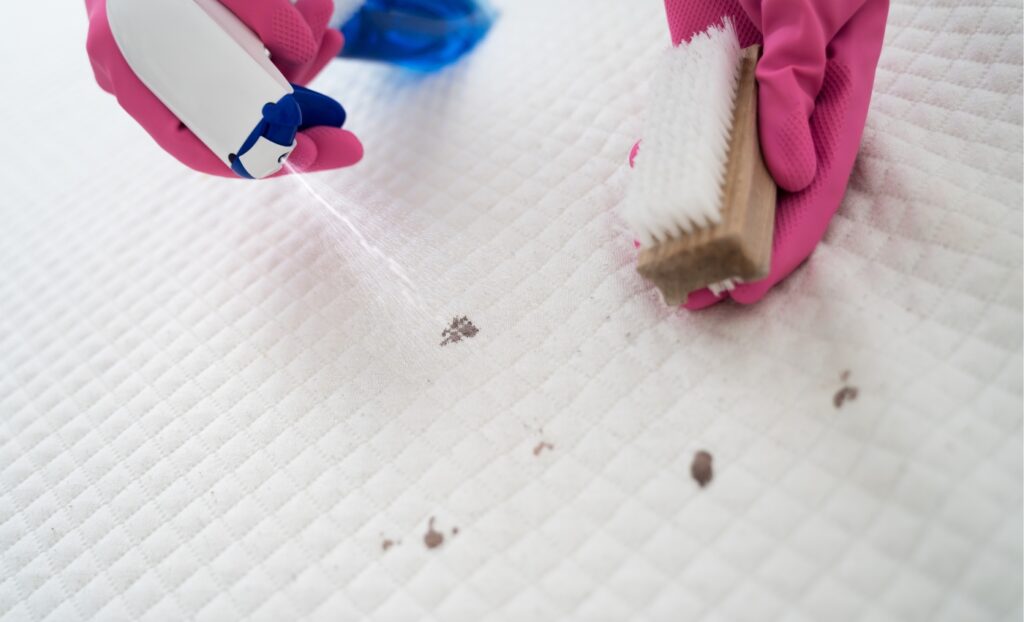 Step 5: Apply the Cleaning Solution and Scrub
It's important to remember that the cleaning solution shouldn't ever be saturated on your mattress. This entails utilizing the mist' setting on the cleaner's sprayer rather than the stream spray option. Do not bother wetting every square inch of the mattress; spray parts of the entire thing.
After using the mattress cleaning solution, gently scrape the material with any cleaning equipment that will take dirt off the surface rather than allowing it to embed itself in the mattress (like a brush). Due to their efficiency and convenience, we use a pair of microfiber gloves. Just spray the cleaner on any dry patches you encounter and keep scrubbing. Don't forget to flip the mattress over and clean the bottom and the mattress's four sides.
Step 6: Remove the Cleaner and Dry
As the cleaning agent is all-natural, there is no harm in leaving traces of it, although removing as much of it as possible to avoid a lingering scent (from the cleaner) is preferable. Using a fresh, moist towel is the ideal method for doing this. Just give the fabric a quick top-to-bottom wipe-down.
A mattress is a huge (and frequently heavy) item, making it challenging to dry after deep cleaning. But, the cleaning professionals at Maid For You suggest bringing your mattress outside to air dry in the sun. Naturally, a large piece of plastic or a bed sheet is required to set the mattress on to prevent dirt from adhering to the damp material. Give both sides at least three to four hours in the sun to dry.
Final word
Even if you might not see your mattress very often, the fact that you use it daily ought to be enough to convince you that it needs to be thoroughly cleaned. Ensure your mattress is clean, hygienic, and working correctly as a regular chore every six months!
More Information?
You now understand how to thoroughly clean your mattress at home. If you want to learn how to clean your house or if you're seeking general cleaning advice, check out our other guides.
Don't hesitate to contact us if you have any additional questions related to cleaning your mattress; we'll be glad to help.
In case you don't have time for this complicated task, Sparkling and Beyond will provide you our best deep cleaning services and make sure your house, even your mattress, is as clean as possible.