Even the cleanest homes could benefit from a deep cleaning every now and then. Deep cleaning is necessary, especially before any important occasions such as Christmas, New Year Eve, etc. but do you know What is Included in a Deep House Cleaning?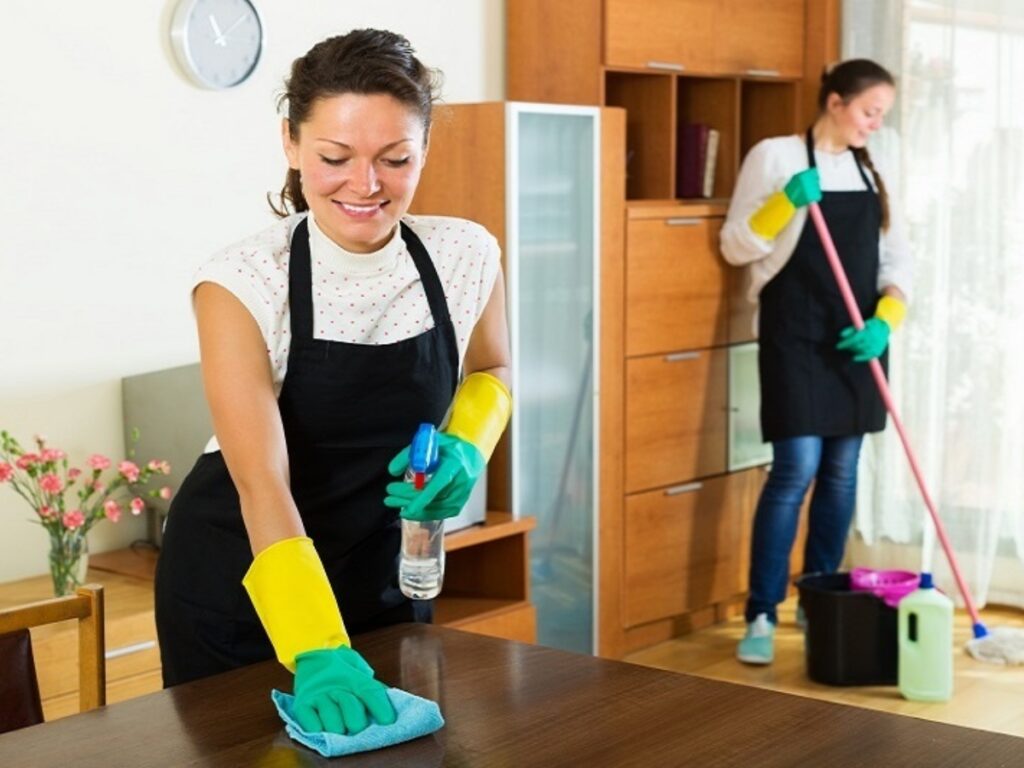 Many people confuse regular cleaning with deep cleaning, if you are the same, let's find out Deep Cleaning VS Regular Cleaning: What's The Difference? Or Deep Cleaning vs Standard Cleaning to make clear what you need to do while deeply cleaning every corner of your house.
Moreover, to avoid becoming overwhelmed while deep cleaning a house, divide the task into smaller. You'll begin with our House cleaning checklist: Comprehensive guide 2023. After you've finished those, you can move on to some room-specific tasks. This whole-house cleaning checklist is useful before entertaining guests or when daily clutter and messes begin to accumulate. You can also incorporate these steps into your spring or fall cleaning routine. Here are our tested-and-true tips to deep clean a house:
General Deep Cleaning Steps for Every Rooms
/01/ Remove unnecessary items from all the rooms
The first step you must do is removing all the clutter. Even if your room looks neat and tidy, there may be some stuff you bought and expired but you didn't realize. So, check everything and remove all the items that were out of function or have expired.
Also, you should move the furniture, including larger pieces such as beds, carpets and sofas as well as framed artwork and photos so that you can swipe the wall and floor more easily.
Next, gather everything that needs to be washed such as blankets, mats, pillows, cushions, etc. in the bedroom, dishes, bowls, pans, pots, etc in the kitchen, decorations in the living rooms. Remove them out of the house or to the bathroom for washing.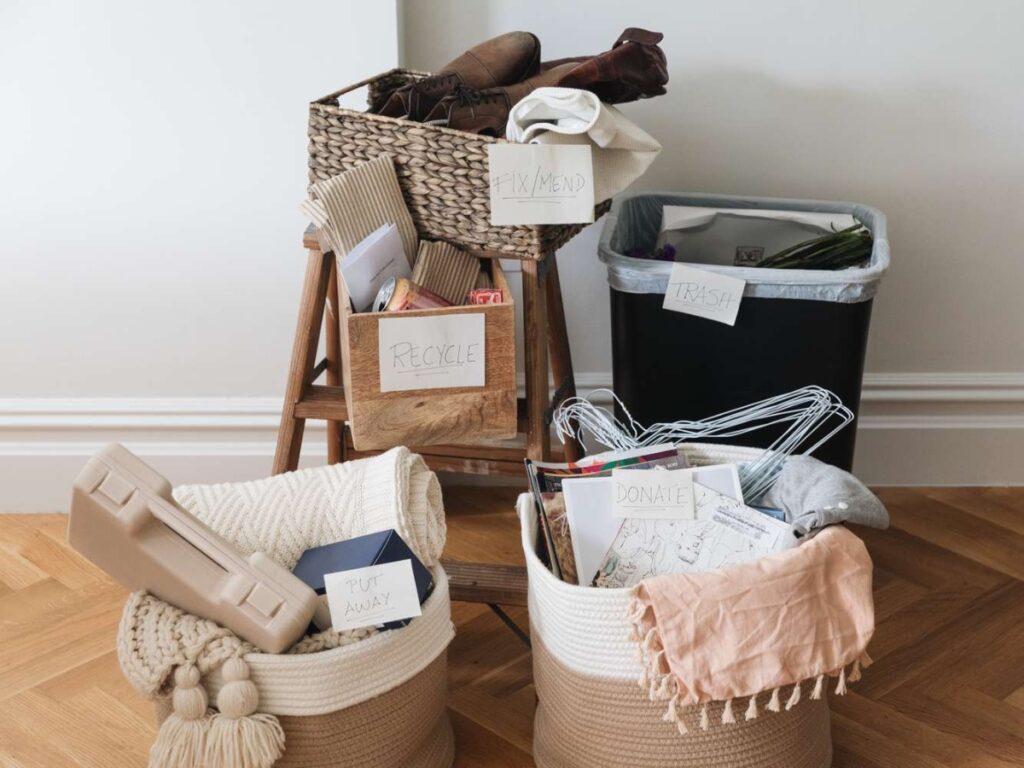 /02/ Clean hung appliances and decorations
From the highest points to the lower, from the ceiling, ceiling trim, ceiling light fixtures (including bulbs) to walls, top of cabinets and baseboards.
A clean microfiber mop or a duster with a telescoping handle is ideal for these surfaces. These tools are usually thin enough to fit behind the sofa without disturbing it. A spritz of water on the mop above eye level is all required. Because surfaces near the floor tend to accumulate dirt and dust, use warm water mixed with a drop of dish soap. Add a splash of white vinegar to the mixture to prevent mold and mildew in bathrooms. Use a microfiber cloth in places where a mop would be awkward or inconvenient. Rinse frequently and thoroughly.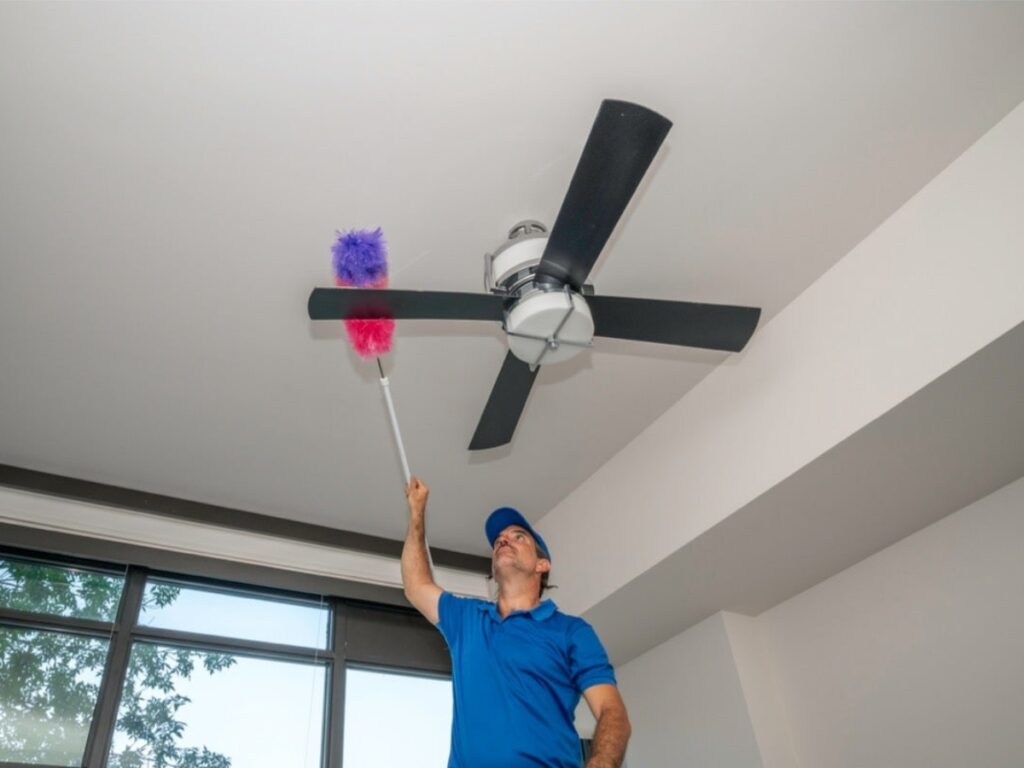 /03/ Clean windows and doors
Cleaning windows and doors is a simple task with a significant payoff. Vacuum the sills and tracks first. Then, from top to bottom, spritz the windows and doors with suitable cleaners depending on their material (see more on How to get stickers off mirror or glasses windows). It will be easier to see and fix streaks if you wipe in one direction on the inside windows and another on the outside windows.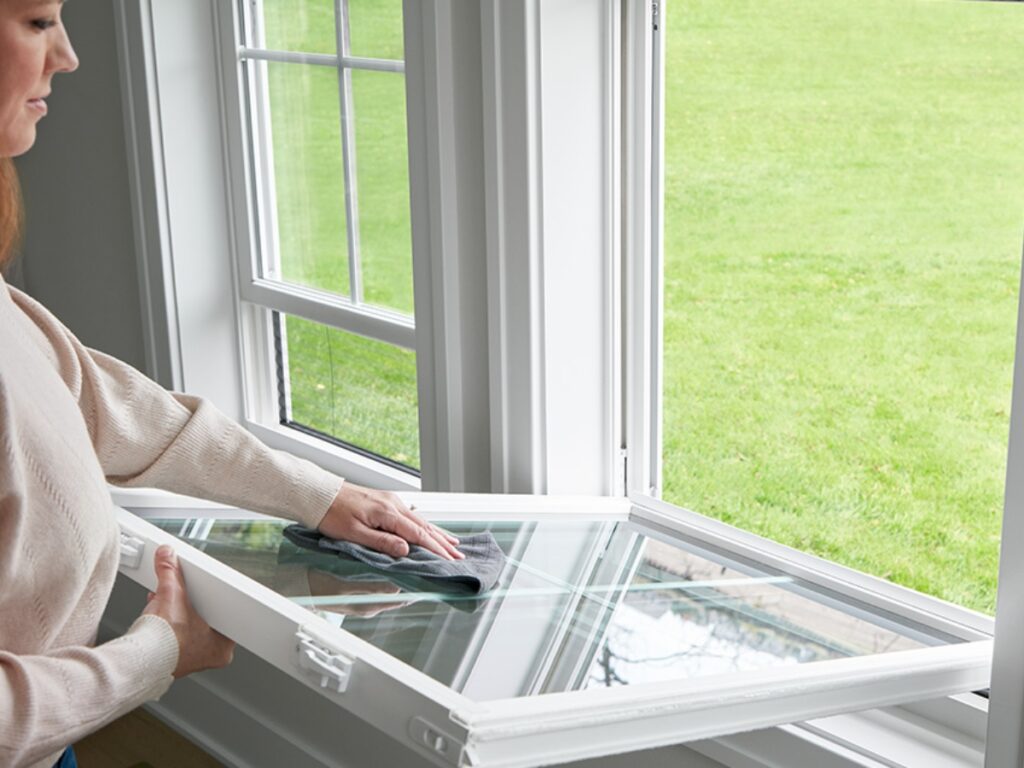 /04/ Remove dust from all the surfaces
Wipe down all remaining hard surfaces (wood furniture, shelves, built-ins, etc.) with a soft cloth and furniture cleaner and polish. Put a clean cotton tube sock on your dominant hand to dust surfaces while moving objects out of the way with the other. Finally, clean the lampshades with a lint roller.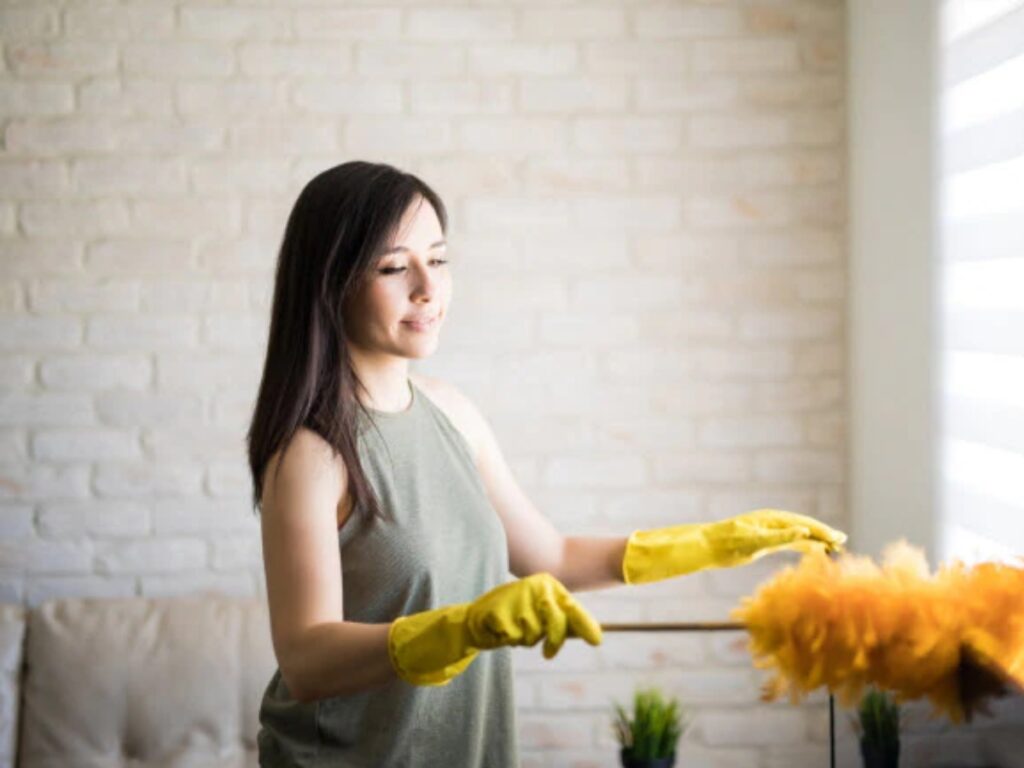 /05/ Clean the floors
Use your vacuum's crevice tool to remove dirt from corners and along baseboards. If you have a hard floor, clean it with a microfiber mop and a surface-appropriate cleaner. If you have a hardwood floor, you can follow our instructions on How to deep clean hardwood floors naturally?. If you have carpet, choose one of 17 best DIY carpet cleaners to clean your carpets. Cleaning carpets is not such a simple task as you may face several troubles after cleaning them, we recommend you follow the steps on How to properly dry carpet after cleaning to avoid bad smell or other problems with the carpet.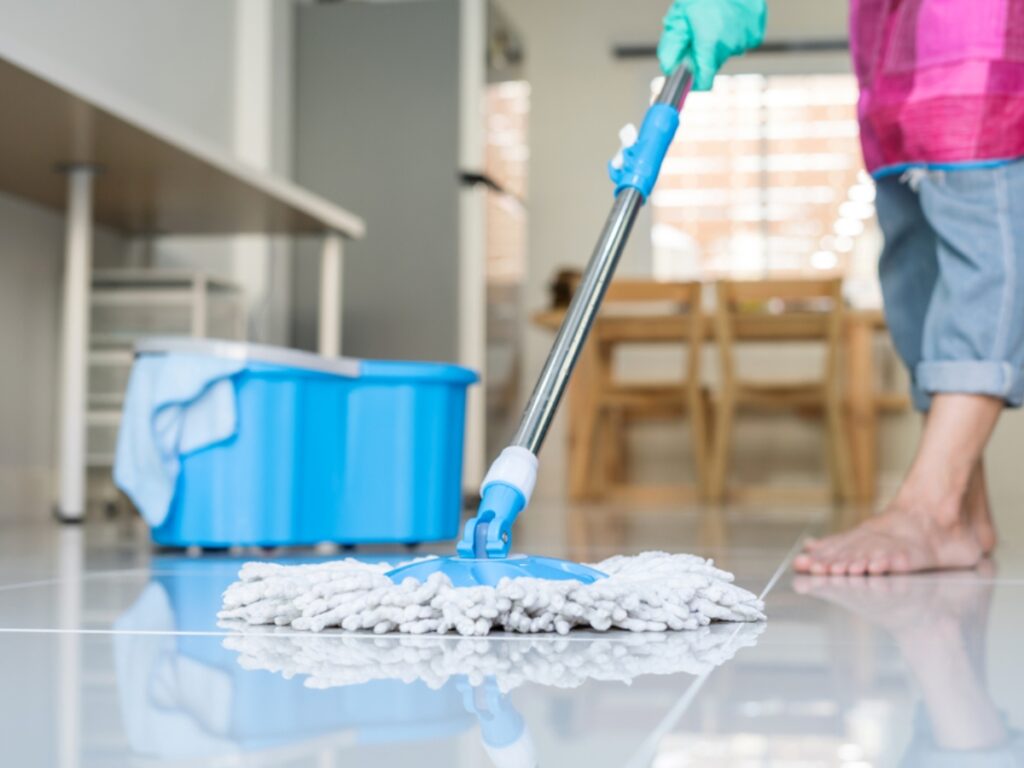 /06/ Do the washing task
As you collect and gather everything that needs to be washed previously. It is now the time to do it. While you handle the laundry or washing, open all the windows and doors to let your floor dry easily. Make sure you know clearly how to dry them before moving things back to their first place. Any damn furniture can attract dust and mold.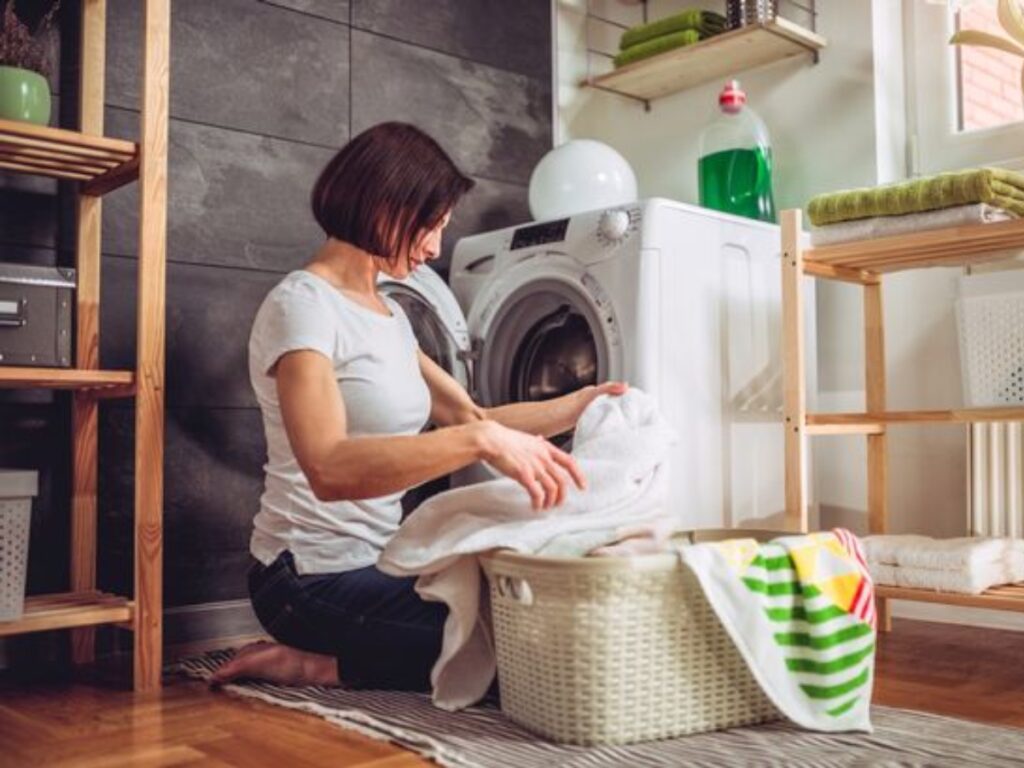 /07/ Reorganize
After deeply cleaning everything in your home, it is a good idea to reorganize and give it a new outlook. If you have not found any idea for your room, why don't pick one from 15 Green living room ideas, 15 easy desk organization ideas, Hidden storage ideas in home.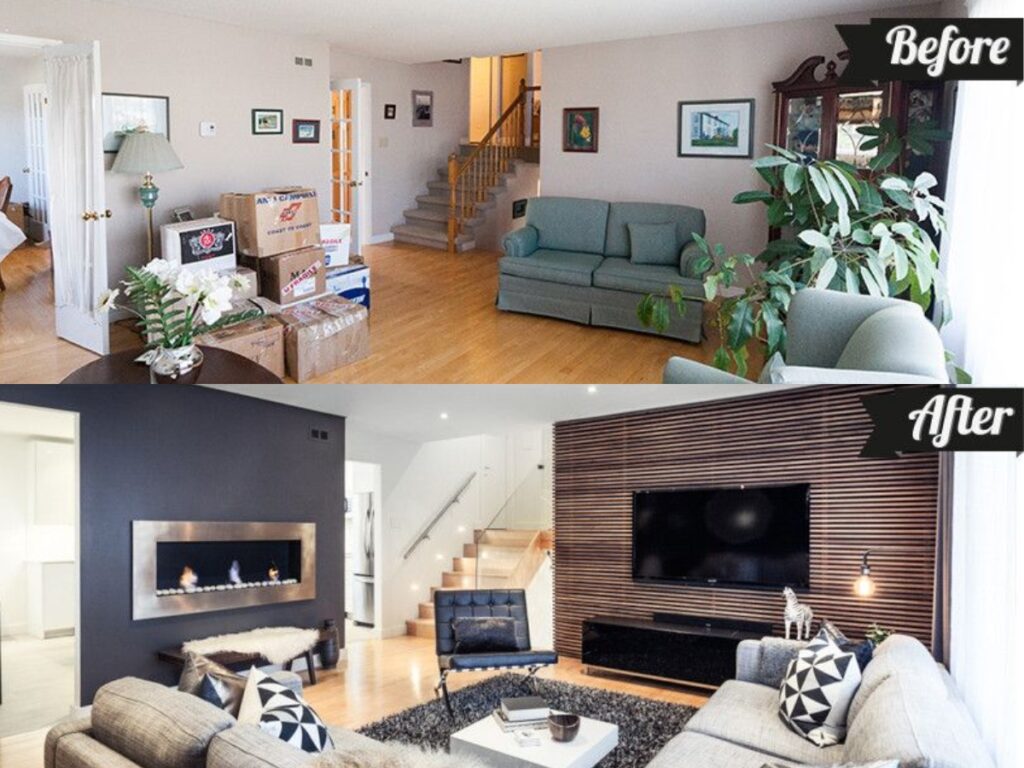 Deep-cleaning Tips for Each Room
Bedroom Deep-cleaning Tips
If possible, take the clothes you didn't wear for a long time and bagged them up for consignment or donation. Then get matching hangers for your closet. If your closet looks nice, you'll work harder to keep it tidy.
You should wash everything from your bed skirt to your mattress. See more detail on How to deep clean your bedroom?.
Kitchen Deep-cleaning Tips
Kitchen is considered as one of the most stress-to-clean rooms since it has a lot of equipment and appliances as well as cabinets. Deep cleaning includes not only wiping but also disinfecting to kill mold and bacteria appearing in the kitchen.
For the kitchen cabinets, follow our instructions on How To Deep Clean Kitchen Cabinets.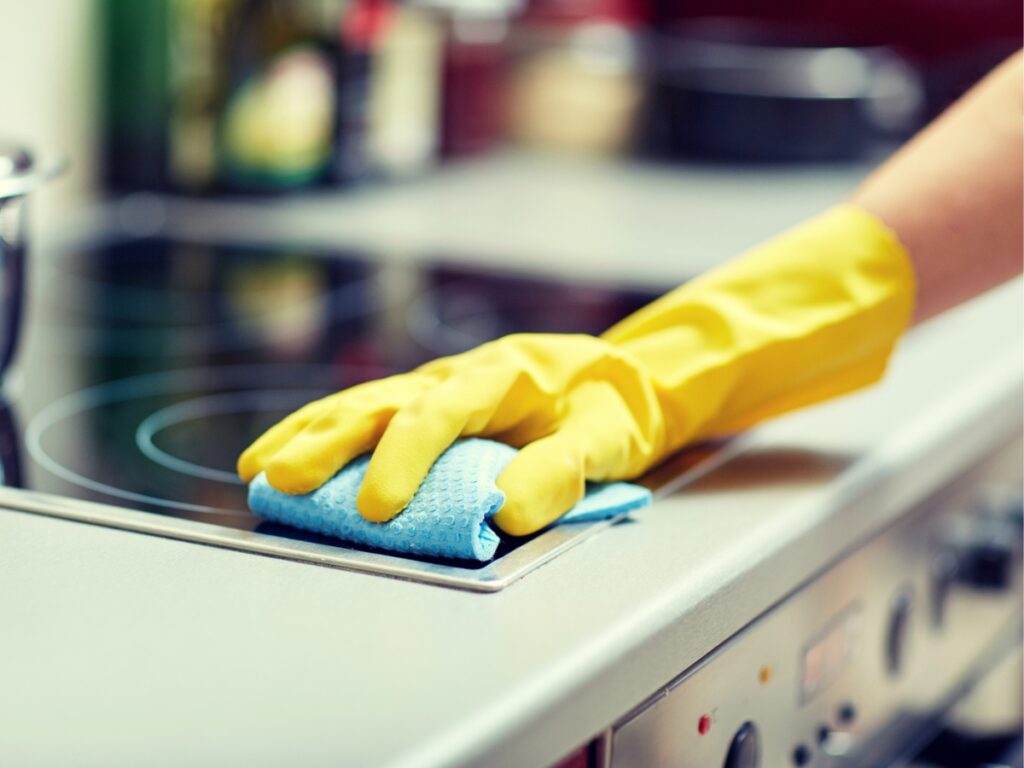 For the fridge, remove everything from the fridge and clean it inside out. If your fridge has a bad smell, check 7 Common Reasons Your Fridge Smells Bad (Even After Cleaning It)
For the dishwasher, follow the instructions on our easy guide to clean dishwashers with different products.
Remove everything from your pantry shelves and clean them. While cleaning, consider using a large roasting pan as a crumb catcher. You can also rent an air compressor to clean the dust from your refrigerator coils.
Bathroom Deep-cleaning Tips
The bathroom is a room that needs regular cleaning to keep it sanitary. However, mold and stains appear gradually because of the water build-up. There is our step by step instructions for you to do it: How to clean your entire bathroom: Comprehensive guide, What is the best glass cleaner for shower?, How to clean congested showerhead, How to wash bathroom rugs, and so on.
Living room Deep-cleaning Tips
Living room often holds a lot of valuable furniture and decoration, so be careful moving it and cleaning it. For example, cleaning the sofa should follow instructions in order not to damage it after cleaning. We have several helpful tips for different kinds of sofas: How to clean a fabric sofa without water, How to clean a leather couch, How to Clean a Microfiber Couch.
Garage Deep Cleaning Tips
If you have a garage, don't ignore it since a clean and well-designed garage may benefit you more than you might think. Try Organizing a garage with 5 simple tips, you may be surprised how it changes your house's appearance.
Properly cleaning all the room
Finally, no matter how frequently you do routine cleaning, your house needs deep cleaning annually. However, cleaning without clear step-by-step instructions may cost you a lot of time and effort to complete and, sometimes, you miss something. We hope our cleaning steps will help you effectively deal with deep cleaning your house.
Finding a deep cleaning team for your house? You have many choices
It is essential to find a dependable and trustworthy house cleaning business. Customers are welcome to make reservations on Sparkling and Beyond website, including reservations for nearby house and office cleaning businesses.
If you want to know more tips for carpet cleaning, welcome to Sparkling and Beyond! We not only provide cleaning services but also helpful tips for making your space dust-free!
In case you want to book our services, feel free to contact us today! Our experienced cleaning experts are waiting for you!If you want to check our availability and pricing, please check here.