Electric stoves are popular household equipment in modern-day society. However, frequent use of cooking and frying cause grease buildups; without proper care and cleaning, the stain may burn, leaving a dull stain that will detract from the look of your family's electric stove while also reducing cooking performance.
Let's discover how to clean your electric stovetop and wipe away all evidence of your culinary spills and missteps.
Use a cloth to clean the electric stovetop right after cooking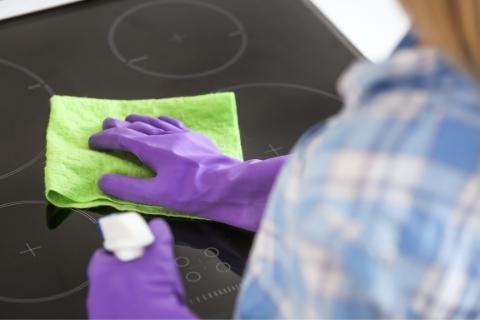 It's possible for grease and food to spill over the induction hob's glass surface while using the electric stove for frying, sautéing, sauce-making, cooking with a pan or a low pot.
Food and grease splatters will dry out, harden, and stick to the glass surface if not wiped and cleaned immediately. This will make cleaning quite tough for us later on as these stains will have additional mishaps, making it thicker, denser, and harder over time.
In this case, the fastest way to clean the electric stovetop is to use a cloth to clean the glass of the induction hob. Next, you just need to soak a cloth in the water to ensure moisture or use cleaning products of famous brands such as Cif, Gift, Lix, etc to gently clean the electric stovetop. 
If you do this directly after cooking, oil, grease, and food stains will quickly disappear; doing it on a regular basis will help you clean your electric stovetop efficiently, as well as keep it glossy and durable.
Safety tips: For infrared electric stoves, the infrared cooking zone glass retains heat after use for a long time. As a result, you must be careful and wait for the cooking area to cool down before cleaning it.
Clean the electric stovetop with a natural cleaning solution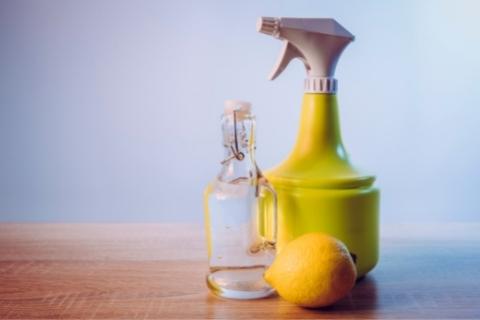 This cleaning solution contains ingredients you may already have at home, allows you to quickly mix components already in your kitchen to make a natural cleaning solution that does not require the use of expensive chemical products.
In this process, you just need to mix lemon and white vinegar or baking soda and water to clean the electric stovetop.
Lemon juice and white vinegar: To begin, dilute the lemon juice and white vinegar in a 1:1 ratio before pouring the mixture on the electric stovetop. Then all you have to do is to clean the electric stovetop with a dry cloth to eliminate the stains.
Baking soda: First, make a 2:1 combination of baking soda and warm water (approximately 50-60 degrees Celsius) and pour this mixture over the induction hob's surface. After that, wait around 10 to 15 minutes before wiping the induction cooktop with a soft towel.
Clean the electronic stovetop using a special cleaning solution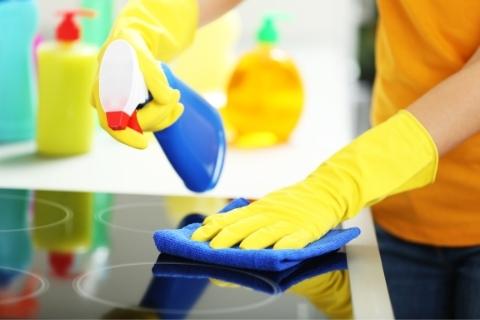 For more stubborn stains that natural solutions cannot remove, you may need the help of specialized cleaning solutions. These types of kitchen cleaning solutions have many types, you can find them at supermarkets, kitchenware stores, and cleaning supplies.
Follow these steps to clean electric stovetop: 
Step 1: Spray a generous amount of cleaning solution on the induction hob's surface and massage it in evenly. 
Step 2: Each solution has its own activation time; Read the instructions carefully to get the most out of it. At this point, the solution will froth and the plaque and grease will adhere to the foam.
Step 3: Wipe clean the treated area with a gentle, dry towel.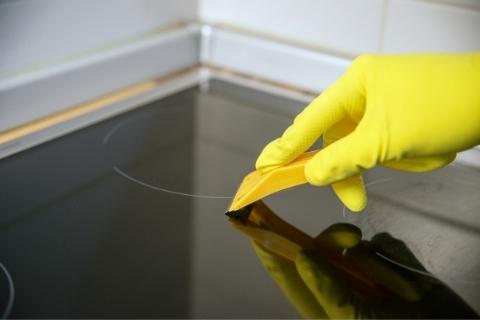 Ordinary washing solutions will not remove the caked-on tough stains on the induction hob glass. To scrape these stubborn stains off the electric stovetop, you'll need to use a specialized razor.
Cleaning razors in the kitchen are specialized knives with blades that aren't overly sharp. When cleaning an electric stovetop with a cleaning razor, avoid scraping the sharp edges of the knife along the glass surface of the induction hob as this can scratch it.
Only the induction hob's horizontal contact surface should be utilized.
If you scratch the glass, you can treat the scratch with baking soda. Make a 3:1 combination of baking soda and water, then apply it to the scratched glass and wait for 10 minutes. Wipe the damaged glass with a gentle sponge until it is smooth.
If you want to know more about our services, check out our website sparklingandbeyond.com or follow us on Instagram @sparklingandbeyond for more useful information like this coming up!