It always happens in slow motion. A glass of red wine is knocked out of a guest's hand. A soggy soy sauce-dipped piece of sushi slips from your chopsticks. A bowl of powdery cheese puffs tips over and scatters. In a matter of painfully drawn-out moments, your once pristine sofa looks like a painting. It's time you learned how to clean a fabric couch. Let's Sparkling and Beyond recommend to you some effective cleaning instructions that are suggested by our cleaning expert.
Cleaning code for fabric couch
Find the suitable treatments base on the cleaning code tagged for your sofa unless you may mistakenly destroy your sofa. Understand the meaning of each tag as below:
| | |
| --- | --- |
| Tag | Cleaning guide |
| W | Only use water-based cleansers to clean the upholstery. A water-based cleanser is a type of solution that uses water as the main component. |
| S/W | It is safe to use both solvents and water-based cleaners. |
| S | Only use a solvent to clean the upholstery. A solvent is a type of solution that uses a cleaning chemical as the main component. |

How to Clean a Fabric Sofa
Fabric sofa cleaning Products:
Dry brush

Vacuum

Baking soda

Steamer

Vinegar

Water

Drying towel
Cleaning & maintenance hints:
Spills or stains should be removed as soon as they drop onto your couch. The later you clean a spill, the deeper it settles into your couch and the harder to remove them entirely.

Include frequent vacuuming in your routine to maintain your couch clean all the time, and wipe up any food or drink spills right away to avoid staining the fabric.

When cleaning light-colored couches, make sure you use white or light-colored rags. This guarantees that no textile colours move from the cloth to the upholstery being cleaned.

Check the manufacturer's care instructions, which are normally available on the sofa's label, before applying any cleaning detergents or solutions. Using unsafe cleaning agents might result in permanently ruined upholstery.

Check the cleaning codes for your fabric sofa. Check out the above table for the list of codes – and what they mean.
Cleaning Steps:
Step 1

: To remove loose particles, use a dry brush. To assist release stains as well as bring dust and grime to the surface, go over the entire sofa with a stiff brush made of natural bristles.

Step 2

: Use a handheld vacuum to remove crumbs and other loose particles, use a handheld vacuum. When it comes time to clean, this will make it simpler to spot and concentrate on difficult stains.

Step 3

: If your sofa has some stains, baking soda will be the

best upholstery cleaner

in this case

. Mix baking soda and water to have a cleaning paste and apply to the stain. Let the baking soda sit for 15 to 20 minutes. Once the stain has been completely absorbed by the baking soda, vacuum it up with a brush attachment. And, as with any cleaning product, carefully test a small area of the sofa before thoroughly cleaning it.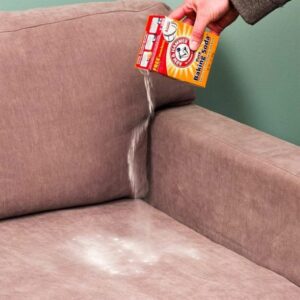 Step 4

: Start cleaning your couch using the cleaner suggested. If you are unclear whether the cleaning product meets the specifications, test a tiny area for discoloration before proceeding. Follow the directions on the label whether you use a water-based cleaning or a solvent (or both). If the directions indicate it's okay, wipe away the solution using a soft cloth.

Step 5: Use a gentle cloth, dry your fabric sofa. To absorb any remaining moisture, pat any damp areas with a dry cloth. Brush away any residual cleaning solution with a soft brush.

Step 6: Leave the upholstery air-dry naturally.
Related: How To Clean A Suede Couch
How to Clean a Fabric Sofa
with a Steamer or Couch Cleaner
Preparation:
The first and foremost task you need to complete before using any machine is fully understood its instructions and safety guidelines. Since your couch may be water-resistant, it doesn't mean it is heat-resistant so make sure that the manufacturer's instructions specify that it is safe for a fabric sofa.
Cleaning steps:
Step 1: Vacuuming the couch first to remove any removable dirt, dust, and other loose particles.
Step 2: Try a small area. This is such a critical stage to decide if the cleaner can be applied or not. To test the cleaner, choose a tiny hidden area, such as the back or the inside of the sofa's skirt (if it has one, and if the inside material is made of the same fabric as the outside of the sofa).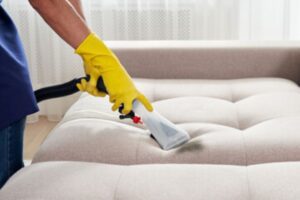 Step 3: Start vacuuming from one part to the others so that you can make sure nothing is ovẻlooked. Then, let the sofa air dry. If the sofa is still damp, do not sit on it. Keep the windows open to help the room dry out. It is possible that leaving the sofa unattended overnight will allow it to dry completely.
Step 4: As soon as the upholstery is dry, vacuuming again will assist guarantee that any dirt released by the cleaner is eliminated.
FAQ
How To Wash Couch Cushion Foam
The spill will sometimes sink deep through the sofa, beyond the upholstery lining. In this case, removing the upholstery and getting to the discoloration in the foam itself is the best way. To hand-wash the foam inside the cushions, make a vinegar solution (approximately a half-cup of water with a few drops of vinegar) and apply it with a towel; wipe the area of filth very, very lightly, then leave out in an airy location to thoroughly dry. If the upholstery cover cannot be removed, simply follow these procedures on the upholstery.
Related: What Is Cleaning Vinegar And How To Use It For The Right Purpose?, How To Clean Shower Head With Vinegar.
Can You Use a Carpet Cleaner On a Couch?
The answer is yes. Upholstery, especially couches, may be cleaned using carpet shampooers. Just make sure the cleaner you're using is safe for your specific couch – the simplest way to accomplish this is to cross-check the cleaning codes on the sofa's tag.
Related: How Does Carpet Cleaning Work, Why Does My Carpet Look Worse After Cleaning? How To Resolve It?
A Note On Deep Cleaning Upholstery
Even the finest at-home efforts are insufficient eventually. For example, if you spilled a whole glass of tea on a fabric sofa, a pet had a (smelly) accident on a fabric couch, or anything equally heinous has gotten the best of a fabric couch, you should take it to a professional sofa cleaning company. Allowing the professionals to tackle the stain may cost extra, but it will relieve tension and ensure that your sofa receives the finest possible treatment.
Conclusion
Keeping a couch clean may not be a simple task since it is usually used for other purposes rather than sitting only. You may attempt to keep your dogs away from the sofa, or just provide them with a blanket so they have a particular space instead of your sofa but sometimes we mạke stains mistakenly. With our instructions on how to clean a fabric couch, we believe that you won't be confused when having dirt on your fabric sofa. Cleaning the couch is not the only chore in your house so it is necessary to save our helpful tips on How To Clean Your House or request Our Best Cleaning Services in case you are tired of handling everything on your own.