Working at an office desk is probably your daily life in the workplace or at home. When you are busy with your work, it is easy to pile up debris like food packages, tissues, or coffee cups on the office desk. You may think it is no big deal not to clean the office desk. However, Sparkling and Beyond will tell you the advantages of a tidy office desk and also give you a step-by-step guide on how to clean your office desk properly in the following article.
What are the benefits of a clean office desk?
There are several benefits of keeping an orderly working desk which is actually of great help to your work.
Prevention of allergy: If you suffer from hayfever, keeping your office desk clean will be crucial for your health. In summer or warmer seasons, pollen can easily accumulate on a messy working desk, triggering the symptoms of hay fever-like nasal and eye problems and dry throats. People with asthma may also be triggered.
A tidy office desk can enhance your motivation and work efficiency.
You can better organize your desk.
You will have better satisfaction in your workplace.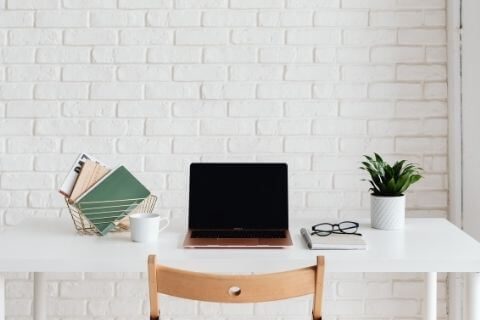 The best way to clean the office desk 
Here is our step-by-step guide on how to clean your office desk to keep it tidy.
Put everything away: Before we start the cleaning, everything on the table should be taken away. Throw away any debris and pile all the paperwork on other places. Make the desk as empty as possible so that it can be easily cleaned.
Clear the dirt: Similar to other cleaning methods in the articles on our website, we usually clear off the dirt and dust first.  It will be best to apply an anti-bacterial spray or wipes on the desk surface. This can not only kill any germ easily but also wipe off the dirt pileups. In addition, the spray may also leave some fresh smell on the desk. 
Clean the office devices: If you wish to wipe clean your devices' screens, it is recommended to use a specialized screen wipe to clean in order to avoid any damage on your screens. As for the keyboard, it is effective and safe to simply wipe the keyboard with a mildly wet microfiber cloth as you don't want the excess water to go into the device. While cleaning, make sure the moisture does not go through the gaps between the keys. Apart from the computer, the telephone on the desk should also be polished. Similar to the office desk surface, use anti-bacterial wipes to mop the whole unit. Pay more attention to wiping clean the ear and mouth parts of the phone and keypad as these places usually accumulate the most germs.
Reorganize the desk: After the desk cleaning is done, it's time to rearrange your stuff. The principle is simple: Keep fewer things on the desk. By removing any unnecessary things on your table, you can better focus on your work and the desk will also look tidy. 
Use the office storage: The best way to clean an office desk is to keep it organized as much as you can. When you are busy, your desk will easily become a mess with pens and clips scattered on the surface. You can always use office storage to arrange your stationery and files. Under-desk pedestals or drawer inserts are useful to store your essentials and organize them properly. Just remember that these storage units can also become disorderly, over-filled, or dirty. Make sure to clean these storage spaces regularly by removing unwanted files and clutter. 
These steps will keep your workspace orderly and let you access or store whatever you need effortlessly.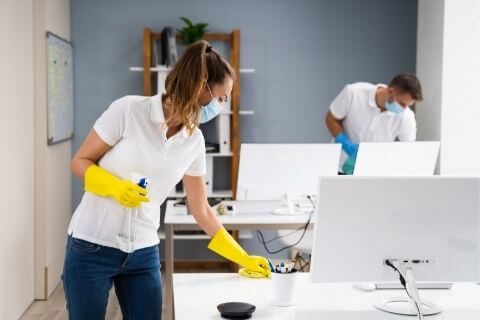 More cleaning office desk ideas and tips
Here are some additional great tips for cleaning office desks ideas to increase the tidiness and quality of your workplace.
Make sure to clean your chair regularly and adjust them to the proper angle and height. This will ensure you sit comfortably while working.
If permitted, a glass of fragrance diffuser can be placed on your office desk to help you relieve the stress or better focus on your task.
From time to time, you can rearrange your office desk to give it a new look or simply relocate your desk to a new location. This will give you a refreshing feeling and keep you motivated in your work.
During lunchtime, try to eat at the dining area instead of your office desk. The food can bring germs and unpleasant smells to your office desk.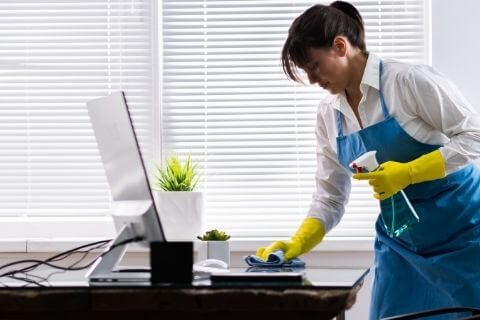 Our office cleaning service can do the job for you
We hope our tips on how to clean the office desk will keep your desk tidy all the time. If you already know how to keep a clean office desk but simply don't have the time for office cleaning, let us take the job! Sparkling and Beyond provide office cleaning service to keep your workspace spotless and fresh! We offer a wide range of services that are perfect for businesses of all sizes. From office cleaning to furniture maintenance, we have you covered. We understand the importance of keeping your business premises clean and tidy in order to boost the office morale and impress your clients. Our service can be highly customized to meet different requests from our clients. Therefore, we can ensure that your property is always looking its best.
The reason why you need a professional office cleaning service is that the sanitation industry's features need a set of occupational safety standards. You will not know what chemicals to avoid or use if you are not a professional staff member, how to use equipment, or how to combine detergents if you are not a professional staff member. So hiring office cleaning companies is a great choice for you to minimize these risks. Moreover, businesses will have to spend a lot of money to maintain their offices clean: initially, chemicals, equipment, and specialist office cleaning instruments, than actual human resources. Human resources are your employees; they must tidy the workplace and, of course, this will cause them to miss work. Meanwhile, office cleaning services will not be prohibitively expensive; simply select a reputable service, negotiate a fair price, and then wait for the task to be performed.
Here is our office cleaning checklist
Desks And Cubicles
In the area where people sit and work, like desks, cubicles, and shared work tables, take the following steps to make sure they are clean and organized.
Computer screens and dust keyboards.
Recycle paper and empty trash cans.
Vacuum floors around and under desks and tables.
Clean the windows in offices.
Disinfect the surfaces that people touch: phones, lamps, keyboards, fax machines, copiers, staplers, and more.
Dust desks, shelves, and other surfaces.
Checklist For Cleaning For Office Kitchens And Break Rooms
The kitchen and break room in an office gets a lot of use. Here's how to make sure you keep them clean and tidy:
Discard food wrappers, unwanted food, perishables that are expired, and more.
Clean utensils and dishware and put clean ones away.
Empty trash and recycling.
Clean out the refrigerator of the old food. Disinfect surfaces in the refrigerator.
Clean the coffee pot and discard old coffee grinds.
Clean and disinfect surfaces people eat and prepare food on, like the table or counters.
Check the water cooler and make sure there is water and cups for people to drink
Checklist For Cleaning Office Reception And Waiting Areas
If you have a front area of your office that welcomes guests, you want to make sure it helps you make a good first impression. To do that, make sure you take the following cleaning steps.
Clean off and organize a welcome desk.
Dust the desk, hard surfaces, waiting room tables, and more.
Empty trash and recycling bins.
Replenish water cups at the water cooler and make sure that the water cooler has water for guests.
Organize books or magazines that are left for visitors to read.
Clean out the coffee machine and filter if there is common coffee in the lobby.
Clean and dust windows, company signs, and other elements visiting guests see first.
Disinfect surfaces people touch, like lamps, phones, call buttons and bells, TV screens, and more.
Try to clean the carpet in the waiting and common areas of your office at least once every 3 to 4 months.
Clean and disinfect the toilets.
Clean and disinfect the sinks
Sweep the floor of debris, then mop it with disinfectant.
Clean off hard surfaces, discard paper towels and other trash not in the recycling bin, and then disinfect all hard surfaces.
Replace empty toilet paper rolls and paper towel rolls.
Clean the mirror with a glass cleaner.
Check and make sure that all of the hand dryers are working. Troubleshoot, or if you cannot figure out the problem, let a repairman or maintenance specialist know.
The Area Outside Your Office
Sweep any leaves, branches, or debris that is on the sidewalk or near the front door.
Make sure welcome mats are cleaned off and in the right place.
Clean glass doors and windows to make sure they are dirt and streak-free and shiny.
Empty outdoor trash cans to avoid any smells or pests.
Trim back branches or bushes that get in the way of walkways, sidewalks, or doors.
Make sure the parking lot is free of hazards like branches or snow piles that prevent people from walking or parking