Maintaining a clean workspace is vital to impress clients and inspire employees. At the end of the day, this boosts the productivity of the whole organization.
Yet is it worth worrying about the dust in the carpets or empty garbage all the time? Certainly no. But if you decide to hire someone to take care of your office cleaning, how to quality control?
The "secret sauce" behind a tidy, sparkling office is detailed planning. Having an office cleaning checklist can help, whether you and your staff do the cleaning on your own or go for an expert.
Interested? Let's keep reading on. This comprehensive checklist of office cleaning tasks will save you a lot of time and money!
Why Use Commercial Office Cleaning Checklists?
This is the best way to manage your office cleaning tasks. Using checklists, you can allocate tasks for your staff or brief your cleaners about what to do.
You can also keep track of every corner's hygienic condition, ensuring a clean, organized office. Imagine if you have an office 1,000 square feet in length. We just can't go to check if every desk is clean enough. And how messy it may become without any careful planning and checking!
Daily Office Cleaning Checklist
Offices frequently have daily cleaning checklists that include sweeping, vacuuming the floor and carpet, emptying trash cans, and cleaning the kitchen. Additionally, it is essential to disinfect high-touch areas, including doorknobs, handrails, lighting fixtures, and elevator buttons.
There seem to be so many things to do. Don't worry. We will walk you through what to do in each area.
Reception area & Working space/Cubicles
Empty the trash and clean the trash cans

Replace the bags in the trash cans with new ones

Sweep, or if possible, vacuum, and then mop the office floor with disinfecting cleansers

Vacuum the covers and tangles thoroughly

Wipe dust off the office's furnishings and equipment like chairs, tables, computers, keyboards, printers, etc.

Disinfect all the flat surfaces using a damp towel

Clean the office's glass windows (If it's challenging to clean the outside of the windows since you are in a high-rise building, leave it for later)
Restrooms or bathrooms
Start by sanitizing the urinals and toilets.

Make sure to replenish all the necessities, including paper towels, hand soap, and toilet paper.

Clean the glass surfaces (windows or mirrors)

Clean other surfaces, such as handles, fittings, and hand dryer attachment

Mop the bathroom's floor and tiles in the final step
Break room or pantry/ kitchen
Clean out and replace trash bags.

Wipe the countertops, sink, tables, and chairs.

Refill the necessities like kitchen towels, dishwashing liquid, and hand soap.

Finally, sweep or vacuum the kitchen/ breakroom floor.
Related: How To Clean Your Office Desk A Step By Step Guide.
Checklist for Weekly Office Cleaning
These activities on the office cleaning checklist should only be completed once a week, but they are just as crucial as the daily ones, if not more so.
Start by carefully polishing all of the hard floor surfaces

Wipe off all of the glass surfaces

Clean and sanitize the microwave, fridge and other appliances

Disinfect consoles and phones

Vacuum mats and carpets

Finish by thoroughly cleaning the bathroom's tiles and sink. Additionally, scrub the kitchen's tiles.
Related: How To Clean The Bathroom Sink Drain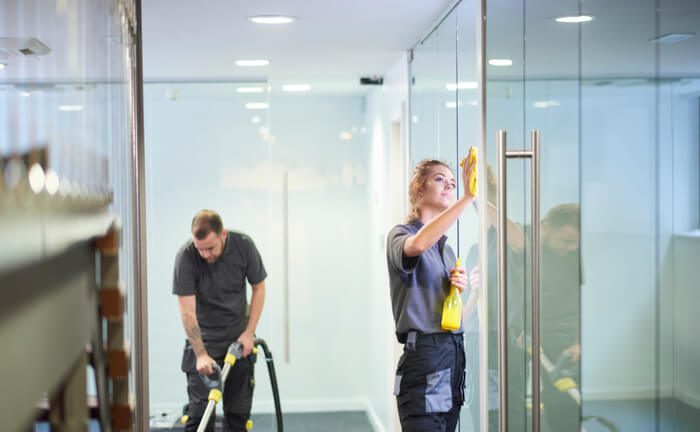 Checklist for Monthly Office Cleaning
To keep your work environment hygienic, you should complete these tasks at least once every 4-6 weeks. Since most of these are thorough cleaning requiring specialized supplies and skills, don't hesitate to go for a professional commercial office cleaner.
Vacuum all of the office's furnishings and vents

Clean windows both outside and inside. If your office stays in a high-rise building, hire a professional experienced in this

Clean and duster hard-to-reach areas or the highest points in the office, such as the lights, windows, and ceiling fans

Clean and polish all furnishing surfaces

Deep clean equipment and appliances, such as fridge or microwave, etc.
Practical Tips For Creating Office Cleaning Checklists
Remember to include the timing (or deadline) for each of the tasks listed above. You must specify what has to be done where, how often, and by whom (PIC). Also, your checklist should include sections for possible hazards, losses, and signatures to track more easily.
Besides, be specific about what you expect in each task and include a guideline. You can refer to the following as examples:
Dust off: Use moist cloths to wipe away dust. Use canned air to blow dust out of confined spaces.

Glass cleaning: Use a moist towel and good glass cleaner to make glass surfaces spotless.

Cleaning up stains on mugs, plates, etc., may be done with warm water and hand soap. The things are neatly stacked in the cabinets.

Declutter by recycling, getting rid of or putting things back where they belong. Use zip ties to properly secure cables and wires.
Related: About Cleaning The Office Some Ideas For You
FAQs About Commerical Office Cleaning Checklist
What is the fastest way to clean an office?
Planning beforehand with an office cleaning checklist and schedule can really help save you time. Also, below are small tips and tricks for you to do it faster:
For quick office cleaning, declutter first before cleaning.

Dust from Top to Bottom

Pay attention to high-traffic surfaces.

Clean the floors going forward and backward

Try to use cleaning products with the versatility to save time, space and money. For example,

cleaning vinegar

can be used for both glass and floor.
Another way to have your office fast and thoroughly cleaned is to contact a professional commercial cleaning team like Sparkling and Beyond.
How long should it take to clean an office?
The industry norm for general office cleaning (often 3–5 days per week; includes vacuuming, mopping, carpeting, etc.) Typically, a person will clean 3000–4000 square feet per hour.
How frequently need a workplace to be cleaned?
As frequently as possible, an office should be cleaned. Some cleaning duties might vary in frequency. Others jobs are weekly, some are monthly, and some are daily. You can refer to the above office cleaning checklist for reference.
Regular cleaning keeps the office professional and minimizes the presence of bacteria, germs, etc.
Conclusion – Commerical Housekeeping Checklist
The year 2020 has taught us that hygiene comes first, especially in public places and large offices.
To ensure you keep up with everything you need, use the best office cleaning checklist mentioned above or contact a reputable commercial cleaning company like Sparkling and Beyond. Our staff of commercial service professionals will guarantee that every corner of your workplace is in excellent condition and enjoyable to work in.
I am a passionate writer who aims to lead the life to its fullest