You pulled out your beautiful shirt out of the dryer and realize now it can't cover your belly button. Or your heart sinks when you see your favorite shirt out of the dryer in a kid's size. Don't rush to pass it out to your five year-old niece. There is still hope for you to revive your accident shirt from its shrinkage. If you have not known how to unshrink your shirt yet, this article is right here for you. In this article, Sparkling and Beyond will share with you some easy- to-follow tips to save your shrink shirt.
Do clothes shrink over time ?
If you ever wondered "do clothes shrink over time ?" after dealing with a lot of shrink clothes, even when you make no mistakes at washing and drying them, you're not alone. The answer for this question is " Yes, clothes will shrink naturally over time".
When fabric is prepared, the fibers are stretched. Heat and water from laundry force fibers to return to its original state, shorter and curled. Thus, after being washed many times, your clothes will shrink as a natural consequence.
Another reason for the shrinkage of your clothes could be temperature and humidity changes. It was scientifically proven that fabric would naturally lose its elasticity because of weather changes.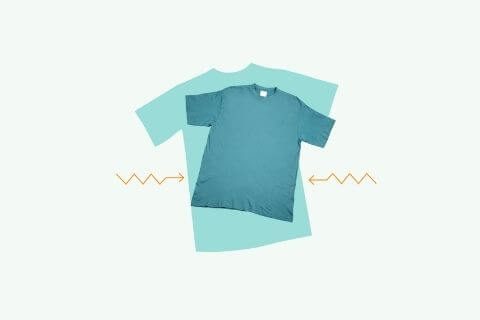 Can you unshrink clothes ?
Although there is no guaranteed technique to reverse shrinking, there are a few things to know that may help you alleviate the damage of tragedy when it happens. We will provide some shrinking reverse instructions for the most popular types of clothes – a shirt, jeans and linen clothing items with a hope that you can stretch your shrunken clothes back in shape with ease.
How to unshrink a shirt ?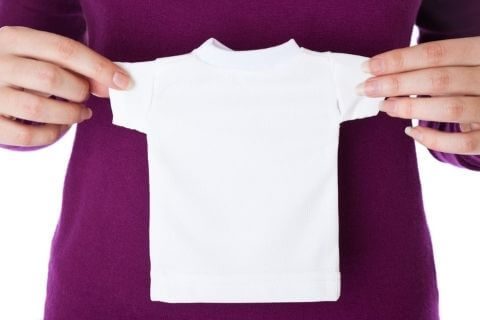 What you will need:
A bucket
A hair conditioner
Lukewarm water
The steps taken:
Step 1: Start with filling your bucket with lukewarm water and adding a tablespoon of hair conditioner. Run your hands through water to thoroughly mix in the shampoo.
Step 2: Put the shirt in the bucket and work the conditioner and water into the shirt. Leave it in there for about 30 minutes.
Step 3: Remove the shirt and wring it out as much as you can.
Step 4: Place the shirt on a flat surface and start stretching it in all directions.
Step 5: Wash the garment in a conventional wash cycle or by hand to remove any remaining conditioner.
Step 6: After the wash, lay the shirt out flat to dry. If you hang the shirt, you will likely get unwanted bumps in the shoulders from the clothes hanger.
How to unshrink jeans ?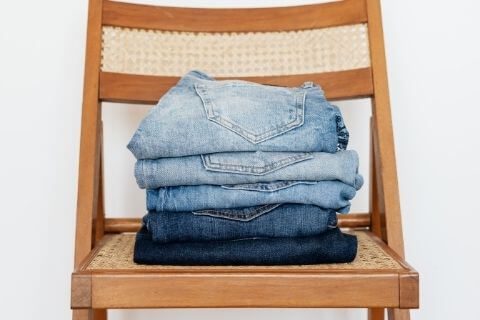 It's hard to believe that you are able to save your shrinking favorite jeans from being tossed to the donation pile, but in reality, it's pretty simple. It's feasible since denim is naturally shrink-resistant. Denim is extremely robust and resistant to form changes, which is why jeans have become the world's most popular kind of pants among both men and women. However, certain types of denim, such as those made with a combination of denim and other fabrics, may still shrink to some degree when exposed to excessively hot temperatures. In case you accidentally shrink your jeans, you can unshrink your jeans by following a few basic steps.
What you will need:
A bucket
A baby shampoo
Two dry, clean towels
Lukewarm water
The steps taken:
Step 1: Fill a bucket with lukewarm water and a small amount of baby shampoo. Run your hands through water to thoroughly mix in the shampoo.
Step 2: Put the jeans in the water and let them soak for the length of your favorite song. Then, use your hands to work the baby shampoo and water thoroughly through the jeans. Doing this will help relax the fibers of your jeans.
Step 3: Remove the jeans and squeeze the excess water out. You only need to squeeze it gently, Don't rinse out the jeans.
Step 4: Place your soaked jeans flat on a clean, dry towel. Roll the towel (along with the pants) into a cylindrical form. The purpose of this practice is to eliminate excess moisture without totally drying them. Keep unrolling and re-roll them. Doing this for about three times or four times to eliminate the majority of moisture. (Note: they should still be damp at this point )
Step 5: Get another dry, clean towel. Lay the jeans on top of the towel and gently pull them in opposite directions in an attempt to stretch them out .After stretching them again, put them on a line or lay them in front of a fan to dry.
You can also use the unshrinking instruction above to unshrink your pants, flannel shirt. This method also works well with these different types of clothes.
How to unshrink linen clothes ?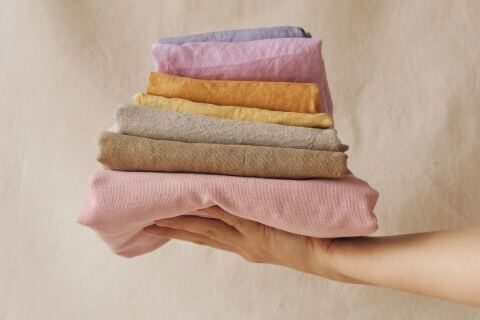 Linen is a common fabric with a wide range of applications, from clothing to domestic textiles. It also gains a lot of popularity thanks to its softness, timelessness and adaptability. On top of that, it is incredibly affordable and long lasting. However, linen has a natural tendency to shrink when it comes in contact with water. The average shrinkage is around 4% for pure linen at its first wash. In order to prevent changes in the form and size of apparel and textiles, many companies sell pre-washed linen fabric. Thanks to this initial wash, the cloth will shrink just slightly with the second time of washing. Thus, try to read the label carefully to see if the fabric has been pre washed, and always follow the care instructions to make sure that you don't take your new linen duvet cover out of the washing machine and realize it's shrunk.
If you wash a linen item and it shrinks. Don't panic. Here are things you can do to unshrink your linen clothes:
Step 1: Fill a bucket with lukewarm water and a small amount of mild detergent. Then soak your linen item for around 10 minutes.
Step 2: Take your linen item out of the bucket and gently press out any excess water.
Step 3: Hang to dry for a few minutes to allow any excess water to evaporate.
Step 4: Lay the linen cloth flat on a towel on an ironing board while it is still damp. Place an iron with a mild temperature on the center and move it across the length and breadth of the fabric in outward strokes. Start ironing from the center and cover the entire piece of clothing slowly. The outward ironing will stretch the fabric back to its original size and dimensions.
Conclusion
We hope that you get practical tips to undo the effects of shrinkage in clothes through this article. No matter how careful you are, your clothes will naturally shrink over time, but there are some actions you can take to avoid over-shrinking it. If you over-shrunk it, you may be able to stretch it back to its original size, but that depends on how much it shrunk. If you are interested in more useful tips, we invite you to visit sparklingandbeyond.com or you can also dial 415-966-1101 to book a cleaning service with us today!