Although laminate is a late-born material, it is now one of the most preferred materials for floor covering. The most outstanding feature of laminate flooring is that it brings us a sense of real wood at an affordable price. However, laminate is more susceptible to cleaners than real wood so you should probably follow instructions when cleaning laminate flooring.
What is laminate flooring?
Laminate flooring is made up of four layers: wear, design, core, and back layer. Each layer serves a specific purpose and is fused together with extreme heat and pressure. These layers are broken down below as the picture below:
(image)
Back Layer (the bottom layer): This layer protects the plank against moisture, and balances the floor.
Core Layer: above the back layer; is a durable, high-density board that protects from indentations and moisture.
Design Layer: above the core layer; has a high-resolution photograph of the floor's surface appearance.
Wear Layer: top layer; is a clear layer that is made of aluminum oxide that protects against fading, stains, and surface burns.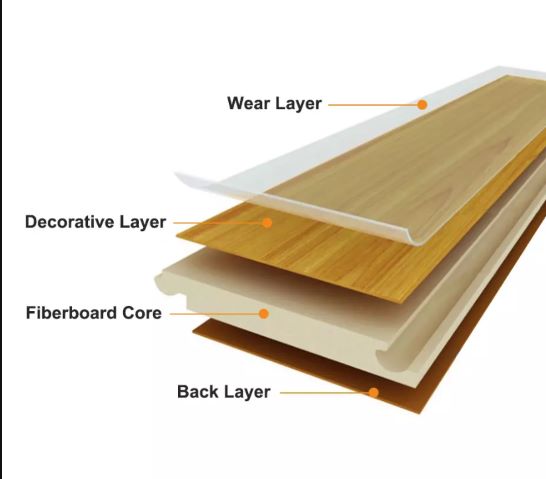 Important: The first important thing you must be aware of is that if your laminate flooring gets some scratches, any water or other liquid spills falling into the scratch will cause serious problems. When the water accidentally drops into the seam, there is a risk of the water penetrating the seam and reaching the fiberboard core layer. These layers are water-absorbent and they start swelling as soon as they fully absorb water. As a result, the swelling laminate flooring protrudes or even breaks the floor. Moreover, what is more serious is that laminate is unable to return to its original dimensions despite water vaporizing.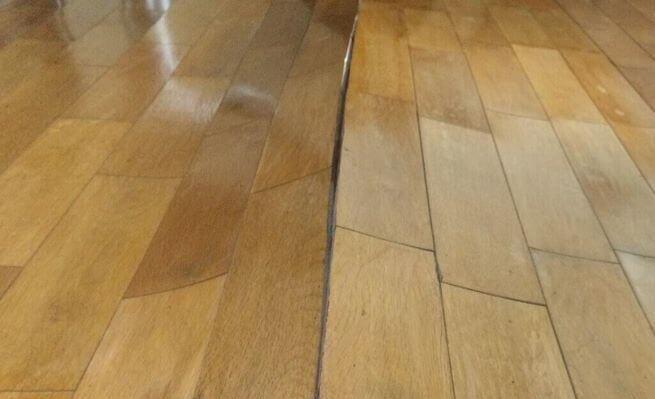 Best way to clean laminate floors
Step 1: Dry cleaning
There are two methods you can apply to remove all the hard debris before taking any further cleaning process:
Dry mopping
Dry mopping your laminate floors and daily wiping down are necessary to avoid scratches and surface damage. You should choose a broom with a wide microfiber head which is reusable and can be washed manually to clean the laminate floor. Microfiber will collect and cling to the dirt that is tracked across your floor without damaging your floor.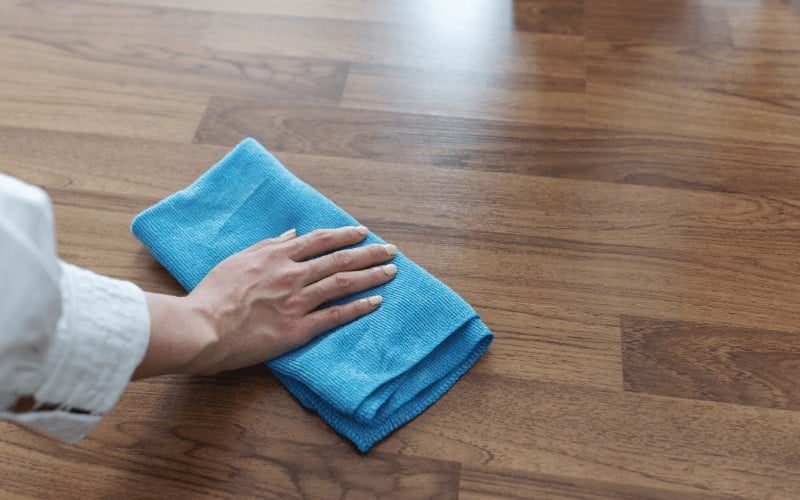 Vacuuming
A vacuum will be more effective than manual swiping if the laminate floor is large and has some hard-to-reach corners.
Vacuuming attachments come in many shapes and lengths that help clean different flooring materials. For example, a microfiber pad attached directly to the vacuum head is perfectly suitable for cleaning the laminate floor. Otherwise, a robotic vacuum is also an excellent choice to finish the work.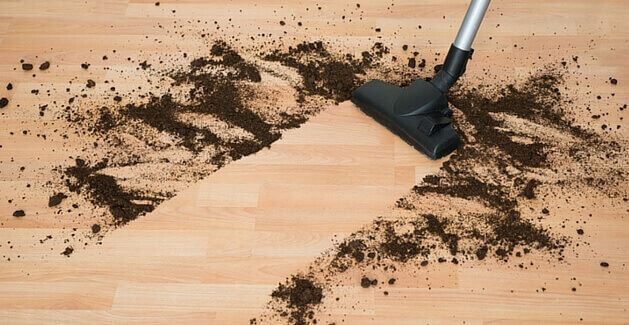 Step 2: Cleaning with a gentle cleaner
The wear colorless layer, which creates the proper shiny and hardness for the laminate flooring, is made from cellulose which can be ruined by harsh detergent. Mild soap detergents, or vinegar and water, are the best ways to clean laminate floors.
In case of mild soap detergent, remember to follow the instructions of the detergent to clean the floor in the right way. Cleaners containing wax are highly recommended as it won't gradually remove the substance in the surface of the material and cause aging to it.
For vinegar, diluting it with water (25% vinegar + 75% water) to have a solution. Dampen a microfiber rag or cloth into the solution and scrub the floor. Vinegar is the best way to clean laminate floors without residue since it is a volatile acid.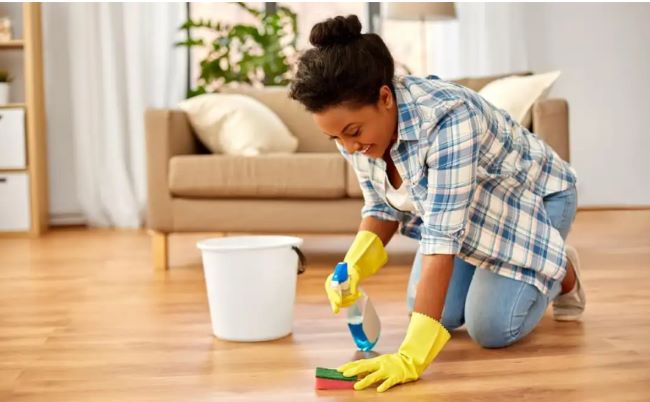 Interesting: Vinegar is a natural detergent that can be used in many home appliances, such as cleaning the shower head, cleaning carpet, cleaning an electric kettle, etc.
In case of cleaning the scratched laminate flooring, you shouldn't soak up the rag into the detergent as the rag will become too wet and it is difficult to squeeze manually. Instead, spraying the solution into the rag will provide the rag with a reasonable detergent amount to mop the floor and reduce the risk of liquid penetration into the floors.
If there are any water leaks into the floor, clean it immediately by absorbent cloth to prevent water from settling into the gaps between the pieces of laminate. Water settlement also may cause damages and mildew to the laminate floor.
Besides: The best way to clean laminate floors without streaking is using a spray bottle to spray the solution onto the surface of the floor and rub it by hand. This method will reduce the likelihood of an over-wet floor.
Tips to protect your laminate floors
Installing laminate flooring, there are several things you need to ensure to avoid damaging the surface or the layers of the floors:
Wipe up wet spills immediately.
Steam cleaners should not be used. Heat and moisture will cause water damage to the glued layers over time.
Do not use a dripping mop to clean the floors.
Bristle brooms tend to leave behind particles that contribute to surface wear; instead, use a soft microfiber dry mop.
Avoid products that encourage shine. The waxy buildup can be challenging to remove.
Avoid using wood cleaners. It will leave a streaky residue on the surface.
Abrasive scrubbers, such as scratchy sponges or steel wool, should be avoided. When applied and rubbed vigorously, even baking soda can damage laminate floors.
Use glides or pads on the bottom of your furniture.
To avoid snagging the surface of the laminate floor, try to lift furniture as you move it or place carpet or padding under heavy furniture as you move it across it.
Conclusion
Laminate floors have a special sense of aesthetics as well as the material reduces the need of real wood in flooring construction. Besides, they can last just as long as hardwood if they are treated properly.
You must be aware of how to wash them and how to protect them from damage. Cleaning the laminate floor must be much easier with our cleaning guidelines which does not require many steps and physical tasks. However, it may take time when it comes to large floors which are covered by laminate wood.
If you are too busy to handle all the floors in your house, let's Sparkling and Beyond deal with this. As an experienced cleaning expert who has taken care of thousands of houses with uncountable styles and materials, Sparkling and Beyond have a strong self belief that we could help you clean every corner of your house. Not only flooring, you may need other instructions and guides on How to clean your house, visit our website to have everything you need to clean your house in the right way or simply contact us for House Cleaning Service which are practiced by our well-trained staff.