Decks can be attached to or separated from a house. Softwoods, tropical hardwoods, synthetic woods, and pressure-treated lumber are all common decking materials. Then there's the style of deck you want (e.g., wraparound or pool deck), as well as the form, size, and even the pattern of the wood placement. Decks may also necessitate a layout and engineering, as well as a permission from your local building department. Besides, there are a lot of amenities you can install to your deck to make it convenient and bring your house additional aesthetic value.
Let's explore our collection of top 10 outdoor deck ideas to find inspirations for your own project.
Outdoor Deck Ideas #1: Balcony-Style Deck With a View
Creating a balcony-style deck is an excellent idea to bring your family a relaxing outdoor space to sightsee from the house. If your house has a wide panoramic view of your surroundings, creating a desk like a small cafe with comfortable chairs and tables to enjoy the view is perfect. With the highly positioned deck, use glass protective railings so that it doesn't obstruct the view.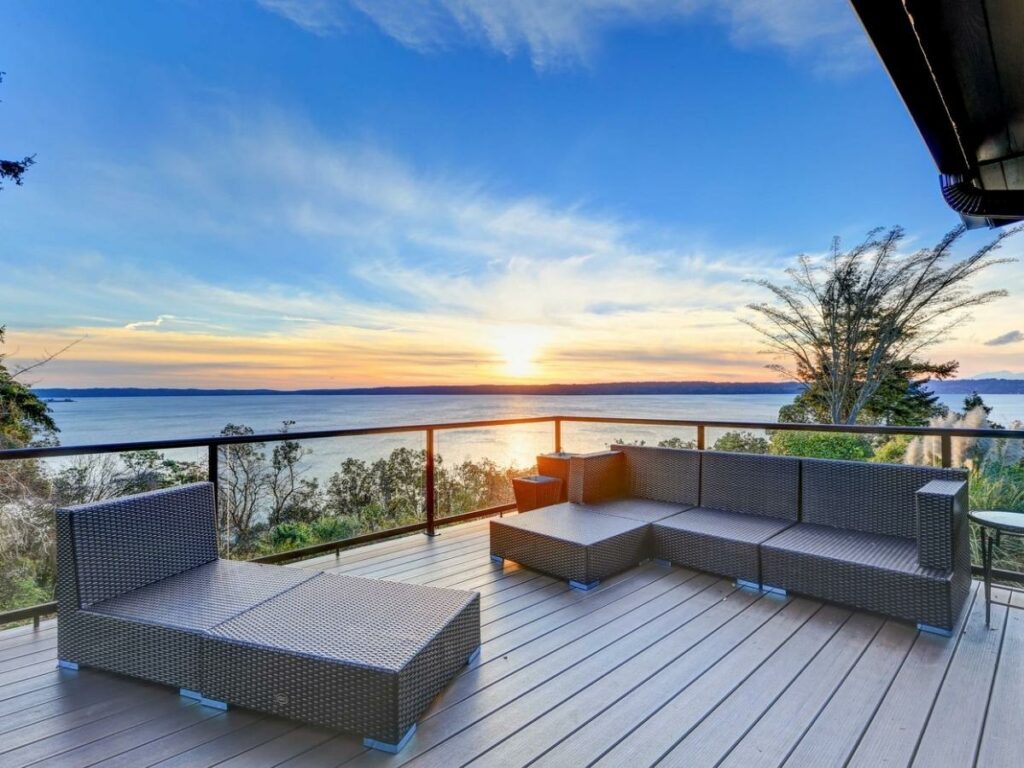 Outdoor Deck Ideas #2: Pool and Hot Tub Deck
Create a unified space around a pool and hot tub by using all-on-one decking. The hot tub in this area is buried below the deck for a clean and uncluttered appearance. Furthermore, the deck's shape complements the house's architecture. It is accessible from several rooms and blends in with the interior floors.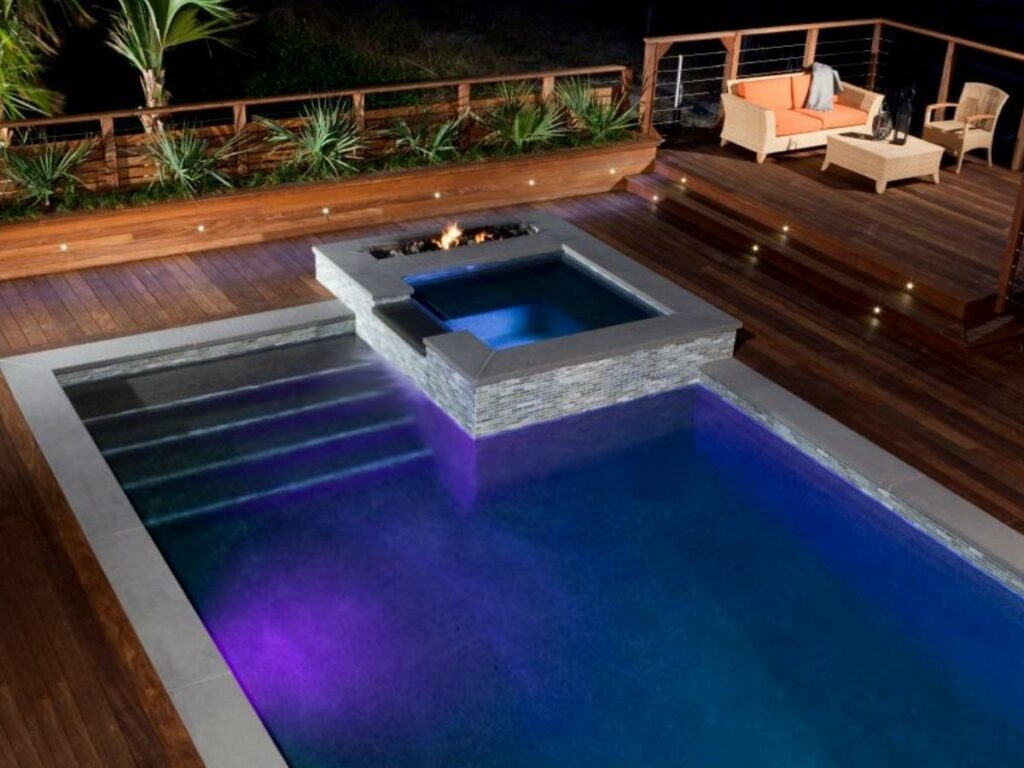 Outdoor Deck Ideas #3: Combined Deck and Patio
If you are considering a deck and patio, why don't you make a combination? The deck and patio divide this relatively small outside space into distinct zones. The hardwood deck is ideal for dining and lounging, while the patio includes various pots that help to create a garden sanctuary. The dual flooring adds layers of color, pattern, and texture to the overall look of the room. This combination is completely worth-trying if you are a nature lover.
Outdoor Deck Ideas #4: Hardwood Rooftop Deck
Teak and iroko are both beautiful decking materials. Most are resistant to insects and weather, are strong, and can last for decades. Hardwoods are therefore suitable for rooftop decks, which can take a beating if they are not protected by a structure or overhead trees. Rooftop decks, in general, do not take up yard area. And, especially in cities, they can be the most secluded portion of a deck.
Outdoor Deck Ideas #5: Wide Deck Steps
Rather than constructing a single flat surface, installing a deck with wide, massive stairs can have certain advantages. The three wide steps on this ipe wood deck also function as outdoor seating, which is made more comfortable with thick square pillows. They may also be an excellent spot to showcase planters, with the varying step heights giving the pots a tiered aspect.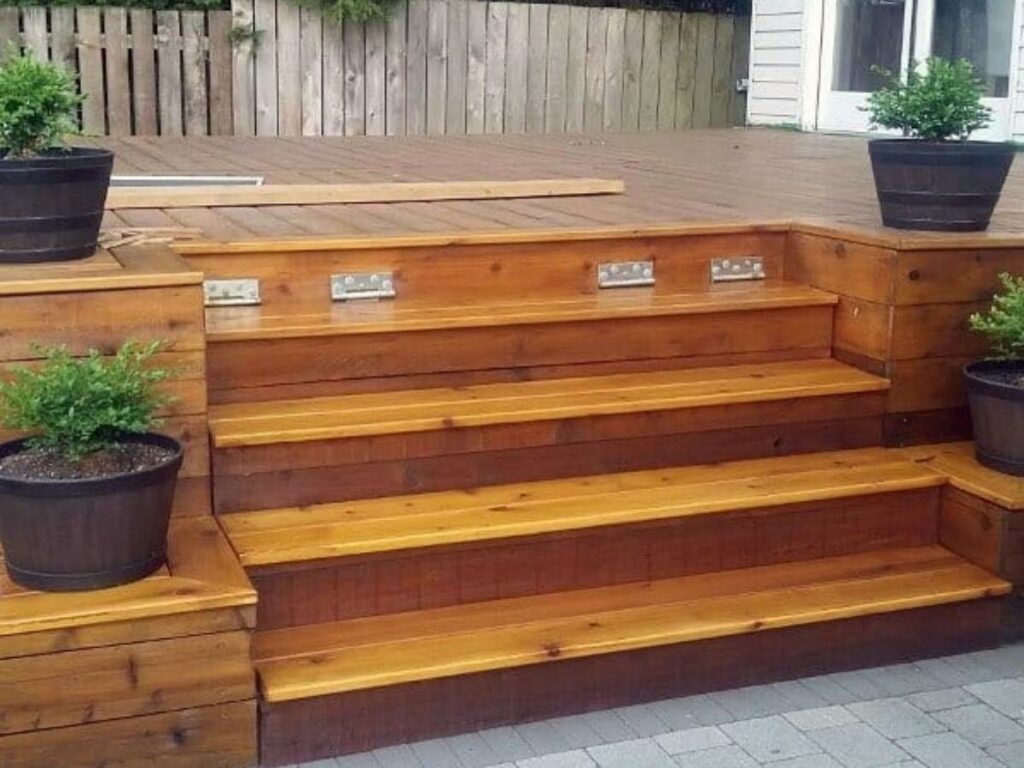 Outdoor Deck Ideas #6: Screened-In Porch
In areas prone to regular rain or mosquitoes and other insects, a covered deck fulfills the need for an outside space while keeping you safe. Fiberglass is the most common and least priced type of outdoor screen material. Aluminum, stainless steel, copper, bronze, and sun-blocking screens are other options. In hot climates, consider installing an outdoor ceiling fan.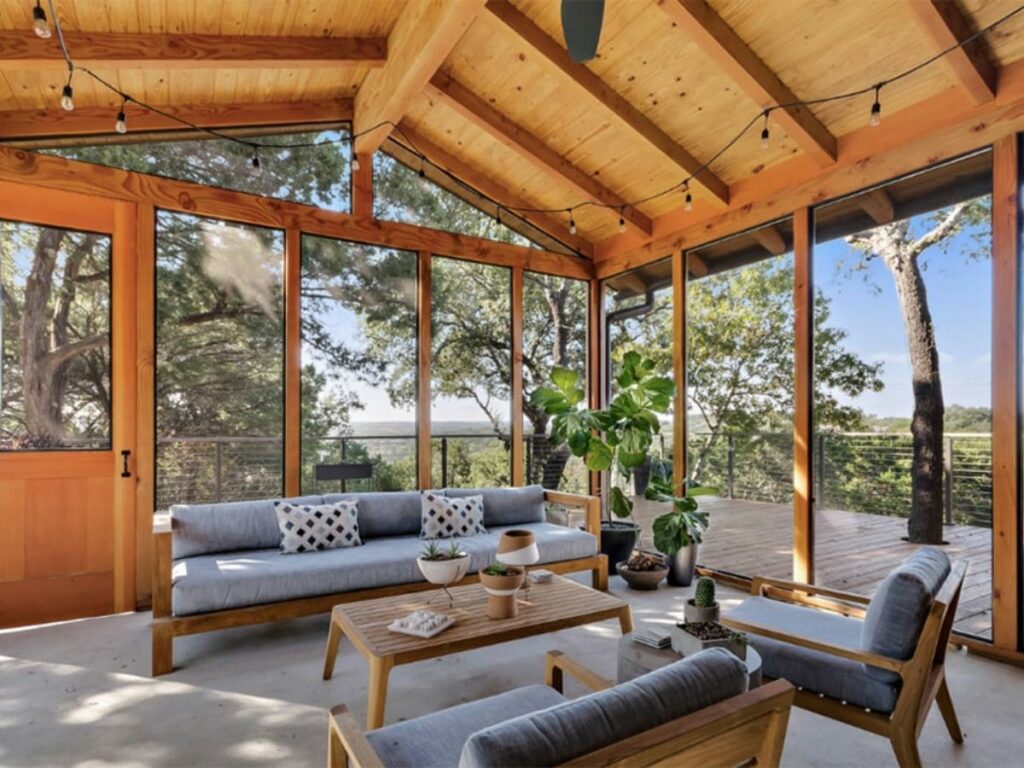 Outdoor Deck Ideas #7: Dining on the Deck
Having an outdoor space for dining is a good idea. However, there are a few things to consider when designing the area. First, make sure you have adequate space for your ideal dining table. This includes enough space to walk around the table when people are sitting at it. Consider whether you'll need sun and weather protection with an umbrella or other overhang. Also, consider whether neighboring plants will drop leaves, berries, or other stuff on your dining table.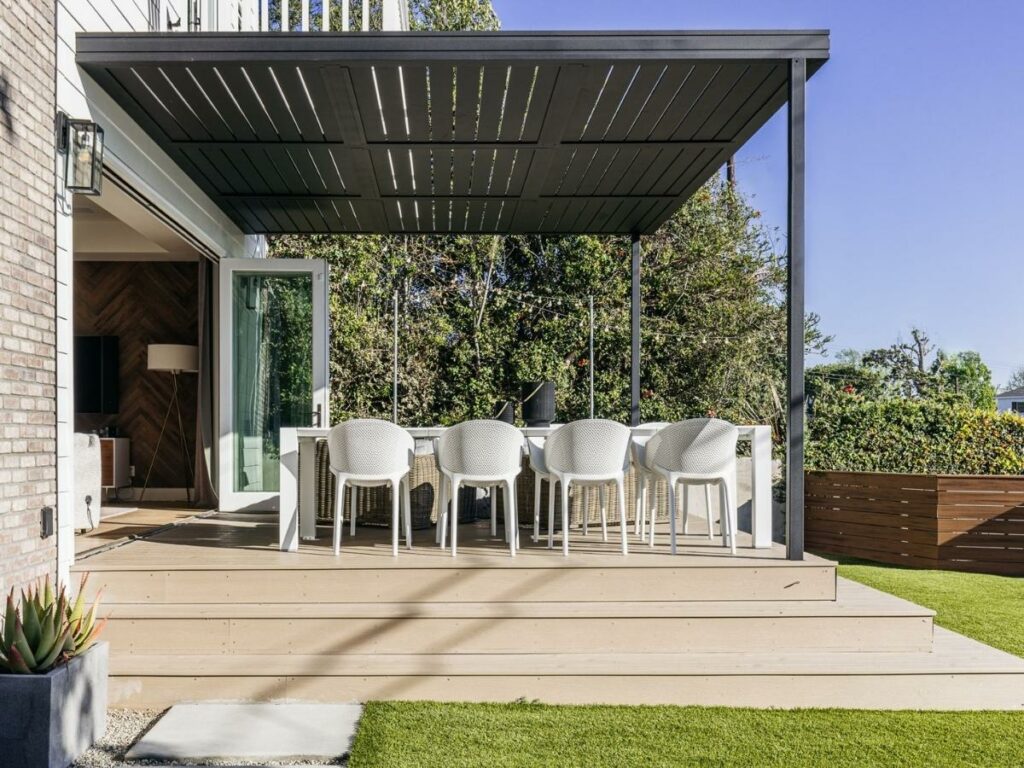 Outdoor Deck Ideas #8: Side-Yard Deck
Side yards are frequently used only as passageways from the front to the back of a house. A side yard, on the other hand, becomes a destination with decking. A wooden deck and bamboo growing as a privacy screen grace this side yard. The tiny seating area provides a quiet spot to read, eat, or simply take in some fresh air. If possible, add some tiny flowers in corners to decorate the deck.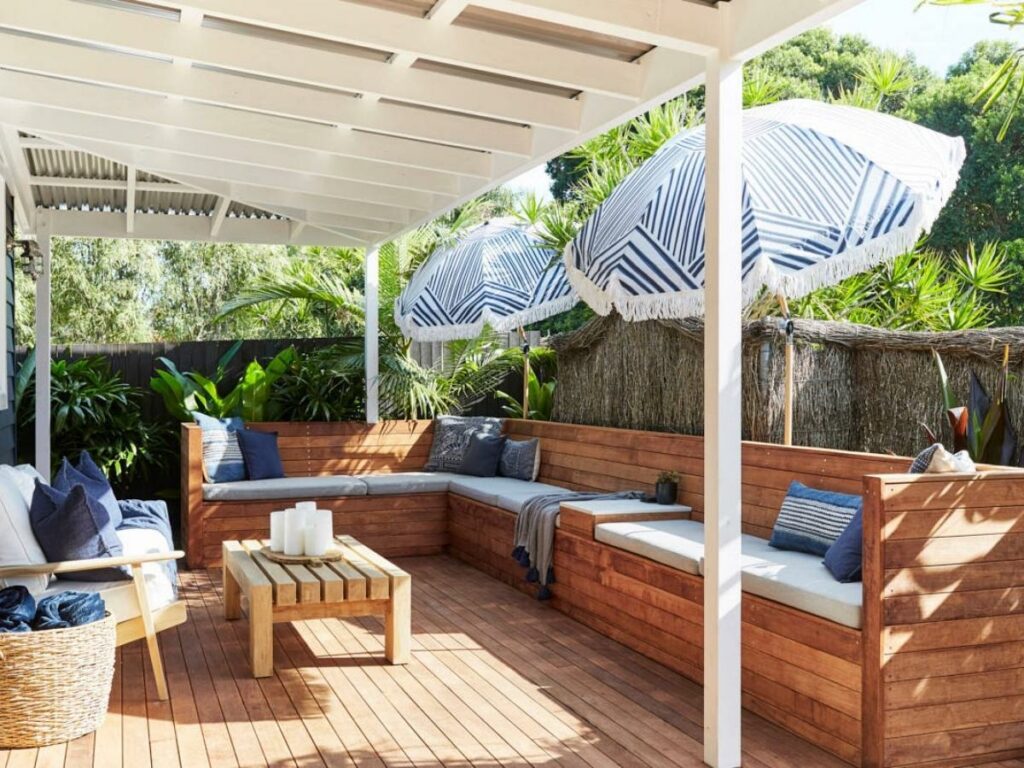 Outdoor Deck Ideas #9: Deck With a Fire Pit
Your decking experience should not be restricted to the summer. Adding a fire pit to a deck is a terrific way to extend the use of your deck even when temperatures begin to fall at night. It will add comfort and create a pleasant mood whether you are entertaining company or spending time alone. Furthermore, the fire will not only create mood lighting for times when you don't want strong light at night but also can be utilized to have a BBQ outside of the house.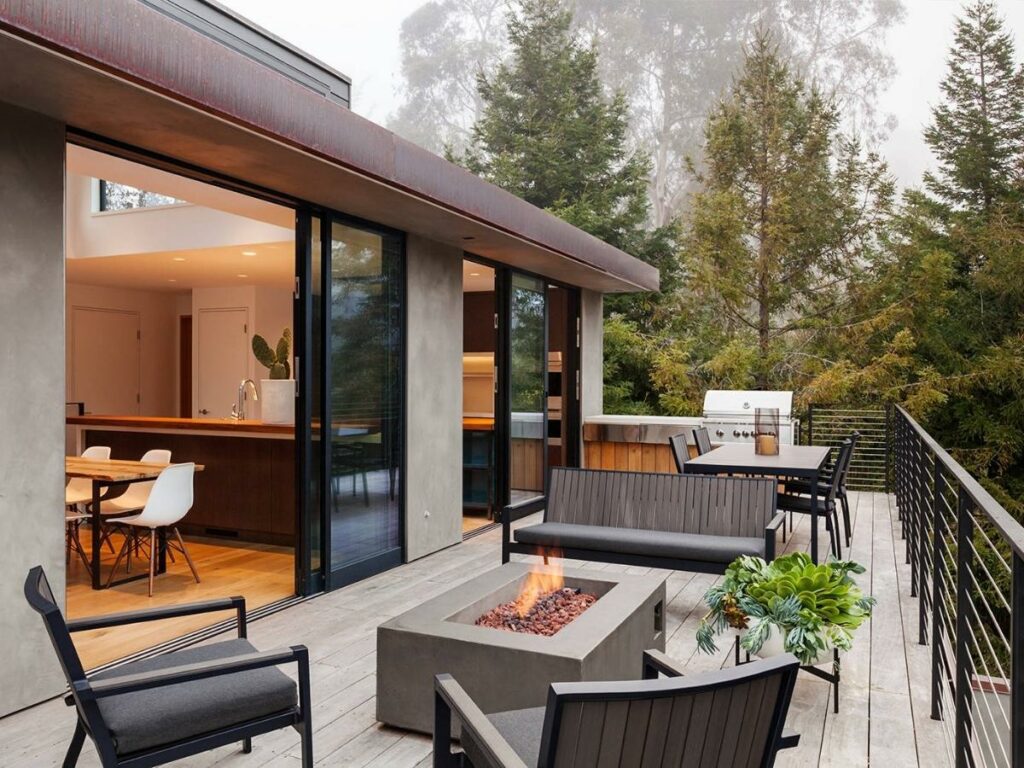 Outdoor Deck Ideas #10: Detached Deck
While it is typical for decks to link to the house, this is not required. Detached decks can be used to create a focal point in your yard. They also provide a great deal of versatility in terms of where they are positioned and how they are used. This deck surrounds a beautiful garden pond, creating a stunning look as well as an unusual outdoor experience. A detached option is also useful if your home is made of an unsuitable material or lacks the necessary support to attach a deck.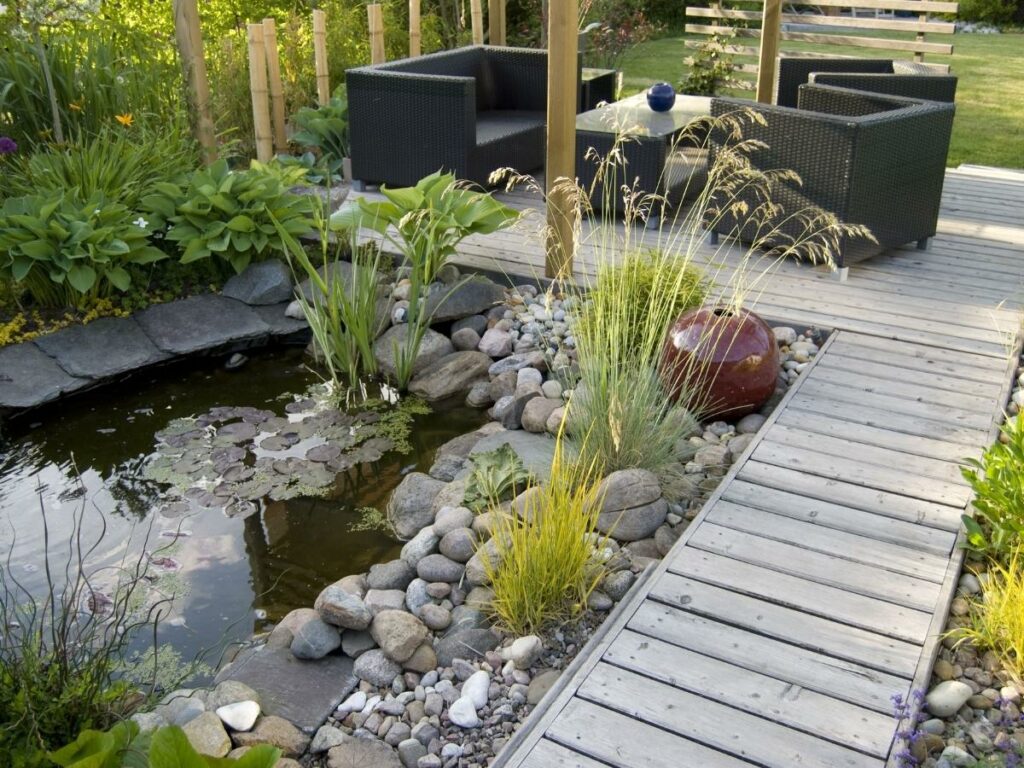 A house with a well-designed deck can bring you a great sense of relaxation but finding a design among thousands of templates may be difficult. When planning for a deck, you should consider your own house design and style to find the most suitable deck for your house so that it won't break the design of your house. It includes choosing the colors and the materials to create a visual flow from your home to your deck. Finally, we hope our ideas and designs can inspire you with your project.
Have you got all the inspo you need with our collection? Please comment to share with us.
Need some more tips? We're here to help
Are you struggling to find the best way to manage your legal document? Follow our tips above to see some incredible changes. 
What to look for in hiring a cleaning service in Hayward, CA. Follow our tips above to see some incredible changes.
In case you need to refresh your living space, at sparklingandbeyond.com, we provide you with affordable and reliable cleaning services and a lot of helpful tips.
Feel free to contact us today! Our experienced cleaning experts are waiting for you!
If you want to check our availability and pricing, please check here