There are a few things everyone should have in their house on cleaning day, whether you're just beginning in a new area or wanting to complete your cleaning kit.
To maintain your home clean and to make the job as simple as it can be, you must have the proper tools. Even if there isn't a single all-powerful instrument, having these necessities will guarantee that you are prepared for messes, which always arise. That is why Sparkling and Beyond is here today to show you the essential cleaning supplies list that everyone should have in their home.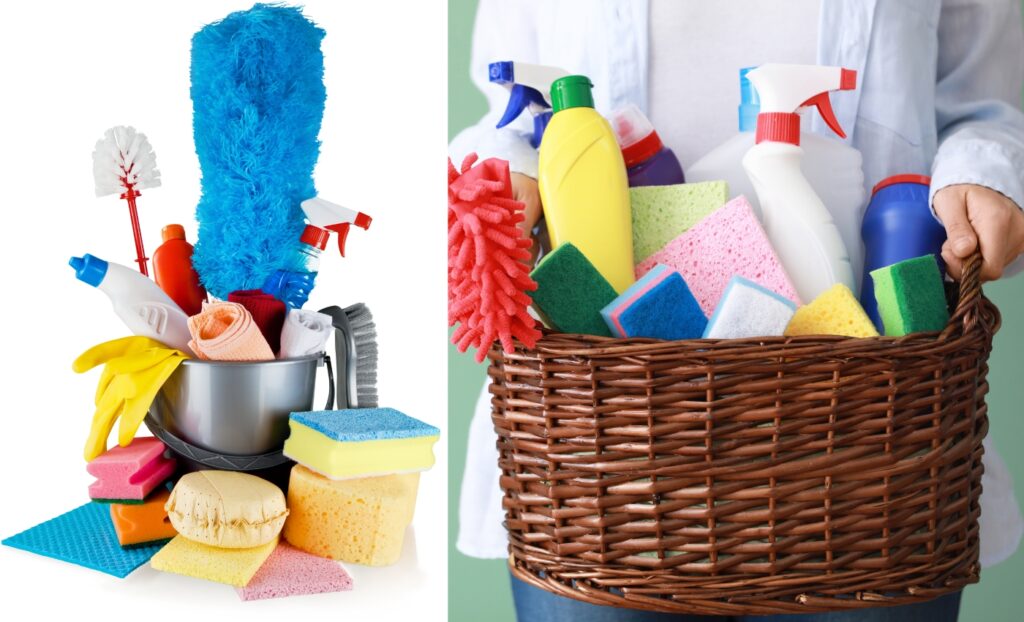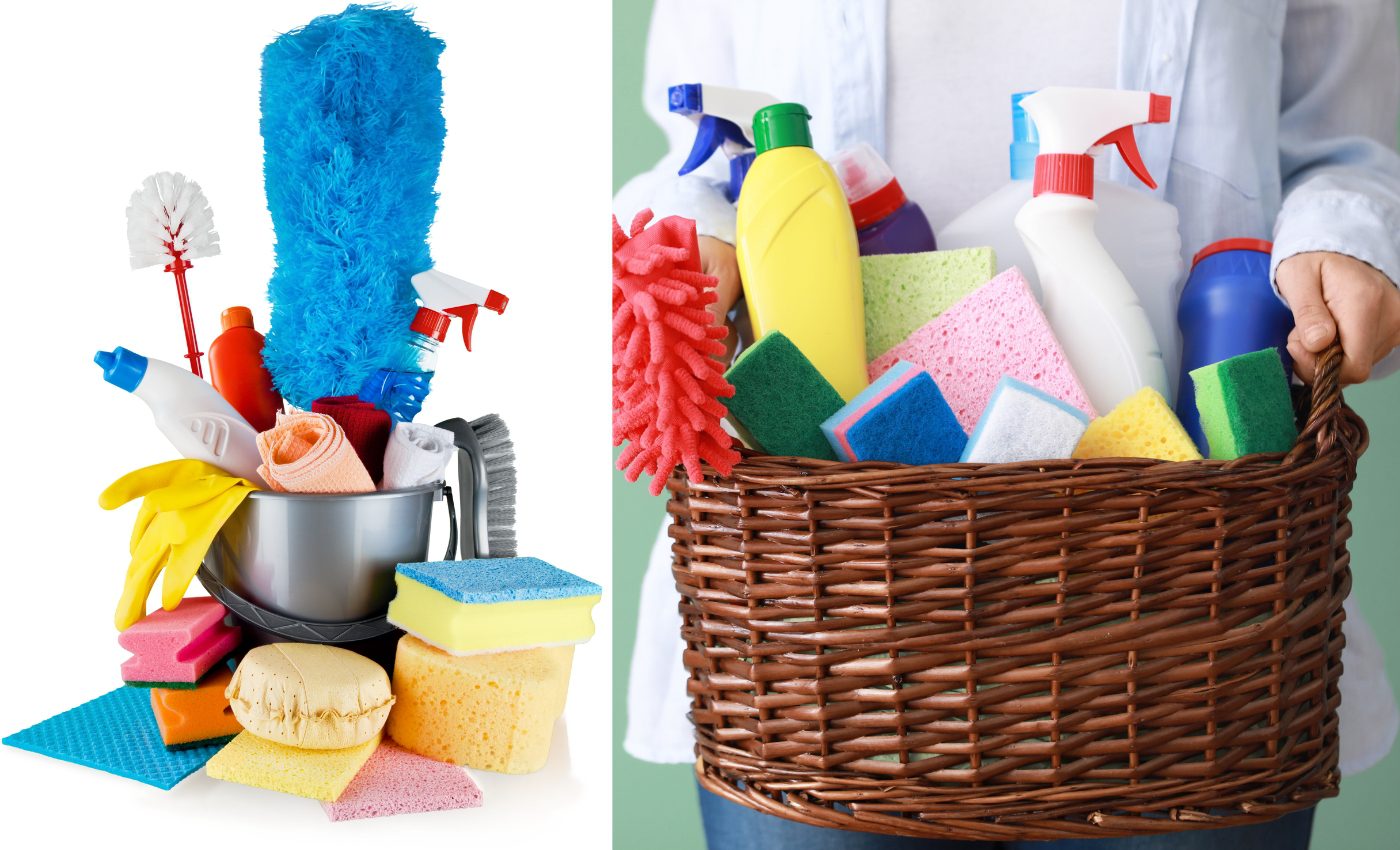 In terms of usability and ease, the correct tools may make a huge difference. It's acceptable to buy less expensive versions of some of the more expensive items on this list when stocking up on basic cleaning supplies for the first time; you can then upgrade as you can.
1. Vacuum cleaner
A vacuum cleaner is the first essential thing in the cleaning supplies list. Even if your floors aren't carpeted, a vacuum cleaner is a vital must. Not enough room or money for an upright option? Purchase a handheld vacuum, commonly referred to as a dustbuster, which works well for cleaning difficult spots like baseboards, couches, and stray pet fur wherever it turns up.
One of our top choices? Hydrovac Shark. Deep cleaning floors and area rugs is simple with this cordless 3-in-1 that vacuums, mops, and cleans itself. One of the most effective cleaning solutions available, or what we at AT would refer to as a true necessity.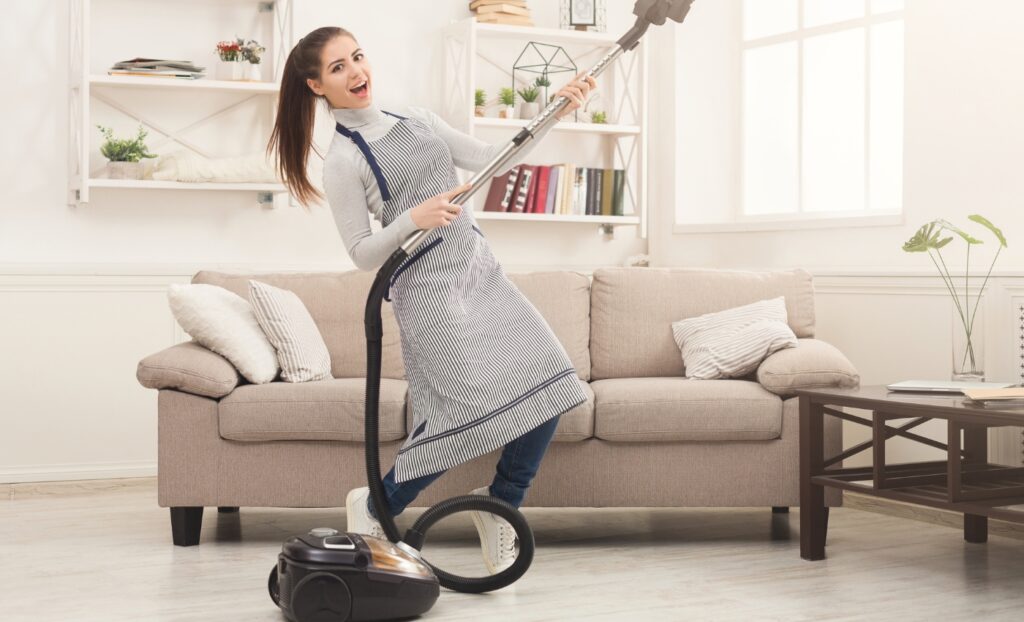 2. Microfiber cloths
All surfaces, including stainless steel and glass, can be cleaned with microfiber towels without leaving behind scratches. Purchase a few to your cleaning supplies list and regularly wash them with your towels to keep them clean.
Having a few of them on hand can increase your cleaning efficiency, much like having white towels. Because microfiber shouldn't scratch or leave streaks behind (which is why it's perfect for windows), it may frequently clean surfaces on its own or with just a little water.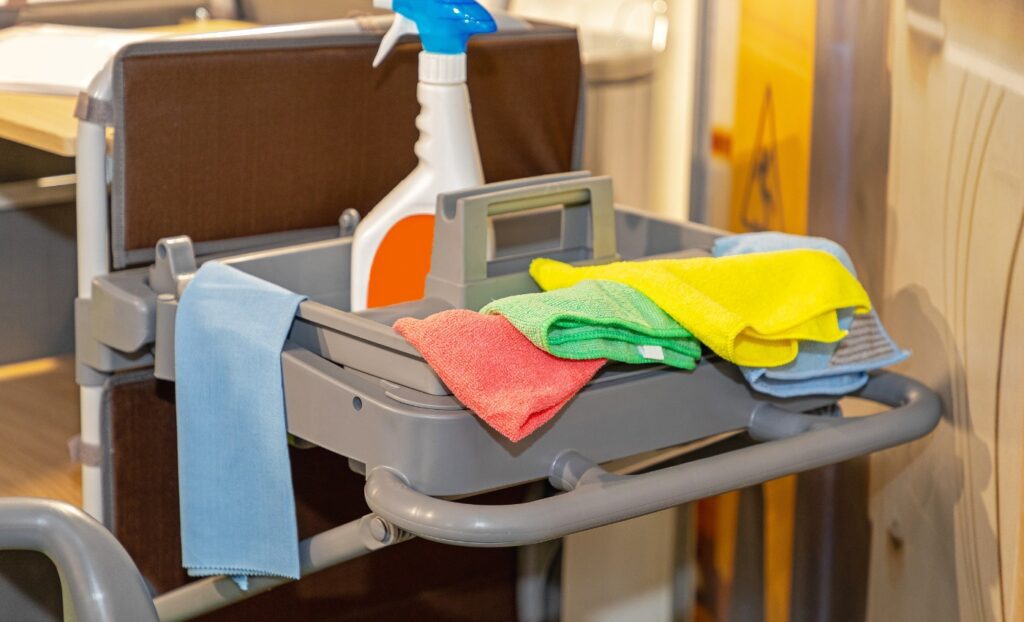 3. Bucket
You might not always need a bucket, but when you do, you'll be happy you have one in your essential supplies for the house cleaning list. Use it as a caddy to transport your cleaning materials from room to room when it's not being used for something else.
A good-sized bucket is unquestionably necessary because you may use it for mopping and a variety of other household activities in addition to storing your cleaning goods in it.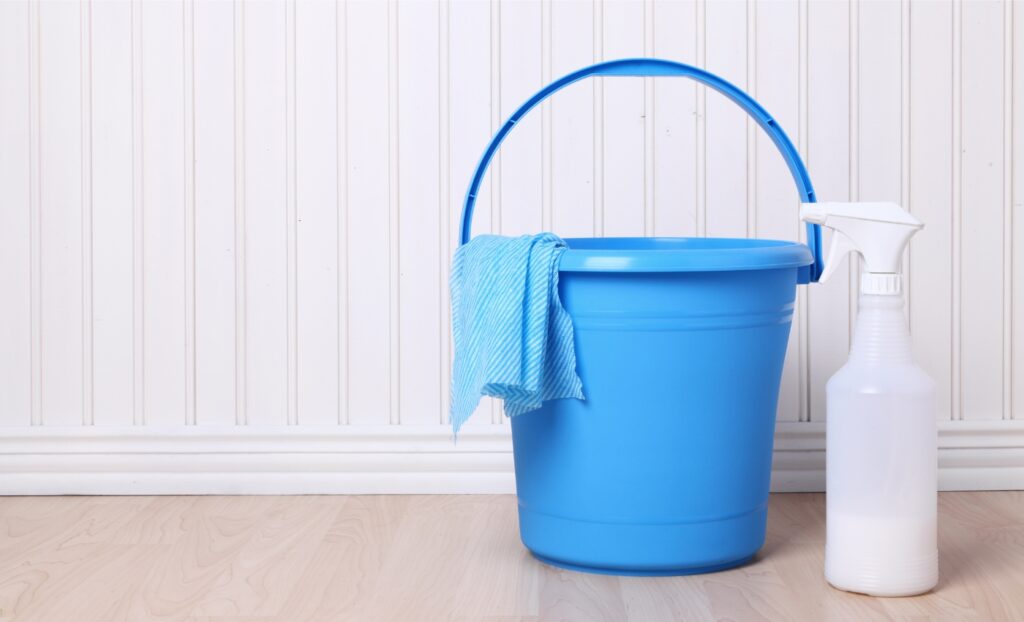 4. Broom, dustpan and mop
Besides a vacuum cleaner, a broom, dustpan or flat mop can also be a necessary supply for cleaning lists. When it comes to cleaning up dust, fur, filth, and everything else that gets on flooring that isn't carpet, any broom and dustpan will perform well. For tight spaces, similar to a vacuum cleaner, you can choose a small handheld model that delivers the same capabilities but requires a little bit more effort.
A flat mop, often known as a dust mop, is a decent substitute for the common and disorderly mops that many people are accustomed to using. And it's quite easy to build your own mop pads if you don't like the notion of throwing away pre-purchased mop pads after each usage.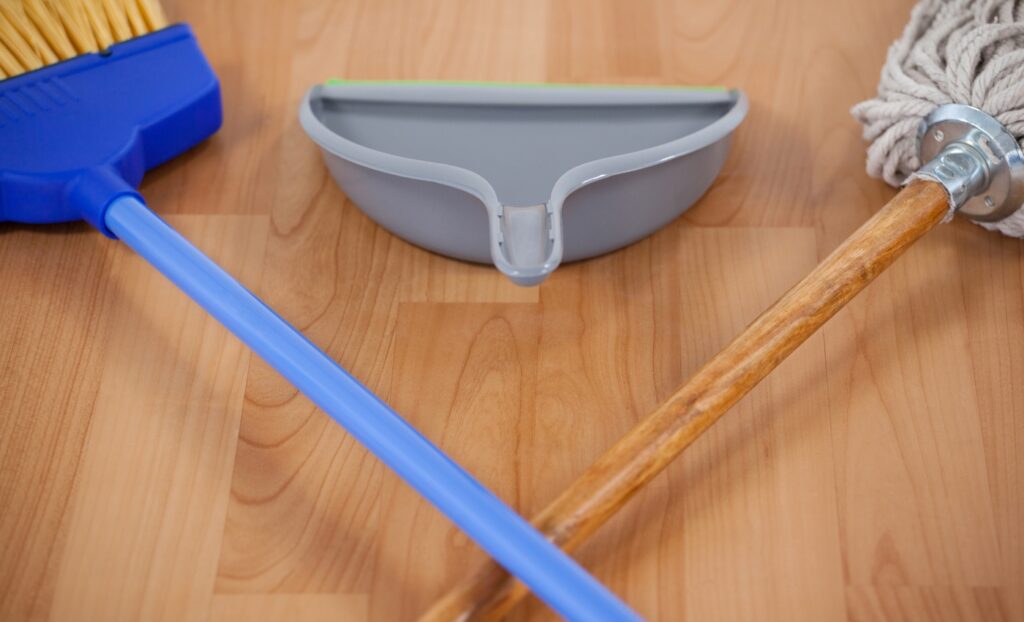 5. Squeegee
For maintaining showers free of mold and mildew, these tiny tools are one of the most essential supplies in house cleaning lists. If cleaning your windows is a regular cleaning task for you, they also work excellently for that. Many include suction attachments so you can attach them directly to the wall and use them as needed, saving you a ton of time in the future. When using and storing your squeegee, be sure to take precautions to prevent damage to the blade. You will be able to tell when the blade needs to be changed if your squeegee is leaving streaks or just not working as effectively as it once did.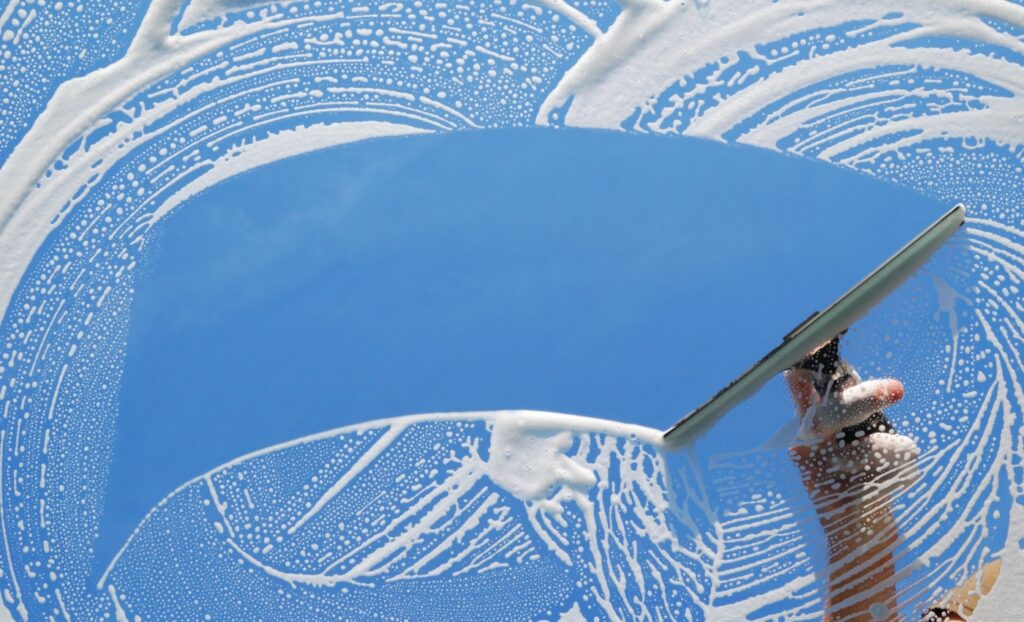 6. Toilet brush and holder
You may easily and quickly get your toilet bowl spotless with the aid of a bristles toilet brush. There are single-use options available, but for the sake of both your pocketbook and the environment, choose a reusable one to add to your cleaning supplies lists and just replace it occasionally or as required.
Related: bathroom hot spots you forget to clean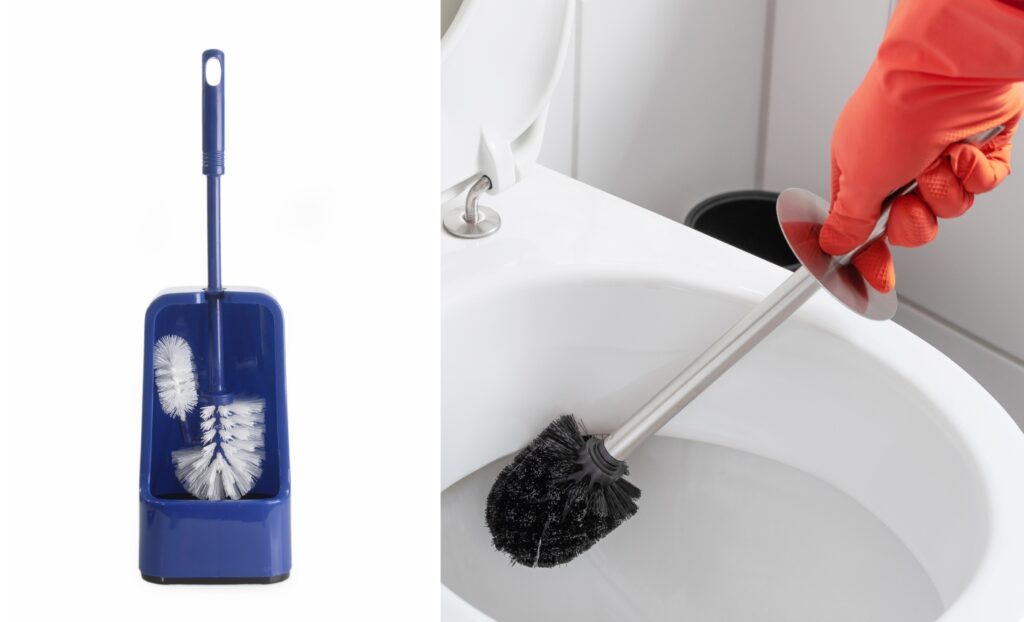 Cleaning Solutions
When it comes to a really deep clean, water simply won't do. You'll need the appropriate cleaners for that; whether you choose conventional or natural cleaners is entirely up to you. In order for you to choose which type you want for your home, we have included alternatives from both categories on the cleaning supplies list.
1. All-purpose cleaner
One of the most important cleaning supplies you can purchase is a good all-purpose, multi-surface cleaner. Grease, filth, and stains can be effectively removed using all-purpose cleaners, and most only take a quick spray and wipe.
2. Glass cleaner
For excellent cleaning without leaving behind streaks or stains, glass cleaner is specially made for glass surfaces like windows and tables. Therefore, it would be a wise choice to add glass cleaner into your essential cleaning supplies list for your home.
3. Wood cleaner
The wood cleanser is a one-surface-specific cleaner for the cleaning supplies lists that, like glass cleaner, is specifically designed for use on wood. This is essential to have because water and all-purpose cleaning sprays can both harm varnish and wood.
Related: helpful tips how to get scuff marks off wood floor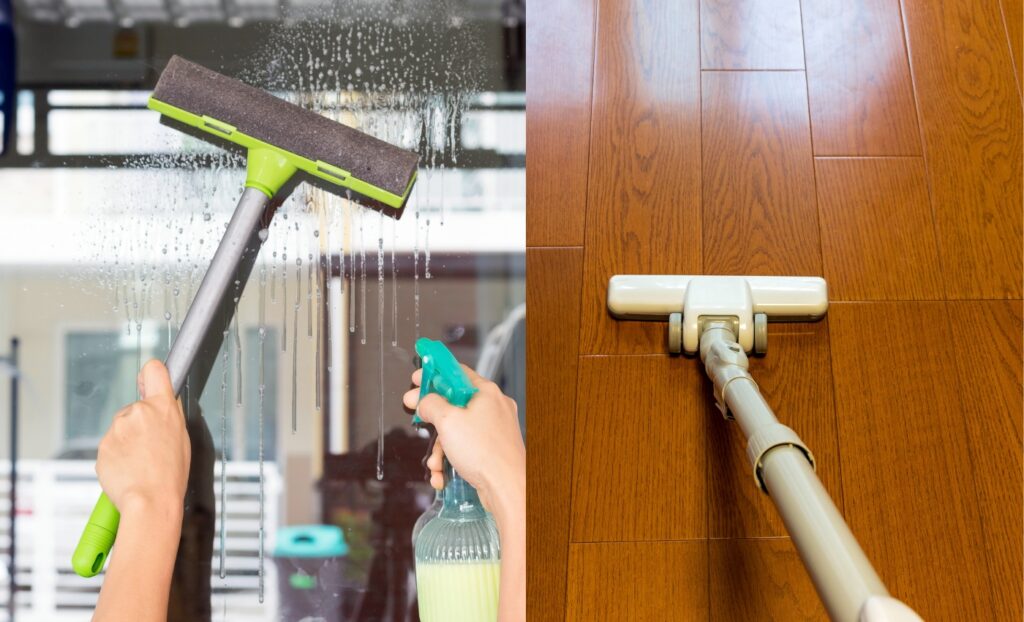 4. Antibacterial spray or wipe
Antibacterial cleaning supplies sterilize and disinfect your home to eradicate germs. Use in conjunction with all-purpose cleaners, particularly in areas where there are lots of germs, such as the kitchen and bathroom.
5. Tile cleaner with bleach
In showers and bathtubs, soap scum, rust buildup, mold, and mildew are all common occurrences. This kind of ugly filth can be removed off tiles using a bleach-based tile cleaner, but you should open a window or a vent when using it to protect yourself from the fumes.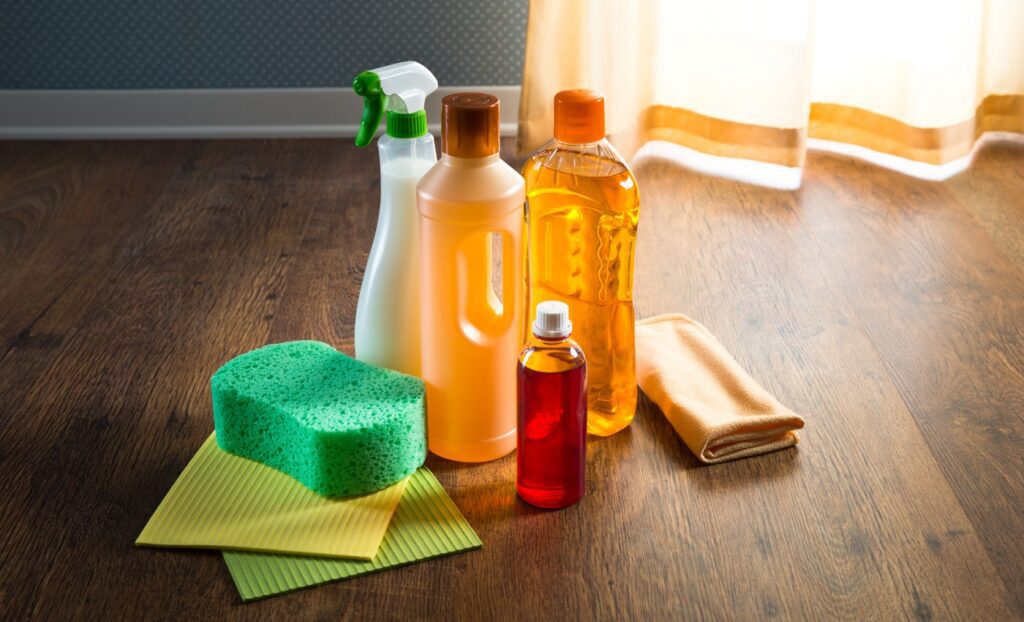 6. Toilet bowl cleaner
Cleaning the toilet is a breeze when you have a bleach-based toilet bowl cleaner in your cleaning supplies lists. Choose a clinging type so it won't merely leak into the water, then use it with your toilet brush to scrub the bowl thoroughly.
7. White vinegar
Vinegar has certain disinfecting characteristics in addition to being excellent at eliminating grime and liquefying grease. Maintain it on hand for quick cleanups when you don't want to use a chemical cleaner and for light disinfecting in between using stronger treatments.
Related: dos and donts of cleaning with vinegar in 2023
8. Baking soda
Baking soda is an excellent cleaning supply in removing and absorbing odors. Keep an open container in the refrigerator and use it as needed to eliminate odors, such as those from carpets or garbage disposals.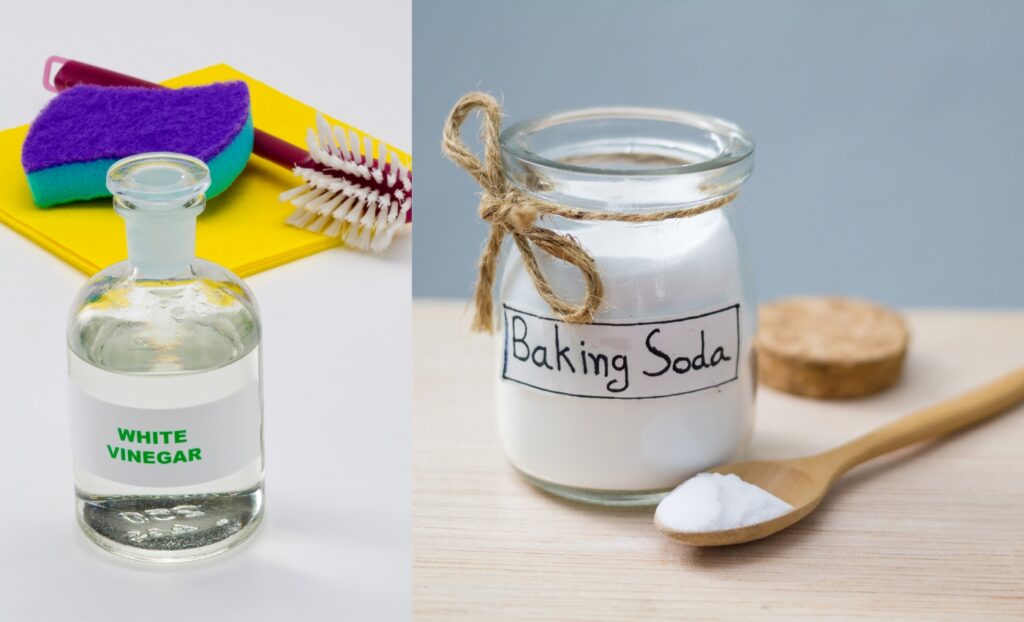 Other essential cleaning products
The items listed above complete the essential supplies list you'll need for a thorough cleaning, but what about specifics for particular jobs? Here are a few other necessary cleaning supplies to get at the store.
For your kitchen:
Sponges and/or sponge brush
Dish soap
Steel wool or other abrasive scrubbing pad
Hand towels
Oven cleaner
Surface-specific cleaner, if you need it for a surface like granite, marble, or stainless steel
Grout brush
Cleaning toothbrush (do not use it on your teeth)
For the laundry room:
Laundry detergent
Bleach
Stain remover
In case you have pets:
Urine neutralizer
Paw wipes
Remember that not all cleaning supplies are necessary for your home (there is no need to get paw wipes if there is no dog in the house or granite cleaner if there are no granite surfaces). However, the majority of them come in handy for keeping your house spick and pristine.
Don't let your house get untidy!
Do you want to use as many homemade items as you can? White vinegar, baking soda, bleach, and even lemon juice are common household components that can be used to generate a variety of cleaning solutions. Make an effort to identify all-natural cleaning recipes, but be aware that they might not completely eradicate viruses and bacteria the same way as commercial products. Start with the cleaning supplies lists that Sparkling and Beyond show you above and gradually assemble a collection of dependable house cleaning tools by investing in your favorite must-haves and borrowing others from family members.
Need some tips? We're here to help
Are you struggling to maintain cleanliness in your home? Follow our tips above to see some incredible changes.
In case you need to refresh your living space, at sparklingandbeyond.com, we provide you with affordable and reliable cleaning services and a lot of helpful tips.
Feel free to contact us today! Our experienced cleaning experts are waiting for you!
If you want to check our availability and pricing, please check here.