The front yard is the most noticeable feature of your home so it is necessary to make your front yard landscaping attractive and inviting, while also arranging your lawn and garden to highlight the style and architectural aspects of your home. There are various front yard landscaping ideas for your house, whether you have a little front yard, flower bed, or planter that you want to accentuate. We've selected the top front yard landscaping ideas to get your creative juices going for fresh decor and designs.
Front Yard Landscaping Designs #1: Add rock features
Rock is a natural material that comes in many shapes, colors, and it can be used for multiple purposes. For example, big plane pieces of rock are a perfect material to create a sidewalk and pathways for your front yard. Out of that, rock is a nice decoration with a sense of nature and rustic, adding rocks when plant flowers can make a beautiful front lawn.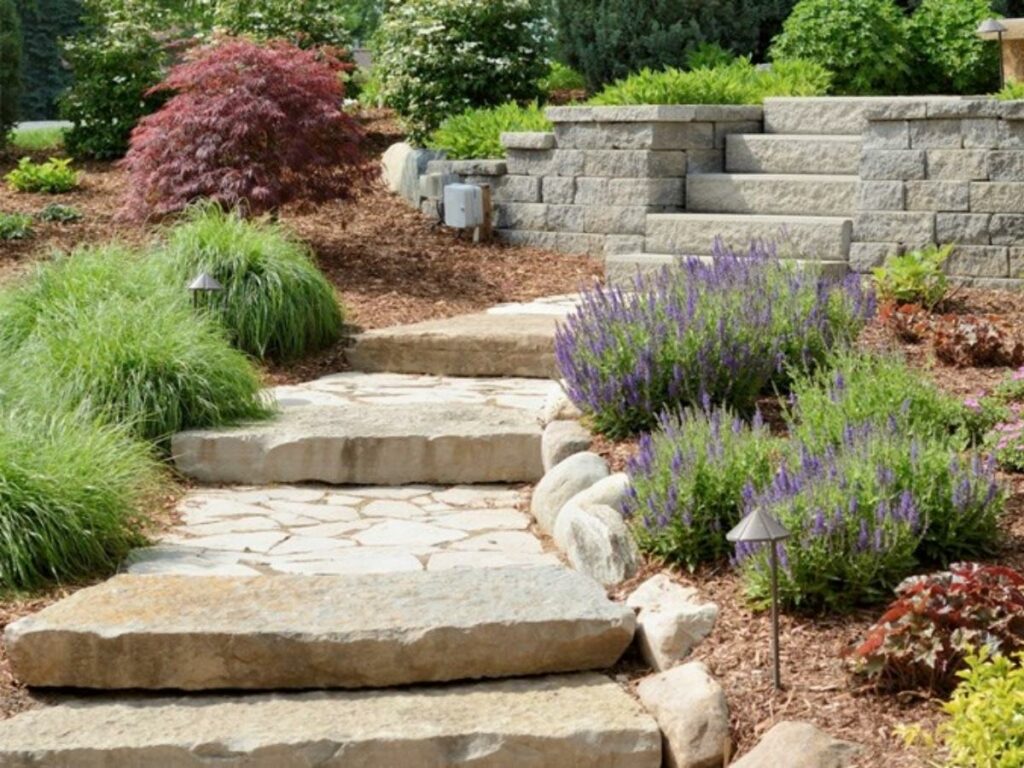 Front Yard Landscaping Designs #2: Add lighting
Otherwise, if you would like it to be extremely bright, a lamppost will undoubtedly catch the eye if you want to go big. Add it on a beautiful flower bed to make your yard sparkle at night. The lamp post adds an antique feel to the space, especially if it complements the rest of your patio furnishings.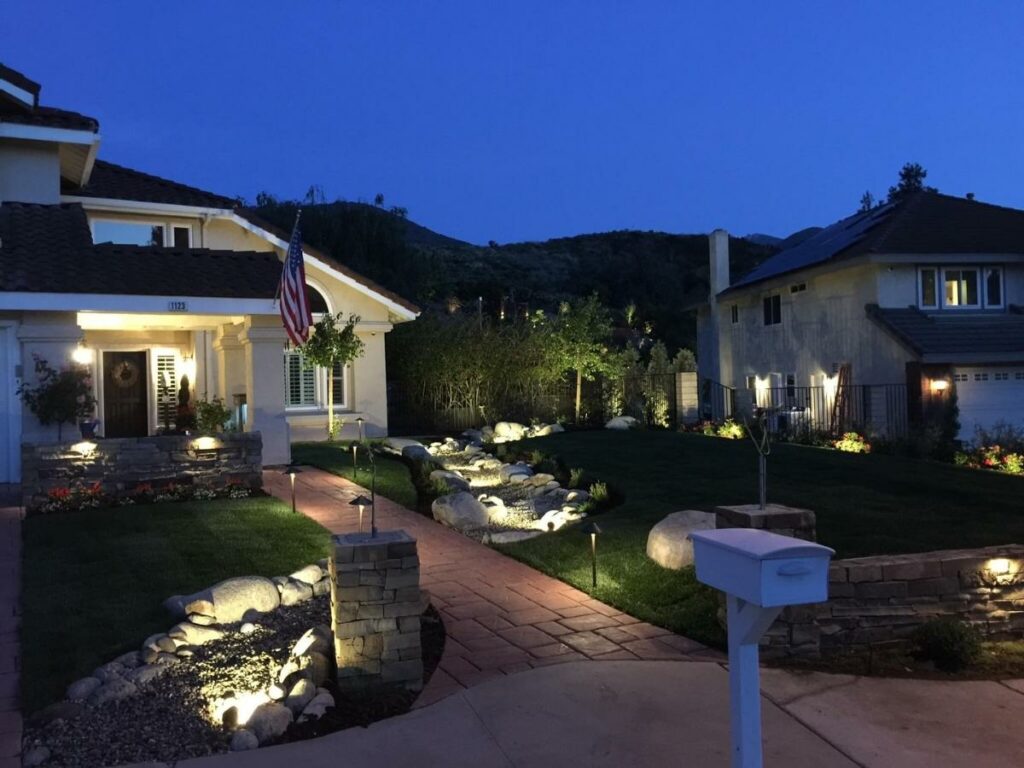 Front Yard Landscaping Designs #3: Upgrade garden edging
Your front yard may look disorganized without edging so you should have a clear edge between your garden and your front yard. There are plenty of garden edging ideas that you can search on the Internet. However, you don't have to make things too difficult for yourself if you choose garden edges. A magnificent edge may catch the attention, but a practical one works just as well if your flowers are already elegant enough. Natural stone transitions, irregular edges coupled with boulders, grass, and aggregate produce a more natural, organic effect that combines landscapes and hardscapes.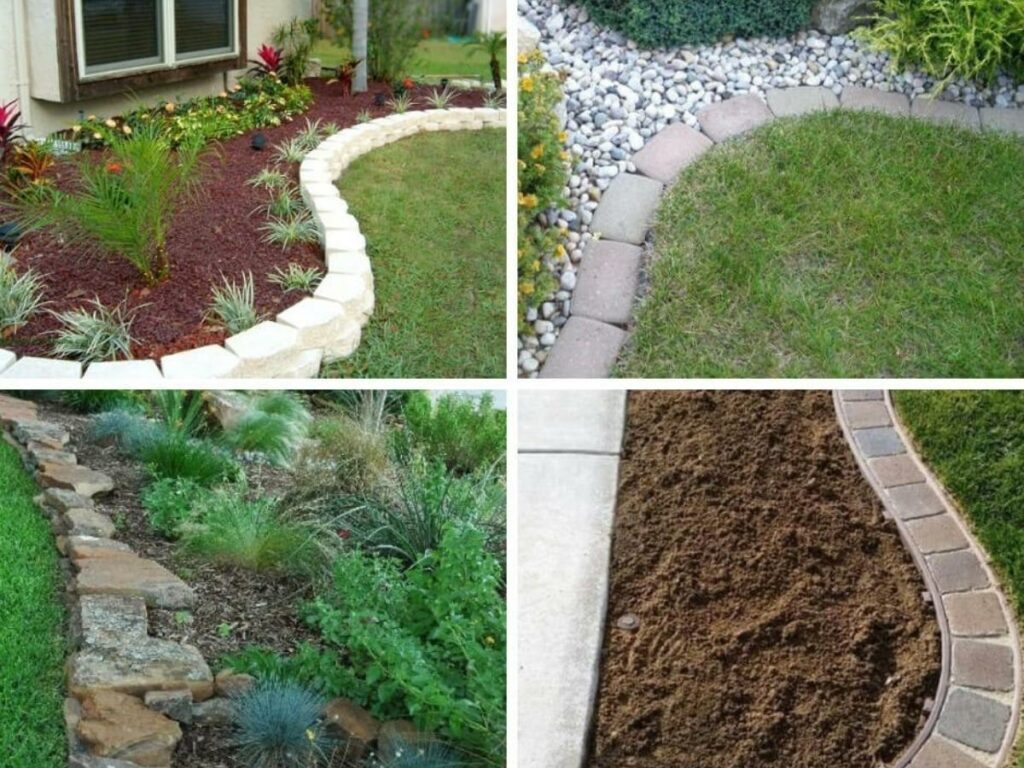 Front Yard Landscaping Designs #4: Plant ground cover to hide outdoor eyesores
Laying down natural features such as planting flowers and trees can help complete a space or disguise unsightly spots in your yard or garden. Adding old vases, rocks if needed for the landscape to completely hide the object.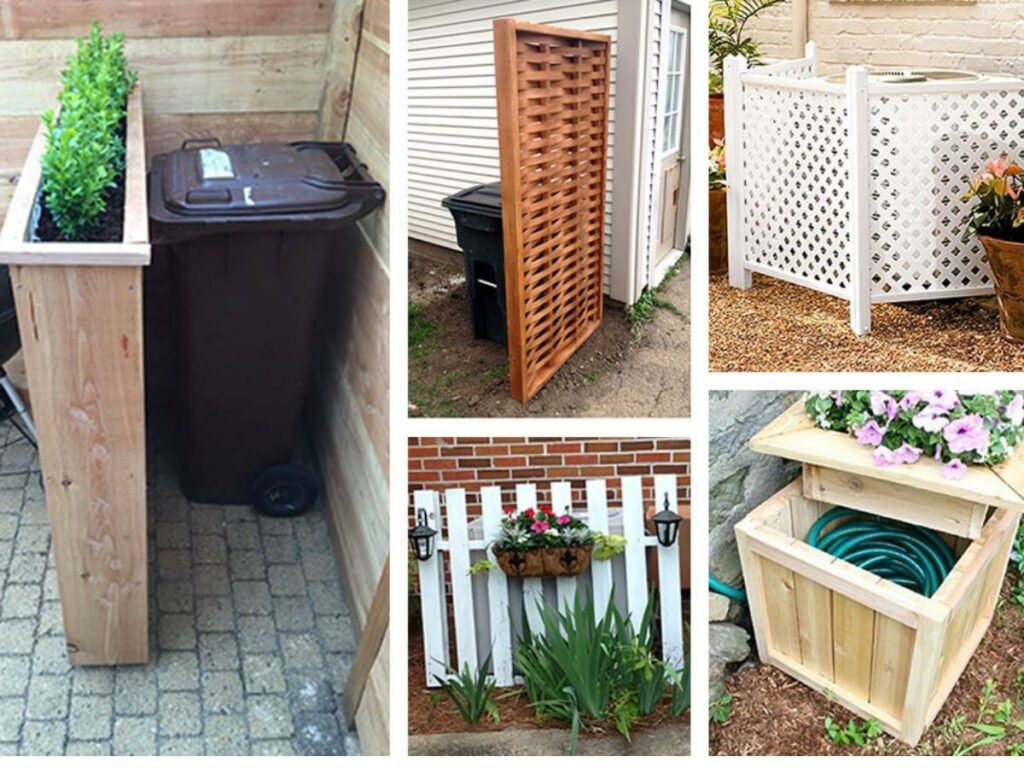 Front Yard Landscaping Designs #5: Plant perennial shrubs in front of your house
Fill in your garden bed with flowers and plants to give your house a fresh look but you should consider native plants since they adapt better to the local climate, then require less care. Also, choose the perennial fauna so that it keeps the exterior of your house appealing all the time.
If you have a fence in front of your house, try planting perennial shrubs such as rose, abutilon, Calycanthus,… next to the fence, it is a perfect combination.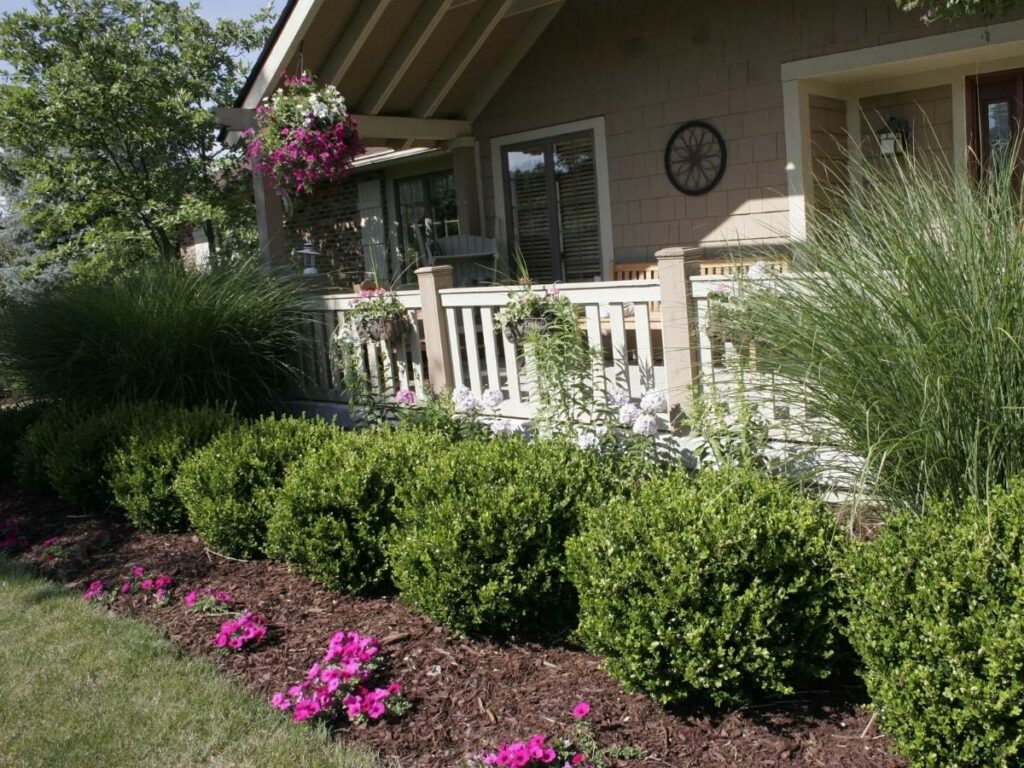 Front Yard Landscaping Designs #6: Make a garden bed around your mailbox
Decorating your mailbox with some flowers planted around is a cute idea. It may be necessary to construct a raised bed 10-14″ tall around your mailbox, filled with good quality soil, and topped with weed suppressing mulch. It is also vital to find salt-tolerant plants for this garden that will grow year after year in locations where roads are salted in the winter.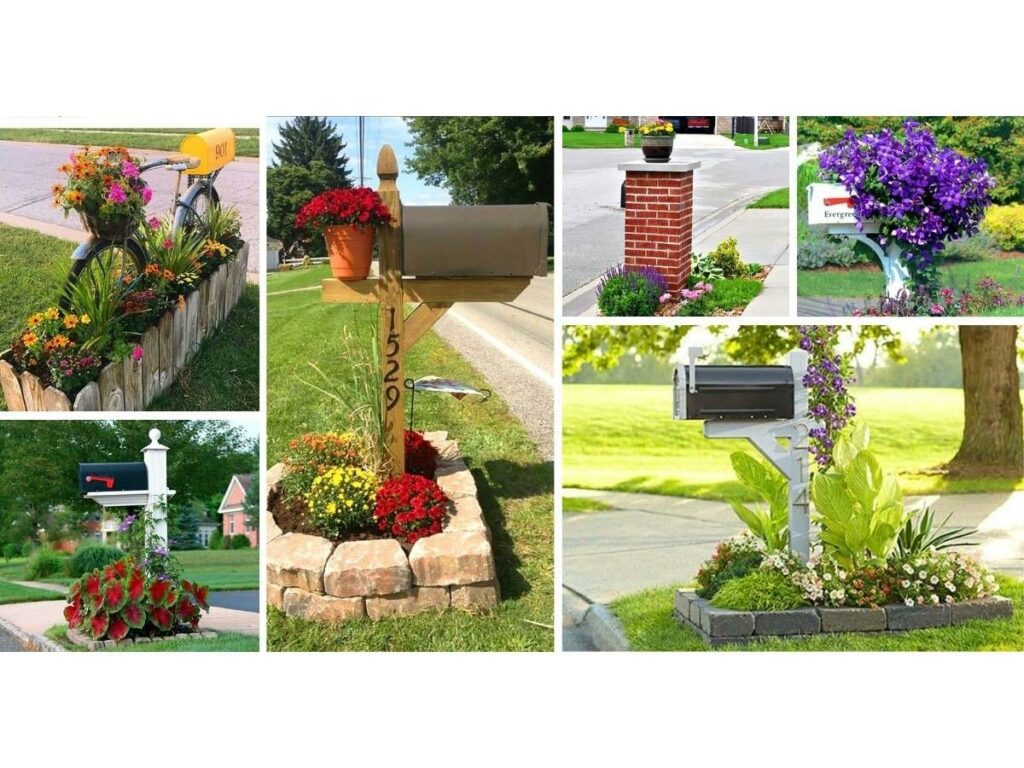 Front Yard Landscaping Designs #7: Modern Farmhouse Style
Modern farmhouse is a modern spin on the rustic style, therefore everything is adjusted to ensure you have all you need to live a modern life with a farmhouse twist. While country homes are lovely, this style takes our favorite cozy characteristics and adds elegant details such as clean lines, brushed metals, and neutral hues.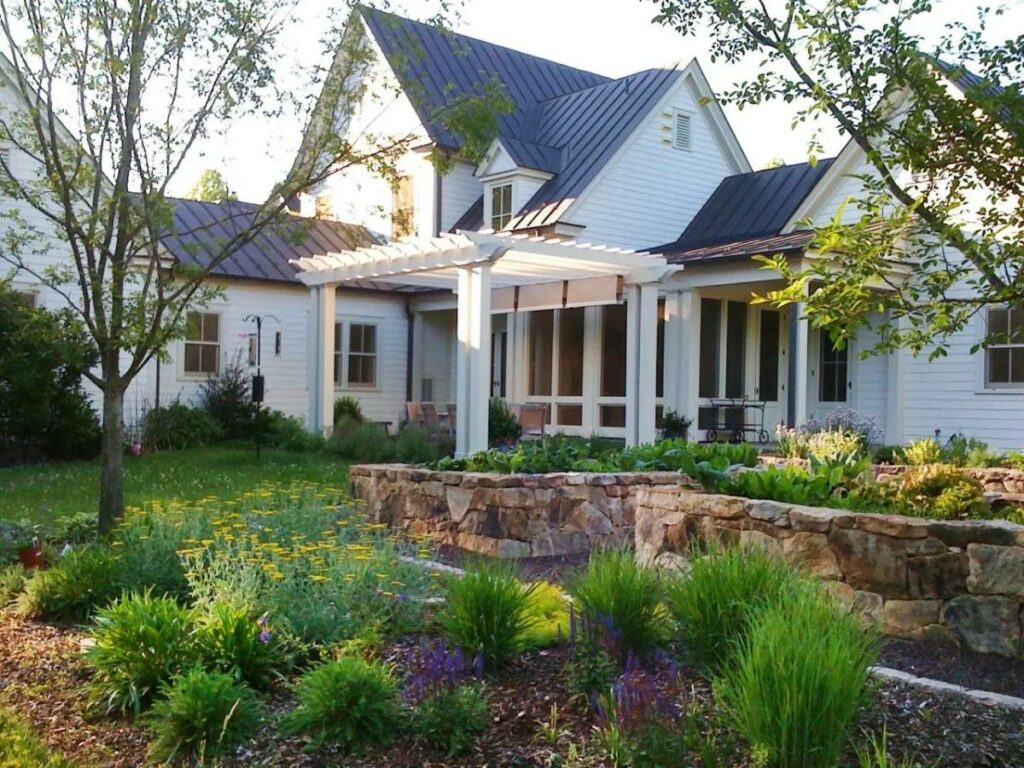 Front Yard Landscaping Designs #8: Build a flower bed around a tree
If you have any big tree in your front yard, build an edge around that tree and plant flowers as a decoration for the tree. Tiny flower shrubs that do not require much light may be the most suitable to plant under a tree.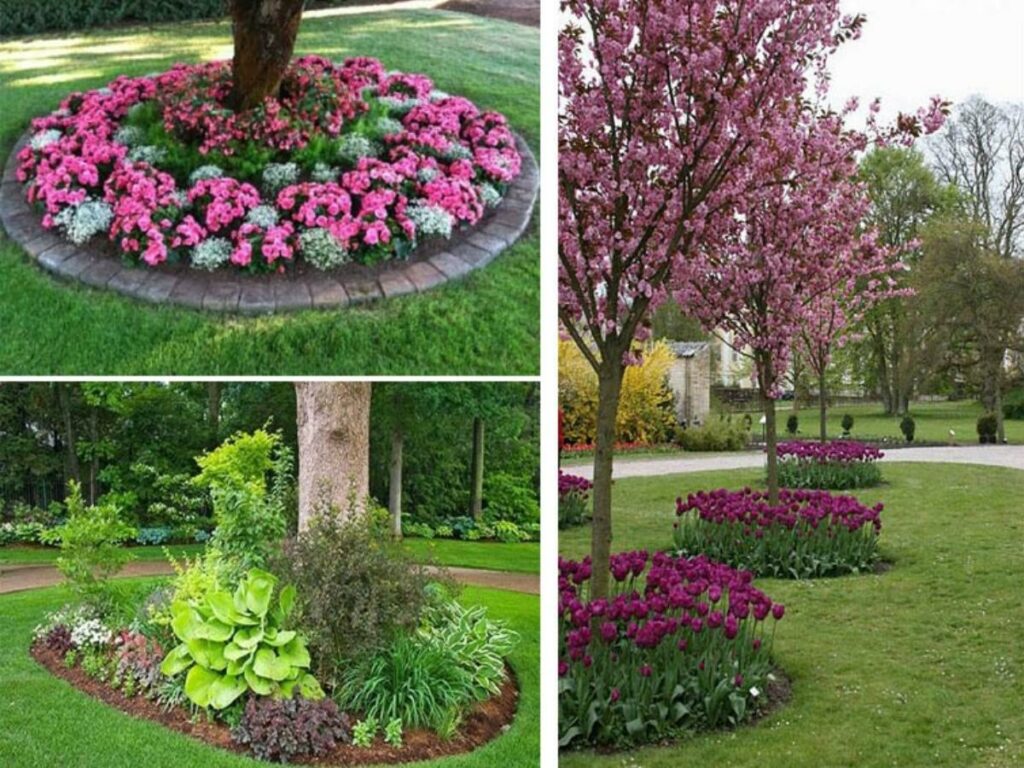 Front Yard Landscaping Designs #9: Improve your lawn
Whether you add one or dozens of flower beds, a clean and tidy lawn will make them stand out. If you don't want to use lawn edging, you can clean up the edges after mowing with a string trimmer. It can be time-consuming, but it is vital to keep your outside space in order. Also, make sure it is cut frequently and looks fresh all the time.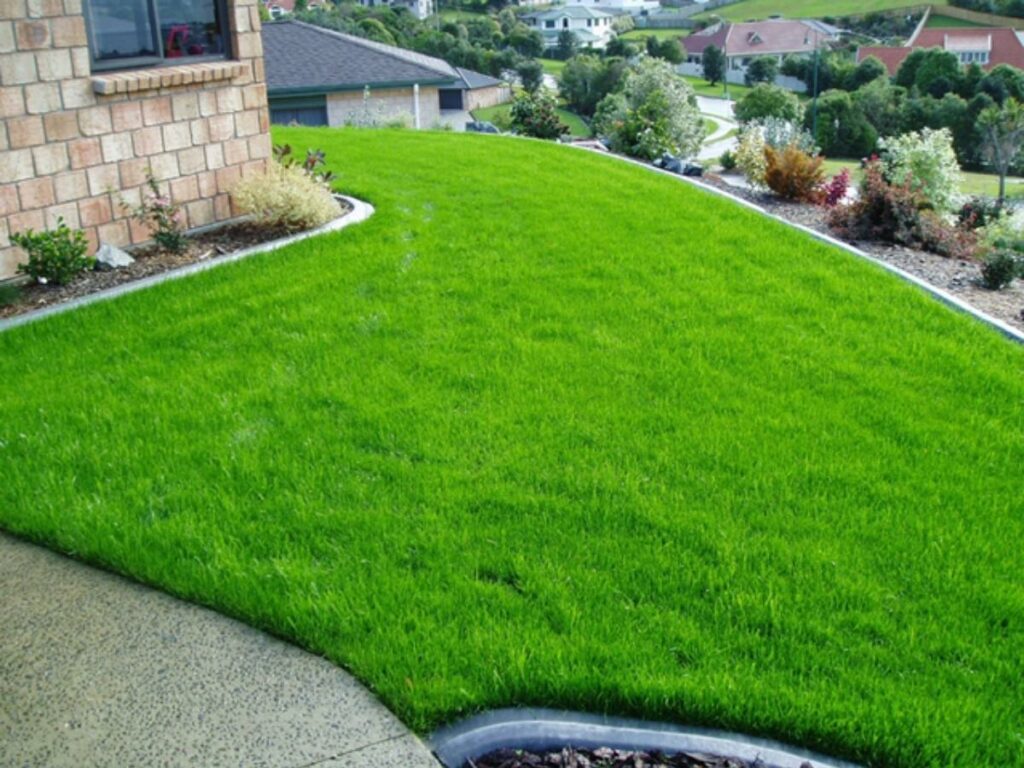 Front Yard Landscaping Designs #10: Plant a shade tree
Apart from flowers and tiny shrubs, planting a tree with a big shade can create additional space to fully enjoy the benefits of unwinding outdoors. There are many kinds of shade trees that you can choose for your yard. It is interesting to have a shade tree with some unique features such as the special color of leaves in the Autumn, the outstanding flowers,… but you should choose the native plants as they are enormously affected by the climate.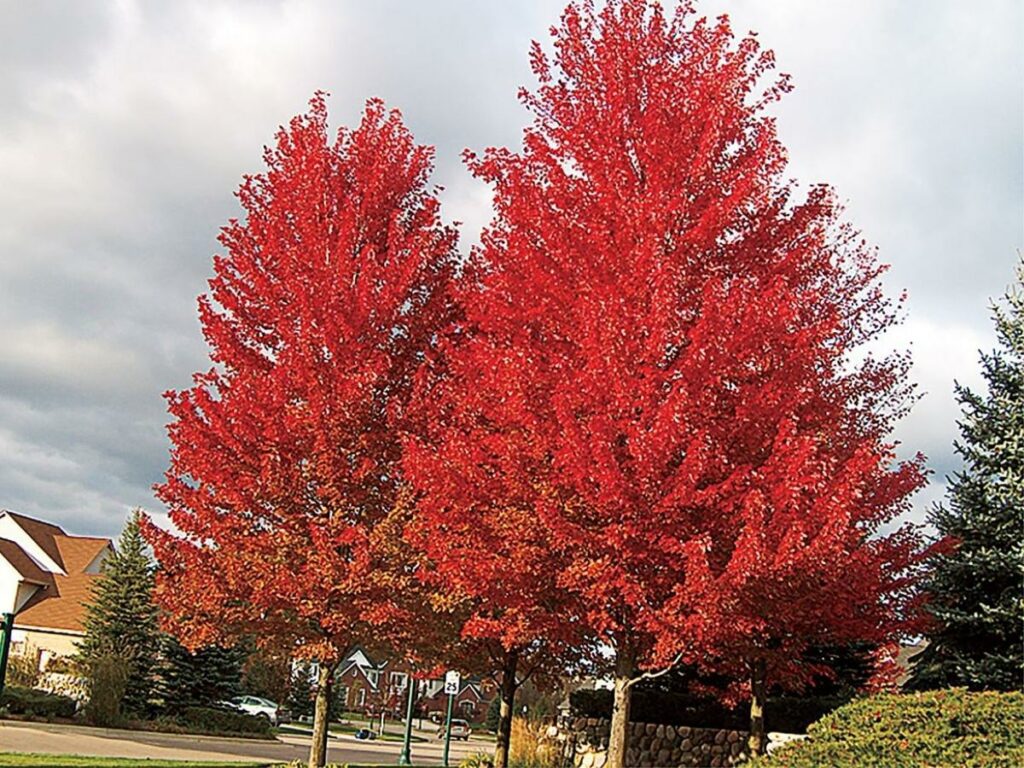 Front Yard Landscaping Designs #11: Plant an ornamental colored tree
Ornamental colored trees may not reach towering heights, but they can nevertheless deliver a powerful punch in your landscape. These kinds will blend in well whether you have a small yard or are just out of room to add more plants.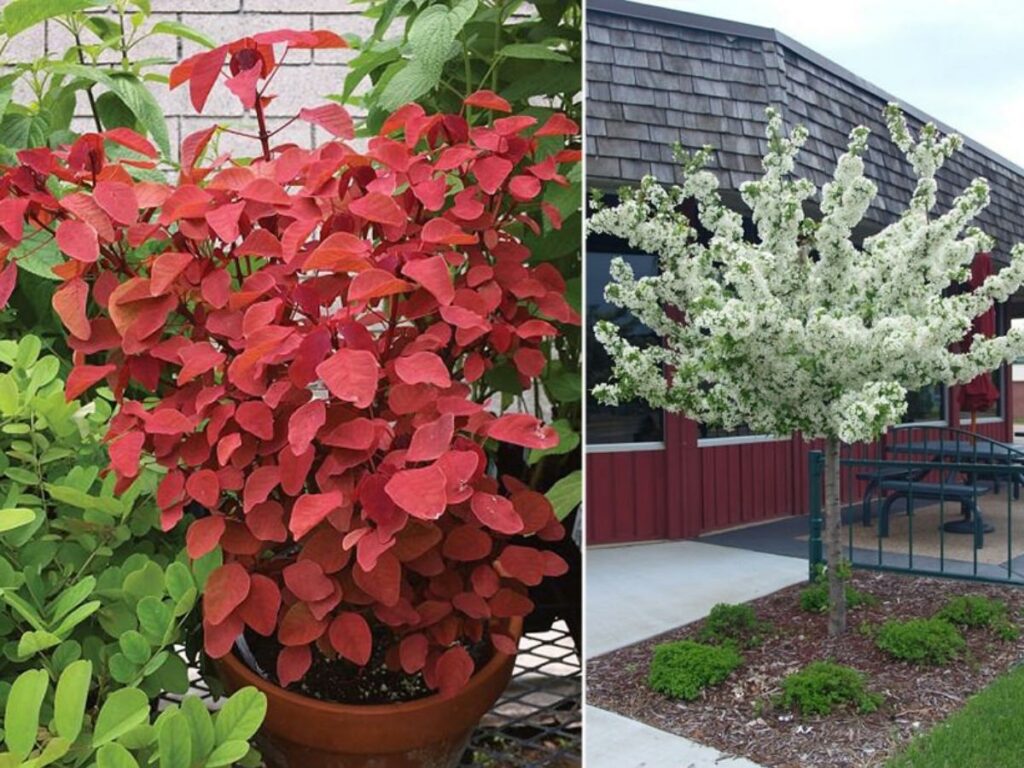 Front Yard Landscaping Designs #12: Install a birdbath
Having a bird bath in your front yard or backyard is a surefire way to an environmentally friendly method to give your colorful plants protection. Attracting more birds to your yard, it hunts insects for your flowers, thus, your landscape has a natural protector.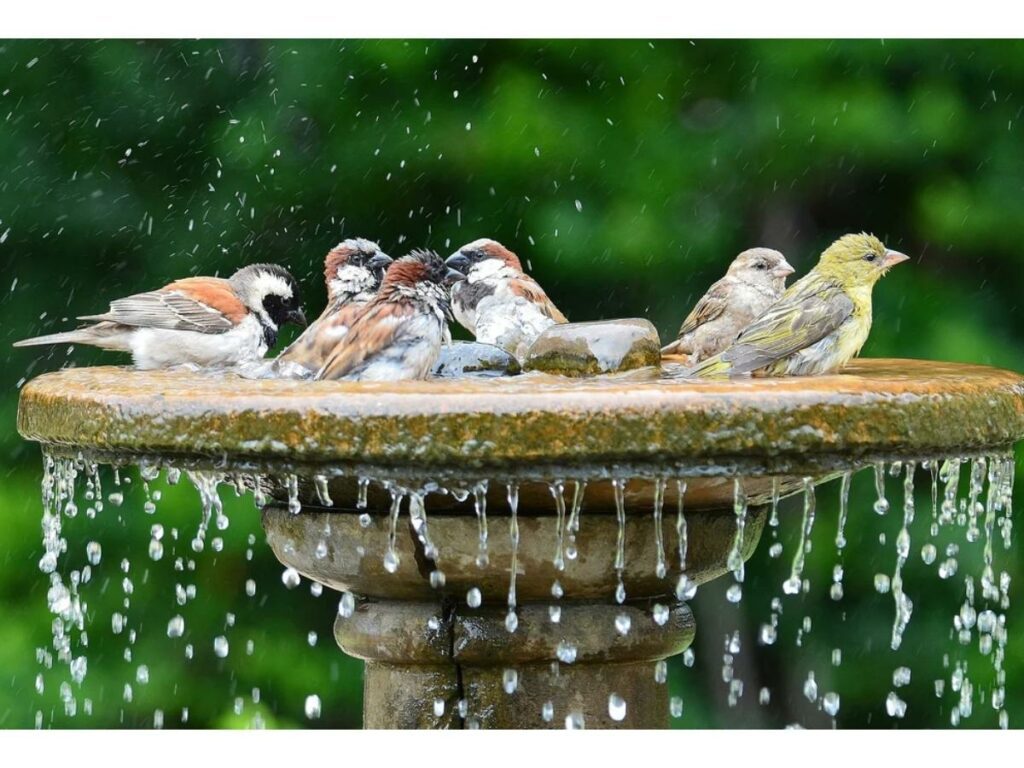 Front Yard Landscaping Designs #13: Desert Front Yard
A desert front yard could consist of a variety of plants, a bench, and some open space covered with gravel. Heat and drought-tolerant plants, such as giant cacti and yucca species, can be grown. Besides, it may be incomplete if there is no pathway filled with rocks.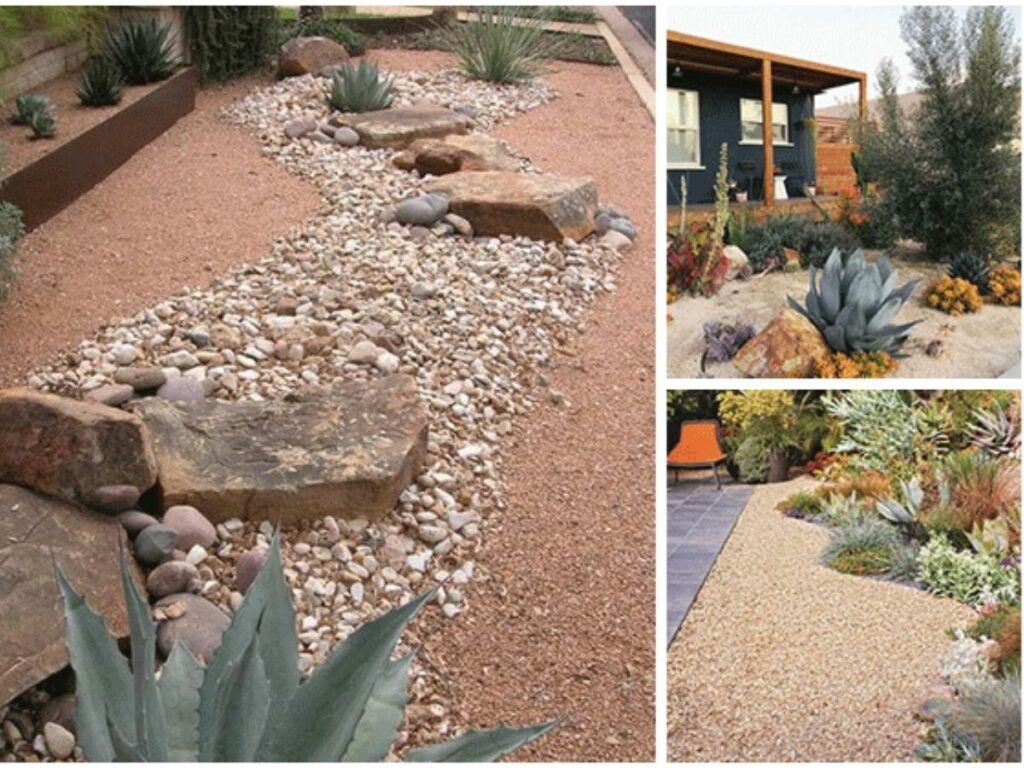 Front Yard Landscaping Designs #14: Front Yard on a Slope
Slopped properties are ideal to build a multiple-bed landscape such as building stairs to a waterfall and plant flowers to decorate the landscape. Otherwise, raised beds for veggies can be installed on vacant land on a slope that receives full light. The deeper areas of the beds can be used for root crops that require more soil, while the shallower sections are ideal for herbs and vining plants.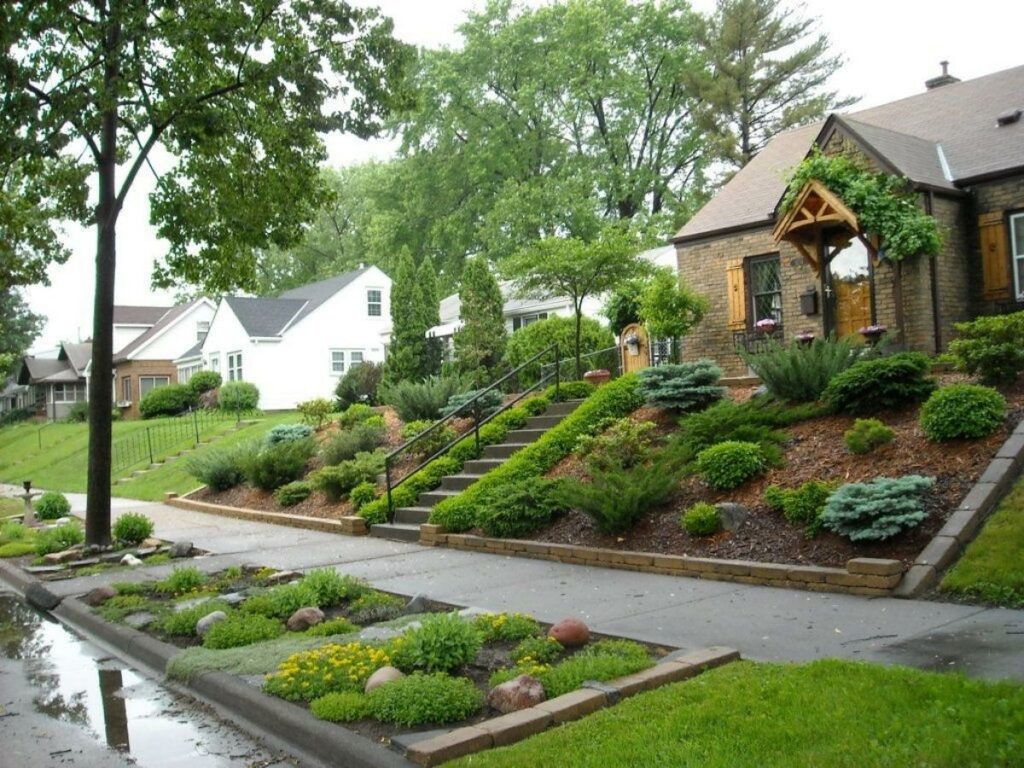 Front Yard Landscaping Designs #15: Grand Entrance
The entrance to a home announces its design credentials immediately and sets the tone for the entire property. Adding elegant features to an entry will boost the entire mood of your home, whether guests are greeted by a sweeping staircase or a cascading chandelier.
The front yard has a big impact on the beauty of your house and it will impress the guest at the first look so it is important to give it a particular design. Depending on how much space you have, you should choose one model to follow or get the inspiration from our front yard landscaping design ideas to create your own design. Finally, don't forget to take care of your landscape frequently to keep it beautiful all the time.
If you have finished your landscaping project, please share with us.