Many people have the impression that keeping a house tidy means deep cleaning constantly like once per month. Fortunately, this is not true. Some corners in your house only need to be tended once a year and your place can still be spotless.
Sparkling and Beyond will guide you through these spots that only annual cleaning are required, making your cleaning routine much easier.
Annual cleaning 1: spots behind the furniture
Since moving appliances away and cleaning the covered corners can be tiring, annual cleaning behind the furniture is enough.
After year-long accumulation, there will be a lot of debris, dirt and stains at the back of your appliances like TV, couches or tables.
To clean these spots, mop the back of each appliance with a wet rag and tidy up each piece of furniture with different methods such as vacuuming the fridge coil or dusting the vents.
When the rear of each appliance is clear of dirt, wipe off the pile of dust on the floor corner by vacuum and mop.
When moving around these heavy house fittings for cleaning, ask someone to help you lift them up if needed and be careful not to hurt yourself.
Moreover, make sure that all appliances are disconnected from any electric wire, water and gas line before moving.
Related: Winter Deep Cleaning House Checklist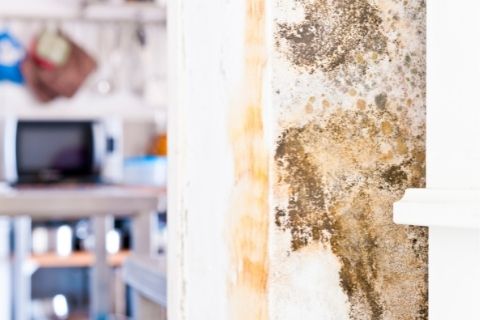 Annual cleaning 2: rearrange the bathroom storage
If you have not checked the bathroom cupboards for a while, it is time to check them. You may find many items that should be thrown away such as expired tablets and pills, toothpastes that are almost empty or outdated makeup.
Therefore, annual cleaning is a proper time to dispose of unwanted bathroom supplies and buy the new items you need. Apart from the supply, remember to also wipe up any dirty spot on your bathroom shelves.
Related: How to clean bathroom like hotel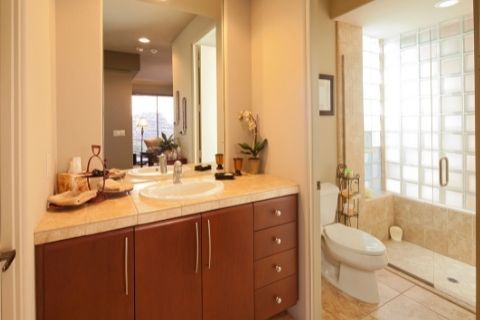 Annual cleaning 3: curtain and shade
Although curtains and shade are vertical so they seem hard to attract dust, this is not correct.
Curtains and shade are prone to trap the dust and smelly substance in the air.
Other airborne particles such as oil in the kitchen or hair spray in the bathroom could also pollute the curtains.
Therefore, they should be cleaned annually. After taking down the drapes, clear the dust on the hardware part.
Many lined drapes can be dried cleaned but make sure you read the instructions carefully on the label to double check.
After cleaning the curtain and hanging them back, you can apply a clothes steamer to any wrinkle on the curtain.
If you have blind in your house, you need to dust it more frequently, like once a month, as the slat on the blind is easy to hoard any dirt.
Related: The Benefits Of Standard Cleaning For Allergy Sufferers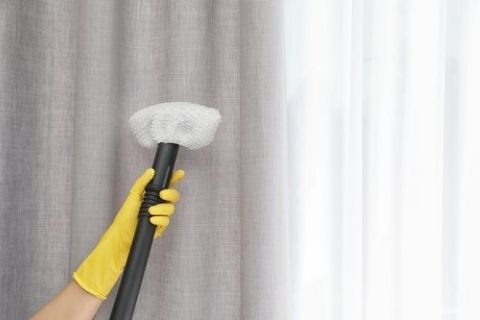 Conclusion
If you plan to have an annual deep cleaning, make sure to cover these areas we point out. Remember to clean the back of each appliance to clear any grime pileup.
Also, be careful when moving these heavy house fittings and check if they are all disconnected from any line.
Moreover, reorganize your bathroom cabinet and resupply anything you need. Lastly, curtains and shade should also be washed. Check the washing instructions before you clean them.
If you need professionals to deep clean your house, Sparkling and Beyond offer all kinds of cleaning services to meet your needs. Simply visit sparklingandbeyond.com or dial 415-966-1101 to check a free quote or book with us today!
Reference: