With the advanced technology, TV displays nowadays are truly a wonder. Having  amazing color and high resolution, TVs let the audience immerse themselves into the world of imagination. In order to maintain such a high quality of visual enjoyment, it is important to clean the TV screen from time to time. Sparkling and Beyond will share some simple cleaning tips as well as some no-nos to avoid on how to clean your TV screen. Let's get started!
How to clean your TV screen at home
To clean a TV screen, we only need the following tools:
A soft microfiber cloth: Similar to the one you would use to clean a pair of glasses. We suggest not to use a rough cloth or kitchen roll as their harsh surface could damage the screen. 
Specialized TV screen cleaning products
How to clean your TV screen at home, a step-by-step guide.
Firstly, unplug the TV for safety reasons. 
Use the microfiber cloth to wipe the TV in a small, circular motion. Make sure not to put too much pressure against the screen to prevent unwanted damages.
Some TV screens like OLEDs are incredibly thin so they are unstable while cleaning. You may need to use another hand to support the TV when wiping it.
If there are unyielding stains, it is time to use the specialized TV screen cleaner. Spray the cleaner onto the cloth and you can easily remove the spots. Before doing this, check the TV manufacturer's instructions to make sure your TV cleaner is allowed to be used on your TV screen.
Before plugging the TV back in, wait until the screen dries up. The hot screen could potentially react with the screen cleaner, causing unwanted damage.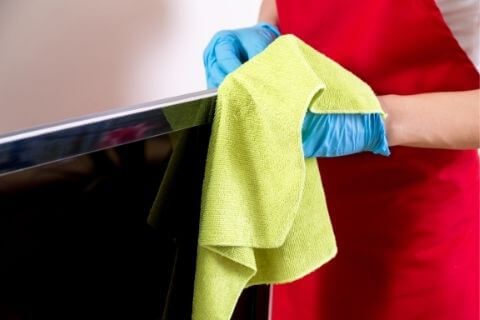 How to clean the screen to remove streaks
If your TV screen has streaks on it, here are the steps on how to clean streaks on the TV screen. 
Prepare a microfiber cloth or duster. Remember not to use pre-treated dusting cloths as their finishes often contain oily substances that may leave residues on your screen.
Turn off the TV to better see the streaks and dirt on the screen.
Use the cloth or duster to mop the screen in a single direction (in vertical or horizontal). After this, wipe it again in the opposite direction. In this way, you will clean the whole surface and remove any streak. Remember to turn the cloth whenever it gets dirty.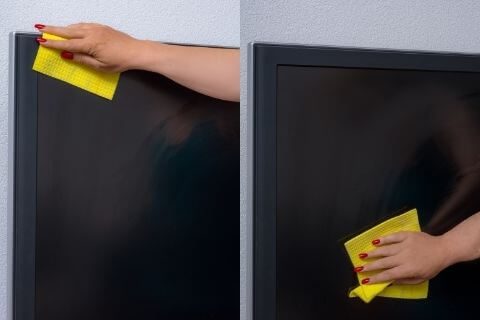 To clean your TV screen safely, use specialist cleaners
It is tempting to use the cleaning products we already have at hand for cleaning such as baking soda and vinegar. However, these products should not be used when cleaning the TV screen. On the surface of the screen, there are layers that are coated to reduce glare and reflections. When cleaning the screen, it is important not to damage these coatings. Unfortunately, most of the household cleaning products will potentially damage the TV screen. Therefore, it is suggested to buy specialized TV screen cleaners in order to clean your screen safely. Also, a dry cloth is usually sufficient to wipe the screen clean and only use a cleaning product for the stubborn stains.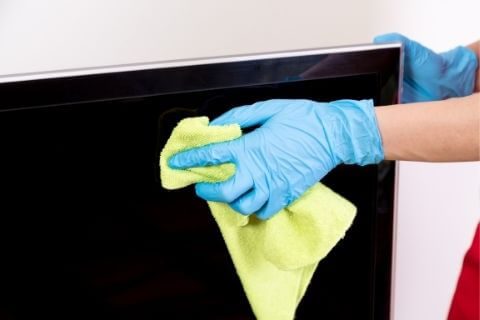 How to keep the screen dirt-free all the time
Here are some tips to keep your TV screen spotless 
The dirt like dust, fingerprints and film can accumulate on the screen, becoming hard to wipe off. Therefore, it is recommended to clean your TV screen each week. To make things easier, you can place a microfiber cloth by the TV set to remove any dirt whenever you see one. 
To clean the vents, ports and cable connections, simply use a vacuum attached with a soft dusting brush in low suction power to clear any dust.
Any product that has ammonia, alcohol or acetone should not get close to the TV screen as they will damage the screen.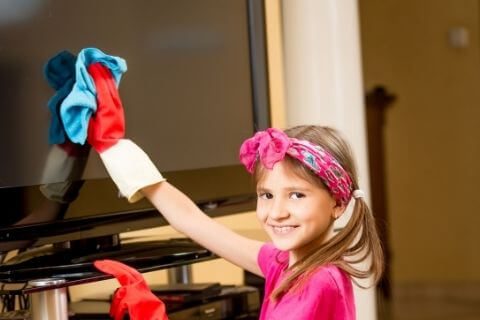 Don't have the time for cleaning? We are here to help!
We hope you have understanded how to clean your TV screen after reading this article. Cleaning the TV screen is relatively easy compared to other furniture cleaning. However, we understand you may not have the time to clean the furniture or each room in your house due to your busy work schedule, your children or because you want to have some time for yourself. If this is your case, we recommend our standard cleaning service for you. For this service, we will come to your house regularly to help you tidy up the whole place from dusting your TV to sanitizing your toilet. With our service, you won't need to worry about house cleaning anymore and can simply use your time for other things you prefer. Moreover, if your house has not been properly clean for a while, we would suggest a deep cleaning service before switching to standard cleaning. Our deep cleaning service covers a wider range of house cleaning. Having a deep cleaning before regular standard cleaning, we will ensure that your house will have a superb level of tidiness. Check our website and get a free quote today!