Toilet floors are humid and an ideal environment for bacteria and odors to develop if we don't clean regularly. Cleaning the toilet floor, on the other hand, is a difficult task. If you've ever been confused about choosing the right cleaner for the toilet floor, and spent hours scrubbing it, here's an article for you. You are wondering how to clean your toilet floor fast and easily while saving time and effort? We will provide some helpful tips to deep clean your bathroom floor tiles.
1. What is a good cleaner for tile and grout?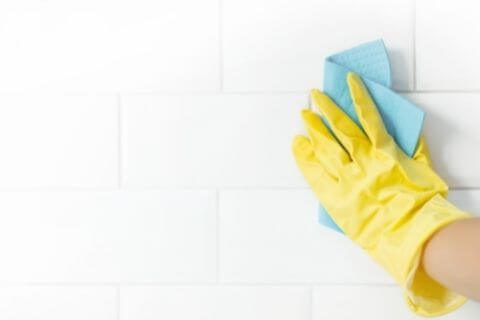 The type of cleaner you choose is determined by your requirements. Using commercially available products will bring good results with minimal effort. However, if you want to save money and are concerned about the cleaners' impact on your health, you can make it yourself at home.
Just make sure to never mix detergent solutions that are not of the same type together, as some substances when combined together can be harmful (e.g., mixed bleach with vinegar).
A lot of different brands have specialized cleaners designed to bring brightness to the grout and the toilet floor. If you have to select between multiple alternatives, go for one that includes antifungal characteristics to help decrease mold mass and growth.
There are many people who believe in bleach products to clean grout on the floor – and indeed they are very effective for white and light gray tile interlaces. Oxygen and Chlorine bleach are known as the best substances to clean bathroom floor grout, but you must be careful when using them and never use them with black or other colors, as they may fade. Remember to follow the directions on the label when using any cleaning product.
If you don't like bleach products, why not try preparing your own cleaner from all-natural ingredients? To make your own effective grout cleaner, simply combine the vinegar and baking soda until they form a slurry mixture so you can easily apply them to tile grout and clean them. Besides, natural detergents such as vinegar and lemon can also remove stains and odors from your toilet floor easily and quickly.
2. How to clean toilet floor and grout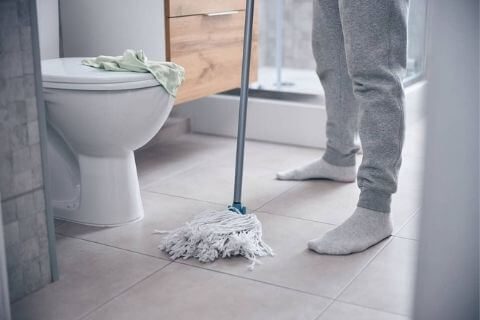 Effective cleaning of bathroom tile floor and grout depends not only on the type of detergent you use; it also depends on the method you use to remove stains. The steps proceed as follows:
Step 1: Wipe the entire tile floor with a mop before you begin cleaning. This will aid in the removal of accumulated dirt and make cleaning grout easier.
Step 2: Pour your cleaning solution onto the toilet floor and grout, making sure that the bleach covers all of the areas that need to be cleaned.
Step 3: Wait about 30 minutes for the bleach to soak up any stains to make wiping clean easier. Use a brush with hard bristles to scrub the grout. Tool stores sell specialty brushes for grout, but you can also use an old toothbrush
Step 4: Rinse the toilet floor again with clean water and dry.
3. What to keep in mind when cleaning the toilet floor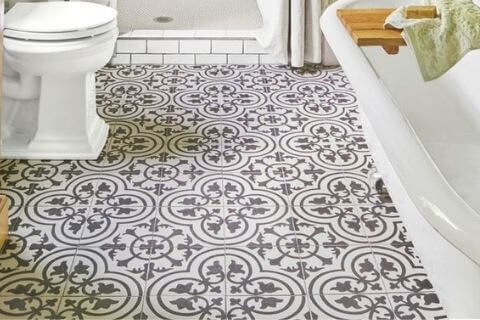 Cleaning toilet floor on the final step: If you are wiping the entire bathroom, leave the floor behind. Because water or dirt can fall on it during the cleaning of walls, shelves, etc.
Concentrate on cleaning little details: A small broom or a cotton swab can be used to efficiently clean these.
Keep the floor dry: Leaving the floor dry will assist to reduce the growth of mold. This also reduces the potential of dangerous slippage.
If your toilet has a marble floor, you should only use mild dish soap, as acid products including vinegar can damage the floor.
Maintaining the habit of cleaning the toilet floor is key to keeping the bathroom clean. Because the environment is humid, the bathroom is very prone to mold. This can cause health concerns for you and your family as the bacteria can quickly spread to other areas.
4. How to remove yellow stains on the toilet floor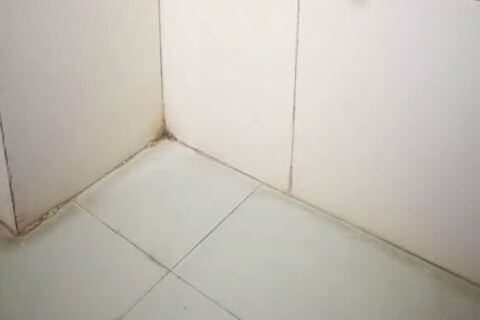 Yellow stains affect toilet aesthetics, even causing unpleasant odors. To clean yellow stains in the toilet completely, you should do and note the following:
Use the table salt available in the house and mix it with the toilet floor cleaner. Pour the mixture on the yellow stain on the tile floor and wait about 15 minutes and then flush with clean water.
Toothpaste can also help you brush away yellow stains on the tile floor. Apply the toothpaste directly to the yellow stain. Then you mix some baking soda with water. Use a towel to blot the mixture and apply evenly to the stain until the tile floor or grout is clean and white again.
5. How to remove mold and green moss on the toilet floor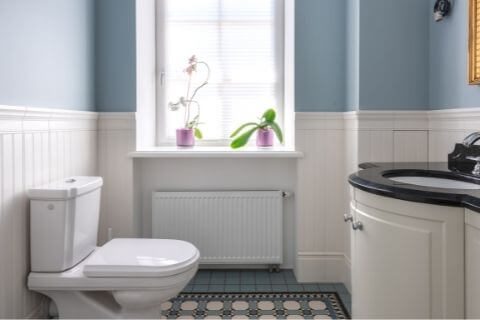 Mold and green moss usually appear when encountering humid environments and places that are not cleaned for a long time. If mold and green moss appear on your toilet floor, you can put soluble lime water in a water basin. Then sweep the mossy area, wait overnight and rinse it with water.
6. What to do to clean the toilet floor after a toilet overflows?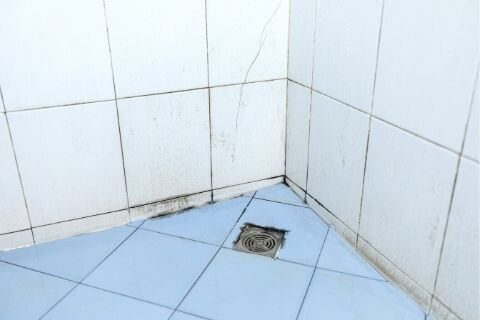 After the toilet is overflowed, the treatment of odors and soiling is an annoying and haunting process. So how to clean the floor after the toilet overflows?
When the toilet is overflowing, after quickly shutting off the water valve, you need to clean the floor with a mop to clean up any water spilled on the toilet floor.
Then, flush the contents of the bucket of wastewater you collected while mopping the floor down the toilet.The bucket and mop should be rinsed with hot water.
To make sure you get rid of all the germs on the floor as well as on the equipment, you can pour a mixture of one cup of bleach and one gallon of hot water into the bucket. Then use the mixture and the mop to thoroughly clean the toilet floor
374 total views, 2 views today