Do you like the refreshing feeling of the morning sunlights coming into our rooms and illuminating the whole place? This great feeling can be attributed greatly to the spotless windows that allow the sunlight to go through clearly and make the room bright and beautiful. To make your windows transparent and clear, regular cleaning is indeed required. However, the challenge of windows cleaning is that it is easy to leave some streaks or scrapes on the windows while cleaning. This will make the windows dull or even vulnerable. If you are struggling to clean the windows in your house, you have come to the right place! Sparkling and Beyond will share some pro tips on how to clean the windows effectively so that you can polish your windows like a professional!
Clean the windows with vinegar
The first step of how to clean the windows is making a cleaning solution. Apart from buying window cleaner, you can actually make a solution yourself. The only ingredient you need is white vinegar, simple as that! Vinegar is a widely used cleaning product and also easy to find in grocery stores at an affordable price. Moreover, vinegar's acid nature allows it to remove the streaky layer that usually gathers on the windows' surface and other glassware. Belows are the steps to clean your windows properly with vinegar:
Blend one part white vinegar with 10 parts warm water and mix it thoroughly. Pour the solution into a spray bottle.
Before applying the solution, we need to remove the dust first. Simply use a microfiber cloth or paper towel to wipe off any dust on the window. When this is done, spray the mixture to the whole surface.
Use a lint-free towel to mop the window and pay attention to the more dirty spots. While doing this, avoid leaving vinegar solution on wood, fiberglass and vinyl frames as the mixture could discolor the finish.
Dry the window with a clean cloth as soon as possible to prevent streak pileups. Therefore, if you plan to clean many windows, you should clean them one at a time rather than spraying all the windows at once.
If you can still see streaks, washing them with water should be enough to remove them.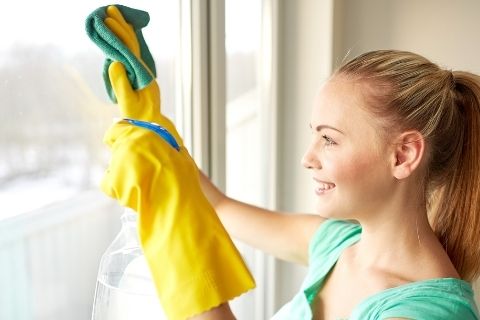 How to clean the windows of larger size with squeegee
If you are cleaning larger windows like a French window, we need a more efficient method. Therefore, we need different tools to handle this:
Make more vinegar solution (1 part vinegar to 10 parts water) in a bucket.
Soak a sponge in the bucket and dampen the window with the mixture. Remember to do this quickly to prevent any streak developed on the window surface.
Clean the windows with a wet squeegee. To do this, wipe with the squeegee from top to bottom to remove the solution. After each swipe, buff clean the squeegee so that it won't drip the solution in the next swipe.
How to clean the windows with newspapers
Newspapers are another great tool to clean the windows. The texture of newspaper is dense and soft. Therefore, newspapers can effectively wipe off any dirt on windows without leaving any scratch. Here are the steps to clean the windows with newspapers:
Spray window cleaner onto the window surface.
Use newspapers to wipe the window in a circular movement. In this way, the grime on the window will be loosened. Next, change the buffing direction to horizontal and vertical in order to completely remove streaks and absorb the cleaner liquid.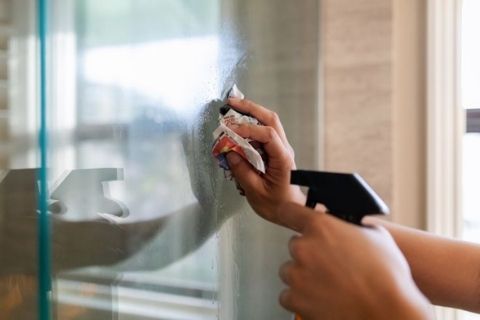 Things to be aware when cleaning the windows
It is suggested no to use window cleaners that contain ammonia. They seem powerful to polish windows but in fact, they could leave streaks and a thin layer to trap dirt. If certain dirty spots are more stubborn, in the beginning of the cleaning, you can pour solvent like acetone or rubbing alcohol on a cloth and wipe the spots clean. After this, dry the spot and proceed with the cleaning process you usually do.
Some stains can be really unyielding. However, never scrub the spots with a razor or other kinds of blade. The window may be damaged and you could leave scratching marks, making the windows easier to break.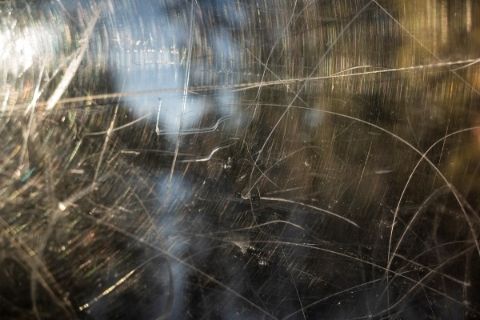 Don't have time? Let us clean the window for you!
Looking for a house cleaning service near you to refresh your living space? With our professional house cleaning services, Sparkling and Beyond Cleaning Service ensures the ultimate hygiene of your space and gives you more time for yourself as well as working hours for your home office. With our transparent house cleaning service cost and a range of customized house cleaning services, we are committed to provide you with the best experience with a team of devoted home cleaners. Free yourself from doing chores such as laundry, mopping floors and scrubbing bathrooms and instead, take part in recreational activities and spend more time with family and friends. Relax and let us do the dirty job.
There are many benefits of booking a professional house cleaning service to help clean your house. Firstly, you can save more time for yourself. Without the need for doing household chores by yourself, you will have more time for your family and friends, for your hobby or simply to rest. Moreover, our professional janitors will bring their cleaning supplies so that you don't need to purchase them. This can also prevent the cleaners being fetched by your children and causing accidents. Lastly, our professional cleaning can effectively avoid the growth of bacteria and viruses in your house to safeguard the health of your family.
Here is our house cleaning service checklist
All rooms cleaning service:
Remove reachable cobwebs
Dust ceiling fans and reachable A/C vents
Dust wall art
Clean mirrors
Dust window sills and ledges
Dust doors and door frames
Dust blinds
Dust baseboards
Dust furniture / feather dust cluttered surfaces
Feather dust knick-knacks & lamps
Vacuum floors (carpet and hard surface)
Mop hard surface floors
Bathroom cleaning service
Clean and sanitize toilet and toilet area
Remove soap scum & mildew in shower/tub
Sanitize counter tops
Sanitize sinks and polish fixtures
Vacuum bath mats
Remove trash and reline trash can
Kitchen cleaning service
Wipe counter tops
Dust counter top items & small appliances
Spot clean cabinet fronts
Clean microwave
Clean/polish appliance exteriors
Sanitize sink and polish fixtures
Remove trash and reline trash can
Bedroom cleaning service
Change linen (if fresh linen is left out)
Make beds
Dust headboard
Extras
not in standard, available as add-on
Hand wash dishes
Clean Inside Oven
Clean Inside Fridge
Sweep Inside Garage
Detailed Interior Windows
Detailed Baseboards
Clean inside cabinets and drawers
You can always add extra window cleaning in our standard cleaning, deep cleaning and move-in/move-out cleaning. We will not only tidy your lovely house but also make your windows spotless! Visit our website sparklingandbeyond.org or simply dial 415-966-1101 to get a free quote today!
If you want to find out more cleaning tips, you can check other cleaning articles on the website or follow our Facebook and Instagram for more cleaning tips and tricks!