If you're fortunate enough to have a garage, you'll want to make the most of it. Not only does it need to safeguard your automobile, but it also needs to hold a million other things. And, of course, not only should it be practical, but it also needs to be attractive. Organizing and decorating your garage is a fun project where you can express yourself and create a unique place. There are many ideas for organizing a garage, and Sparkling and Beyond will show you some simple tips to help you set up your own garage plans.
1. Make Up The Garage Flooring
Flooring is the first and foremost component of the garage that should be improved before starting organizing a garage. Several flooring materials can be applied to garage floors such as cement garage, epoxy, terracotta tiles, ceramic tiles, etc. You can choose which one you like or which one is most suitable for your garage.
Pro tip: Epoxy garage flooring is a newborn flooring material that is able to provide chemical resistance properties as well as a wide range of colors. It is made up of numerous layers of thermosetting resin that are coated, trowelled, or poured and placed on a concrete substrate. When the resin layers fully dry, the floor system produces a strong and permanent bond, functioning as an impermeable and beautiful barrier to protect the substrate.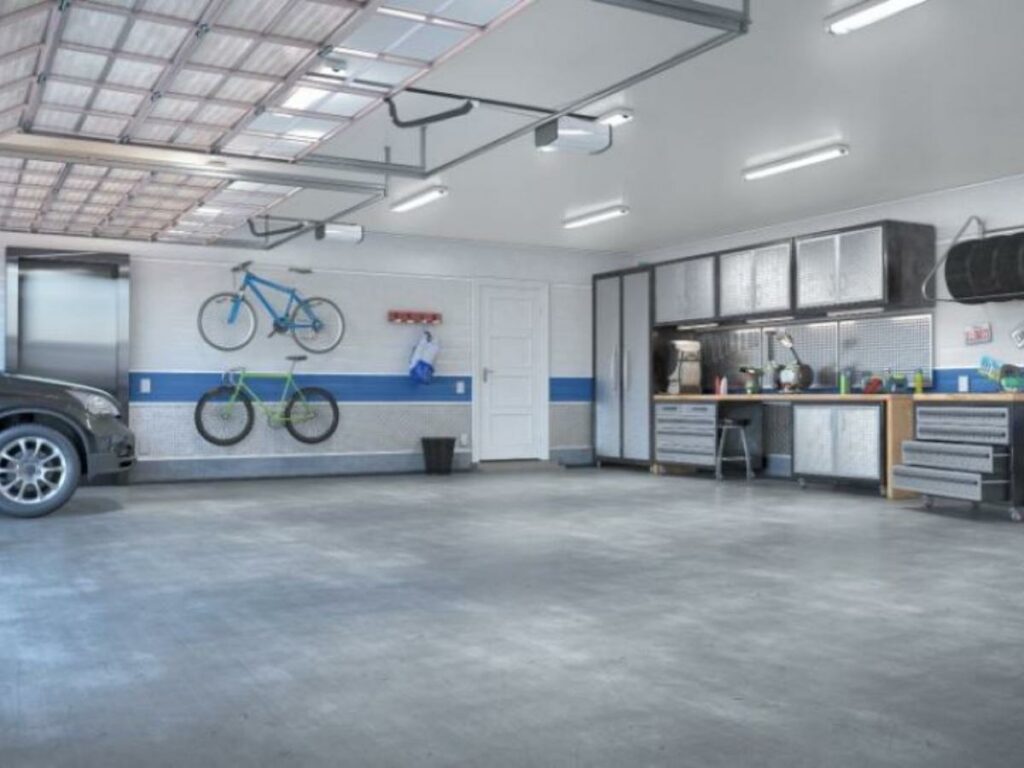 2. Installing Vertical Storage
Instead of placing everything on the ground, using some hanging shelves or garage cabinets is not a bad choice. A hanging shelving or cabinet system offers more storage while reducing the clutter that has been scattered on the ground.
Depending on the size and layout of your area, you should choose shelves which are not too big for your garage. Besides, you may consider installing them in the corner of the garage to make sure there will be enough space for your car.
Pro tip: If your wardrobe storage is full of off-season clothes, a garage may be an ideal place to garage clothing. Fold your clothes and store them in closed bins, make sure they are cleaned and safe inside. Since these clothes won't be used until the next season, placing them in the hanging cabinets will protect them from ground dust and moisture.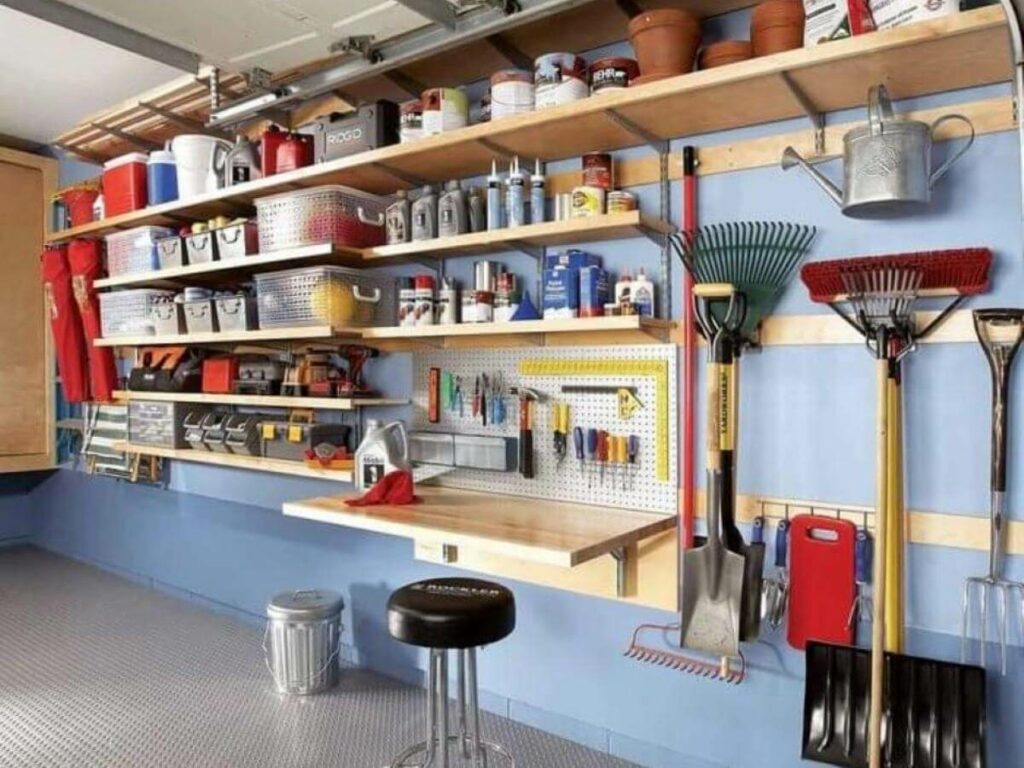 2. Adding Garage Shelves And Bins
Rarely do we have enough housing space to store all the odd and end things we bought impromptu. Therefore, you can make your garage multi-purpose by adding some garage shelving and storage units so that you will have more space to place your home stuff.
If you're always searching through your shelves for garage, transparent containers are more preferable than opaque ones. This makes it easy to find exactly what you're looking for without destroying your organizing structure.
Pro tip: Use different types of containers for different items. For example, no-lid containers will be better for storing sports equipment such as balls, basketball bats, etc. Meanwhile, iron tools should be stored in a lidded container to avoid rust.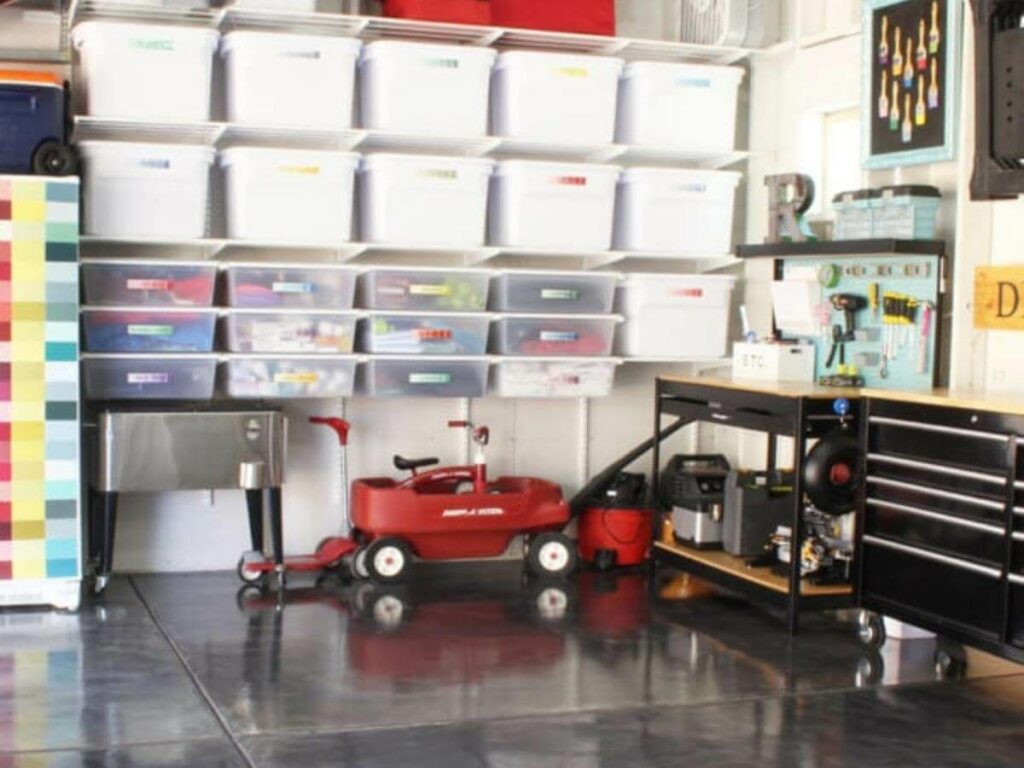 3. Keep Garage Knick Knacks In Order
Having a bunch of strange knick-knacks sitting around is one of the quickest ways to make a garage seem messy. Investing in stackable storage boxes is a smart move to keep everything organized and accessible.
Heavy things should be placed in the bottom unless the shelves may be poured down. Also, place the items you rarely use up top and everything you need to access frequently right at eye level.
Pro tip: Group your stuff in topics such as tools, sporting, clothing, etc. and store them on the same shelf or near each other. Having name stickers on each shelf or bin will help you detail the garage and make it easier to find where you put your things.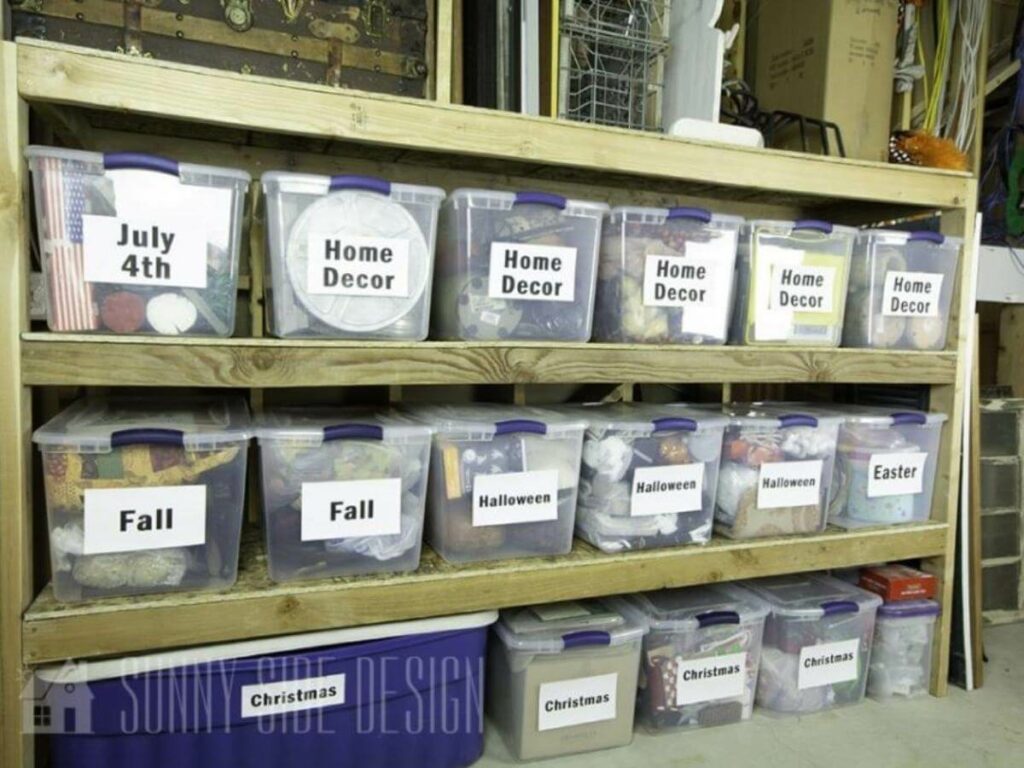 4. Utilize the Wall Space
Although shelves and bins create more storage space, not everything can be stored on them. For extra-large and long items such as raincoats, swabs, children bicycle, extension cords, etc, shelves seem unsuitable. It is better to add hooks and racks directly on the wall to hang the said items after use. Not only that, you can hang some decorations to make your garage cabinet more attractive, such as flower baskets, paintings, etc.
Pro tip: If you are familiar with fixing things, you may have a collection of fixing tools. Utilizing a corner of your garage storage to build a workbench with a pegboard hanging on the wall should be a priority in your organizing plan. Placing all the tiny tools you need on the pegboard will make them clearly shown in front of your eyes and accessible at any time.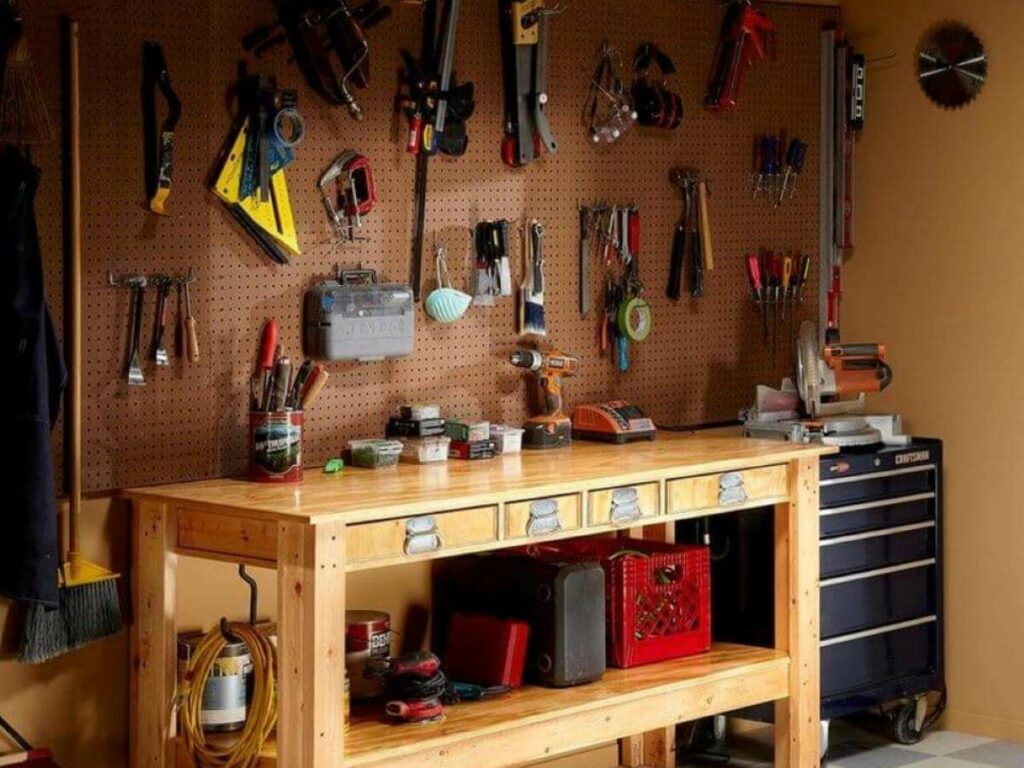 5. Decorating The Garage
After having a clean and neat garage, why don't you give it some decoration? Painting the door, drawing some interesting stickers or objects, adding lights, flowers, plants, etc. will be the most interesting step to finish your garage organizing project.
Pro tip: Leaving some space for live plants will make your garage look more green and comfortable. Google the houseplants to find which one you love and which is suitable for garage space.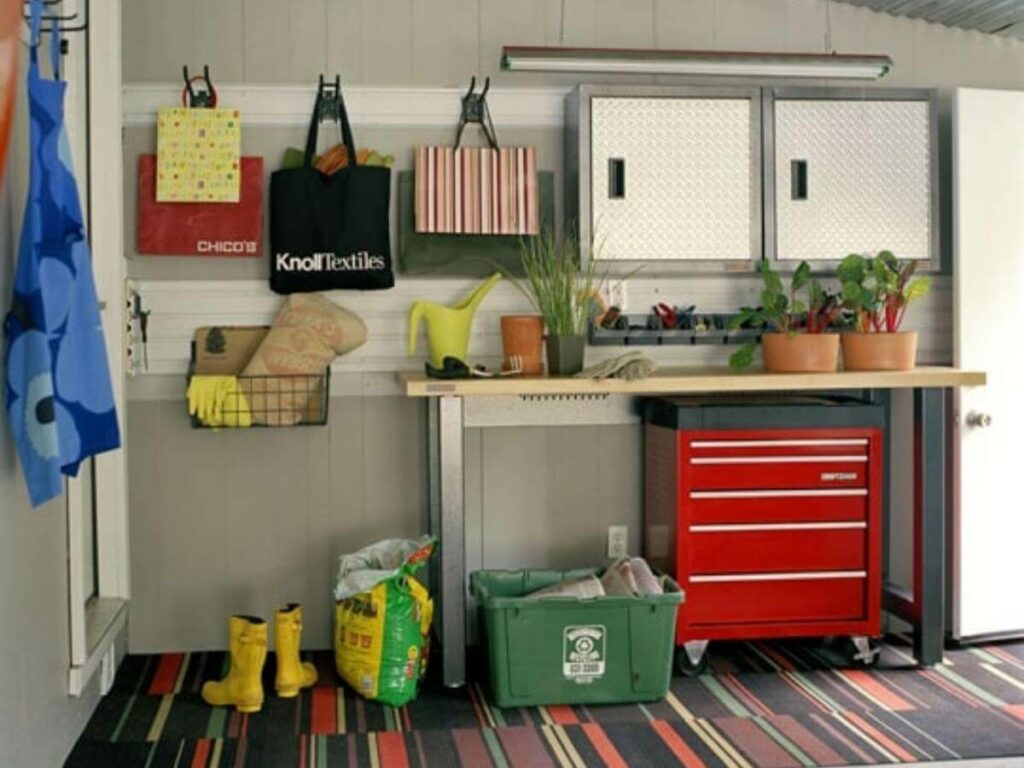 Conclusion
Only after arranging all the stuff lumbered in the garage do people realize that their garage can be a beautiful space rather than just a place for storing the car. If you are not the one who often arranges things, it may be difficult for you to revolutionize your messy garage. However, we believe that organizing a garage will no longer be challenging with our 5 simple organization tips. You may also have other simple but effective cleaning tips for your house by taking a look on our How To Clean Tips. If you need any further support, don't hesitate to contact us to have more specified cleaning advice from our cleaning experts or request our Professional & Affordable Cleaning Services. Sparkling and Beyond is willing to support you at any time!
Sparkling and Beyond Cleaning Services was selected by Redfin as a top Hayward, CA organizing expert. See the Redfin article we were featured in From Cluttered to Clean: 9 Garage Cleaning Tips For The Overwhelmed | Redfin
As an interior designer, I have done many researches regarding building a healthy living space. This job is my passion and I am happy that I have helped a lot of customers to improve their living space. Out of work, I like art, I often spend time on painting to relax myself. Completing a colorful painting helps me refresh my energy.