Marble is a valish decoration that makes your house luxurious, but maintaining its beauty is more demanding than normal tiles since many people have not been aware that it is only compatible with some kind of cleaners. Therefore, cleaning without clear instructions can lead you to more trouble than dirty marbles. In fact, these elegant decorations are sometimes accidentally destroyed due to using the wrong cleaner. In that case, replacing marbles is the only solution which would cost you time and money. Having worked on this problem, Sparkling and Beyond will provide you with the correct answer to the question "what cleaning products are safe to use on marble?"
Tips to choose the right cleaners for marble
First: Understand what is marble?
Marble is a metamorphic rock, which is a type of rock that has been physically and chemically transformed over time due to intense heat and pressure. Marble begins life as limestone, which is a soft stone made primarily of calcite.
The most important thing you must do before cleaning marble-based surfaces in your house is choosing the right marble cleaners. The pH concentration is the main index you must pay attention to when choosing cleaners. Here are some advices for you:
If you think of common detergent such as bleach, hydrogen peroxide, vinegar, etc..since these compounds won't make your marble clean but damage its travertine and limestone leaving visible damage and destroying marble pattern.
Acidic cleaners with a low pH like vinegar (pH 3), hydrogen peroxide (pH 4), or citrus (lemon-orange pH 2-4) can harm marble so they are not the right choice.
Bleach with pH less than 12 and ammonia with pH less than 11 are acceptable. Otherwise, it will etch marbles.
Avoid abrasive cleaners or pads or soap films as they may scratch the finish.
Soaps do not seriously harm your marble but slightly so do not overuse them.
Do not use bathroom, tub & tile, or grout cleaners. The powders and even the "soft" creams of typical bath & shower cleaners contain abrasives that will scratch and dull the marble surface.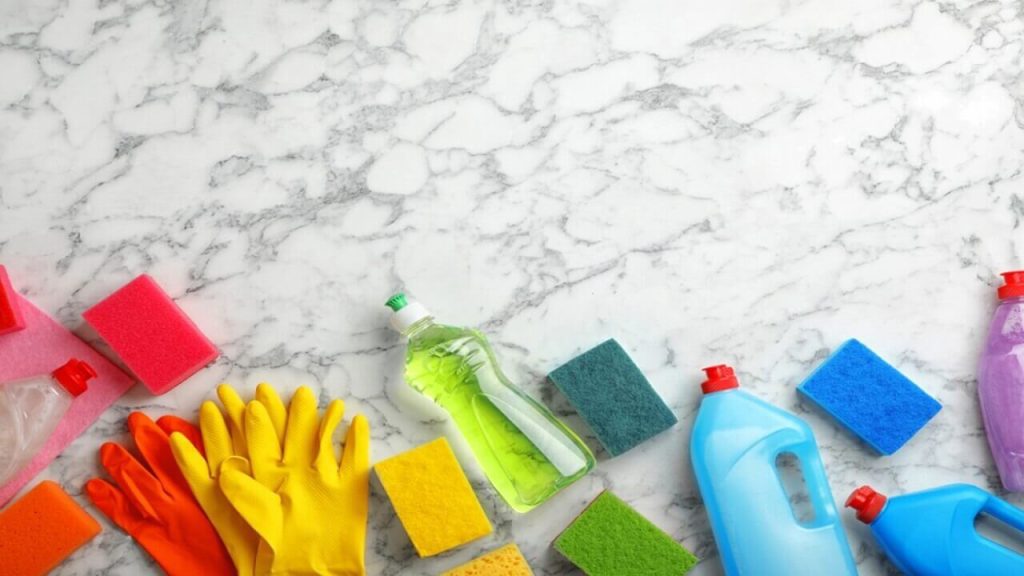 Compatible cleaning products for marble
1. Good old soap and water
Instruction: A mixture of warm water and gentle dish soap can eliminate oil-base dirt. Using the mixture to rub the marble and rinse with water, then clean the marble with a dry microfiber cloth to fully wash out any soap residue. Do not leave any water spot after cleaning since it will attract dust to settle in the surface of the marbles afterwards.
Note: Only use non-acid soap which does not include lime or lemon acid.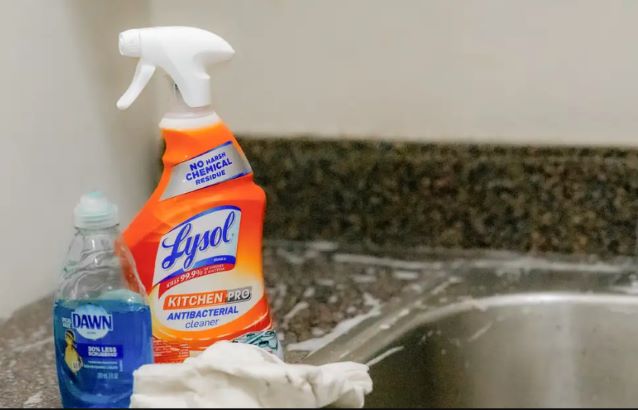 2. Hydrogen Peroxide Solution
Instruction: Dilute 1/2 cup of hydrogen peroxide with a gallon of warm water. Spray the solution onto all the surfaces of marble. Then, use the cloth to rub the mixture into the marble. Add more peroxide if needed for stain removal.
Finally, rinse the marble with water and dry them with a clean, gentle microfiber rag or cloth.
Note:
Use hydrogen peroxide for light marble only. Use acetone for dark marble surfaces.
Mix 1/2 cup of baking soda and 1 teaspoon of hydrogen peroxide and a little warm water to make a paste, and paste it onto the surface of marble to remove oil-based stains.
Use coasters on marble surfaces to prevent staining.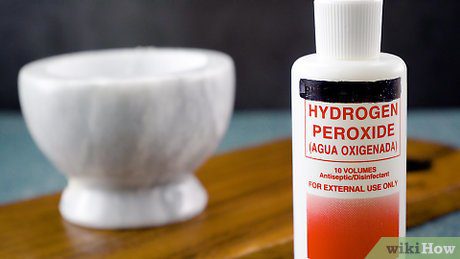 3. Baking Soda Paste
Instruction: Sprinkle baking soda onto the surface of the marble and spray water afterward. Using a sponge or cloth to rub the marble and rinse it with water and dry with a soft towel.
Unlike other kitchen appliances which can be cleaned by baking soda and vinegar mixture, this solution should not be used with marble as it can even scratch the surface of your marble.
Note: Baking soda is a light abrasive and a natural disinfectant. Leaving any baking soda residue can damage your marble so do not overuse baking soda.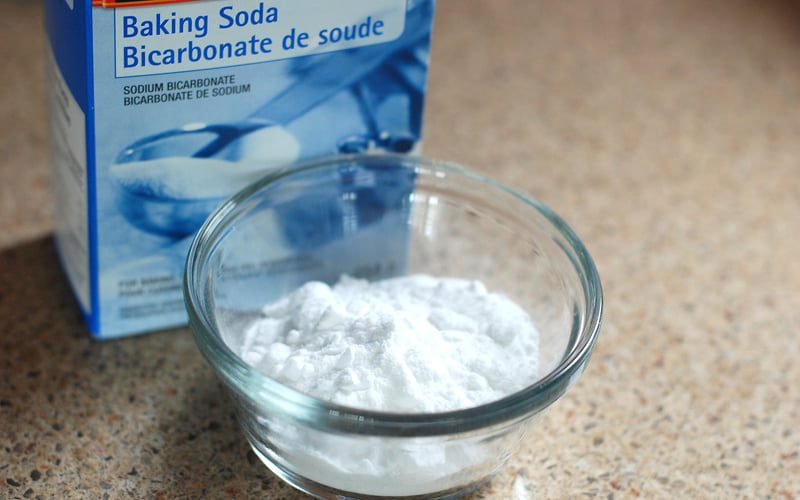 4. Specialty Stone Cleaners
There are a number of stone cleaners which are specially produced for cleaning marbles, sold at a variety of prices on Amazon, Home Depot, Lowes but the quality is hard to evaluate. We suggest to choose the one which has a neutral pH. Additionally, you should choose a cleaner which needs spraying and wiping out, no need for rinsing or drying. These kinds of products will help you not only clean up your marble and preserve the seal on the surface of marble but also save your time.
Note:
5. Microfiber Cloths
Apart from choosing the right cleaners to clear dust and stains on marbles, choosing the right equipment is also a key factor affecting the result of cleaning. Although sponge is effective at scrubbing dirt and grime, it leaves the marble wet, and thus, rinsing is needed afterward.
Instead, a microfiber cloth or rag will be more effective when rubbing marble surfaces as it absorbs water better than a sponge. As long as you moisten the rag or cloth sufficiently, it will leave no water spots on the glossy shine of polished surfaces after cleaning.
Moreover, as these cleaning equipment are completely gentle, they won't damage your sealant or scratch counter surfaces.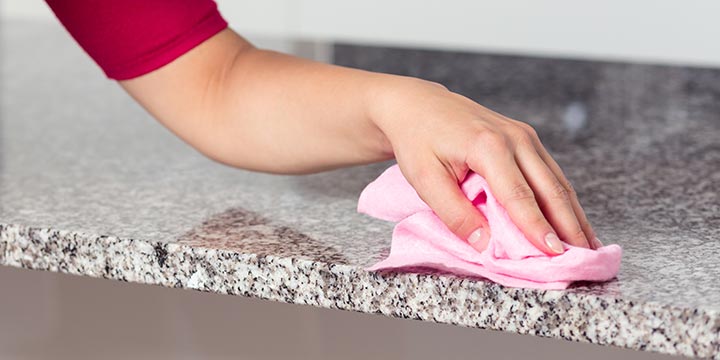 Conclusion
Keeping your marble flashy requires special care and a probal cleaning process with the right cleaner and equipment. As an expert in cleaning, we have shown you all the instructions and notes that Sparkling and Beyond are applying to help many customers preserve the stunning beauty of their marble countertops and tiles. However, if you are unfamiliar with these tasks, simply request our Housing cleaning service which offers you a wide range of flexible cleaning services that is suitable for your house. Not only cleaning marbles, we have also shared a list of helpful tips in How To Clean Cast Iron Products Properly?, How To Clean A Microwave Naturally And Safely, An Easy Guide To Clean Dishwashers With Different Products, etc. Visit our website to find more interesting things on cleaning.
Need some more tips? We're here to help
What to look for in hiring a cleaning service in Alameda, CA. Follow our tips above to see some incredible changes. 
In case you need to refresh your living space, at sparklingandbeyond.com, we provide you with affordable and reliable cleaning services and a lot of helpful tips.
Feel free to contact us today! Our experienced cleaning experts are waiting for you!
If you want to check our availability and pricing, please check here