Different smells may be released from various sources in your house or workplace. Thus, you may need the best odor eliminators for your place. Air fresheners may temporarily cover up unwanted odor, but odor eliminators can provide a long-term solution for bad aromas in a location where you spend most of your time.
There are many different types, sizes, and formulae of odor eliminators. Keep scrolling as we bring you a list of the best odor eliminators for room. We also tell you about the many kinds of odor eliminators and offer helpful advice on how to pick the best one for your house or place of business.
Types Of Odor Eliminators
Sprays
The most common deodorizers are aerosol sprays, which emit a fragranced liquid under pressure that swiftly evaporates when sprayed into the air. Even though they are typically thought to be highly safe, some sprays could release volatile organic compounds (VOC), which can irritate the respiratory system.
Candles
In the house or a small workplace, non-toxic candles made of soy wax or beeswax are also quite effective for stifling offensive scents.
Diffusers
You need a diffuser to introduce the aroma into the space if you choose to utilize an essential or scented oil to freshen the air. The oil is broken down into smaller molecules and released into the air by a diffuser in the form of a fragrant mist. Essential oils like orange, lavender, or peppermint are mixed with carrier oils, create safe and pleasing place.
Meanwhile, scented oils are like essential oils but instead of coming from natural materials are manufactured in labs. They're usually less expensive than essential oils, but don't have the same health benefits as essential oils and have a shorter shelf life.
Air purifiers
This kind of odor eliminator use a fan to suck in air and pass it through filters that trap pollutants and particles, and the fan then pushes clean air back out.
Air purifying bags
These usually contain bamboo charcoal and are organic, eco-friendly, chemical-free, and not only eliminate odor but also absorb moisture.
Plug-ins
These employ heat induction and scent gels that emit fragrance into the air when heated.
Solid air fresheners
The lid of solid air fresheners is often made of plastic and can be lifted little or significantly to release the desired amount of aroma.
Cleaning products
You may freshen your office or home by getting rid of unpleasant odors rather than disguising them. Enzymatic cleaners eliminate odors by breaking down waste particles into smaller pieces and then eat them, thus eliminating the odor.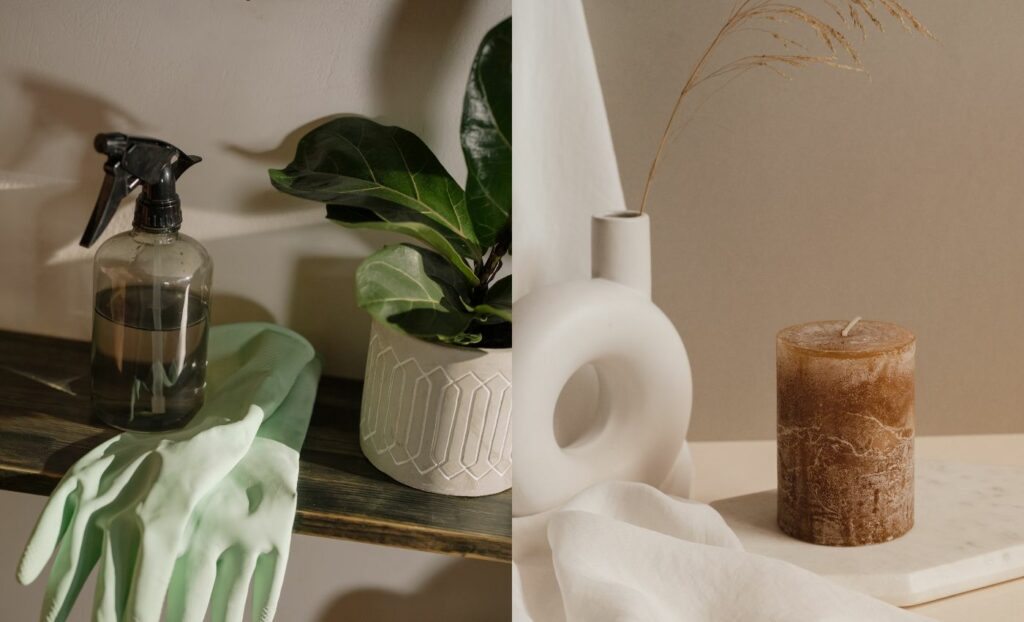 12 Best Odor Eliminators For Your Home In 2023
These days, activated charcoal pouches are a popular product. You may purchase an ever-expanding selection of these uniformly gray deodorizing pouches, which appear to only differ by the brand name at the top. However, this isn't due to a lack of creativity—the design is excellent!
A breathable (and, for the most part, tamper-proof) mesh pouch holds chunks of activated bamboo charcoal. The charcoal adsorbs odors, moisture, cigarette smoke, and volatile organic compounds (VOCs) to eliminate smells and improve indoor air quality.
As adaptable as the next charcoal pouch is, the All Prime Bamboo Charcoal Bag. It is small enough to fit into a purse and has a grommet for hanging on hooks or clothing hangers. Plus, you can recharge the charcoal in the sun, so it can keep working for up to two years.
Our choice for the best overall odor absorber for the home is All Prime's bamboo bag, even though the specifications don't considerably set it apart from the others.
All Prime provides four-packs at a great price, allowing you to tackle odors in several spots throughout the home. Each packet contains 500 grams of charcoal, which is more than enough to freshen up a two-car garage. If general household scents are a persistent problem, they are a good investment because they are secure, inexpensive, durable, and highly effective.
Pros
Do not use harsh chemicals to eliminate odors, dampness, and VOCs
Versatile in any home setting
It lasts up to two years
500g sachets eliminate odors in huge areas.
Safe for use around kids and animals
You may position the pouch anywhere thanks to the sturdy metal grommet
Cons
Requires regular recharges to stay effective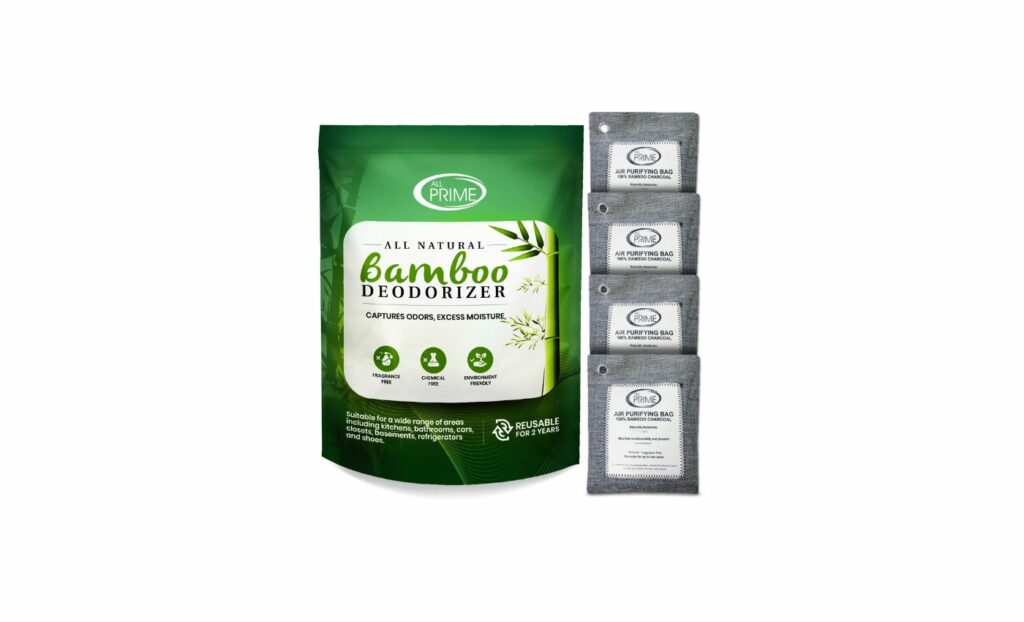 With the help of this odor-eliminating spray that uses OdorClear technology, you can keep your space odor-free. It freshens the air with a light fragrance and can be used in bathrooms, closets, laundry rooms, or any other room. Being a non-flammable propellant and entirely natural, this product is safe to use around animals. It is produced with the highest level of quality control and doesn't include CFCs.
To get rid of persistent smoking and cooking scents as well as daily odors from dogs and bathrooms, spray the air refresher in a sweeping manner. Your house or office will smell clean and fresh after only one spritz.
Pros
Water-based formula
Corn-derived odor eliminator
Safe to use in cats' and dogs' rooms as well
Free of dyes, phthalates, and formaldehyde
Cons
Spray bottles may not be highly user-friendly
It may not be long-lasting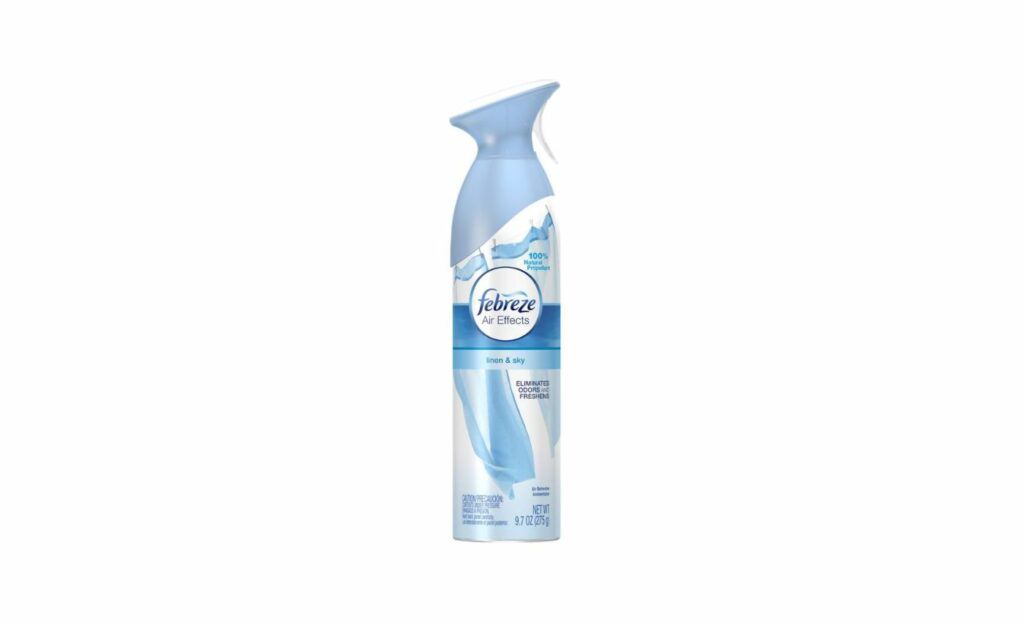 This product contains four bags, each with 200 grams of naturally activated bamboo charcoal. They are organic, eco-friendly, chemical-free, and not only eliminate odor but also absorb moisture. They are more efficient than regular charcoal as each odor eliminator bag contains activated charcoal from sustainable Moso bamboo processed with high temperature, oxygen-free carbonization.
For best results, expose the bamboo bags to the sun for 1-2 hours every month, which will not only remove the absorbed odor and moisture but also maintain their power of absorption. After two years, these bags can be recycled in your garden. These bamboo charcoal bags can clean and freshen the air in up to 100 square feet of space. The natural bamboo charcoal air purifying bags are safe alternatives to air fresheners that are filled with harmful ingredients.
Pros
Prevents the growth of mildew
Reusable bags
Comes with a loop for easy hanging
Fragrance-free and non-toxic
Cons
May leave a black residue on floors
May be less suitable for large rooms.
With the help of this Ozium Smoke & Odors Eliminator Gel, this odor eliminator helps remove unwanted scent from rooms and cars. It gives off a strong perfume and makes the space smell clean. This gel can be used in tiny spaces to get rid of odors. The gel does not dissolve at high temperatures and can help remove smoke.
Pros
Consistent fragrance
Eliminates cigarette smell
Twisted top lid for easy access
Safe to use in areas with pets
Available in a pack of four
Cons
May not be effective in large spaces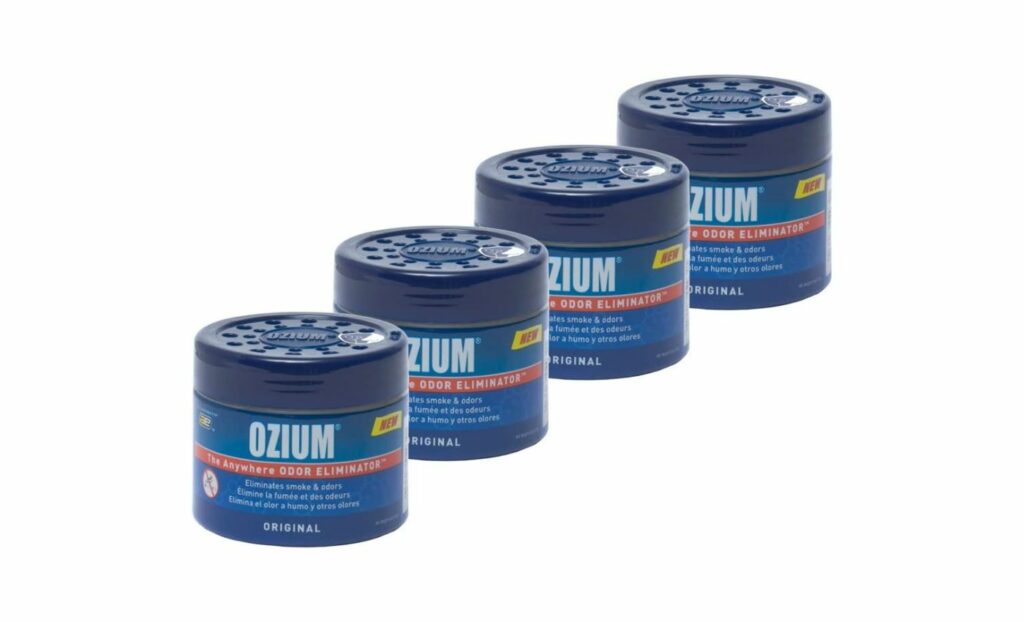 This odor eliminator is made of natural ingredients and has no harsh chemicals, fragrances, or other harmful ingredients. It is effective at getting rid of pet scents as well as smoke, garbage, mildew, and bathroom odors. In particular for shoes, closets, clothing, upholstery, furniture, pet beds, backpacks, and gym bags, it also functions as a deodorizer and fabric freshener.
The packaging for this non-aerosol spray is recyclable and biodegradable. Pine needle, clove, lime, anise, and cedarwood are among its plant-based constituents, which leave your home smelling clean and fresh.
Pros
Non-toxic
Non-GMO and non-hazardous
Safe to use on pet bedding
Free of phthalates and alcohol
Cons
Fragrance may not last long
May not eliminate cigarette smell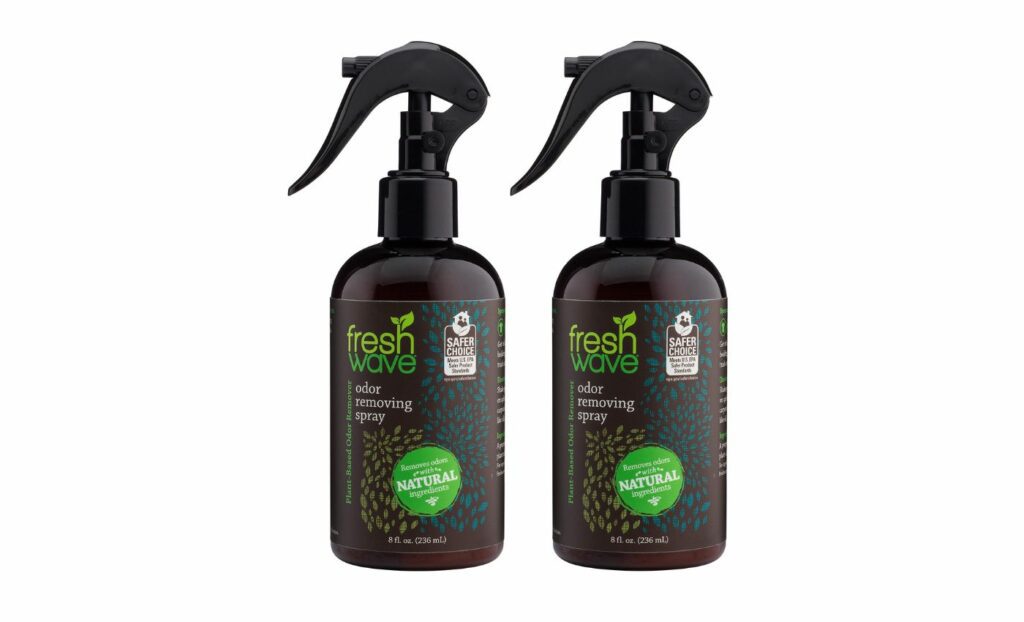 With this odor-absorbing air freshener, which is available in four packs of 50g and 200g charcoal bags, you can say goodbye to unpleasant odors. They aid in odor absorption and are fragrance-free. These air purifier bags are effective and operate like a sponge to absorb and neutral ize foul odors because they are made from 100% activated bamboo charcoal. After being utilized for up to two years, they can be recharged in direct sunlight for two hours each month. At that point, the bamboo charcoal works well as plant fertilizer.
As their cotton bags and odorless bamboo offer healthy air for your entire family, they are safe for kids and pets, making them a fantastic substitute for your air fresheners.
These are also perfect for use in the car, closets, gym bags, refrigerator, bathroom, and your pet litter box.
Pros
Safe for pets
Reusable bags
Traps excessive moisture
Adjusts air humidity
Easy to hang
Cons
May be small for big rooms
Needs frequent recharging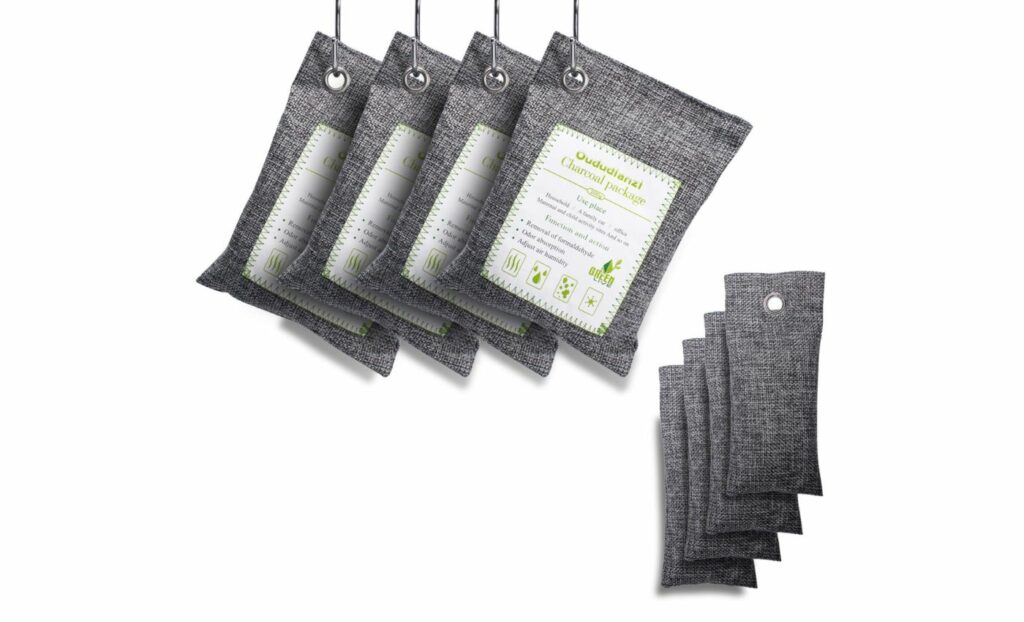 The first time somebody encounters Poo-Pourri toilet spray, they'll definitely chuckle. And yet, it's much more than a simple novelty or gag gift. A few spritzes of Poo-Pourri on the toilet before you use it will stop those smells from filling the space and quickly stinking up the your bathroom.
The cleverly simple spray which comes in an appealing bottle and employs essential oils to deodorize, is designed to be used with a variety of cosmetic goods. Additionally, you can pick from a variety of scents, each of which offers various variations that you can sample until you find your favorite.
Pros
Cons
Relatively small spray bottles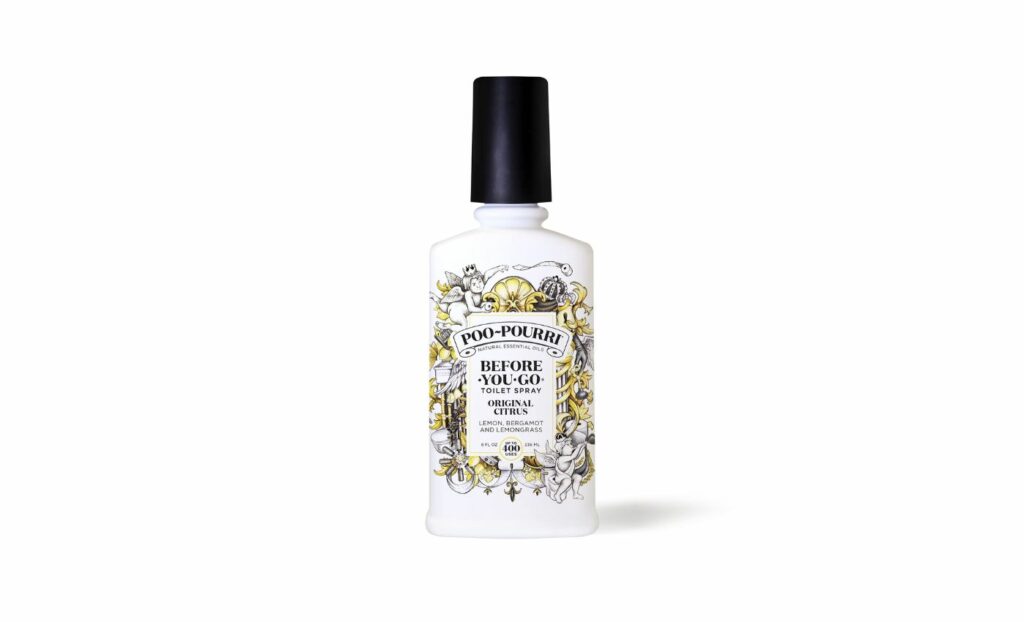 Since refrigerator is one of the hotbeds for the house, it keeps repeating no matter how many times we declutter it. The NonScents Refrigerator Deodorizer is our pick for removing nasty fridge smells.
Zeolite, one of the best odor-eliminating chemicals, is the main component of NonScents which can indiscriminately remove odors from the refrigerator. Like activated carbon, zeolite traps gases and moisture on its surface.
The NonScents pack does not need to be recharged monthly, unlike many activated carbon pouches. Just place the small package in a hidden location in the refrigerator or freezer. It will keep your food as fresh as possible for up to six months without any maintenance.
Pros
Zeolite adsorbs gasses, VOCs, moisture, and odors
Does not need recharging
Allows produce to last up two times longer than normal
Slim design saves space in the refrigerator
Cons
Not refillable
May give off an initial mild chlorine smell
No hanging hook
Related: Deep Cleaning Checklist For Your Kitchen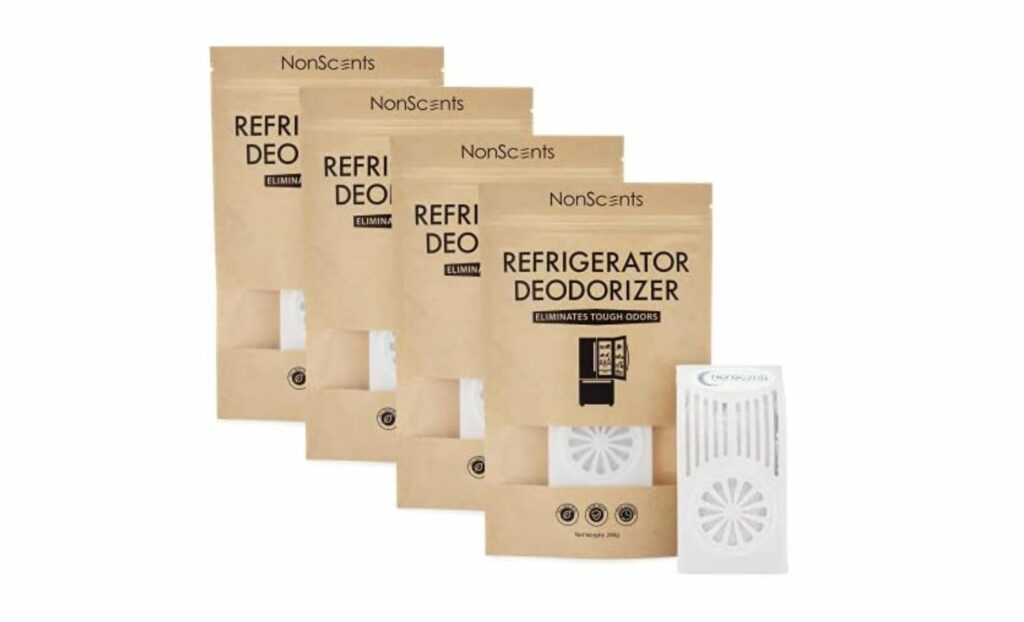 Nobody wants to take out a favorite clothing only to discover that a musty odor from a stuffy closet has developed in it. Use a traditional solution that includes Arm & Hammer baking soda to absorb odors and the moisture that generates them.
To dehumidify and eliminate odors, Arm & Hammer's Hanging Moisture Absorber and Odor Eliminator is hung next to clothing. There is a fragrance-free pack available, or you can select Clean Burst to give the closet a clean scent.
The generous size of the odor-absorbing pack makes excellent use of the additional room that a closet provides. Due to the high surface area, it can stay longer, absorb more moisture, and function better to get rid of lingering odors. 16 ounces of water can be kept in one pack, which can last up to 60 days.
Pros
Absorbs odors and dehumidifies to prevent mold and mildew
Slim pack hangs alongside clothes without stealing closet space
Holds 16 ounces of fluid
Lasts for up to 60 days
Cons
Clean Burst fragrance may be too strong
Relatively expensive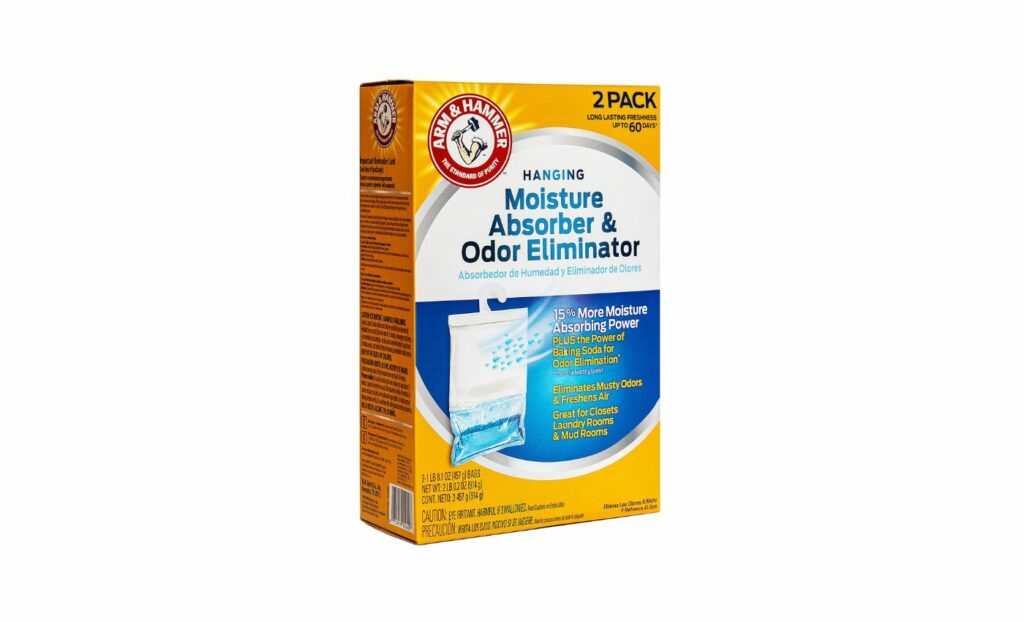 You can never avoid stinking shoes, no matter how clean you are. Shoes are content to share strong odors with a closet full of clothes or a room full of people after a long day of soaking hot perspiration and foot stink.
For dirty shoes, Marsheepy's Shoe Deodorizer Bags are the ideal answer. Unlike with foot powders, you won't have to clean up a mess, and you won't have to worry about a strong aroma coming from your shoes.
Each bag is designed to fit snugly within a shoe, allowing the activated bamboo charcoal to effectively absorb odors and moisture. The 12-pack is our choice for the finest odor remover for shoes because of its value and the fact that they may be reused for up to two years.
Pros
Perfect size and shape to fit into shoes
Ultra-thin breathable fabric enhances the charcoal's effectiveness
Lasts up to two years
Useful throughout the house
Cons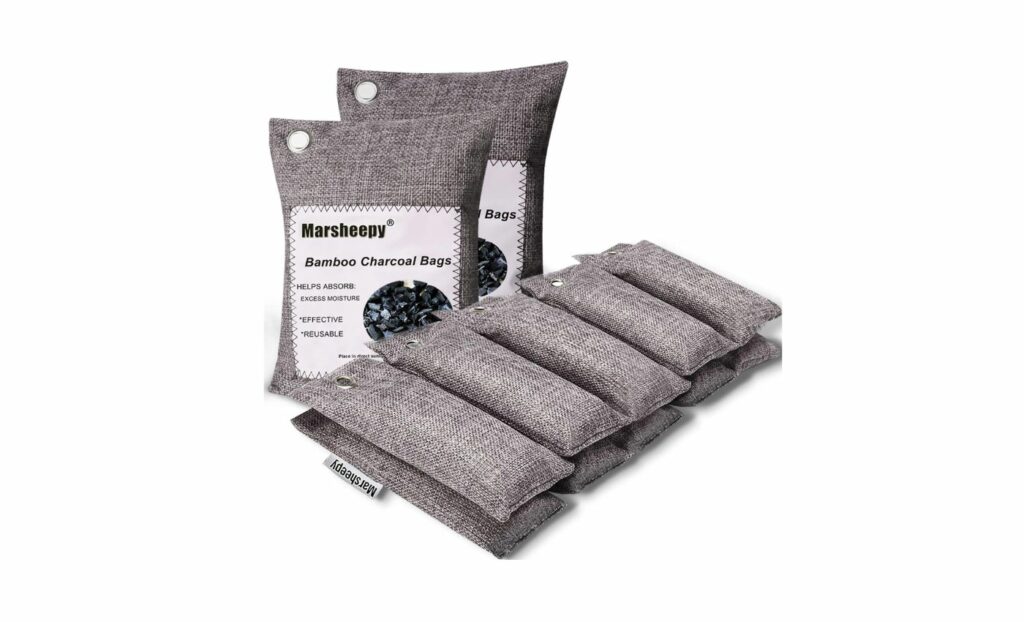 It is easy to understand why we chose a carpet deodorizer where baking soda takes center stage given that it is one of the best odor eliminator for smelly rugs. Baking soda is the main deodorizer in Arm & Hammer's Extra Strength Carpet Odor Eliminator, but a few more components give it a helpful boost.
Pros
Added OxiClean power loosens dirt for easier
Leaves a pleasant jasmine and citrus scent
Digs deep down to pull out tough odors
Cons
May need to sit for several hours to eliminate odors
Makes areas inaccessible while it's down
Scent may be overpowering
Related: Clear all the carpet dirts and stains with 17 best DIY carpet cleaners in 2022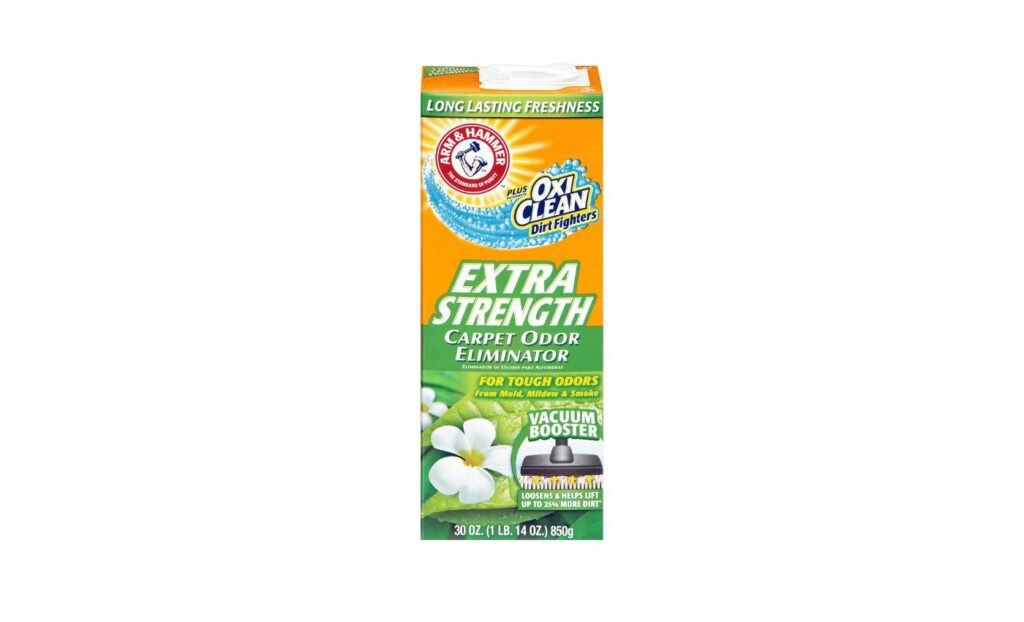 With its Extra Strength and Unstopables spray duo, Febreze provides two strong fabric and air fresheners. The Febreze fabric refresher uses the same OdorClear Technology as the air refreshing sprays, which combines cyclodextrin and citric acid to neutralize odors.
Both sprays target odors in difficult-to-wash textiles, such as carpets, upholstery, draperies, and apparel. You have a choice between a strong fresh perfume for very challenging odors or a crisp, clean scent straight from the wash.
Pros
Two bottles offer your pick of odor-eliminating fresh scents
OdorClear Technology captures odors
Cons
Unstopables scent can be overpowering
Related: 9 Ways To Get Butter Stains Out Of Clothes (Step-By-Step Guide)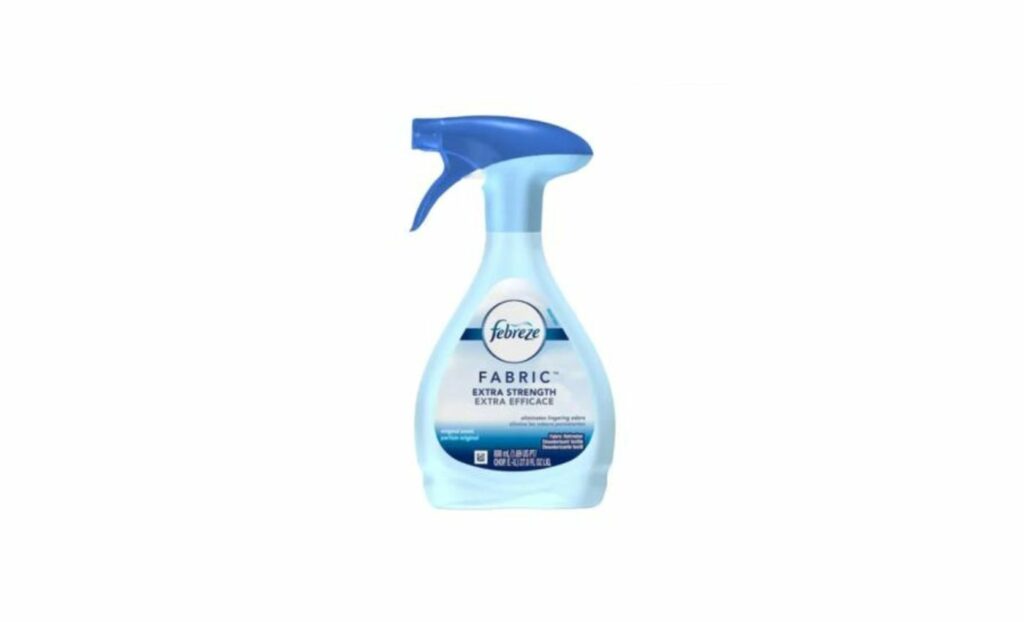 How To Choose The Right Odor Eliminators For Rooms
Type
Air fresheners, deodorizers, candles, gels, essential oils, and air purifiers are just a few of the many different types of odor eliminators that are available. They can also be found as plug-ins, sprays, potpourris, gels, automated misters, beads, and more. These either produce scent to mask unpleasant odors, include odor-removal agents, or neutralize unpleasant odors.
Purpose
While certain odor-removal goods, like air purifiers, serve two purposes, others are only useful for their pleasant aroma. Air fresheners are simple to use, inexpensive, and available in a wide range of fragrances. The best deodorizing products are those that eliminate odors. Some goods are odorless, making them appropriate for people who are allergic to scents. Candles are a terrific odor-busting tool in addition to being decorative.
If you want a hassle-free, long-lasting odor remover, gels are a fantastic option because you may keep them in place for weeks or even months before having to replace them.
In addition to giving out a pleasant scent, essential oils are used widely for aromatherapy.
Air purifiers are a popular choice for allergy sufferers since they remove allergens and pollutants from the air. For cleaner air, HEPA filters are very effective at removing particles as well as odors, smoke, pet dander, and mold. Which option you choose from the many available ones depends on your personal preferences.
Room size
When selecting the best odor remover for your home, you should take room size into consideration. Larger rooms might call for many items. You might prefer a product with a delicate perfume for tiny places so the scent is not overpowering. When selecting an air purifier, room size is especially crucial. The Clean Air Delivery Rate can be used to gauge the purifier's effectiveness (CADR). A purifier's CADR rating indicates how rapidly it can purify the air in a room of a specific size. The effectiveness of the purifier will be reduced if the space is too big.
Ingredients
Odor eliminators have either natural or chemical ingredients. Chemical components can increase longevity and efficacy and generate a pleasant smell. Essential oils, natural extracts, enzymes, and activated charcoal are examples of natural components. Each ingredient serves a particular function. Natural enzymes decompose odor-causing messes, natural extracts and oils can give a pleasant aroma without the need of chemicals, and activated charcoal can absorb odors from the air. The components you use will depend on the odors you want to eliminate.
Scent
Most odor removers smell clean and fresh, but every type of scent is accessible, from warm and woodsy scents to sweet florals and light citrus combinations. There are many unscented solutions available if you are sensitive to specific odours. Finding a smell that you adore is worth the time and effort because there is a vast selection of scents available to fit every need.
Longevity
Products with a continuous aroma, such gels and plug-ins, might endure for weeks or months. Although they can last for many years, air purifiers eventually need their filters changed.
Choose a product that disappears rapidly if you prefer lighter scents. If you prefer a short-lived aroma, candles or lightly scented sprays are an excellent option. The majority of odor removers contain deodorizing chemicals that aid in eliminating unpleasant odors long after the aroma has worn off.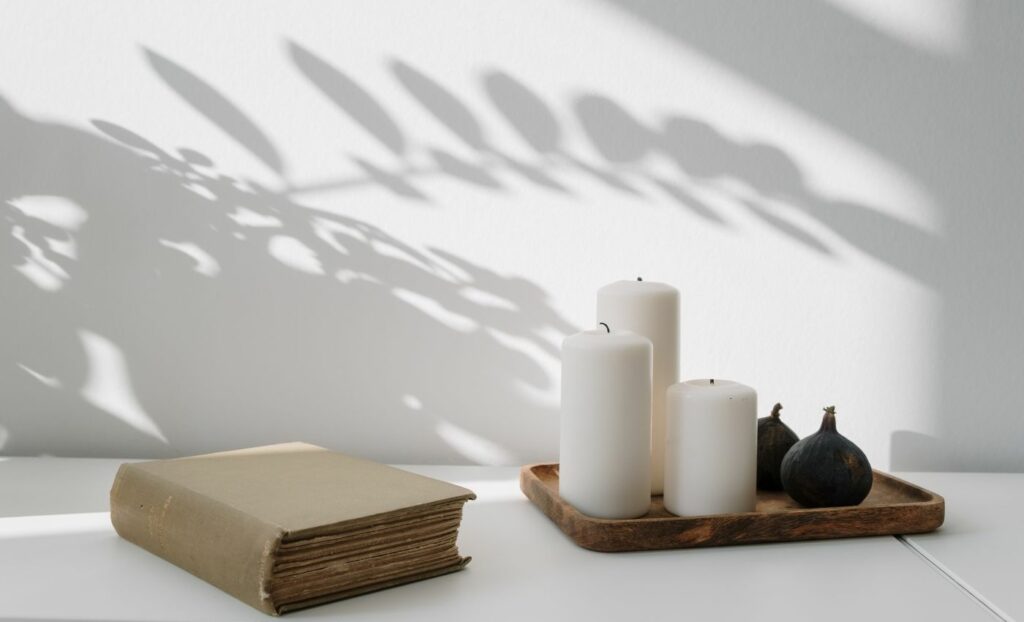 Have you got your own choice of odor eliminator for your home?
No matter what your choice is, we believe that these top-list odor elimintors will help every corner of your house smells fresh and clean. Feel free to mix and match some of them if you're feeling like to create a unique scent that is completely particular to your house.
Need some tips? We're here to help
Of course, smells are frequently a sign that your space is in need of cleaning. If even the best odor eliminators aren't keeping the smell away for long, schedule a custom home cleaning with sparklingandbeyond.com to find the root of the problem!
We provide you with affordable and reliable cleaning services and a lot of helpful tips.
Feel free to contact us today! Our experienced cleaning experts are waiting for you!
If you want to check our availability and pricing, please check here.
Since my major in university is Marketing, I always grasp the chance to improve my skills to become an all-rounded Marketer in the future. This job, to some extent, has brought me a lot of knowledge about multiple areas, which will be beneficial to my study career. In my free time, I'm into reading and watching classic movies. My favorite genre of all time is romantic comedy.