Many businesses have undergone the reopening procedure as states around the U.S. loosen Covid-19 rules. Returning to the office, while a welcome adjustment for many, comes with various difficulties.
Workplaces will never remain the same as it was before the epidemic. Post-Covid-19, many businesses tend to pay increasing attention to cleanliness in their offices. Also, after more than a year of dealing with a highly infectious virus, most consumers expect their suppliers to uphold strict cleanliness and sanitation practices.
Of course, it's crucial to remember the guiding principles recommended by the Centers for Disease Control and Prevention (CDC) for developing secure and sanitary work environments. As they reopen and renovate their workplaces, property managers may also wish to think about the following 5 best types of commercial cleaning.
5 best types of commercial cleaning for offices post-Covid
#1:
Air Duct Cleaning
Air Duct Cleaning refers to the cleansing of the whole duct system, such as the source, input, and output vents, your HVAC system, fans, screens, etc. This process entails employing specialized air duct cleaning tools, so it's better to hire a professional team to do the job.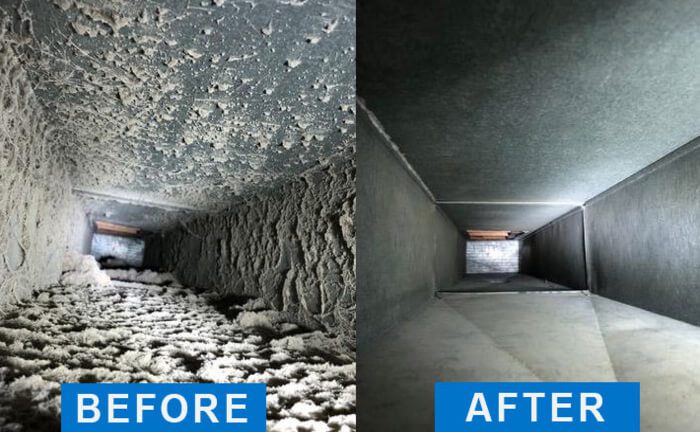 The Covid-19 epidemic made ventilating and indoor air quality more crucial. The significance of healthy air quality remains even when many things start to return to normal.
Furthermore, according to a 2017 research published by Havard Business Review, improved indoor air quality is "linked to considerably higher decision-making performance," as well as good management, readiness, and strategy under pressure. In contrast, our productivity will be declining due to stale office air.
#2:
Floor Mat Cleaning
Cleansing your floor mats has two key benefits: It maintains your commercial property appearing neat and spotless. Additionally, it might make the area safer.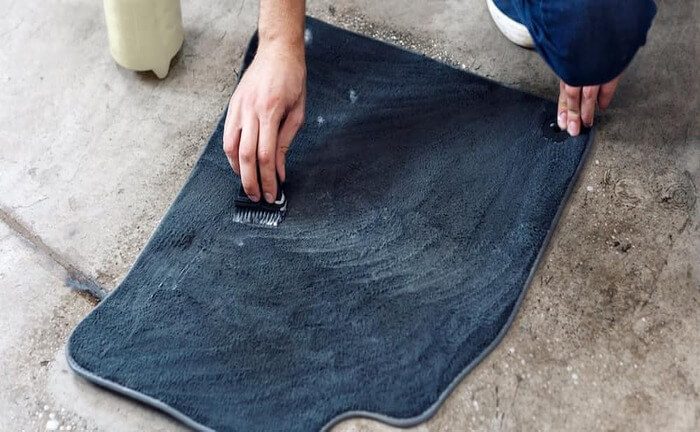 Slips and falls can be reduced when your floor mats are cleaned. Additionally, in the post-Covid-19 era, tidy floor mats will demonstrate your dedication to cleanliness and hygienic practices and put your consumers or employees at ease.
You may also like: How To Clean Office Floors Properly?
#3:
Carpet Cleaning
There are various uses for carpets. They give your workplaces a fancy, friendly appearance while making the ground feel smooth and cushioned underfoot.
However, these fancy decor items can also become a breeding ground for germs and dandruff. In fact, carpets may catch pollutants such as dust, pets' fur or hair, insect allergens, lead, mould and mildew, filth, and debris. That sounds a little bit "scary", doesn't it?
Regular carpet cleaning will keep your office feeling and looking beautiful. Also, commercial cleaners may increase the life span of your rug in addition to eliminating allergies, allergens, and embedded filth and bacteria.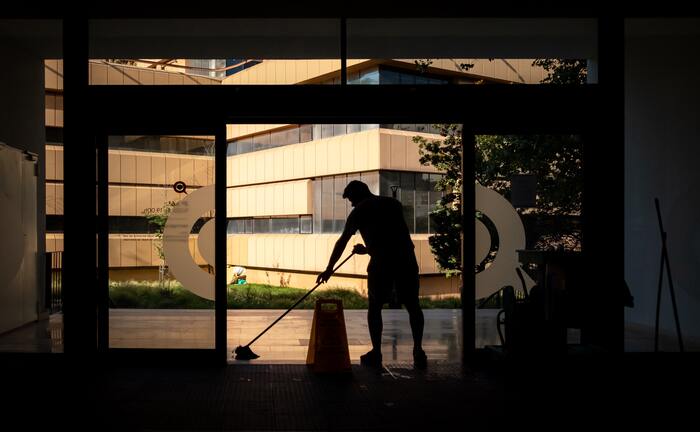 You may also like: How To Clean Office Carpets In Different Ways.
#4:
Deep cleaning
Deep cleaning is a thorough and regular cleaning procedure that eliminates all germs and apparent dirt. The practice concentrates on easily accessible areas and regularly touched surfaces, but it should also involve routine cleaning of crevices that might not be used often, like a bookcase.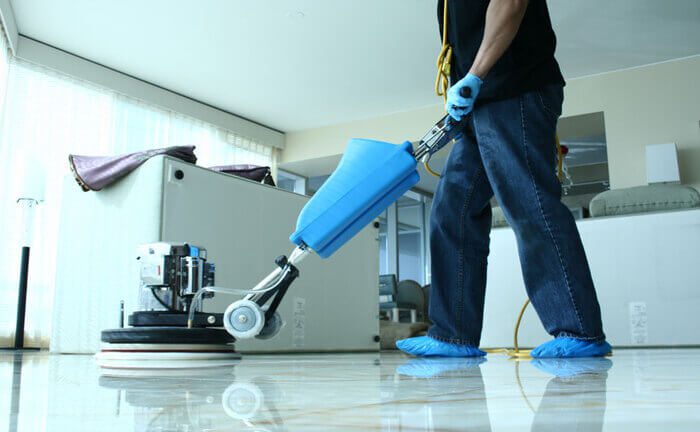 During the Covid-19 outbreak, the word "deep cleaning" became more common. In fact, this type of commercial cleaning has become a standard practice integrated into our daily life at work.
Deep cleaning frequently may improve hygiene and increase the welcome atmosphere in your workplace. Additionally, it helps you save time on regular cleaning chores and lessens the accumulation of dust and debris.
#5:
Upholstery Cleaning
With upholstery cleaning, bacteria, dirt, hair, and allergies may all be eliminated. This way, the upholstered surfaces' durability may be increased, and damage can be prevented.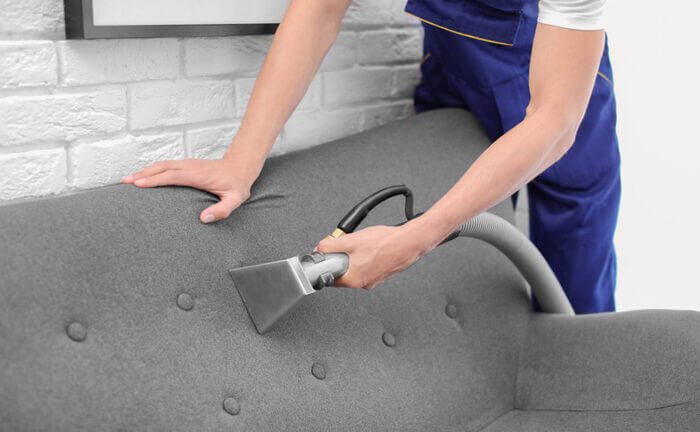 In fact, proper upholstery cleaning may eventually lead to significant savings by extending the life of your current furniture instead of buying new ones. Upholstery cleaning is especially crucial for high-traffic businesses like medical offices and health centres, where upholstered surfaces see frequent use.
You may also like: How To Clean Office Chairs Effortlessly?
FAQs about Commercial Cleaning For Workplaces
What are some
Best Cleaning Practices for Businesses
?
It's crucial to maintain a regular cleaning regimen, following specific daily, weekly and monthly tasks. For example, you can follow the schedule below:
Daily cleaning at the workplace includes:
Weekly cleaning:
Monthly cleaning:
Dusting high surfaces (ceilings, bookshelf tops, etc.)

Sanitizing all doors and windows (even the high-reach ones)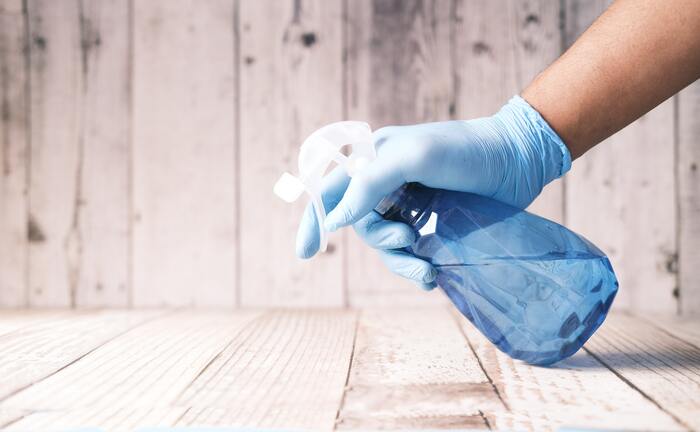 Is it necessary to hire a commercial cleaner?
Bear in mind that it's challenging and ineffective to stick to a detailed cleaning plan without the help of professional commercial cleaners. Instead, you are highly recommended to let the agency do the job and concentrate more on your work rather than worry about tiny dirt.
Also, many businesses hire a housekeeper to take care of their cleanliness. It may work for day-to-day cleaning, but as we discuss, your office requires deep or air duct cleaning. Thus, in these cases, you should go for a professional commercial cleaning team.
What is included in an office cleaning service?
It depends on what your cleaners offer. However, in general, an office cleaning service needs to walk through most of your surfaces in offices with well-trained staff and cutting-edge cleaning equipment. Also, it's better if they can adjust to your own office or building's hygiene standards.
For instance, here at Sparkling and Beyond, we offer
Thorough cleaning of desks and cubicles. We focus on each and every area where you sit.

Cleansing of computer screens, keyboards, fax machines, copiers, staplers, etc.

Cleaning for pantry, bathroom, break room, reception area, and even the area outside your office.
You may also like Tips and Tricks to Clean Your Office.
Wrap-up – Commercial Cleaning For Workplaces Post-Covid
We hope this article has given you helpful insights into the five best 5 types of commercial cleaning and best cleaning practices for workplaces post-Covid-19. With a detailed eye on cleanliness, we believe your customers and employees will all feel at ease.
Looking for a partner to help you with office cleaning service? Do not hesitate to contact Sparkling & Beyond. With a team of experienced, hard-working staff, we offer meticulous cleaning services that can make your office sparkle!