Anyone who has lived with construction workers in a home knows how destructive construction work can be. Even if everything went according to plan and the craftsmen were as tidy as possible, dust and dirt are inevitable.
Post-construction cleaning comes with special cleaning requirements. Brick and drywall dust can damage your home if not cleaned properly, and some construction debris can be a health hazard.
Professional housekeepers are experts in post-construction cleaning. Whether your renovation is over, your insurance claim is over, or you're into DIY, our post-construction cleaning tips will help you restore your home to its original condition and enjoy its new look.
Is post-construction cleaning difficult?
Before you begin, it's essential to consider whether you should do the post-build cleaning yourself or hire a professional service. Most aspects of post-renovation or post-construction cleaning are similar to regular cleaning (dusting, vacuuming, sanding). Still, the work is more intense and involves wet/dry vacuuming, commercial floor polishes, and special tools such as vacuum cleaners and shop vacuum cleaners may be required.
Most construction cleaning equipment can be rented at your local hardware store. Still, considering the cost and amount of work needed, hiring a professional cleaning company may be more cost-effective and time-saving.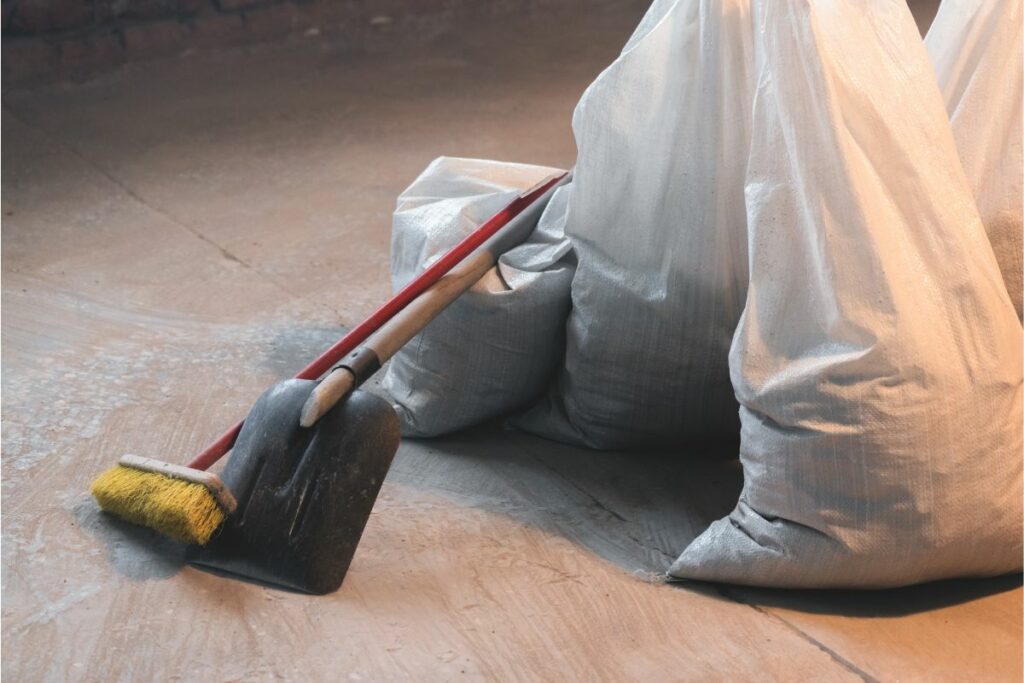 If you decide to do your post-build cleaning, you may need the following cleaning supplies:
Soft bristle broom
Bristle brush
Hand brush and dustpan
Mop and bucket
Clean the rag
Microfiber towel
Duster
Big sponge
Magic eraser
Vinyl sheet
Masking tape or painter's tape
Spatula
Detergent or all-purpose cleaner
White wine vinegar
Hydrogen peroxide
Window cleaning liquid
Hot and cold water
Stepping stone
Squeegee
Garbage bag 
PPE cleaning after construction
Additionally, it is essential to consider safety when cleaning with Personal Protective Equipment (PPE). Contractors may have left nails, broken glass, or other sharp surfaces or objects behind. Rubber-soled shoes with closed toes must be worn when entering the site after construction. Dust masks protect your lungs while you work, and eye protection prevents irritation from dust and debris.
Rubber-soled shoes
Rubber gloves
Dust mask
Eye protection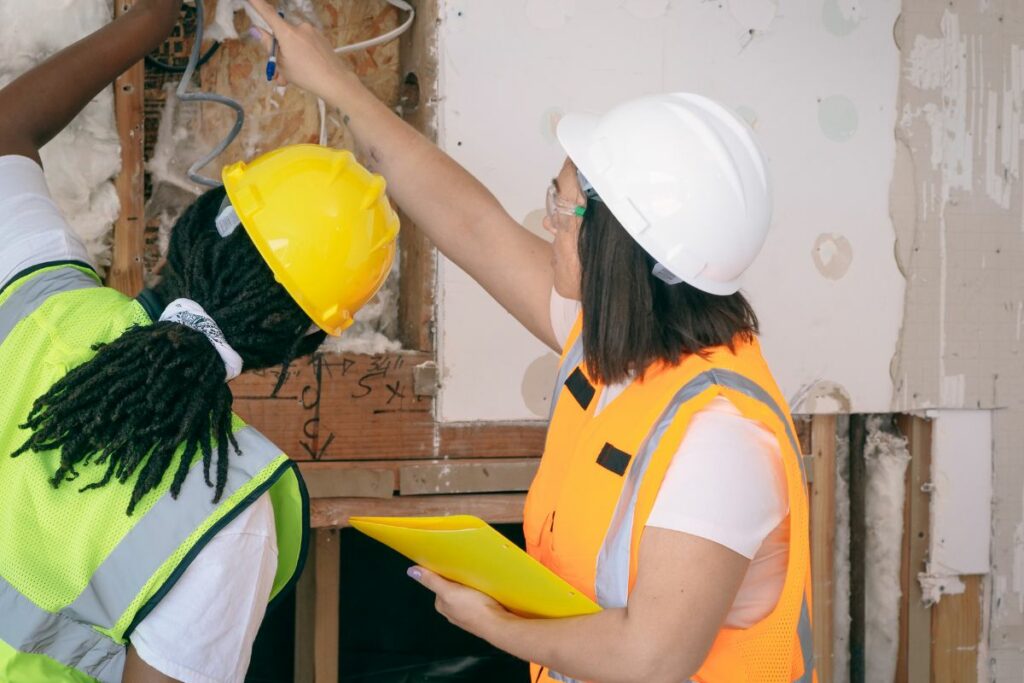 Post-construction cleaning tools and equipment
Not all of these tools are necessary, but they are worth having. Walk around the premises and consider what materials (putty, brick dust, paint, etc.) need and how they will be cleaned.
Power vacuum (also called shop vacuum)
Wet and dry vacuum cleaner
Carpet cleaner
Floor cleaner
High-pressure washing machine
Don't forget how to take out your garbage. A few trash bags can totally be filled up with dust and dirt (it's surprising how it accumulates even after a cleanup). If your contractor uses trash cans, ask if you can use them, rent trash bags, or consider talking to a waste management company about bulk trash collection.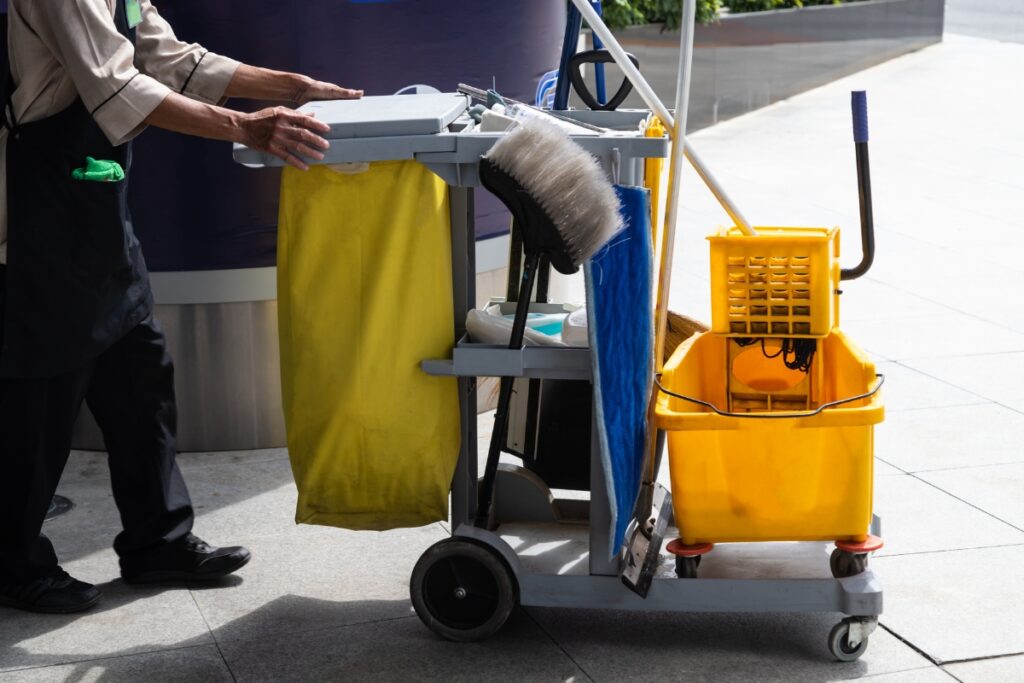 Preparation for final cleaning
Before you start your post-construction cleaning, it is ideal for taking an organized and logical approach to clean. It not only makes your cleaning more efficient, but it also saves time by not having to clean that area again. Start cleaning and move up, down, left, and right. That way, you can always carry the dust and dirt away instead of moving it too far and making a mess.
Move to a dust-free area as much as possible before beginning a thorough cleaning. Not only does this make the final job more accessible, but it also keeps you safer by not inhaling a lot of dust and dirt. Unaffected spaces can be sealed with a sheet of plastic available at most hardware stores and masking tape (also known as painter's tape) can be used to remove plastic from walls and doors without causing permanent damage. Don't forget to cover the vents and openings with additional plastic wrap to protect your HVAC system.
As a first pass, use a soft bristle broom to sweep each room as clean as possible. Sweep the ceiling and walls to remove any loose debris, brushing toward the center of the room. Wear a good dust mask while working if it is exceptionally dusty. Lightly spraying the dust with water will make cleaning easier.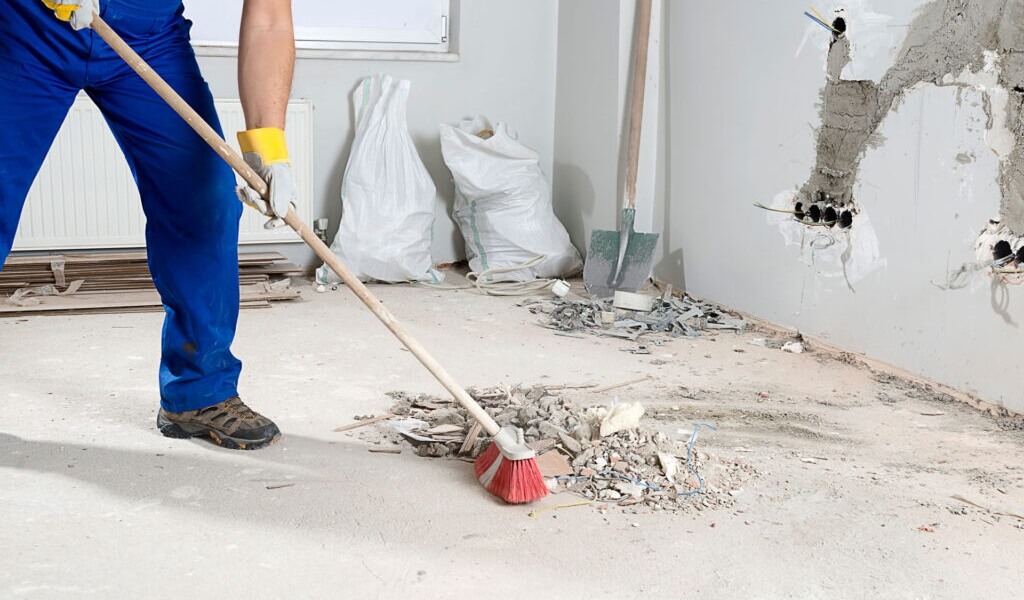 Cleaning procedure after construction
Once you've assembled your gear and removed as much particulate matter as possible, it's time to get to work. The post-construction cleanup is usually done in multiple steps, which start with a rough cleaning and finish with a touch-up cleaning a week later.
Rough cleaning
This is the first stage of construction cleaning and removing debris and significant sources of dirt. After a rough cleaning, the property is still dirty by usual standards, but most of the clutter is gone.
Remove remaining debris
Removes stains and stains such as paint and grout splatter and adhesive residue
Wipe windows, glass doors, and partitions
Remove stickers from glass and devices
Wipe down walls, door frames, and baseboards
Sweep floors
Thorough cleaning
After a completed rough cleaning, you can return to the property do a more thorough cleaning to remove any remaining dirt. Doing a post-build clean twice might seem like a lot of work, but it's more efficient. Even the most thorough cleaning will swirl and settle the dust after the first pass, so it makes more sense to remove all the large debris and start over to ensure everything is spotless. 
For thorough post-build cleaning, start on the outside and work downwards and outwards.
Pay special attention to kitchens and bathrooms
Use a squeegee to clean windows, glass doors, and shower stalls
Cleaning of walls, doors, baseboards, and cabinets
Dust the light and wipe the bulb with a soft, dry cloth
Use a vacuum cleaner to suck dust from the vents and his HVAC filter
Wash the carpet and clean the floor
Touch-up clean
For days after a thorough cleaning, you'll notice more dust than usual on smooth surfaces. Also, windows and mirrors can get smudges and fingerprints. Wipe flat surfaces and walls with a damp microfiber cloth to clean windows and remove any last signs of construction.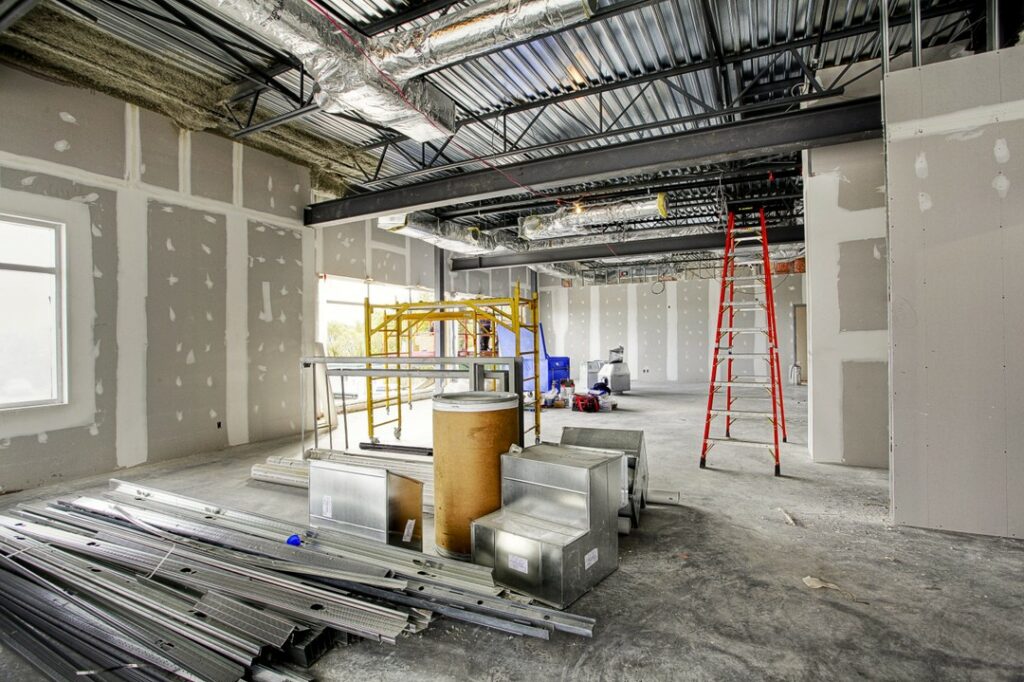 Post-construction Cleaning Is Time-consuming!
Home renovation can be fun, but it also takes much time. You want to remodel your home and enjoy the changes, but post-construction cleanup can take a long time and become a real headache. If post-construction cleaning takes too much time and effort, you can outsource a cleaning service.
Need some tips? We're here to help
Above is all you need to know about what to do and not do with vinegar when cleaning. If you plan to refresh your living space, you might want to hire a professional cleaning team!
You can count on sparklingandbeyond.com to complete your plan easier! We provide you with affordable and reliable cleaning services and a lot of helpful tips.
Feel free to contact us today! Our experienced cleaning experts are waiting for you!
If you want to check our availability and pricing, please check here.