Once you own an Airbnb, a problem will occur. Exactly, it's about cleaning it. Why is it so important? That's because all customers when looking for a place to stay, they absolutely pay attention to the cleanliness of the place. People will be very comfortable resting if their accommodation is cleaned regularly and spotless. Therefore, keeping your facility clean is almost your full-time job.
That's when you're wondering if it's better to do it yourself or hire a cleaning service to help you with that. Don't worry, in this post, I'll look at the pros and cons of DIY and Airbnb cleaning service so you can consider and choose which service suit you best.
Airbnb Cleaning Option #1: Cleaning Yourself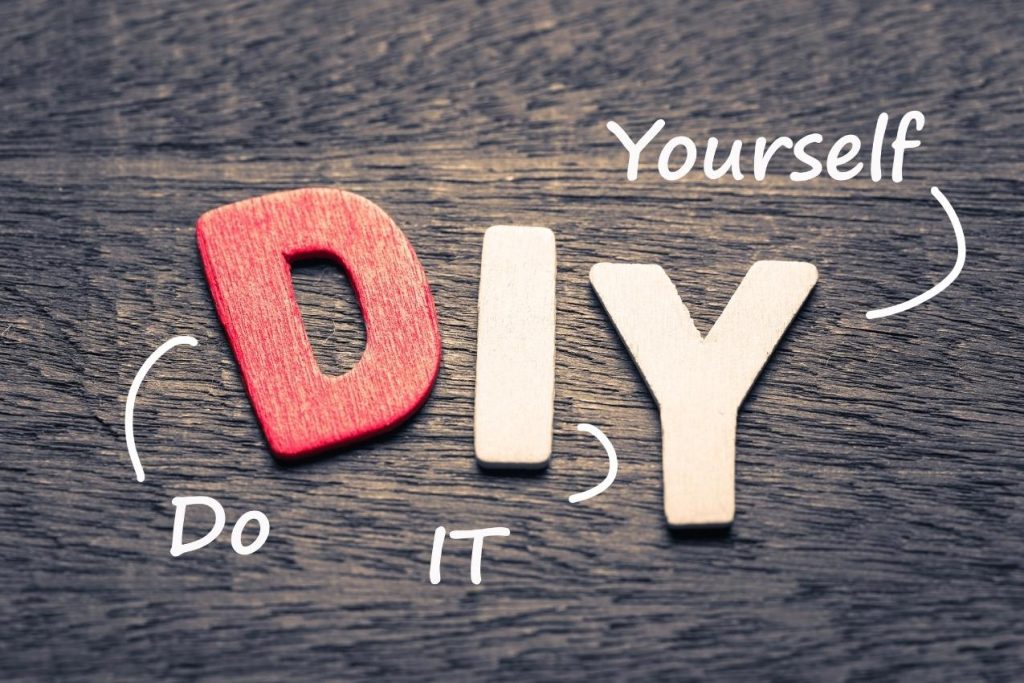 Pros
There are advantages of DIY that can be mentioned as follows:
Firstly, it saves you a lot of money. Of course, when it comes to outsourcing services, what comes to our mind first is the cost of that service. According to a recent survey, the average cleaning fee on Airbnb is around $65 per booking. For larger facilities, this cost may increase to approximately $105. Therefore, you're bound to save money by cleaning yourself.
Secondly, if you're a perfectionist, cleaning the Airbnb by yourself is a great way for you to make sure that everything is done perfectly to your liking. It's a way for you to take control of the situation, thereby enhancing the customer experience.
Thirdly, cleaning your facility is similar to doing exercises. It's also quite laborious and helps you train your body. The more things you have to clean up, the more energy you expend.
Fourthly, some people feel uncomfortable and possibly insecure about hiring a stranger to clean their home. If you feel the same way, it might be a better idea for you to DIY rather than hiring Airbnb cleaning service.
Last but not least, cleaning yourself also means that you can know exactly where you put all the stuff and be able to control all the objects in your Airbnb. You also won't have to worry about your possessions getting lost or misplaced.
Cons
However, every coin has two sides. While maintaining control and saving money by cleaning yourself may seem tempting, you still need to be aware of some of the disadvantages of DIY.
When you're trying to decide between DIY or hiring an Airbnb cleaning service, review your daily schedule first. If you have kids or do other jobs, you're probably already busy with your responsibilities. You don't want to add 'cleaning up' to your to-do-list after a long working day, do you?
A research shows that cleaning supplies and tools can cost an average household around $600 a year. However, that's the cost of cleaning a single home. How much extra will you spend on supplies and equipment for cleaning your Airbnb space?
Besides spending money to buy equipment, self-cleaning is also time-consuming. Cleaning your Airbnb alone will take a lot of time from your already busy time table. If you want to do the cleaning on your own, let's consider the time you're about to sacrifice. Instead, you could spend time with family or relaxing in your own home.
Airbnb Cleaning Option #2: Hiring an Individual Cleaner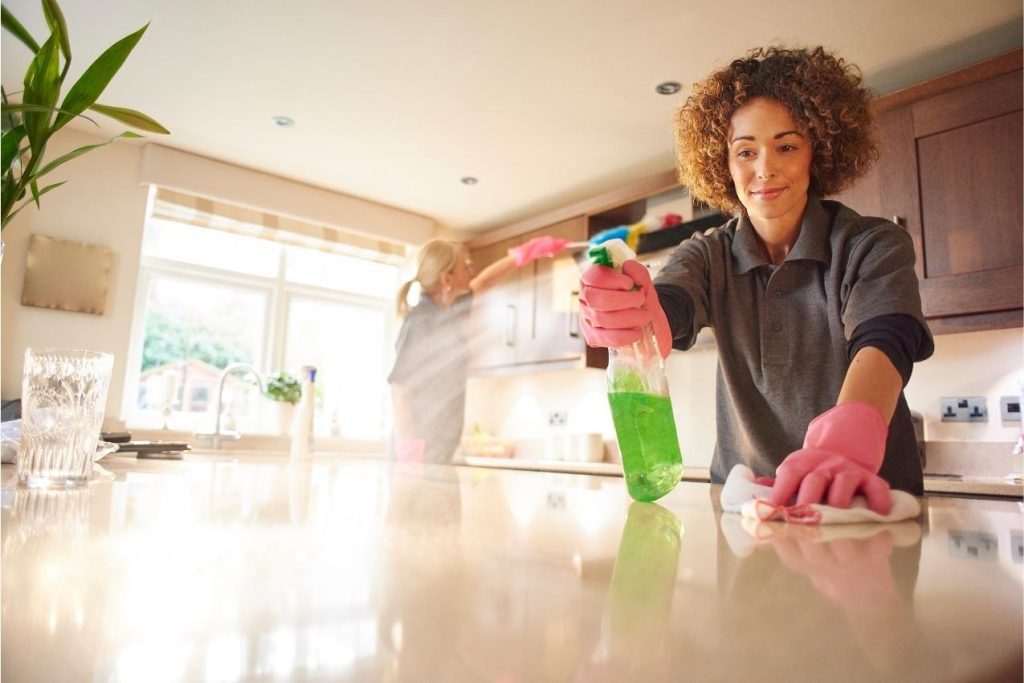 Pros
If you don't want to clean your Airbnb by yourself, you can hire an individual cleaner instead, which have some following pros:
You'll be able to build a relationship. Instead of working with a cleaning company that you might feel uncomfortable, you can hire your personal cleaner. In fact, most people feel more pleasure and easier to have a chat with an individual, that's when a relationship is built. From there, you can dig deeper into them and who knows, you become good friends.
You want everything to be exactly what you want? But you don't have time to clean up? Don't worry, just hire a cleaner and train him/her. Training someone to clean the way you want just takes time at the beginning. Be patient and this can lead to more consistent and better quality because you are the one who manage the cleaner directly.
It doesn't cost too much money to hire 1 person to clean and still maintain hygiene. If you require a moderate level of cleanliness or your Airbnb is not too large, then hiring an individual cleaner will be the right choice for you.
Cons
Although hiring an individual cleaner has many advantages for you and your Airbnb, there are still some cons that you should review before choose it.
There are some risks may happen when you hire a person to clean up your facility. What happens if your cleaner gets sick and can not work? Or he/she takes a leave of absence to travel or do something? The worst-case scenerio may happens to you is having guests walk into your dirty home when your cleaner is absent and you are still struggling to find a solution. You may have to do the cleaning on your own if it happens.
You don't have to buy equipment since your cleaner already brings them along. However, they only have common supplies without specialized tools and equipment for deep cleaning, so they cannot guarantee the cleanliness of your home.
It's hard to know which individual cleaner can do the cleaning well, unlike professional cleaning companies that have experts to do their job. They always take background checks seriously and have insurance to ensure that. Therefore, it's quite risky if you hire an amateur cleaner.
Airbnb Cleaning Option #3: Hiring a Professional Airbnb Cleaning Service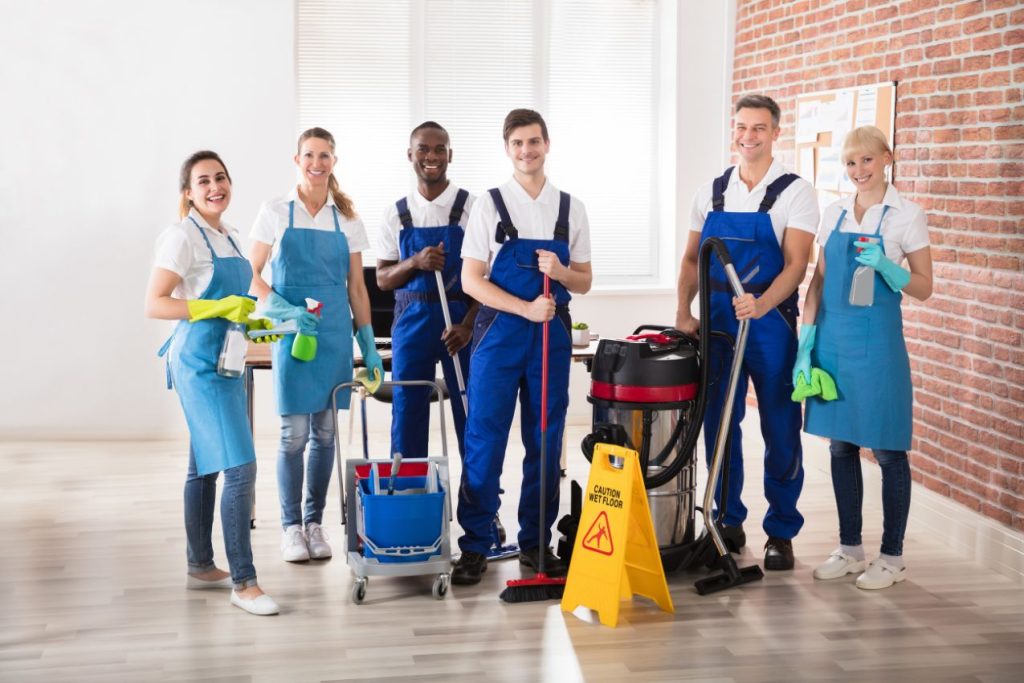 Pros
If you want to reduce the stress in your life or are too busy to do any other work, hiring a professional cleaning company is the way to go.
Airbnb cleaning companies have trained professionals, they know where and how to make your facility spotless. There will be situations where you are still struggling to find a way to handle them, the cleaning team already has experience in handling similar cases.
They are always equipped with modern and heavy-duty cleaning equipment to get the job done perfectly. As a result, you won't have to worry about wasting your own supplies. Believe me, offering your guests a clean, relaxing place to stay absolutely benefits the ratings of your Airbnb in the long term.
One of the outstanding and crucial advantages of hiring a professional Airbnb Cleaning Service is that they are always available. A team includes a lot of cleaning staff so you don't have to worry about someone taking a leave of absence. All you have to do is contact and schedule a regular clean-up.
Companies will have insurance covering the cleaning for you and you can leave it to them with peace of mind. In the meantime, you can spend time with friends, family or focus on other things.
Cons
In contrary to wonderful pros of hiring an Airbnb cleaning company, there are still some downsides you need to be aware of, such as:
At first glance, hiring a professional Airbnb cleaning service may not seem like a cost-effective option. While it's more expensive than cleaning it yourself, you get more of the service too. According to a recent survey, most Airbnb owners are satisfied with their decision to hire a cleaning company.
In some cases, the cleaning team may not know exactly what you want your Airbnb to be. However, you still can speak to them about how you want things to be beforehand. They will take note of everything to make everything perfect as you want.
Above is a list of the pros and cons of each of Airbnb cleaning options, have you made your decision yet? Whether you choose to hire an individual cleaner or a cleaning company, or even DIY, you should consider your budget as well as your guests. Choosing the right service will help boost your Airbnb rating in the long run as your guests receive a clean and comfortable place to stay.
If you still need more advice or find a cleaning service for your Airbnb, contact us here. Sparkling and Beyond is always ready to serve, advise you on choosing the cleaning option for your facility.