After a long time using, the oven racks will operate less efficiently due to accumulation of grease, food debris, etc. So, how to clean oven racks naturally and make it as clean as the beginning? This matter will be resolved immediately with some cleaning tips from Sparkling and Beyond.
How often should the oven racks be cleaned?
This answer may depend on your current status of your oven racks. How often you use your oven, it may need attention more frequently. It should be cleaned soon after use if possible or at least four times a year or monthly.
There are two emergency that you should clean your oven racks immediately:
1. Food leftover, dust on the oven racks.
2. Smell. if you can smell grease or food residue from your oven racks, it needs to be cleaned.
– Mask: a must-have equipment for protecting you from weird smells.
– Rubber gloves: will save you from touching other hazardous chemicals.
– Washing fabrics/brush/pad: to remove dust, or stains.
Few natural ways to clean oven racks
How to clean oven racks with foil?
Foil is 100% natural and an affordable option for removing grease from oven racks. You can usually find this type of cleaner in the kitchen. Here is how you use it to clean the oven racks:
1. Fill a sink covered by hot water and non-toxic, natural dish soap.
2. Put the rack into the tub, and soak for about 10 – 20 minutes.
3. Screw a piece of aluminium foil into a ball, then wet and pour soda over it.
4. Scrub the racks with the ball until it is clean as you expected. You can make another ball once the first one can not remove all the grease.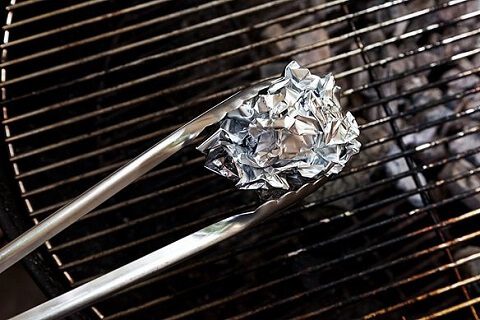 How to clean oven racks with ammonia?
Besides foil, you can use ammonia to pure your oven. Ammonia, a compound of nitrogen and hydrogen, is often touted as a "natural cleaner" and known for its pungent odor. People use ammonia effectively to clean surfaces, glass, fabrics. Using this chemical to clean oven racks is an appropriate method, specifically when you have a little extra time to leave your oven racks soaking.
To ensure that your oven racks is cleaned well with ammonia, you could consider these three above steps:
1. Prepare a heavy-duty garbage and put your oven racks into it then pour the ammonia to fully cover the rack inside.
2. Close the bag and leave to soak outside for at least 8 hours (12 hours will be the best).
3. After that, use scourer to scrub any excess grime off the racks.
What other natural products can be used to clean the oven racks?
How to clean oven racks naturally – with baking soda?
Baking soda is literally the name of Sodium Bicarbonate (NaHCO3) and considered as a great cleaning ingredient. It helps break down grease and food which are generally acidic. Using baking soda to clean will not damage the oven racks' metal surface and specifically is used wihout harmful chemicals.
– To scrub baking soda following this method, you need to prepare:
– Baking soda: a natural cleaner that is cheap, suitable for your wallet and harmless for the environment.
– Hot water: softens the grease, dirt and stains found on oven racks.
– Pad (if needed): cleans the remaining stains.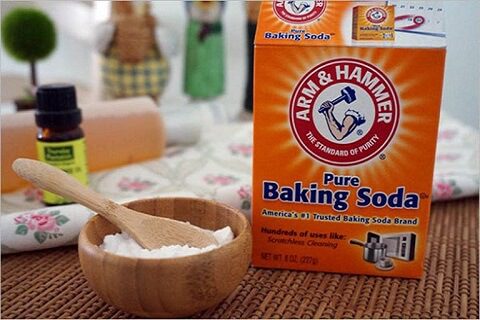 You should follow some steps to clean oven racks by using baking soda:
1. Fill the tub with hot water (note that just a small quantity is enough to cover the racks inside).
2. Add baking soda to the tub depending on the quantity of water (often 1-3 cups of baking soda maximum)
3. Put the racks in a tub mixed by baking soda and hot water. You can add more hot water as well as baking soda if the racks are not fully covered.
4. Soak the racks in the baking soda solution for at least 8 hours or more if it is possible (12 hours maximum).
5. Wipe the racks with a clean rag, or steel pad. If needed, use a srubbing pad for reduce tough spots like corners.
6. Ensure that racks are dry before replacing them back in the oven.
How to clean oven racks naturally – with vinegar?
Using vinegar is an eco-friendly and non-toxic way for cleaning your oven racks. Here are steps that you should follow:
1. Make a paste with vinegar and water, and try to make it a little thinner than toothpaste.
2. Pour the paste all over your oven racks that are covered by dust or leftover food and let it sit for a moment. The longer it sits, the more grime it will eliminate.
3. Use a sponge or cloth to wipe away any residue left.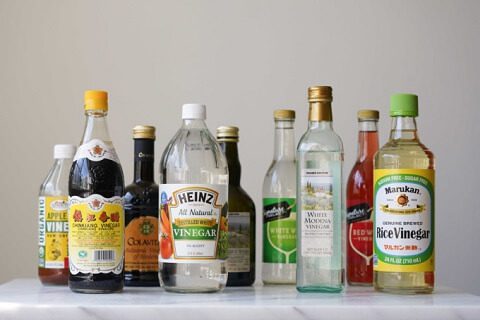 How to clean oven racks with baking soda and vinegar?
If your oven racks encounter stains that are too difficult to clean, and can not be resolved with baking soda or vinegar, you should use both of them. You clean the oven racks following the above steps by using baking soda, then spray vinegar on any remaining dry baking soda left. As a result, the vinegar will react with baking soda to form a new foam. Finally, wipe the inside of the oven again to remove this foam. Be careful when cleaning the baking soda layer, otherwise the oven will burn the next time you use it.
We believe that these above tips can make your cleaning problem will be solved easier. If you are interested in related tips, visit our website to discover more!
However, if you find that cleaning oven racks still is a nightmare, let us do it for you! Sparkling and Beyond offer cleaning service for the house generally and oven racks specifically. The only thing you have to do now is contact us, then enjoy our cleaning service!