Upholstered furniture is one of the most identifiable pieces of home decor. Chairs and sofas can be purchased to match any décor in a home, but they tend to get dusty, dirty and need to be cleaned regularly. Don't think your upholstered furnishings are any different than those in a retail store — they aren't! Knowing how to clean upholstered furniture in your home is essential because you'll want something that looks newer and longer.
Before You Start
Spot cleaning may work well on the stain, but the residue used to remove the stain often leaves a ring mark. So you now have a stain that is larger than the original stain.
Instead, pre-treat the stain and then wash or dry clean the entire item. Whatever reaction the color or fabric has will be distributed throughout the garment or cushion rather than in a single area.
Also, keep in mind that that piece of furniture may no longer match the rest of the room after cleaning. So, when you return the cleaned cushions, there may be a slight color difference… from what the arms or back would be.
When it comes to large stains, it's best to ask for help from a professional cleaning service.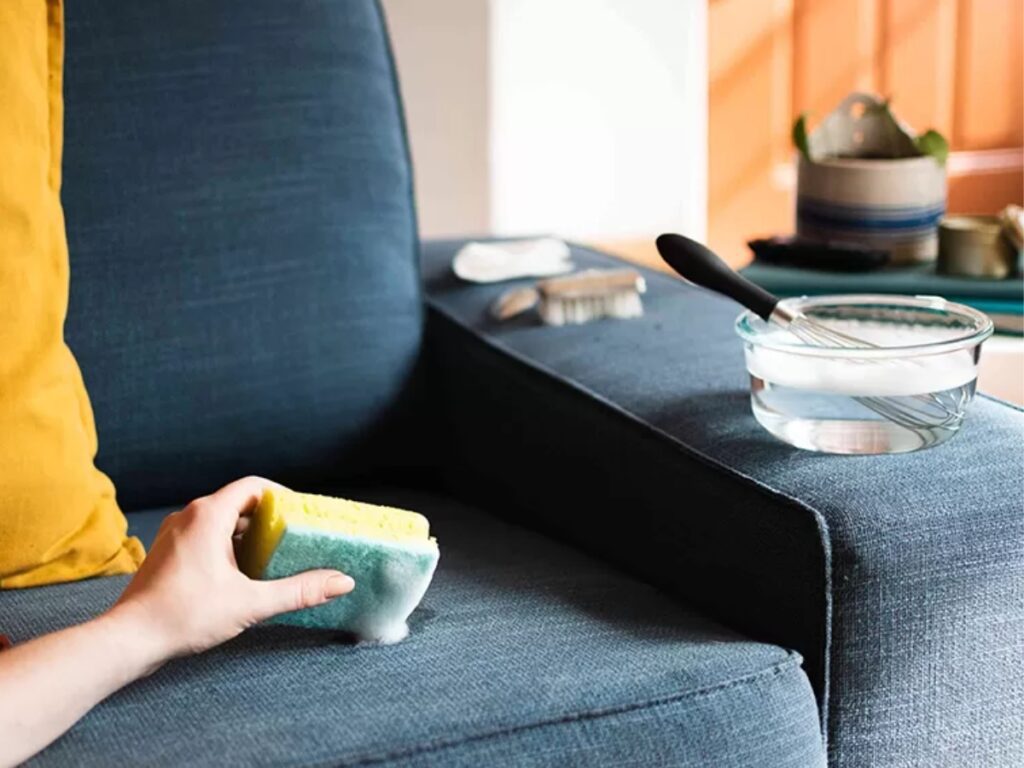 How to Clean Upholstered Furniture in Your Home
Step 1: Read Caring Instructions of Your Upholstered Furniture
Always follow the care instructions and warnings on the label of the fabric. It should specify the best cleaning agents, water temperature, and whether bleach can be used.
Dry cleaning is generally preferred for certain materials, such as polyester, velvet, and leather, according to Zarif, whereas linens and cotton can usually be washed.
Furthermore, inquire whether the fabric was pre-washed or pre-treated before the item was made. Fabric that has not been pre-treated can shrink by about 3% to 5%. After washing, that cushion cover might no longer fit.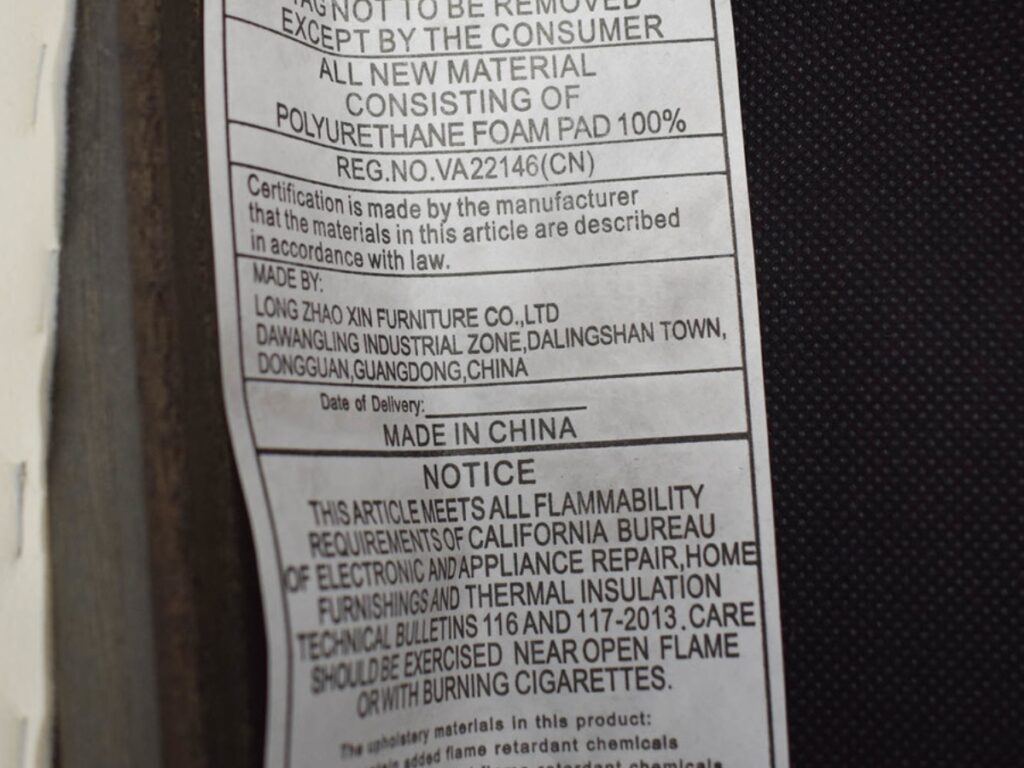 Step 2: Test The Cleaner
If possible, test the cleaning agent on an inconspicuous spot of your fabric to see if it affects the color or causes fiber damage, then gently apply a small amount to the stain and repeat if necessary.
If you are not familiar with choosing the right cleaner, we recommend you invest in these fabric-friendly cleaners used for cloth that are easy to find, and you can make it at home.
Lukewarm water and clear dish soap may be the best solution for an oil or water-based stain. Then, using a lightly moistened white cloth, thoroughly rinse the stain treatment with cool water. She also mentioned that a 10% bleach solution could be used on white or bleach-safe fabrics; make sure to rinse the fabric to remove any residue.
Use saddle soap, a little water, and a soft white cloth to remove stains from the leather. To absorb any remaining water, use a clean, dry cloth. Recondition the leather with leather cream after it has been wholly air-dried.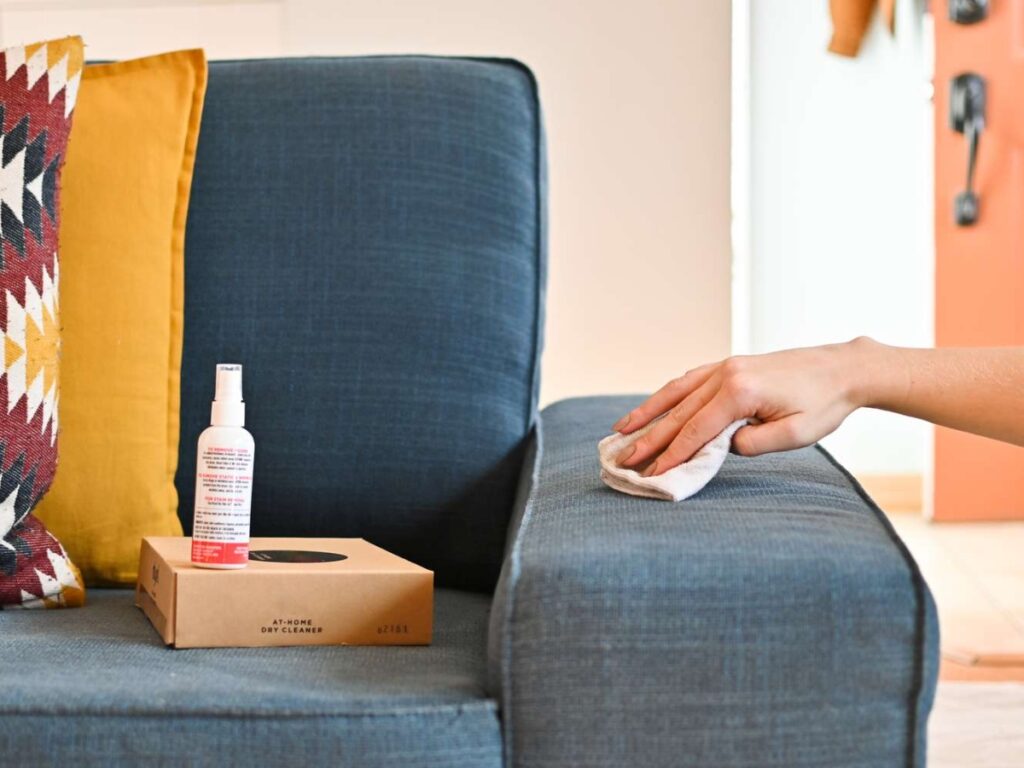 Step 3: Spot-Cleaning Stained Upholstered Furniture
As previously stated, treat stains as soon as possible. If a drop or spill occurs on any type of fabric, try to blot the spill rather than rub it with a dabbing motion using a white or light-colored towel. Work your way from the spill's outer edge to its center. Make sure to use a clean part of the towel for each blot to avoid reapplying the stain. The cleaning agent should then be applied with care.
Warning: Never use harsh cleaning agents. Instead, find something gentle, like a mixture of vinegar, club soda, and water.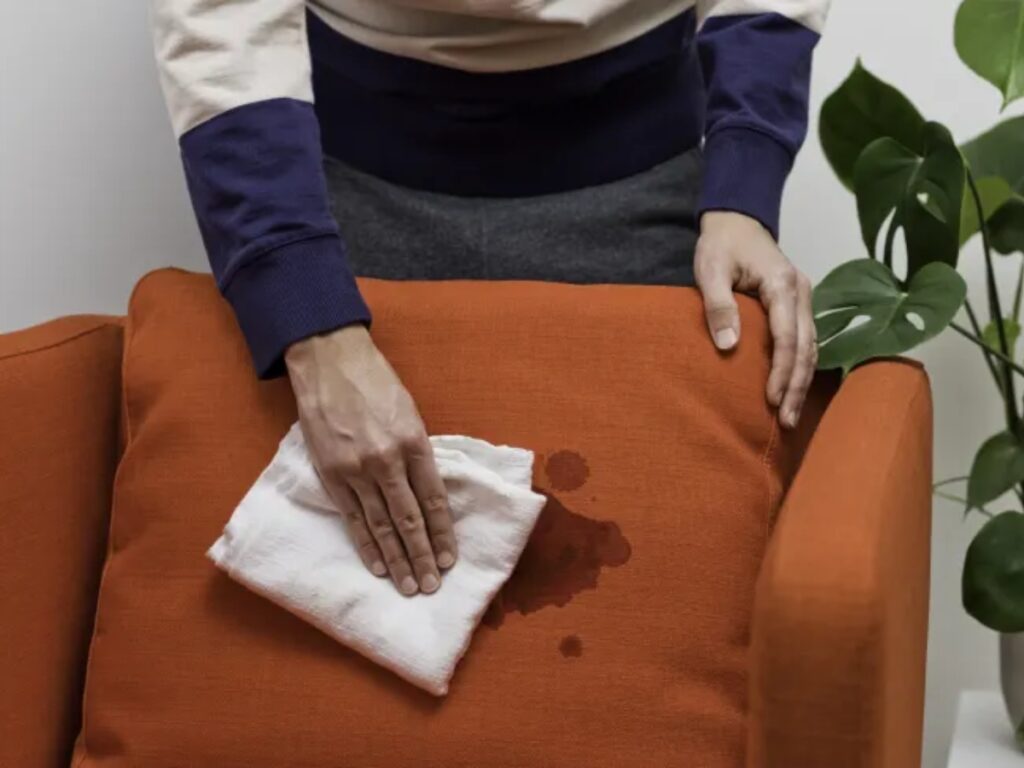 Step 4: Cleaning the Entire Piece of Upholstered Furniture
Clean upholstered furniture should be done promptly and gently. Using hot water is not recommended since it can set a stain, as well as oversaturating the fabric as it can spread the dirt, and rubbing the fabric too hard can damage it or remove its dye. Also, avoid using heat to dry the area after cleaning.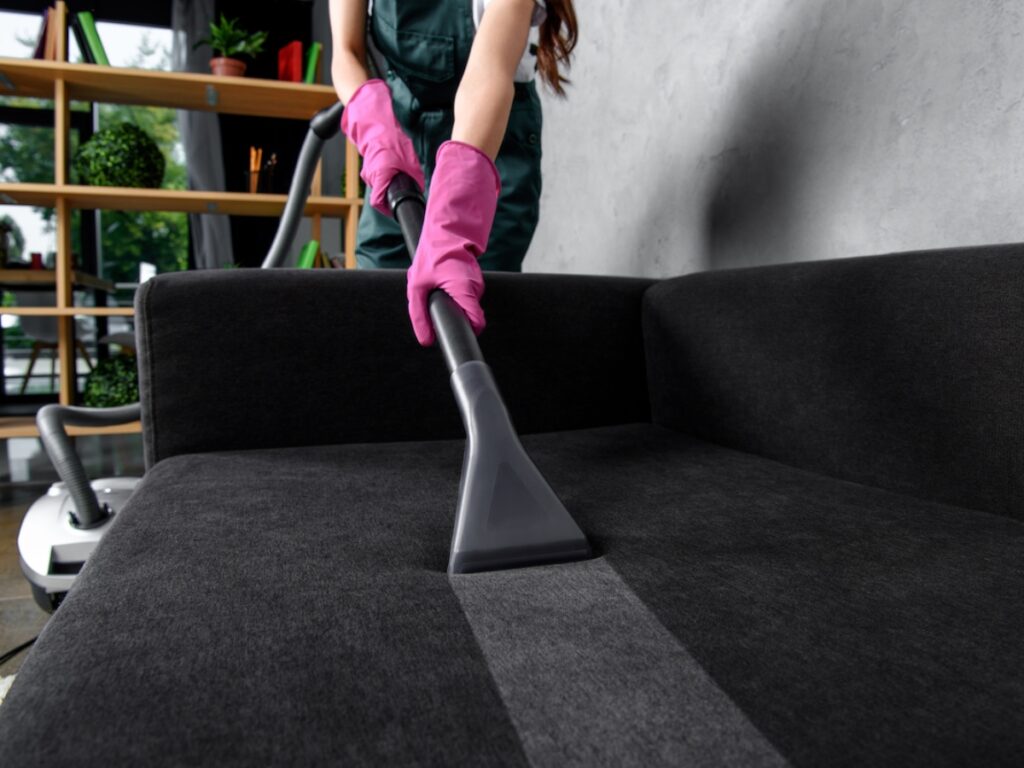 How to reduce maintenance for upholstered furniture?
When shopping for furniture, consider which fabrics will naturally fare better in terms of cleaning. Non-woven fabric, such as microfibre Ultrasuede, is stain resistant, breathable, and very easy to clean.
When shopping for furniture with removable covers, look for washable fabrics like cotton and linen and lighter colors.
While darker colors may not show stains, they must usually be dry-cleaned. If you get a water-based stain on it, never think of washing to remove it.
Stains, according to our cleaning experts, "pop" more on black fabric, and colorful, the patterned fabric can be difficult to clean. A lot of the time, the dyes are 'fugitive dyes,' which means they bleed. If you get a stain on them and we have to clean it, the colors can sometimes bleed into each other. It no longer has that same crisp appearance.
Properly cleaning upholstery
Finally, if you have upholstered furniture in your home, you must grasp how to clean them correctly. When a couch or armchair needs to be cleaned to remove dust and debris, a quick pass with a vacuum or lint roller may suffice.
However, if you've recently spilled red wine on the ottoman or discovered greasy chip stains on the sofa, things can get complicated. It takes some skill to remove stains without spreading or setting them; some stains are best left to the professionals.
Finding an upholstery cleaning company? You have many choices
It is essential to find a dependable and trustworthy upholstery cleaning business. Customers are welcome to make reservations on the Sparkling and Beyond website, including reservations for nearby upholstery cleaning businesses.
If you want to know more tips for carpet cleaning, welcome to Sparkling and Beyond! We provide not only cleaning services but also helpful tips for making your space dust-free!
In case you want to book our services, feel free to contact us today! Our experienced cleaning experts are waiting for you!
If you want to check our availability and pricing, please check here.
As an interior designer, I have done many researches regarding building a healthy living space. This job is my passion and I am happy that I have helped a lot of customers to improve their living space. Out of work, I like art, I often spend time on painting to relax myself. Completing a colorful painting helps me refresh my energy.