Choosing a set of cheap office blinds with good light resistance among the many different types of curtains on the market is not easy. Furthermore, many people are concerned about cleaning them and ensuring that they are always as durable as new. So how to clean the office blinds? Let's find out the best ways to clean office blinds and add this simple method to your regular list of cleaning to-dos.
Why is it necessary to clean your curtains on a regular basis?
Office blinds are easily visible in the office, but they are rarely cleaned since they hang high and cleaning them takes longer than cleaning other office objects. There's also the fact that they always appear to be clean. But that's not the case. When you open the window or turn on the fan or air conditioner, blinds collect a lot of dirt and disperse it around the workplace.
How to clean old vertical blinds?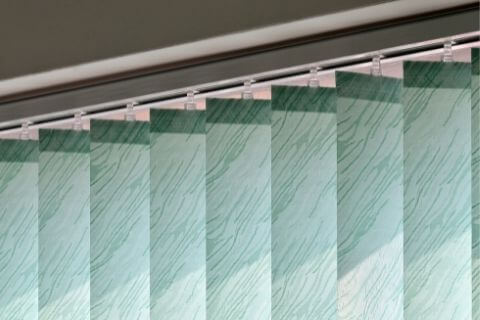 Vertical office blinds are a collection of narrow curtains (made of a variety of materials) that have been closely organized and dropped. Two plastic sheets are used to secure the blind leaves at the top and bottom. The rotation of these two plastic panels can be regulated at 90 degrees. Because the curtains are placed in a single block, washing vertical curtains necessitates additional considerations.
Note when cleaning old vertical blinds
If you're not careful while cleaning vertical blinds, they'll lose their form. Use these strategies to make cleaning vertical blinds simple and successful. With our tips, you can avoid needing to extensively clean your blinds by cleaning them on a regular basis.Also, your vertical office blinds will always be clean and shining if you dust or vacuum them on a regular basis and you won't have to spend too much time and effort on a single cleaning.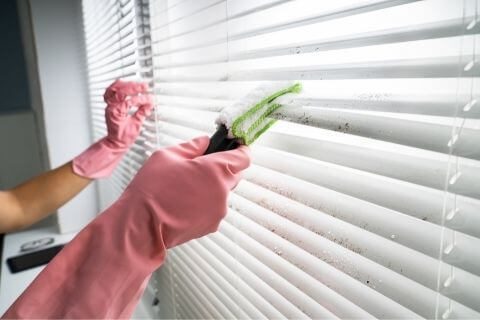 So how to clean blinds effectively?
Spray a little water on the blinds before dusting to get rid of the dust. For fabric blinds, you can use a small amount of regular air freshener or clothing coolant to clean them (test on a small inconspicuous area first to be sure). However, compressed air is preferred when cleaning vertical blinds with a wooden stick because compressed air will not damage the wooden stick. To clean dust and stains, gently wipe up and down the bars with a broad cloth.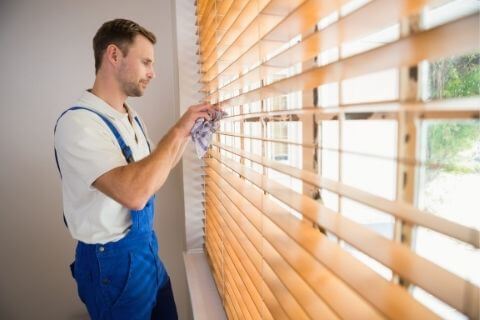 Avoid using feather dusters or thin towels since they only spread the dust around rather than removing it from the curtain surface. If your curtains can be machine cleaned, do so at a temperature of no more than 30 degrees.
If you want to wash your curtains in the machine more gently, roll them up into a roll, throw them in a laundry bag, and wash with a few towels on a mild cycle – this will help avoid fraying and distortion of the curtain, especially carefully designed office blinds like vertical blinds. Be sure to consult the manufacturer's instructions to check if your blinds are machine washable. Finally, allow vertical blinds to dry naturally in the air and lay flat while drying.
What is the best way to clean vertical blinds?
Vertical blinds are attractive and convenient, but they are difficult to clean. Many people opt to remove the slats and take them to the dry cleaners because it's so tough to clean. Regardless of whether your vertical blinds are made of wood, plastic, or fabric, cleaning them at home is absolutely achievable, potentially and even simple. Here's what Sparking and Beyond cleaning service want you to know to help you answer the question: How to clean office blinds at home?
Clean the office blinds with warm water
The pleats can be glued rather than sewed because the feature of vertical blinds is that they fold and have weight on the bottom to keep them hanging properly. The adhesive can be melted or the fold opened by wiping the curtain with hot water. Warm water is always preferable since it efficiently eliminates stains while causing no harm to bonded parts.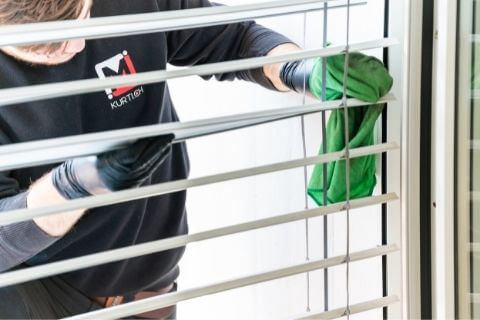 Spread the curtain on a level surface and gently clean the curtain surface with a towel dampened with warm water to eliminate dust.
Clean office blinds with mild detergents
How to clean office blinds with mild detergents? Cleaning vertical blinds at home using mild detergents designed for sensitive materials is a wise choice. Dust and stains can be easily and safely removed off the curtain with a soft cloth and mild detergent.To clean blinds, you can also prepare your own biological cleaner at home using natural ingredients.
Remember to vacuum your vertical blinds regularly to keep them clean. Cleaning vertical blinds is easier if you don't have to disassemble them, and one method to avoid this is to vacuum the slats regularly.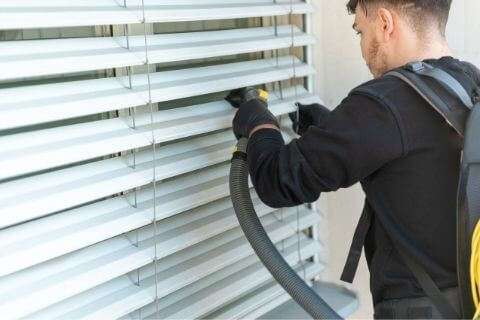 When vacuuming vertical blinds, it's preferable to use a brush since the bristles will help remove dust particles and have less suction force, allowing you to clean your blinds gently. One thing to keep in mind is that you should vacuum from the top down to avoid accidently unscrewing the slats.
How to dry your office blinds manually?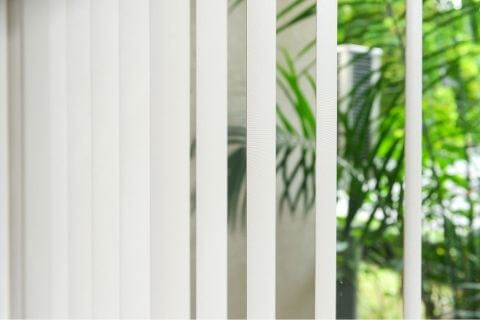 If you're hanging curtains to dry, you'll need to be especially careful. The blind will be pulled to varying degrees depending on the quantity of moisture in each bar. That's why the best way to clean office blinds and dry them is to spread them out on a large cloth or towel and allow them to dry fully before reinstalling them.
Despite their unique design, vertical blinds may be cleaned quickly and easily at home. Remember the aforementioned tips and cleaning instructions so that even after washing the curtain, your vertical blinds seem like new.
Sparkling and Beyond cleaning service hope that these tips can help you answer the question "How to clean office blinds effectively and easily?" If you find this useful, don't hesitate to visit our website sparklingandbeyond.com for more valuable contents like this coming up!
If you feel that cleaning office blinds is too difficult and time-consuming, it's time to hire a professional office cleaning service to assist you. Sparkling and Beyond is here to help you. With a team of experienced, high-tech employees and specialized, environmentally friendly cleaning solutions, we pledge to provide you with the cleanest working environment possible to safeguard your health and people around you.