If you are a big fan of BBQ, your grill gate may be in use frequently. However, cleaning grill gates may not be a favorable task since it is often full of oil, food leftovers, overcooked food, and other residue. Cleaning your grill grates is needed to remove all that dirt as well as rust buildup and ensure delicious grilled food but scrubbing with hot water only may not remove all the dirt.
Also, you should scrape your grates after each use, but you should also do a thorough cleaning once a year. Cleaning does not have to be a chore, but depending on the type of grill grates you use, you should be cautious about how you clean them in the right way.
How To Clean Grill Grates In The Right Way?
Clean The Porcelain Grates
Porcelain grill grates retain heat well and are rust-resistant, but they must be cleaned and maintained. Any chips or scrapes in the porcelain will expose the metal beneath, allowing water to seep in and rust to form.
So, when using metal tools to cook, take care not to scrape or nick the grates. Metal or wire brushes should not be used to clean porcelain grill grates. Use a nylon grill brush or a soft bristle brush. Remove any food that has remained on the grates. Allow the grates to cool before scrubbing them with the nylon cleaning brush.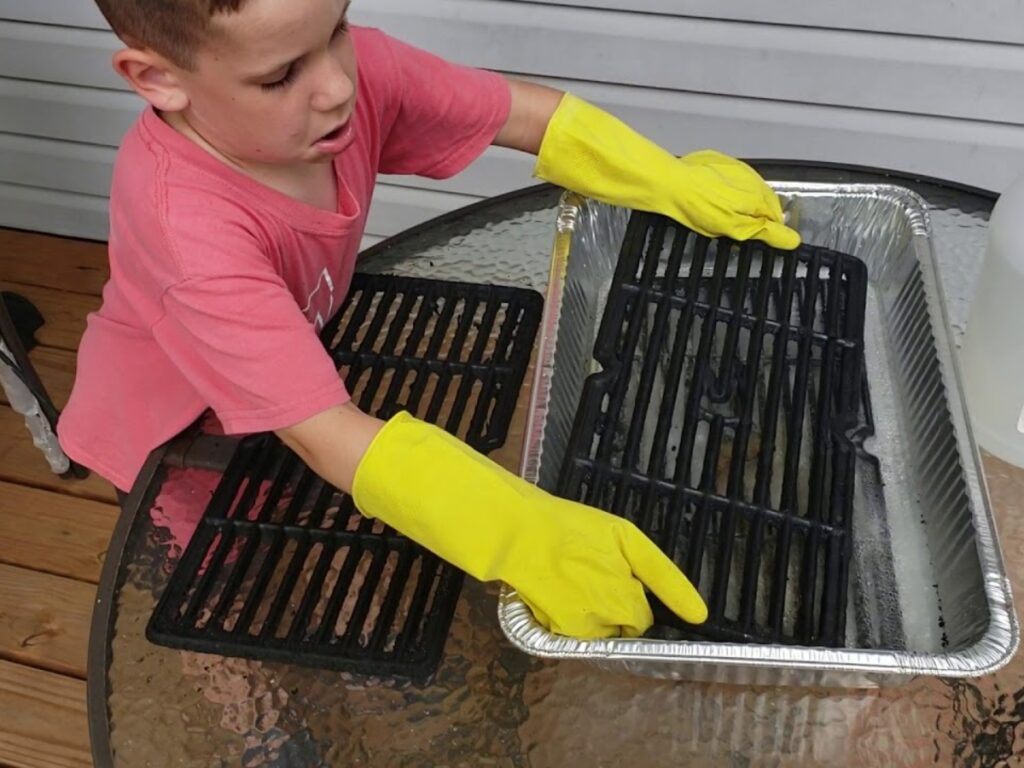 Clean The Cast Iron Grates
Cast iron grill grates are extremely durable, can withstand high temperatures, and provide an even cooking surface. They are tough and can withstand almost anything except water — iron rusts easily. When cleaning cast iron grates, burn any food that has remained on the grates. Allow the grates to cool before scrubbing them with the nylon cleaning brush. To prevent rust from forming, dry and saturate the grates with vegetable oil after cleaning.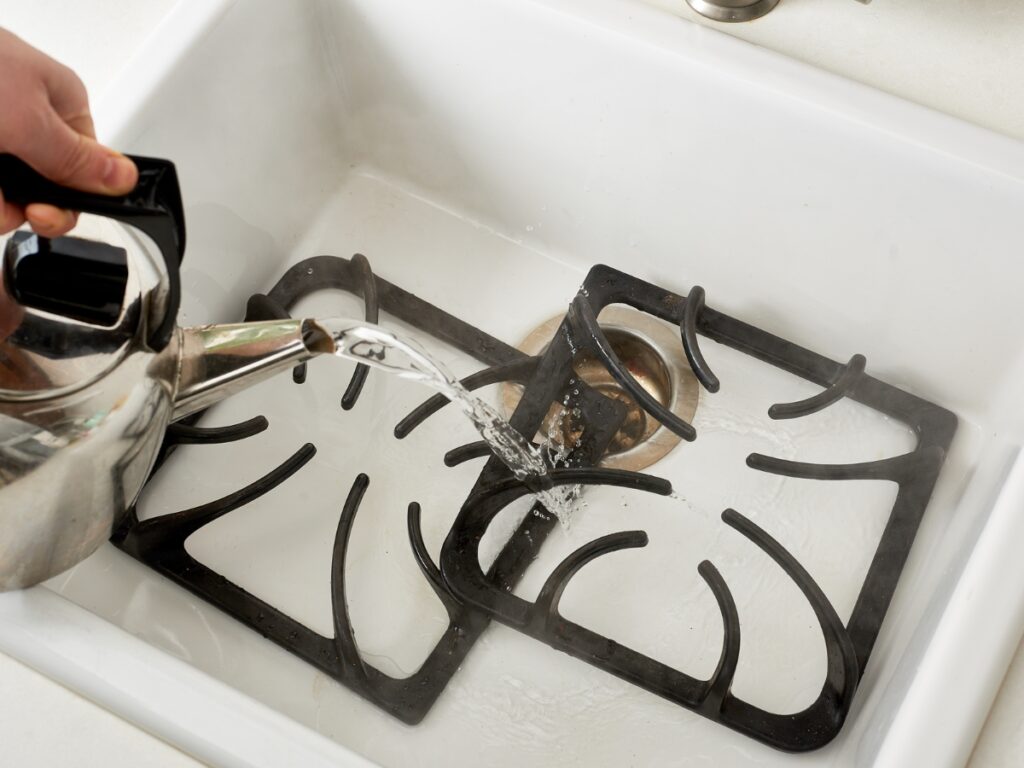 Clean The Stainless Steel Grates
Stainless steel grill grates can withstand high temperatures and are relatively rust-resistant. It usually takes only a quick brush to keep them clean. When cleaning stainless steel grates, many grillers wrap them in tough aluminum foil and heat them on high for 10 to 15 minutes. The aluminum foil will concentrate the heat on the grates, allowing the leftover food to be burned off. Allow the grates to cool before scrubbing them with a nylon cleaning brush.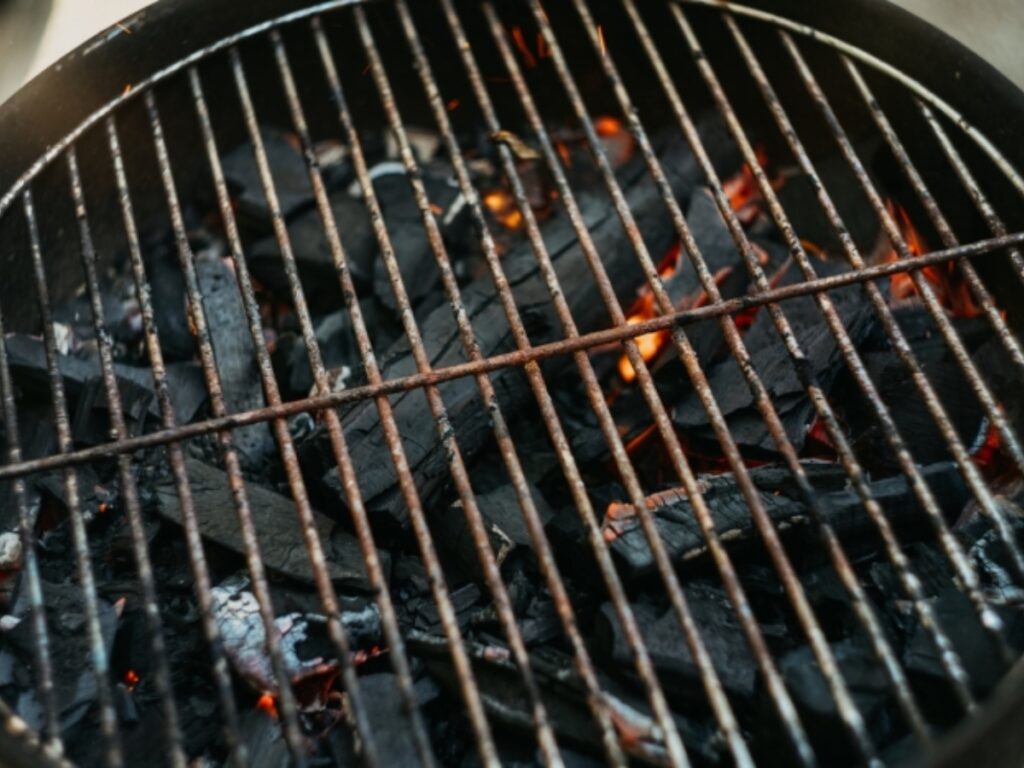 What Are The Best Cleaning Methods For Cleaning Grill Gates?
Cleaning Method 1: Aluminum Foil and Baking Soda
Mix 1 ½ cup of banking soda with 1 ½ cup of water to have a solution, then paste it to the grill gates.
Let the paste sit there in 10 – 15 minutes.
Use an aluminum foil ball to scrub the dirt.
Rinse with water and let it dry.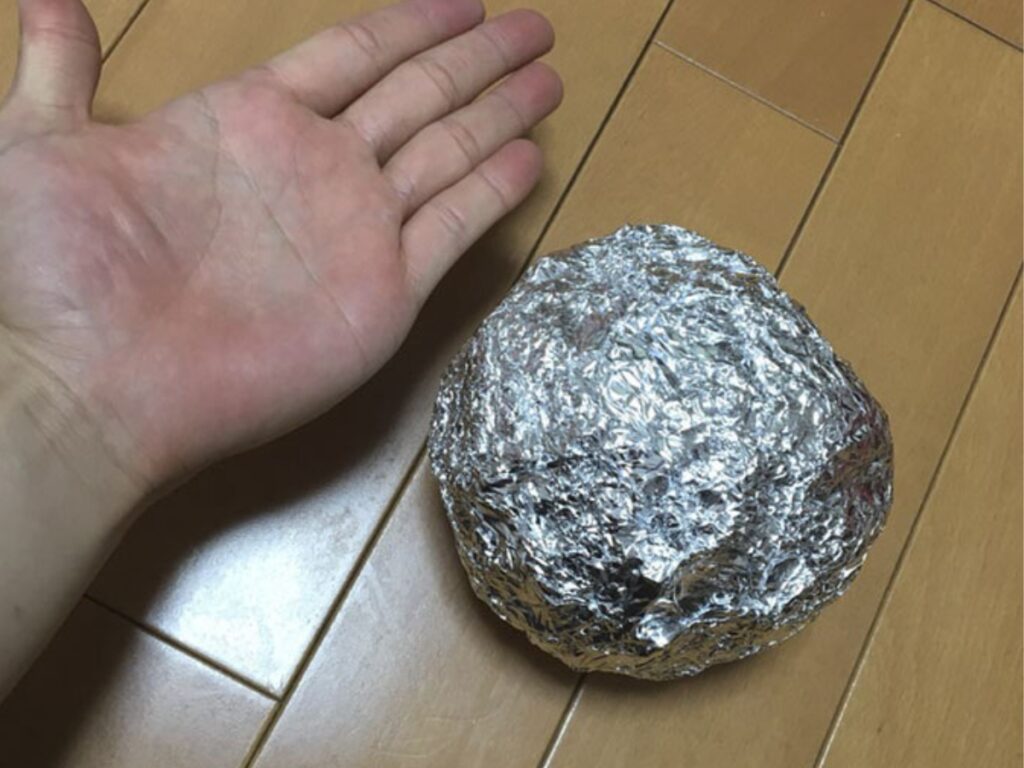 Cleaning method 2: Baking Soda and Scour Sponge Grate Cleaning
This is the method to use if you have porcelain or enamel grill grates. Metal, such as a wire brush or aluminum foil, can scratch the finish of coated grill grates; instead, use a scour sponge or nylon bristle brush.
Remove the stainless steel grate from the grill and place on a flat surface.
Moisten the grill grate with water.
Sprinkle Baking Soda liberally over the stainless steel grates and let sit for 10 minutes.
Using a damp scourer sponge, scrub the grate up and down each wire.
Rinse with water and return the grate to the grill.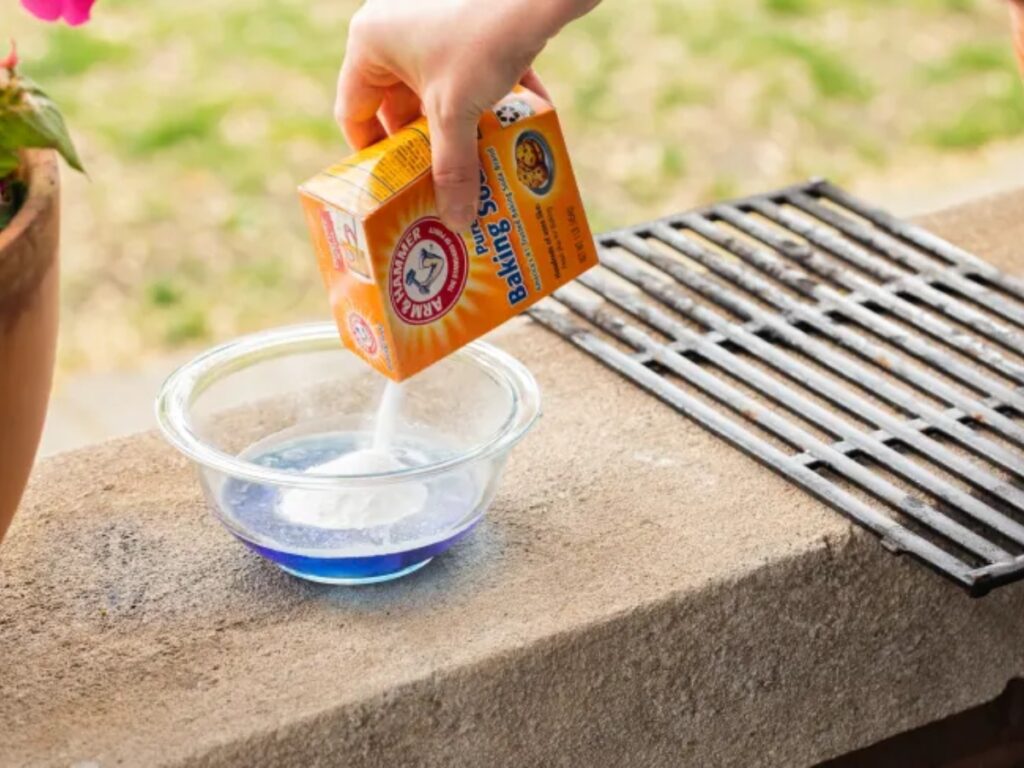 Cleaning Method 3: Clean Cast Iron Grill Grates Without Removing them From the Grill
Cast iron grill grates are long-lasting and evenly heated but can rust. Don't be disheartened if you open your grill to find rusted cast iron grates. Even if your cast iron grates are difficult to remove from your grill, reach for the baking soda.
Make a liquid by mixing 1 ½ cups Baking Soda, ¼ cup dish soap, and ¼ cup white vinegar.
Paint the grill grates with the paste, avoiding the heating elements if this is a gas grill.
Let the paste sit for 8-12 hours or overnight.
Use a brush or scourer sponge to remove the loosened debris and grime.
Wipe the residue by a damn sponge or cloth.
In case the dirt is stubborn, you can add more baking soda and vinegar into the solution to have a stronger cleanser.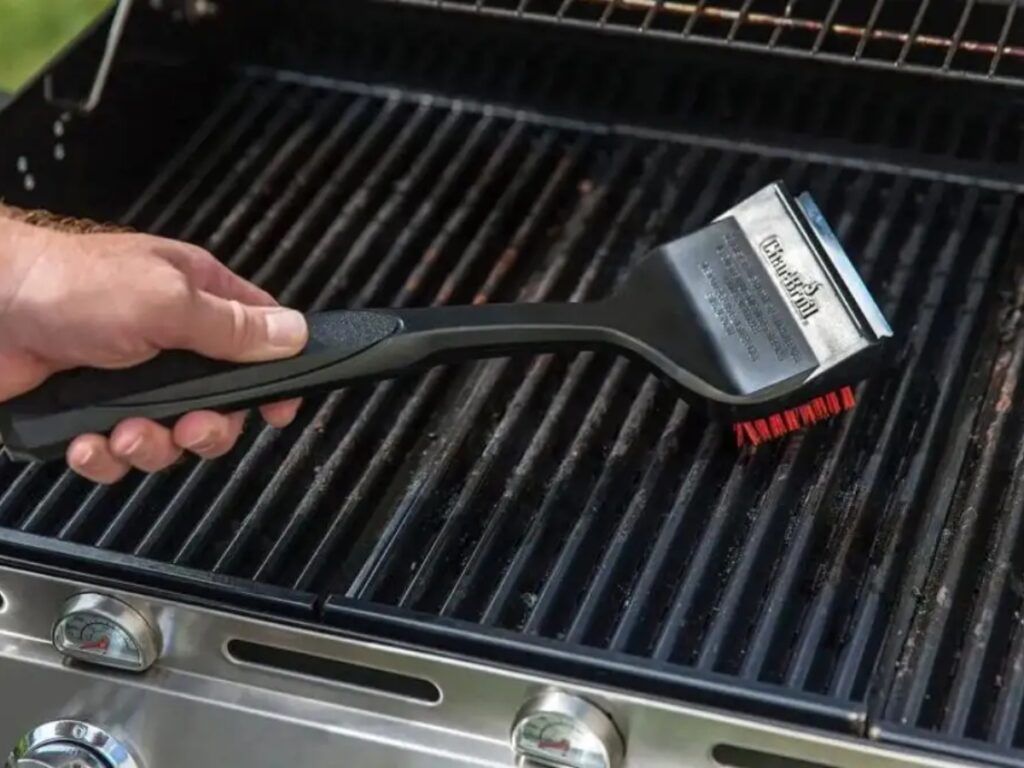 Cleaning Method 4: Burnoff
This is the quickest and most straightforward method for cleaning grill grates
After you've finished grilling, turn your burners to high with the lid off (or shuffle the coals around if you're using a charcoal grill) to get rid of any leftover food or grease.
After 15 minutes, use your grill brush (or another tool) to clean the grates.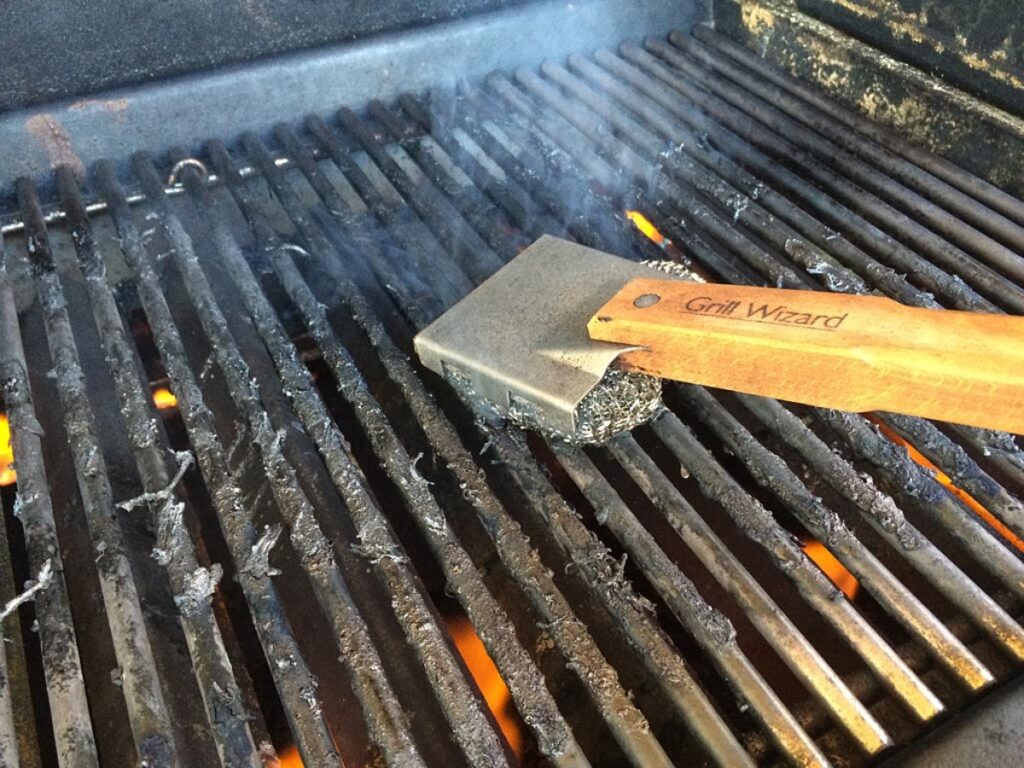 Protect your grill gates
Cleaning the grill gate is not difficult unless you follow the wrong instructions. Excessive cleaning may destroy your gate, too so it is important to check how to clean grill grates or how to clean bbq grill grates before you clean it.
Moreover, don't forget to clean the rest of your grill, as well as your grill tools and accessories, regularly. They are equally important in maintaining a sparkling clean appearance. Check out our grill cleaning guide to make sure you haven't overlooked anything while cleaning your grill from top to bottom. Oh, and between barbecues, protect your grill from rain and debris with a high-quality grill cover.
We hope our tips on how to clean grill gates have helped you to clean your grill gates already.
Need some tips? We're here to help
Cleaning tasks may be stressful if you handle them every single day, but our cleaning services team can breathe new life into your house and your daily routine, giving you back valuable time to do things at your own pace. If you want to enjoy all of the benefits a home cleaning expert can supply, request a booking with us today.
We provide you with affordable and reliable cleaning services and a lot of helpful tips.
Feel free to contact us today! Our experienced cleaning experts are waiting for you!
If you want to check our availability and pricing, please check here.