We all know that the importance of a healthy and clean workplace can not only ensure the employee's health, improve productivity but also give a great impression to your company's clients. Therefore, before you open your business again, make sure that you clean your office well. One of the first things that needs to be done is purchasing your office cleaning product. This is not an easy task to choose the right things. To support you, Sparkling and Beyond gathers some favourite products in the Ultimate Checklist for Office Cleaning Supplies.
Things to do before office cleaning
Office cleaning supplies list
Our office cleaning checklist will start with the essential and standard products. These things are necessary for every building such as homes, rental properties, offices or schools, etc.
Vacuum Cleaner

Mop

Broom and dustpan

Trash bags

Dust towels and brushes

Disinfectant

Multi-surface cleaner

Floor cleaning solution (if you don't have, use vinegar dilution instead)

Glass cleaner (window cleaner)

Bathroom cleaner

Kitchen cleaner

Mold and mildew cleaner

Wood polish (if your office has some wooden surfaces)

Baking soda

Soap, dish soap, hand soap

Sponges

Rubber Gloves

All-purpose stain remover

Cleaning Supply Cart

Stainless Steel Cleaning Power

Multi-purpose bucket

Window kit

Disinfectant wipes
RELATED: Office Cleaning Services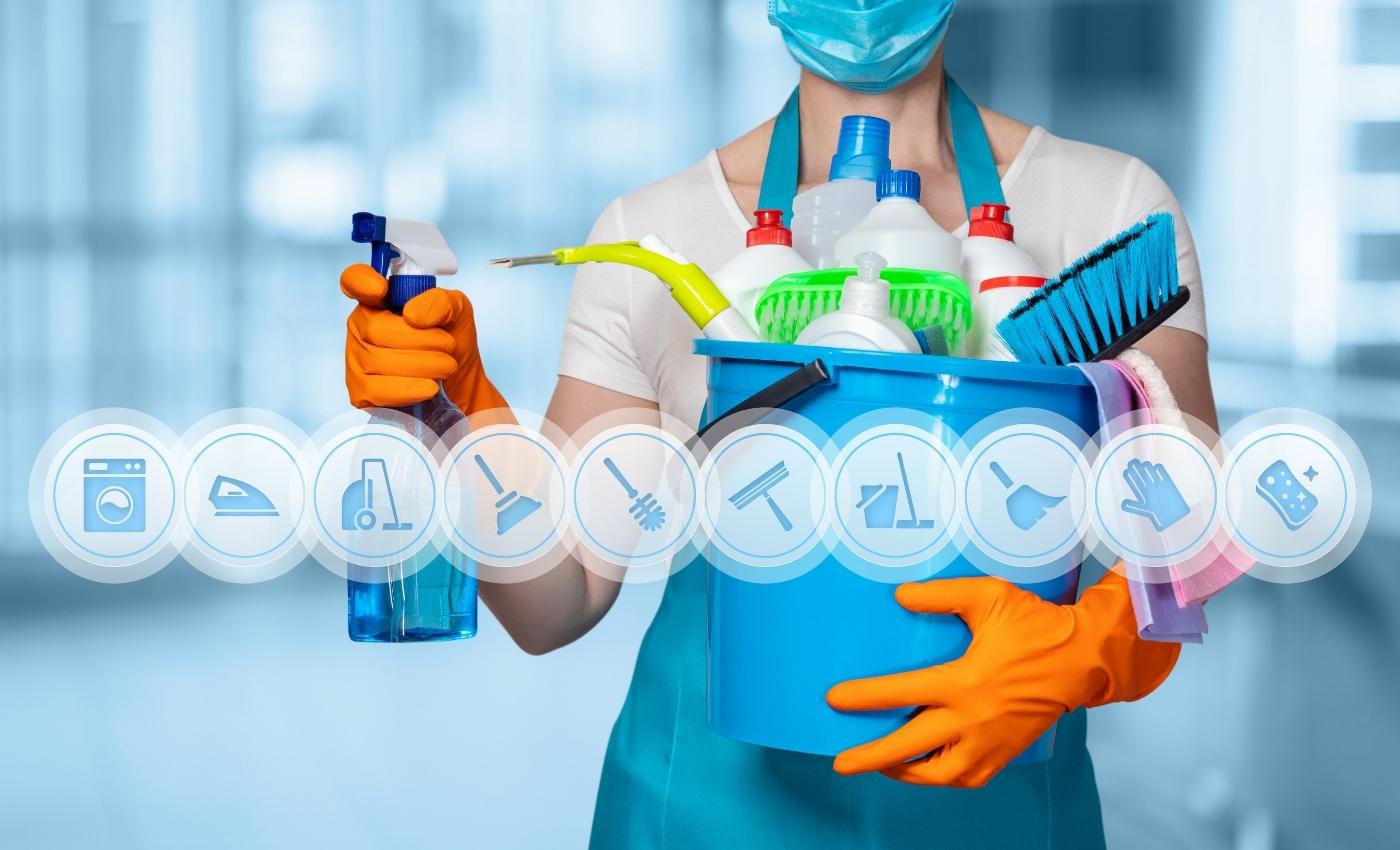 Office cleaning checklist for different parts of your office
Cleaning checklist for offices and meeting rooms
Wipe dust on telephones, computer parts, furniture and other hard surfaces of your office.

Clean the dust on windows and window blinds.

Get rid of dust and dirt on the floor with a vacuum cleaner, mop or broom.

Clean the heating, air-conditioner and ventilation.

Organize the office space.
Cleaning checklist for kitchen and lunchroom
Get rid of all the leftover things in the fridge.

Clean the refrigerator before putting new food and drinks into it.

Wipe and disinfect the surface of the dining tables.

Take out the trash.

Disinfect the bins.

Wash dirty dishes and dry them.

Clean and disinfect sink.

Clean the coffee maker.
Cleaning checklist for bathroom or washroom
Clean and disinfect the toilet seat.

Clean and disinfect the sink.

Clean mirrors and reflective surfaces.

Replace toilet paper, hand soaps, towels.

Clean and disinfect the floor.
RELATED: About Cleaning The Office Some Ideas For You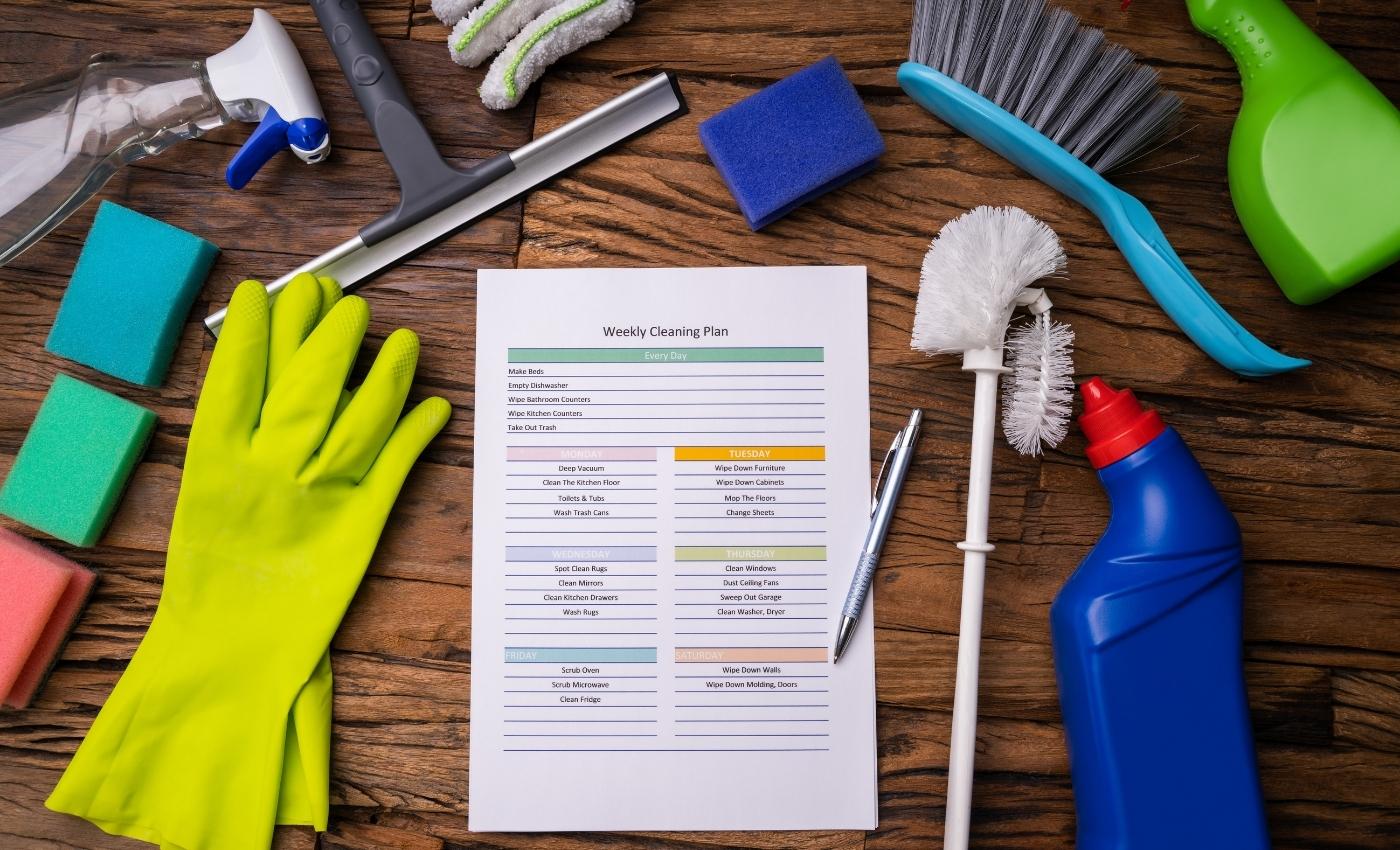 Office Cleaning Schedule: How often should we clean?
Having an office cleaning schedule helps you divide your cleaning tasks and ensure that every work related to cleaning is all done.
From daily cleaning to weekly cleaning and monthly cleaning, you can keep your office safe, tidy and hygienic.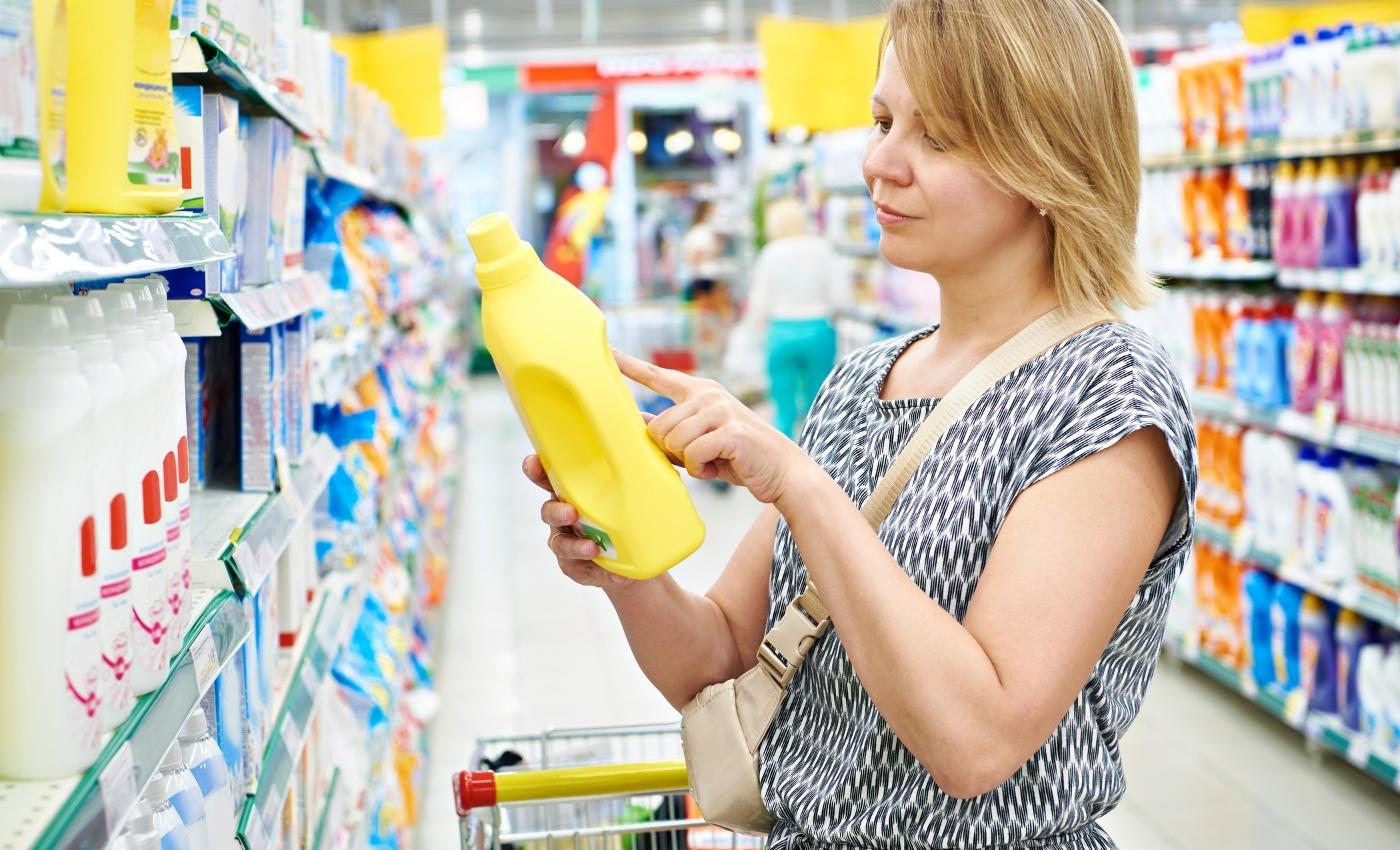 Daily Cleaning Tasks
Daily cleaning should be a quick run that supports the smooth run of all tasks around the office. It is very important to do these daily cleaning tasks to keep your office clean and hygienic.
Daily cleaning tasks can include:
Clean the floor everyday to get rid of the dirt

Clean the hard surfaces to get rid of dust

Clean glass and window to make them clear

Wipe and disinfect the doorknobs, light switches, fridge handles and other different high-contact surfaces

Take out the trash at the end of everyday

Insert new trash bags

Clean and disinfect the tabletops and counters

Take out any dishes left in the kitchen and lunchroom

Clean and disinfect the toilet seat and sink

Clean mirror in the bathroom and toilet

Fulfill the hand soap

Replace the toilet paper and hand towel

Clean and disinfect the toilet floor every day
Weekly Cleaning Tasks
Weekly cleaning tasks are deeper and longer cleaning activities than daily cleaning tasks. To create a healthy workplace, you should carry out these processes weekly:
Clean dust on all lamps, hard surfaces and computers

Discard any leftovers in the fridge

Clean and disinfect the inside of fridge

Disinfect trash bins and replace liners

Clean mats and carpet all around the office

Clean and disinfect desks and tables

Mop hard or tiled floors

Wipe the glass surfaces (both interior and exterior)

Clean any walls having visible markings

Polish any brass on doors, drawers, cabinets, etc.
Monthly Cleaning Tasks
Monthly cleaning tasks are tasks which are usually ignored when doing daily cleaning tasks and weekly cleaning tasks. These tasks don't require to be done often, just doing once a month is fine.
They are:
Wash window cover

Get rid of unnecessary files and paper

Clean debris stuck in vents

Clean materials of furniture

Disinfect high-touch places like ceiling fans, high window points, etc

Declutter office spaces
RELATED: How To Clean Your Office Desk A Step By Step Guide.
FAQs about the Ultimate Checklist for Office Cleaning Supplies
Q: Should I hire an Office Cleaning Agency to clean my office?
A: Sure. There are many advantages when using Office Cleaning Service. You can read more details in the post: How Office Cleaning Services Support a Return to the Workplace on Sparkling and Beyond website.
Q: What supplies do I need for cleaning business?
A: The essential things are microfiber cloths, glass cleaning cloths, towels, broom and dustpan, mop and bucket, vacuum cleaner and multi-surface cleaner.
This post has provided some useful information about the Ultimate Checklist for Office Cleaning Supplies.
You may not realize that there are various types of products and each product is used for a specific purpose.
Are you looking for Office cleaning Service?
We hope that this checklist will help you decide what you need to clean your office effectively. If you need more helpful information and tips about office cleaning, please visit our website: sparklingandbeyond.com.
Founded in 2016, we became one of the leading providers of residential and commercial cleaning solutions in the United States. Contact us now!