Did you know that if you use a mattress for a long period of time without cleaning, it can have a negative impact on your and your family's health? Mattress washing, on the other hand, has never been easier. Therefore, what's the best way to clean the mattress? What are the best products to clean the mattress? Here is some expert advice for caring for your mattress so you can improve your sleep at night.
What products should you use to clean your mattress naturally?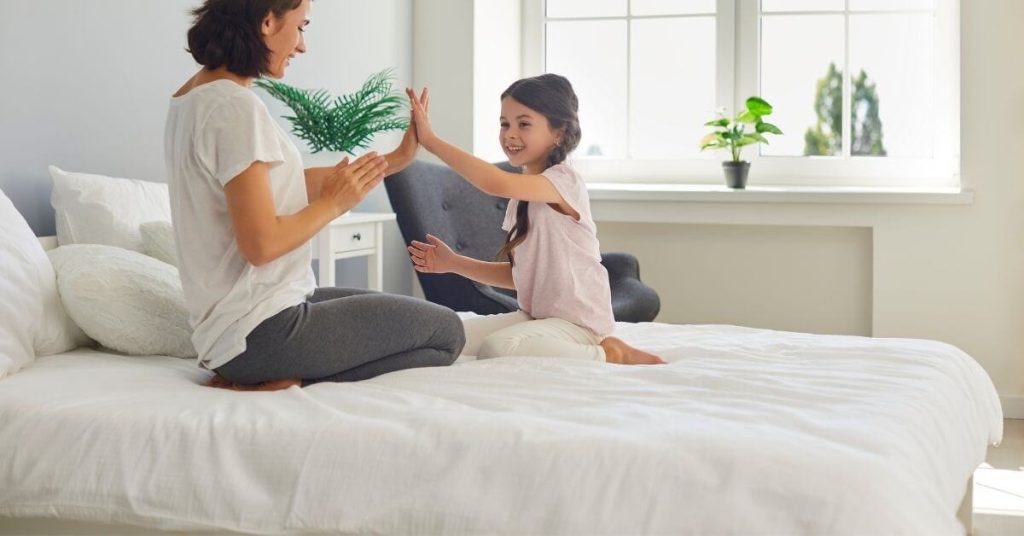 Best products to clean your mattress at home
Baking soda has several applications and is a must-have in every home. Baking soda can readily clear dust and stains, even tenacious stains on mattresses, without damaging the health of the family.
While vinegar, and hydrogen peroxide can help you clean your mattress, sanitizing and disinfecting it may take a bit more work.
Clean your mattress with baking soda
Did you know that a standard mattress that can store up to 1.4kg of dead skin is naturally worn away from the human body after 10 years of use? Furthermore, besides dirt, the amount of dirt on the mattress is also a big number.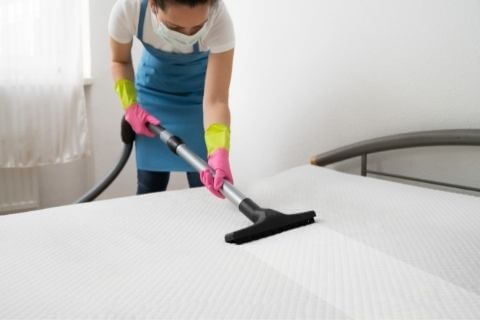 When stains are not cleansed regularly or properly, germs and pathogens can quickly develop, seriously harming your health. However, washing and cleaning the mattress is not an effortless or simple task. Today, Sparkling and Beyond will guide you on how to clean your mattress professionally with baking soda.
How to clean a mattress with baking soda?
Remove any stuffed animals, pillows, blankets, and other items from the bed before cleaning your mattress. In addition, the mattress cover should be removed and washed separately. The mattress will then be cleaned using the following process: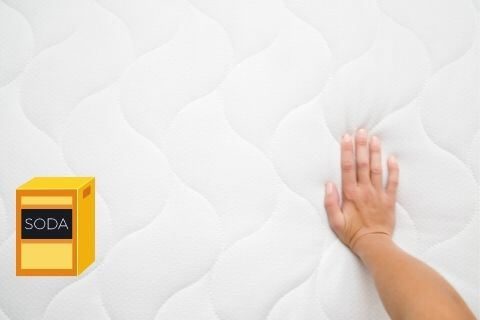 Step 1: Scrub the mattress's surface.
Next, suck through a layer of dirt on the mattress surface using a vacuum cleaner.
Step 2: Remove stains from the mattress.
Dishwashing liquid is used to dilute typical stains. To guarantee your safety, use the dishwashing liquid with natural ingredients. Then, using a spray nozzle, apply the solution to the stain and let it stay for 5-10 minutes. Next, dab a clean cloth on the stain repeatedly to absorb the cleaning water.
Step 3: Sprinkle baking soda over the mattress.
Mix 1 cup of baking soda with a few drops of lavender essential oil in a bowl. Combine the mixture until the baking soda powder and essential oil are completely mixed. There are several essential oils such as yuzu lemon, lemongrass, melaleuca and so on that not only can make you feel more comfortable while sleeping but also have extremely good antimicrobial characteristics.
Then, slowly distribute the freshly mixture across the mattress surface. If you have persistent stains or dark streaks, you should use more baking soda powder than usual.
Step 4: Vacuum once more.
Wait until the baking soda has taken effect before using a vacuum cleaner to scrutch and remove any extra or residual baking soda from the mattress.
Step 5: Flip the mattress over and clean the back of the mattress.
After dealing with the top of the mattress, swiftly flip it over to wipe the back. Repeat the previous procedures to thoroughly clean your mattress.
Clean a mattress with vinegar
Baking soda provides both cleansing and deodorizing properties. Acetic acid, the major component of vinegar, aids in the breakdown of the texture of tenacious stains.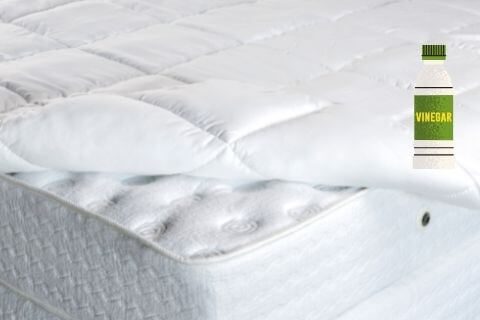 Baking soda and vinegar are able to work together to eliminate dirt and mold, leaving your mattress as clean as new. Prepare the following items to wash your mattress with baking soda and vinegar:
White vinegar (200ml)
50 g of baking soda
Water that is warm.
Cleaning a Mattress with Baking Soda and Vinegar:
Step 1: Combine baking soda, vinegar, and warm water.
Step 2: Apply the freshly made mixture to the stained area.
Step 3: After a few minutes, the stain will fade on its own.
Step 4: Vacuum the baking soda powder away.
Note: Only use warm, not hot, water when cleaning the mattress with this method.
Clean mattress with hydrogen peroxide
Hydrogen peroxide is an excellent component for eliminating protein stains from a variety of materials. To begin:
Wipe the discoloration as clean as possible.
Then, spray the stain with a cleaning solution containing hydrogen peroxide. This will aid in the breakdown of the protein structure in the stain.
Finally, scrub your mattress thoroughly until the stain is removed. After 3 minutes, blot the stain with a thin towel.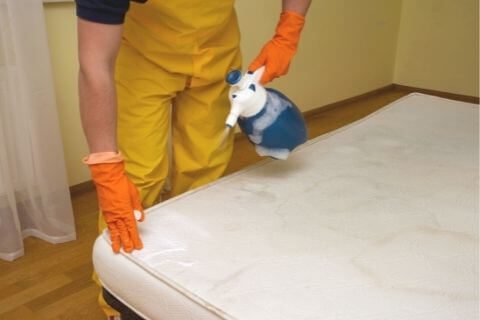 Frequently Asked Questions about mattress cleaning
How do you deep clean a mattress?
Before putting baking soda on the mattress, clean it with a vacuum cleaner and allow it to remain for a few hours, ideally overnight.
Then, in a spray bottle, combine 1/2 litres of water and 2 teaspoons of eucalyptus oil and spray the whole mattress, allowing it to dry. This will help with the removal of dust mites that have accumulated on the mattress.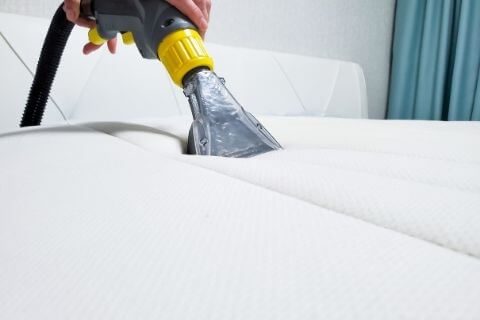 Next, pour 2 cups of water, 1/2 cup of white vinegar, 1/4 cup of alcohol (at least 60% alcohol), and 10-20 drops of eucalyptus or tea tree oil right into your mattress.
After you've finished washing the mattress, remember to wipe away any extra moisture with a wet towel and allow it to dry.
What is the source of yellow stains on mattresses?
Yellow stains are caused by body fluids, perspiration, skin, and hair oils. To remove these yellow spots, apply a combination of baking soda, salt, and water to the stain, massage it in, and let it sit for 30 minutes before wiping it away with a moist towel.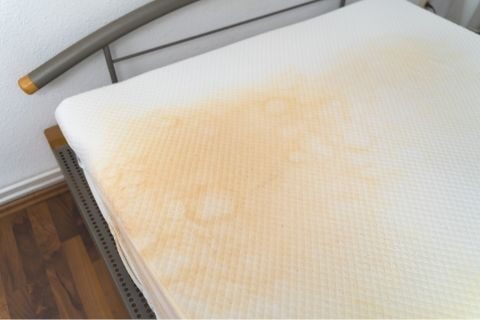 How can you keep your mattress as white as new?
Clean the mattress with a vacuum cleaner before applying baking soda, then scrub it with a brush and let it on for 10 minutes.
Spray a little amount of laundry detergent or hand sanitizer with water on the mattress.
Spray a combination of 1/2 water and 1/2 hydrogen peroxide in a bottle on the mattress.
You can sprinkle baking soda on top with a cloth.
After everything has dried, vacuum the mattress again to eliminate any leftover residue.
We hope that the information provided above will assist you in selecting the best products to clean your mattress and using them to keep your mattress as clean as possible. You can also save time by using Sparkling and Beyond's cleaning services. Sparkling and Beyond Cleaning Services can help you get rid of all the dirt and mess in your house, apartment and office with a range of cleaning services: standard cleaning, deep cleaning, move-in cleaning, move-out cleaning, housekeeping services and so on. With our services, your house or office will be spotless and you would have one less thing to worry about.