What is Dry Cleaning? How does it work? And can it help you with the laundry? All of your doubts and questions when it comes to dry cleaning can be answered in this article!
All you need to know about Dry Cleaning
What is Dry Cleaning?
Unlike conventional home ​​laundering which requires the use of water as well as detergent, Dry Cleaning, as weird as it appears, is the technique of washing clothes without water.
"How could?" – You might ask. In fact, this way of doing laundry uses non-water-based organic solvents in lieu of water and detergent, lifting stains while helping preserve your clothes.
"So, what is dry cleaning solvent then?". Well, known in the industry as "perc", this is not a single chemical. Actually, a whole host of compounds can be used, including Aliphatic Hydrocarbon Solvents, Glycol Ethers, or liquid CO2.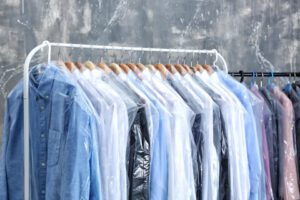 What is Green Dry Cleaning?
Or you can also ask "What is organic dry cleaning?".
Green or organic dry cleaning refers to perc-free alternatives to dry cleaning procedures. Four available methods of green Dry Cleaning include:
Wet Cleaning: Wet washing cleans garments with water and specialist detergents that are gentler than domestic washing powders.

DF-2000 Hydrocarbon Solvent: This is a chemical from hydrocarbons, which is believed to be more eco-friendly than "perks".

Liquid Carbon Dioxide Cleaning: Liquid CO2 is a non-toxic gas that is commonly used in carbonated soft drinks. Since there is no solvent to heat, the procedure utilizes less energy than standard dry cleaning.

Silicon-Based Solvent: This is also known as siloxane or D-5. Upon being disposed of, it degrades into the sand, water, and CO2.
Benefits of Dry Cleaning
Have you ever got your shirts' buttons, sequins, or lace damaged by a normal washing machine? Many people have found traditional laundry damaging to their garments and bedding, especially when it comes to wool or silk clothing. That's why they have decided to opt for Dry Cleaning instead.
Here are two prominent advantages of Dry Cleaning:
More gentle and fiber-protective:

Water can stretch fibers, and many clothing suffers from shrinking and color fading as a result of this. Meanwhile, Dry Cleaning preserves the color and texture of your textiles.

More efficient stain removal: Both types of stains (solvent-soluble and water-soluble) can be safely eliminated using chemicals during the Dry Cleaning process. When it comes to removing oil or fat, which are the foundation of several stains, dry cleaning chemicals far outperform water.
However, to determine the right method of cleaning, you are highly recommended to consider the following factors:
Soil types that are present

Fiber content and structure of the garment

Color of the fabric's dye

Types of trimmings, linings, and other embellishments that may be employed in the garment.
You might also need to check the recommendations from the manufacturer. If there's a symbol for dry cleaning, you should definitely go for it. What is the symbol for dry cleaning by the way? It's a circle (check the picture below).
The process of Dry Cleaning
It seems like dry cleaning is a great innovation. But what is the dry cleaning process?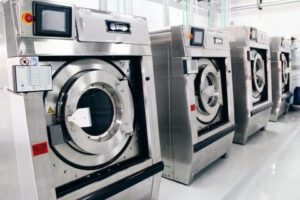 This is how Dry Cleaning basically works:
Dry cleaners employ computer-controlled dry cleaning equipment that is huge and technologically advanced. Although your garments do get wet, the chemical solvent utilized evaporates considerably faster than water. Because solvent is used instead of water, it is not emptied and dumped like filthy water in a washing machine.
During the whole washing cycle, the solvents are re-circulated via filters to eliminate contaminants. The solvent is then distilled until it is super clear and completely purified before being reused.
Might it seem easy, Dry Cleaning process is not something you can handle without proper training and adequate equipment. In fact, a step-by-step process of Dry Cleaning will likely look like this:
Step 1: Tag the garments
As you drop off your clothes at the launderette, every piece will be given a different tag to help you identify it. This assists hectic laundromats in keeping track of their consumers' garments and lowers the risks of delivering the wrong pieces at the end of the process.
In this step, your garments will also be inspected for stains, lost buttons, rips, and other flaws.
Step 2: Pre-treat stains
At this phase, the cleaning staff will usually do a pre-spotting treatment. This involves applying a special chemical solvent, suction, or heat to spots on your clothing to aid in the removal of the stain throughout the dry cleaning process.
Any fabric ornaments or buttons are also protected from harm during the dry cleaning process by being coated with a soft cloth at this stage. Some laundromats may even remove the stuff to keep them safe.
Step 3: Let the Dry Cleaning machine do its job
Now it's the dry cleaning machine's turn.
The filthy clothes are put into a dry cleaner. While the fabric is gently agitated, the chemical liquid of choice will be injected into the machine.
Such machines are substantially larger than our household washers, yet they perform the same fundamental washing job. They may also spin at a much lower speed and offer more control over temperature.
Step 4: Inspect and Post-spot
Once the dry cleaning cycle is finished, the cleaning staff will check garments for any lingering stains. After that, they will eliminate any remaining residue using the same method as in the pre-spotting step.
All buttons, fabric ornaments, or seams will be double-checked to ensure that they are still in good condition or reattached (if they are removed in the second step).
Step 5: Finish
Finally, clothing is pressed, ironed, steamed (depending on which fabric it is), or even put into a form finisher. This unshrinks clothes and gives the dry-washed garment a smoother, more flawless finish. Before being packaged in plastic and handed to their owners, all clothing undergoes the last check.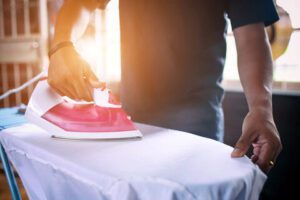 >> Read more about Tips to Unshrink A Shirt In 5 Steps. 
What is the size of the dry cleaning industry?
The market size of the Dry Cleaners industry, measured by revenue, is $7.1bn in 2022. What will be the growth rate of the Dry Cleaners industry in 2022? In 2022, Dry Cleaners will grow by 0.8%.
Can dry cleaning be done in an environmentally friendly manner?
The two eco-friendly dry cleaning methods are wet cleaning and liquid carbon dioxide cleaning. While these two methods are quite different, neither of them uses toxic chemicals.
What are the benefits of owning a dry cleaning business?
Dry cleaning businesses are ideal for businesses that have a fail-proof business model. They provide an essential service, have low operating expenses, and customers seek out your services. One of the best investments you can make is starting a dry cleaning business.
Wrap up
Do we hope that the information provided above can help you gain more insights into What is Dry Cleaning? And many more questions.
You can also learn more about Tips to Clean your Laundry Room here.
If you are looking for any professional cleaning service provider for not only garments but households or even offices across California, do not hesitate to contact us! Founded in 2016, we have had years of experience in making things in houses sparkling, thus helping customers lead a happier life!
Learn more about Sparkling and& Beyond here or book a cleaning service right away!