Showering is one of the most common activities people do every day, and it's also one of the dirtiest. Not to mention, it can be quite a chore to find glass cleaner for shower to clean all the soap scum and water droplets off the walls and floor. Luckily, there are many effective shower cleaners on the market that can make your cleaning experience a lot more pleasant. In this article, we will highlight three of the best shower cleaners for you to consider.
What are the best types of glass cleaner for shower?
There are many types of glass cleaners on the market today. It can be difficult to decide which one is the best for your specific needs. Here are four of the best types of glass cleaners:
1. Best Overall: Rejuvenate No Scrub Soap Scum Remover
Rejuvenate No Scrub is our top recommendation for glass cleaner for shower removing soap scum and other buildups in the shower. Although this cleaning solution is non-abrasive, it removes mineral buildup and water stains rapidly, making your glasses crystal-clear again.
Another outstanding feature of Rejuvenate No Scrub is its simplicity of usage. No scrubbing is required, as the name implies. Simply spray it in a uniform coating on your shower glasses, let it stay for three minutes, then wipe it away. Else, if you have a detachable shower head, rinse it off. This cleanser is also compatible with ceramic tile, fiberglass, natural stone, plastic, chrome, and porcelain. 
Amount: 11.62 ounces
Dimensions: 2 x 4 x 11 inches
EPA Safer Choice: No
Scent: N/A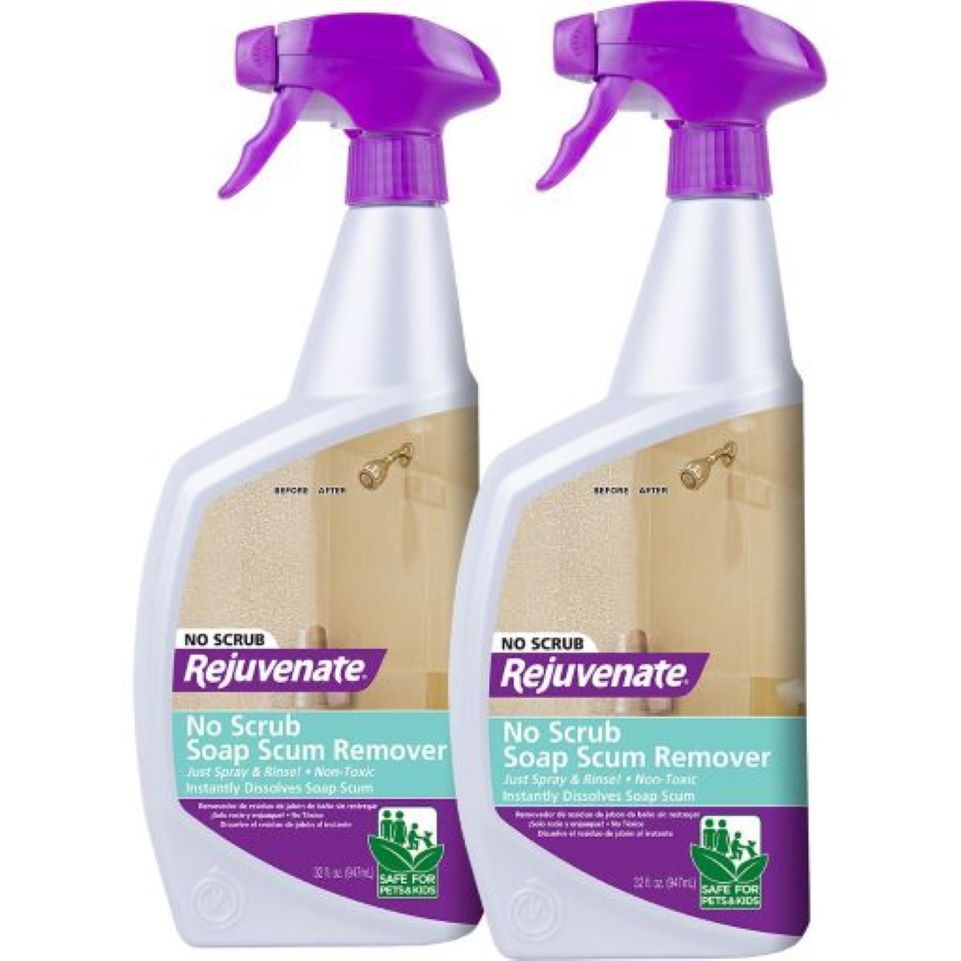 Rejuvenate No Scrub Soap Scum Remover (Source: Internet)
2. Best Budget: CLR Multi-Use Calcium, Lime & Rust Remover
This affordable solution effectively glass cleaner for shower dissolves soap scum, calcium, lime, and hard water deposits from glass and fiberglass. EPA's Safer Choice Program has approved that  CLR includes no ammonia, bleach, or phosphates. You may use it to clean most of your bathroom as it is safe for stone worktops, tile, plastic, ceramic tile, stainless steel, and porcelain. 
Note: CRL does not come in a spray form. Instead, it needs to dilute with equal parts of warm water. Then, apply the solution with a cloth, sponge, or brush. Scrubbing is required for this solution. 
Amount: 28 ounces 
Dimensions: 8.1 x 2.1 x 5.25 inches 
EPA Safer Choice: Yes  
Scent: Slightly acidic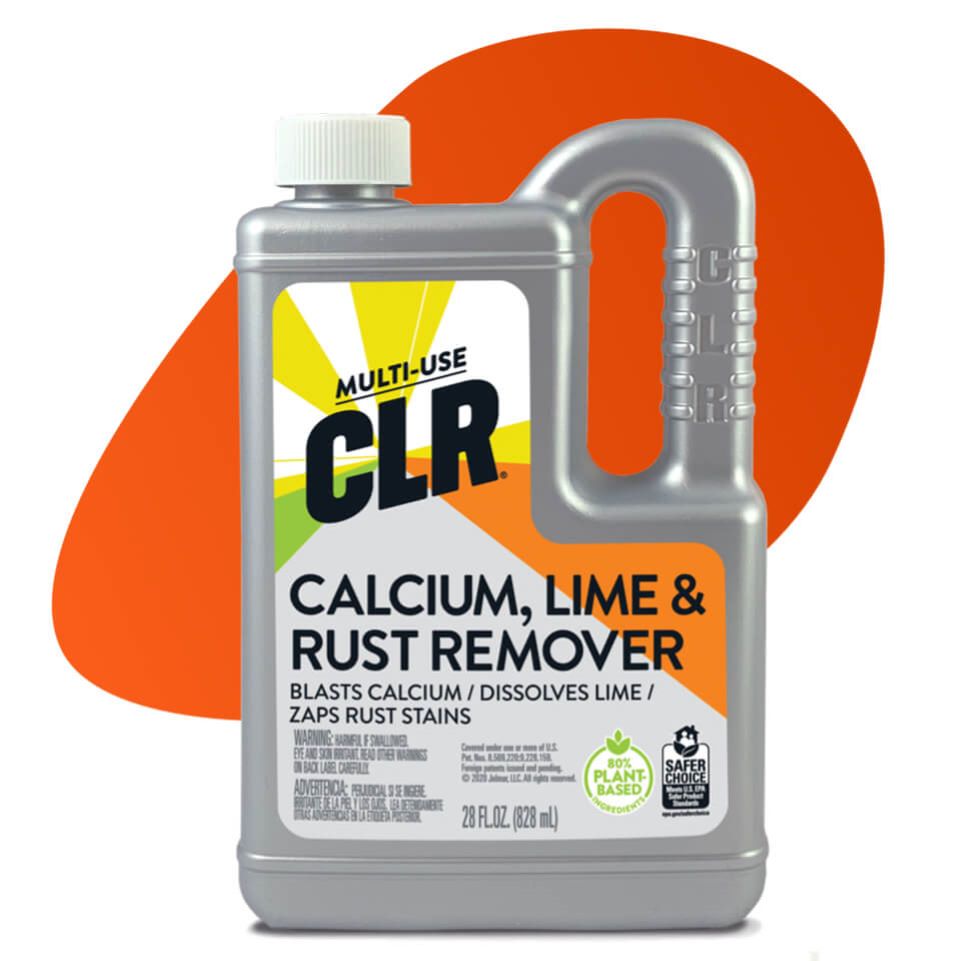 3. Best Eco-Friendly: Better Life Natural Streak Free Glass Cleaner
This environmentally friendly glass cleaner for shower is designed specifically for glass and reflective surfaces. It cleans and shines the glass while removing fingerprints, greasy smudges, watermarks, and grime. To use, just spray the cleaner on a dry cloth, paper, or towel and wipe it away.
Better Life's plant-based cleaning solution is free of dyes, sulfates, and synthetic smells. The container is recyclable, and the formulations are biodegradable. Therefore, Better Life's Natural Glass Cleaner is a perfect choice for glass cleaner for shower ecologically aware shoppers. This cleaner is also fragrance-free, so whether you want to avoid perfumes in your house entirely or just don't want many aromas competing in a tiny place like a bathroom, this cleaner has you covered.
Amount: 32 ounces each Dimension: 3.45 x 3.45 x 10 inches
EPA Safer Choice: No
Scent: Fragrance-free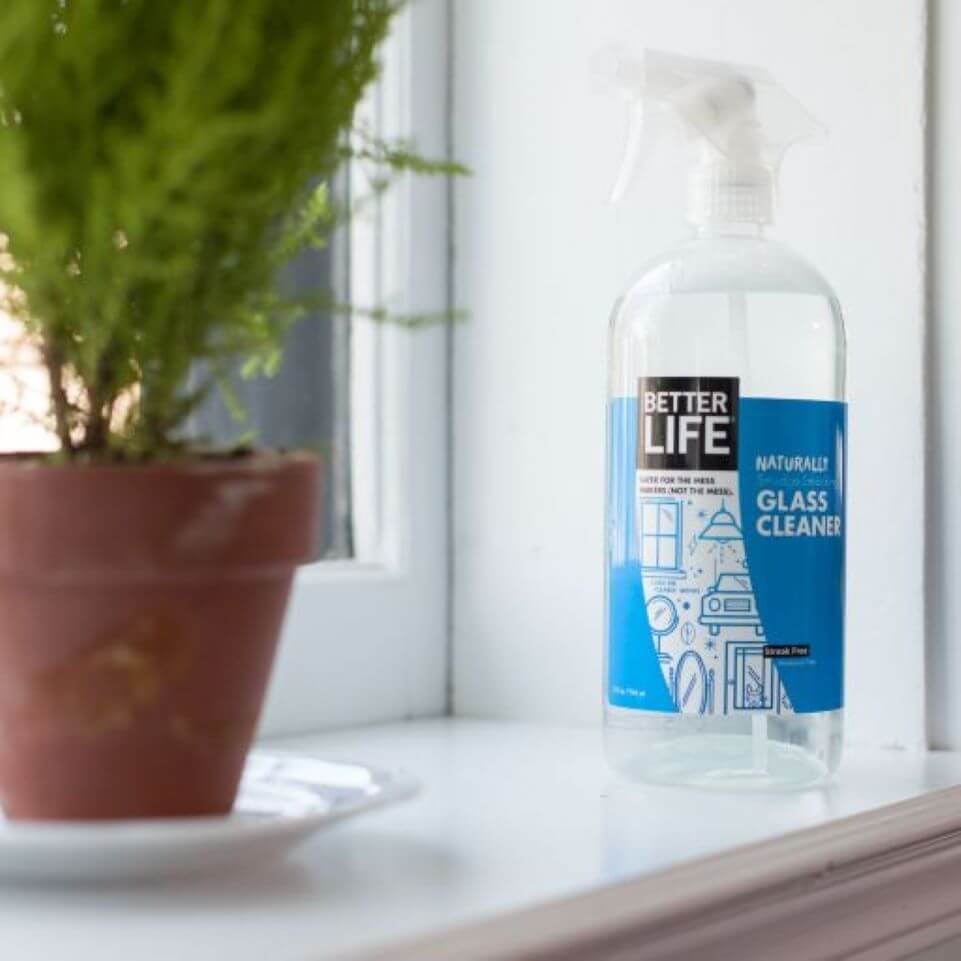 Related: Three Effective Natural Cleaners For Glass Shower Doors
4. Best Streak-Free: HOPE'S Perfect Glass 100% Streak-Free Glass Cleaner
This no-residue formula works completely well at removing stains, smudges, and dullness from shower doors. Despite being an ammonia-free cleaner glass cleaner for shower, it is incredibly versatile and compatible with many surfaces of our house, such as glass windows/doors, mirrors, glass cooktops, light fixtures, and computer/TV screens. 
Note: This cleaner should be used for glass cleaner for shower surfaces only and isn't specified to clean mold or mildew, so you should use it as the last step in your cleaning process after you've deep cleaned your shower.
Amount: 32 ounces spray bottle and 67.6 ounces refill bottle Dimensions: 12.2 x 10.79 x 3.43 inches
EPA Safer Choice: No
Scent: No listed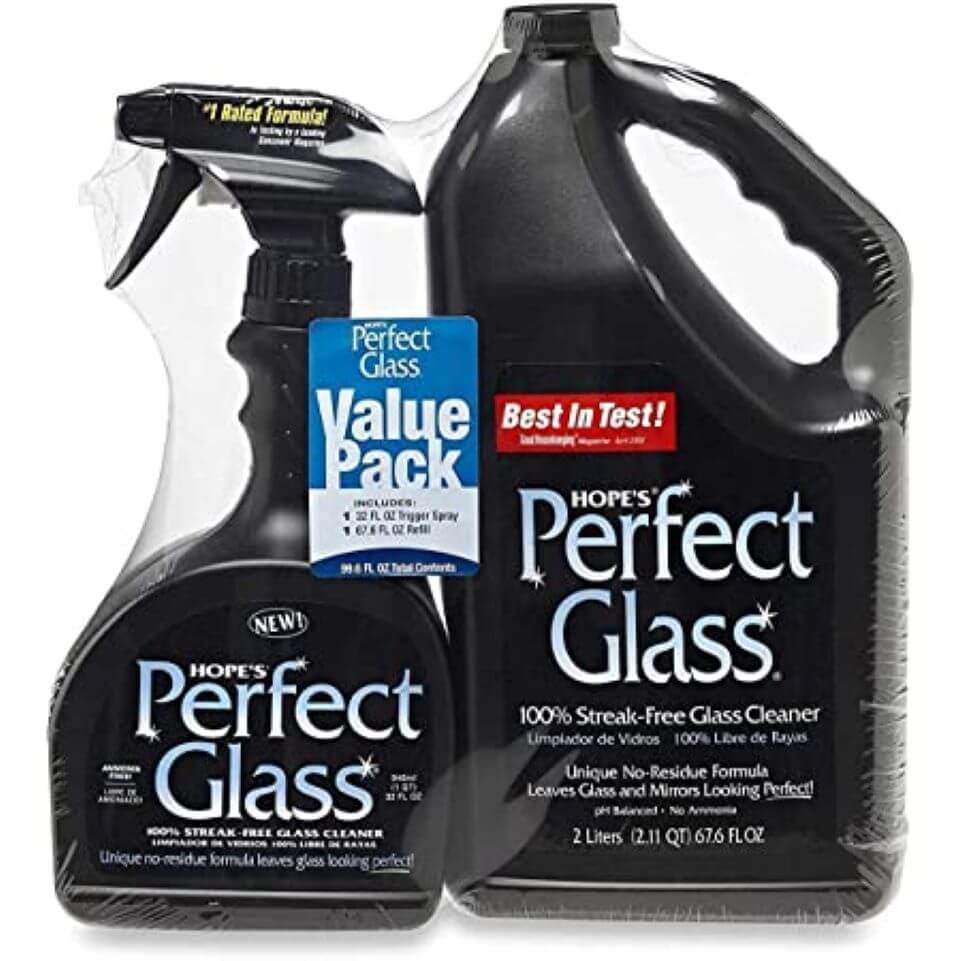 5. Best for Hard Water: Bio-Clean Hard Water Stain Remover
This industrial-strength glass cleaner for shower is specified to remove mineral deposits produced by hard water. We suggest you choose the entire kit for cleaning the glass cleaner for shower. The package contains three brushes and a silicone sealer. Brushes can be hooked to an electric drill for extra cleaning and the sealer protects glasses from subsequent stains. It will also remove mold, mildew, limescale, and rust stains.
This solution demands some elbow grease, so extra scrubbers are necessary. Although the formula is abrasive, it is biodegradable. 1111
Note: Shouldn't use Bio-Clean Hard Water Stain Remover on soft surfaces or goods that are easily scratched. 
Amount: 40 ounces
Dimensions: 8 x 8 x 8 inches
EPA Safer Choice: No 
Scent: N/A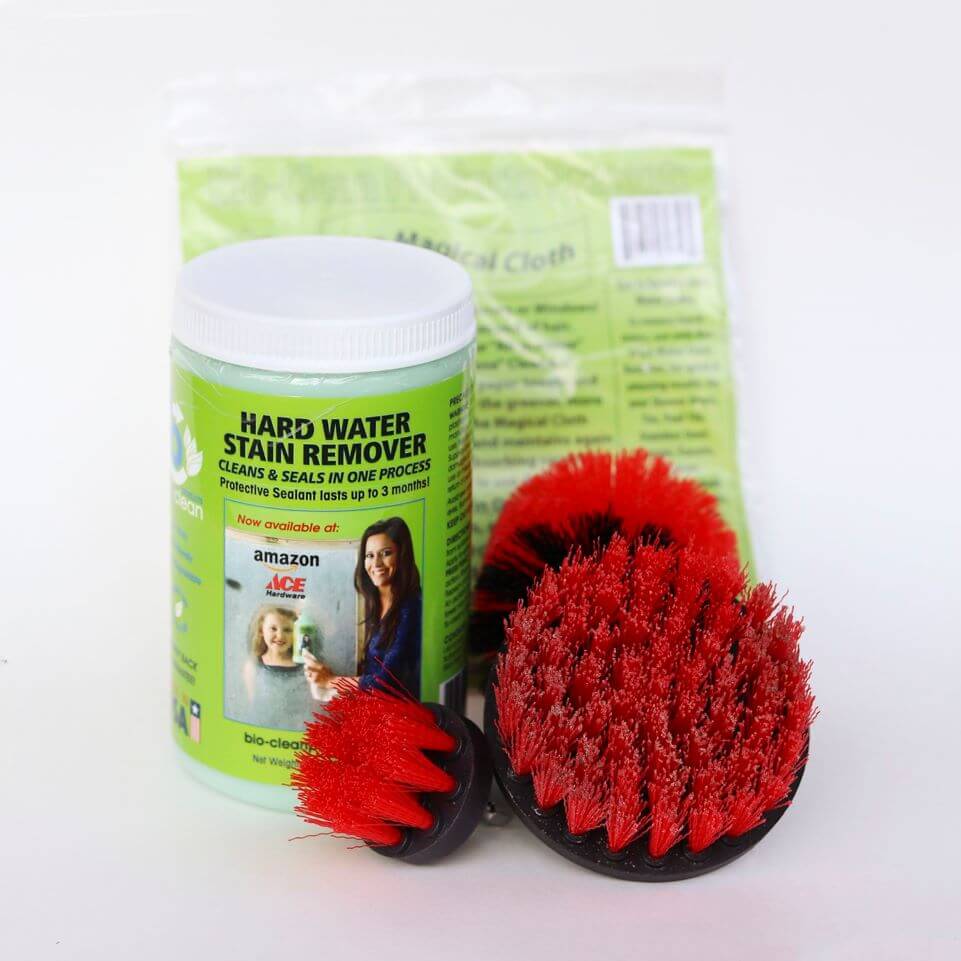 6. Best for Soap Scum: Clean-X Repel Glass & Surface Cleaner
This cleanser makes cleaning glass cleaner for shower make it easier. It not only dissolves soap scum and other filth rapidly but also covers the glass with a protective coating to prevent future water stains and buildup. The spray and wipe product is simple to use and requires no scrubbing, but you must wipe it completely to avoid leaving stains.
You can brighten up your entire bathroom and keep it looking clean glass cleaner for shower for longer by using Clean-X on other hard surfaces such as wall tile and chrome fixtures.
Amount: 25 ounces each
Dimensions: 0.75 x 6.97 x 6.89 inches
EPA Safer Choice: No
Scent: Cherry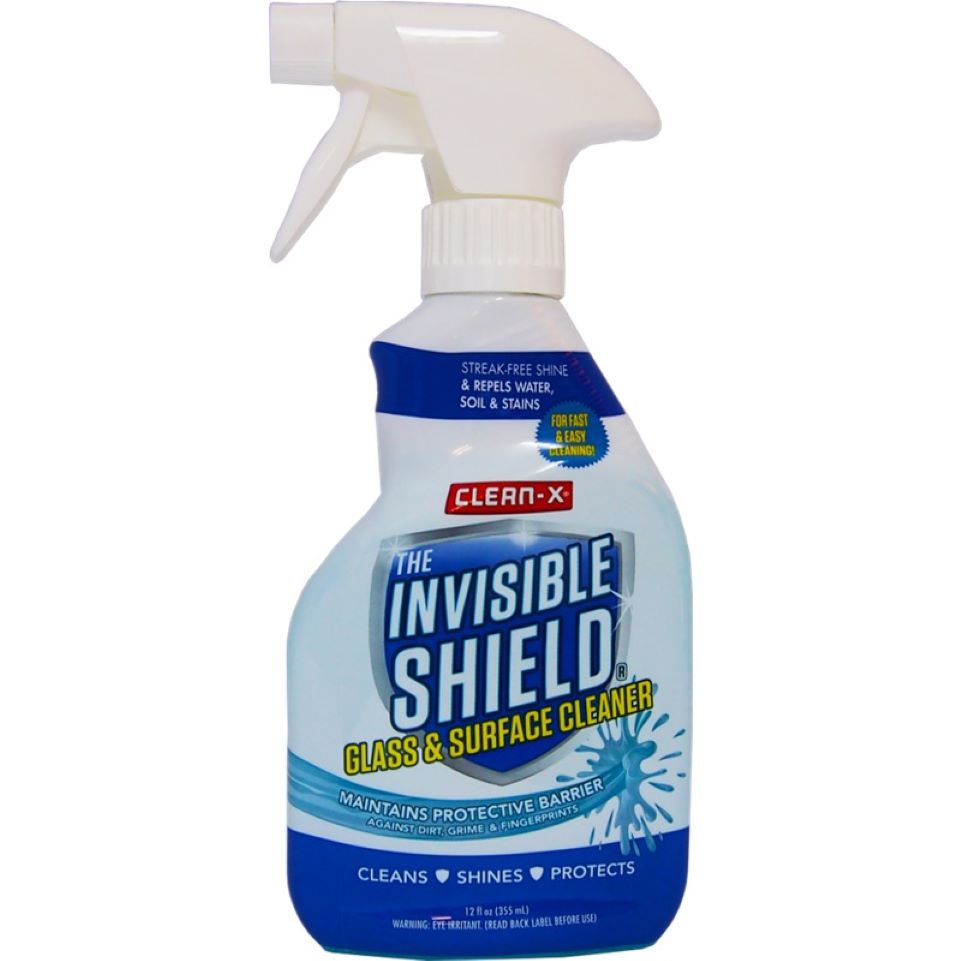 7. Best for Septic Systems: A-MAZ Clean & Green Water Stain Remover
If you have a septic system, you must use a septic-safe cleaner like A-MAZ. This biodegradable cleaner penetrates the surface layer, eliminates stains, and returns the glass to its natural state. It easily removes soap scum and watermarks without scratching or hurting sensitive surfaces. It is safe to use in non-ventilated spaces without a mask or gloves because it contains no bleach or acids.
Note: It removes paint, so be cautious when using it on non-glass or ceramic surfaces. A-MAZ does not come in a spray container; it is a paste that must be applied and scrubbed to be effective.
Amount: 14 ounces each
Dimension: 4 x 4 x 3 inches
EPA Safer Choice: No
Scent: N/A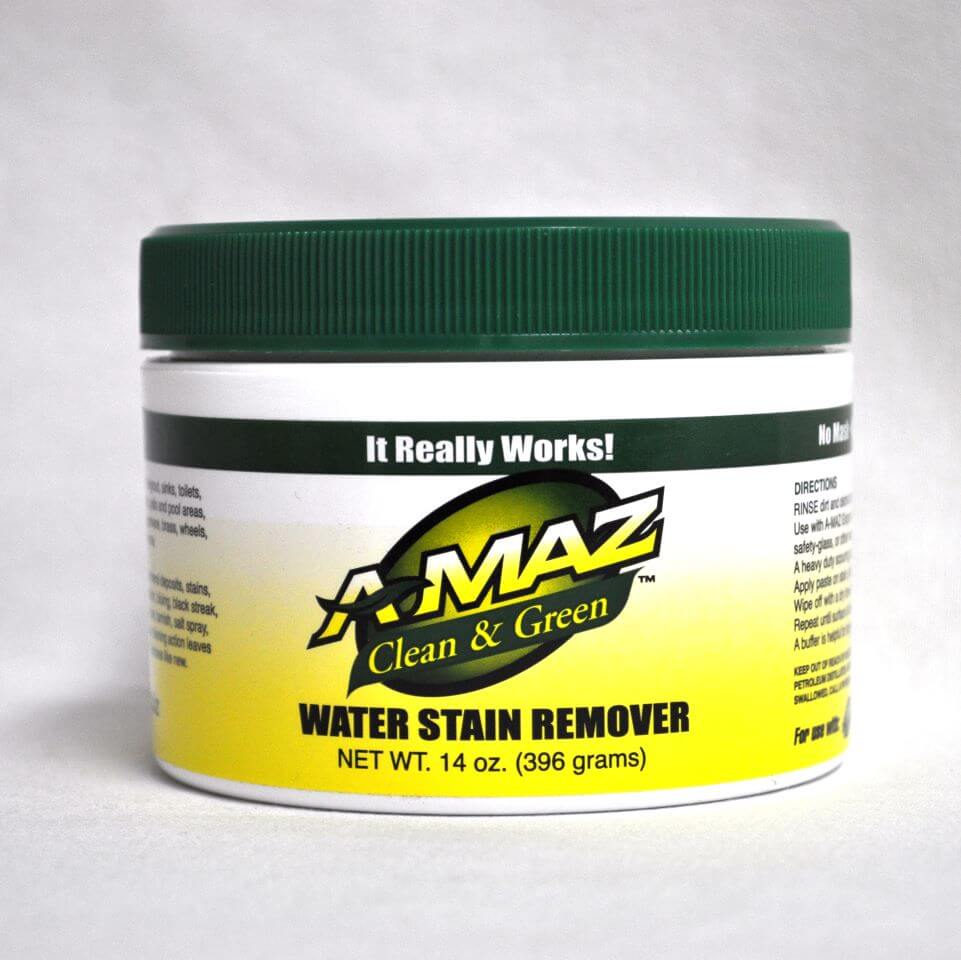 FAQ
How do you clean glass cleaner for shower?
Cloudy glass is often the result of hard water, which contains minerals such as calcium and lime. These minerals can leave behind deposits and water spots, forming an unsightly film on your shower doors. If accumulated on the glass for too long, hard water and soapy buildup can cause etching, which is permanent and irreversible damage. Deep cleaning will eliminate buildup, but it won't remove etching. 
Daily maintenance will cut down on deep cleanings and prevent the glass from clouding. Samara Geller advises, "The best way to cut down on the time, elbow grease, and amount of product needed to get the job done is to either rinse the shower of soap residue or use a squeegee or clean towel to dry the area after showering or bathing." You can also use a daily shower spray to prevent stains and buildup.
How do you get hard water stains off glass cleaner for shower?
A product that's specially formulated for hard water residue should do the trick. Bio-Clean Hard Water Stain Remover, an abrasive formula that requires some scrubbing, is the best cleaner for glass cleaner for shower in this case. As an alternative, you can also make your cleaning solution using common household ingredients. Distilled white vinegar, as well as fresh lemon or lime juice, will help you break down mineral buildup.
Related: Simple Clean Shower Head Hack
Should you remove glass shower doors to clean them?
Unless you're an experienced do-it-yourselfer, it's probably best not to remove shower doors from their track. Glass doors can be heavy, and they're usually screwed into the door frame. To clean shower door tracks, you can use distilled white vinegar and a toothbrush.
Conclusion
Keeping glass cleaner for shower covered in streaks may ruin the shiny look of your clean bathroom. Hard water stains, soap scum and grime are the most common culprits that should be treated with the right cleaner. Cleaning those glass walls regularly with our recommendations on what is the best cleaner for glass shower doors will be the best way to maintain the cleanliness of your bathroom. 
Additionally, you may also take more effective tips on our website as well as many useful tips and tricks for your house. If you can not handle cleaning by yourself, give us a request immediately, Sparkling and Byond cleaning experts will definitely give you a hand with a range of Professional & Affordable Cleaning Services.
As an interior designer, I have done many researches regarding building a healthy living space. This job is my passion and I am happy that I have helped a lot of customers to improve their living space. Out of work, I like art, I often spend time on painting to relax myself. Completing a colorful painting helps me refresh my energy.