Bathroom cleaning is one of those chores that most of us don't look forward to. No one wants to willingly clean a room full of grime, mildew, and other (maybe some) gag-worthy residue.
However, bathroom cleaning is necessary to keep your bathroom functioning as the self-care haven you deserve.
The good news is it doesn't have to be a long struggle. There are several bathroom cleaning tips and tricks that can help you finish this task quickly and accurately. By doing this, you'll have more time to devote to the things that are actually important, like treating yourself to a bubble bath and a face mask in your pristine bathroom.
Here are some brilliant shower cleaning hacks that you must try asap.
How to clean bathroom: Best things can help you
You know what, you don't need to buy specific bathroom cleaning products. It's possible to utilize things available in your kitchen such as: vinegar, baking soda or dishwashing soap. These things can do just as good of a job and are more cost effective.
Baking soda (can be found anywhere) is a great solution for removing rust and soap scum, especially around faucets. Another option you should consider is bleach. Cleaning the bathroom will be less labor-intensive and annoying with the support of a remarkably powerful cleaning solution – bleach.
There are a few things to be extremely careful about when it comes to bathroom cleaning products. Remember this, when using bleach, you should never mix it with ammonia or another cleaner.
Arm yourself with a good scrub brush, a broom with a long handle, a squeegee, sponges, and microfiber cloths, and the bathroom cleaning party can get started.
How to clean bathroom: The easiest way
For a simple bathroom cleaning routine, buy disinfectant wipes in bulk and wipe down the sink every other day, if not daily. By doing this, soap scum and unpleasant mildew won't form around the drain. Microfiber cloths are also particularly effective, especially on mirrors.
We recommend buffing shaving cream onto the mirror to avoid fogging and keep it streak-free. Also, you can use a dish brush with a soap dispenser to remove tough toothpaste buildup from the sink.
Make it a point to clean the area around your sink once a week if your schedule doesn't permit a daily washdown because it is one of the areas where there's more movement. Don't wait until you see dirt and grime buildup in your tub. Remember to wipe down shower tiles, walls, fixtures, and plastic shower curtains. Wash your bathroom rugs once a week as well to keep them dirt-free (you will be surprised to know how dirty it is).
For the bathroom floor, a quick run through with a mop will pick up hair, dust, and any spills.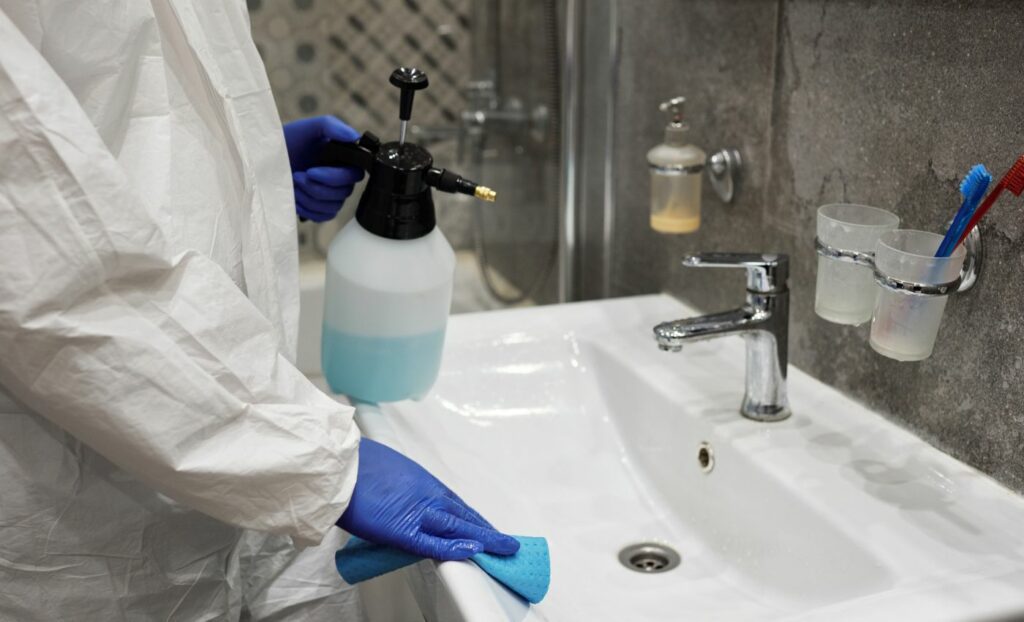 How to clean bathroom: A deep clean routine
After incorporating the simple bathroom cleaning suggestions into your routine, deep clean your bathroom with the same approach you would take to cleaning your house: section by section. Start by tidying up the countertop clutter, getting rid of the trash, and throwing the towels and bath mats in the washer.
Make sure you reach those difficult areas you may forget about in your routine cleans. This is a good time to go through your cleaning checklists and learn how to unclog the shower drain, how to clean a showerhead, and how to clean a bathtub. Here, check out a deep cleaning routine that breaks bathroom cleaning down to a science.
Make a plan
Make a list of the areas you need to focus on after choosing them. That way, if you get tired, you won't get off track and will know exactly where you left off should you need to take a break. Do you focus on the floor? Or the mirror? You can determine the supplies you need to clean effectively with the aid of the checklist.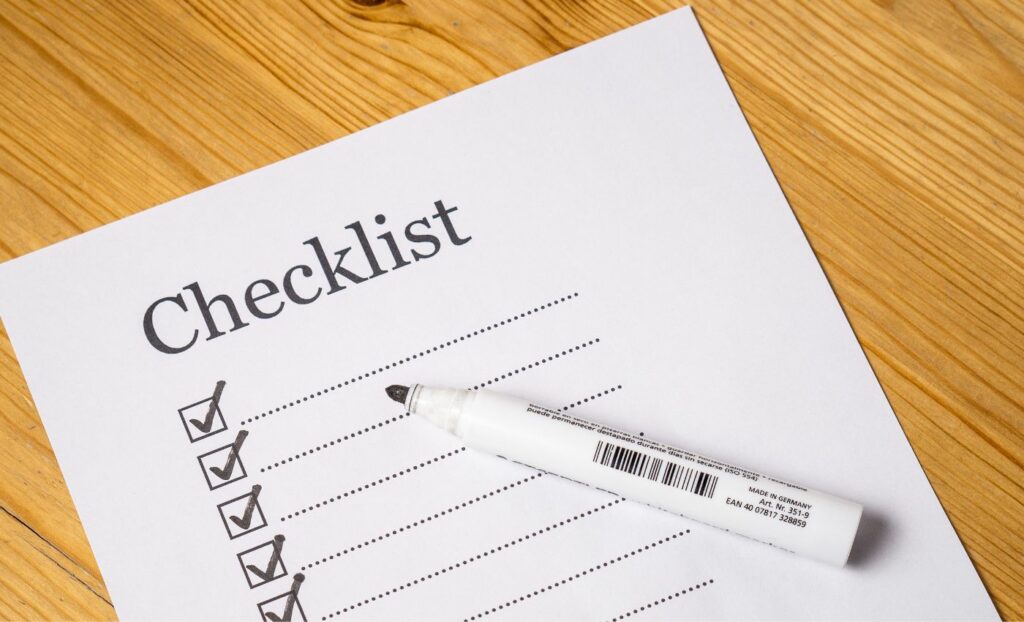 Bathroom Mirror
Use a delicate towel and strong black tea to clean your mirror without chemicals (such as Lipton). Tea's tannic acid can remove dirt and filth.
Dip the lint-free cloth in the brewed tea and rub it on the bathroom mirror in circles. Use a clean cloth to dry your newly cleaned mirror.
Toilet Bowl
An essential component of a clean bathroom is a clean toilet bowl. Even though it's a task you might particularly dislike, a few straightforward items from your pantry can help. Your toilet should be filled with 1/4 cup baking soda and 1/4 cup white vinegar. Let it sit for 15 minutes. When the timer goes off, use a brush to clean the toilet bowl and then flush it.
Chrome fixtures and faucets
You probably need to deep clean your chrome fixtures and faucet for the same reason that you chose them. The residue definitely doesn't go with the overall style of your bathroom's slick, sophisticated aesthetic. Use a clean towel and a small bit of baby oil to clean your chrome fixtures and faucets thoroughly.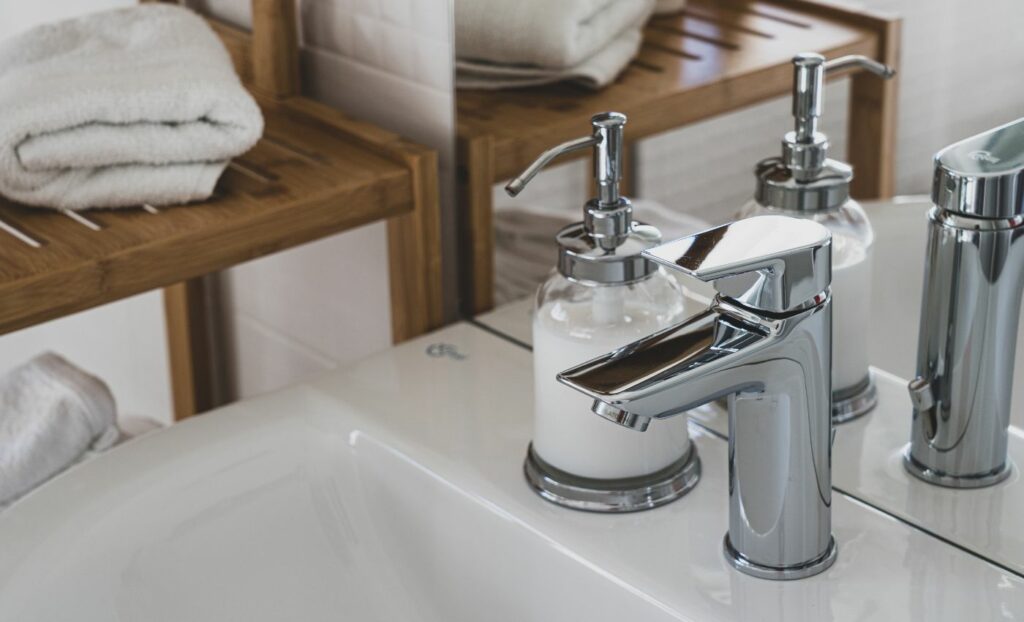 Clogged Drains
If you have hair, you've probably clogged a drain. Try a DIY solution employing Alka-Seltzer tablets rather than reaching for a detergent full of chemicals or spending money on a plumber. Pour one cup of vinegar and four Alka-Seltzer tablets down the plugged drain. Rinse with hot water after waiting 10 minutes.
Shower Head
If your shower head needs some TLC, turn to vinegar to help. Take the showerhead off. Vinegar should completely cover the shower head before it is placed inside a plastic bag that has been partially filled with vinegar. The bag should then be fastened with a rubber band. Remove after one hour of soaking. It will appear nearly fresh.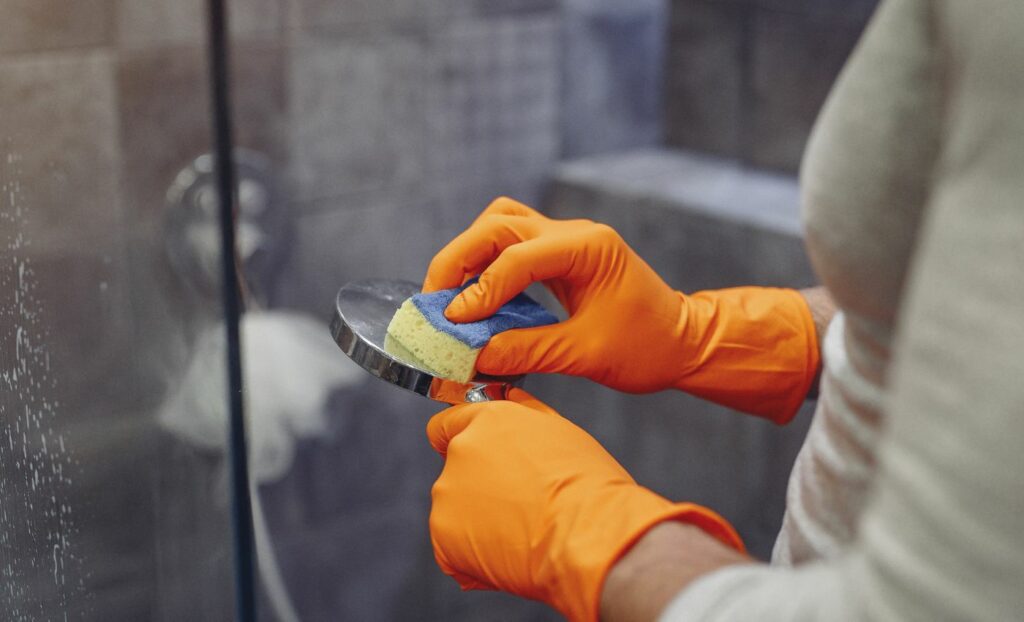 Tile
If your tile needs scouring, put one cup of kosher salt, one cup of baking powder, and one cup of borax in a jar to make your own blend of cleanser. Shake the ingredients together after they have all been combined, then sprinkle them on the parts that require scouring, wipe them with a sponge, and rinse.
Grout
Use a cotton beauty coil and bleach to perform a deep clean if the grout between your tiles is starting to look dirty. Place the coils where the tile meets the tub or in the nook by soaking them in bleach and placing them on the grout lines. Before removing and cleaning the coils, let them sit for the night.
Related: How to effectively clean tile grout in your bathroom ?
Bathtub
Use a grapefruit and salt to scrub your bathtub. Salt should be sprinkled on the pink side of the cut-in-half grapefruit. After that, wet your tub, add more salt to the bottom, and scrub with the fruit. In order to see how clean the tub is, rinse it.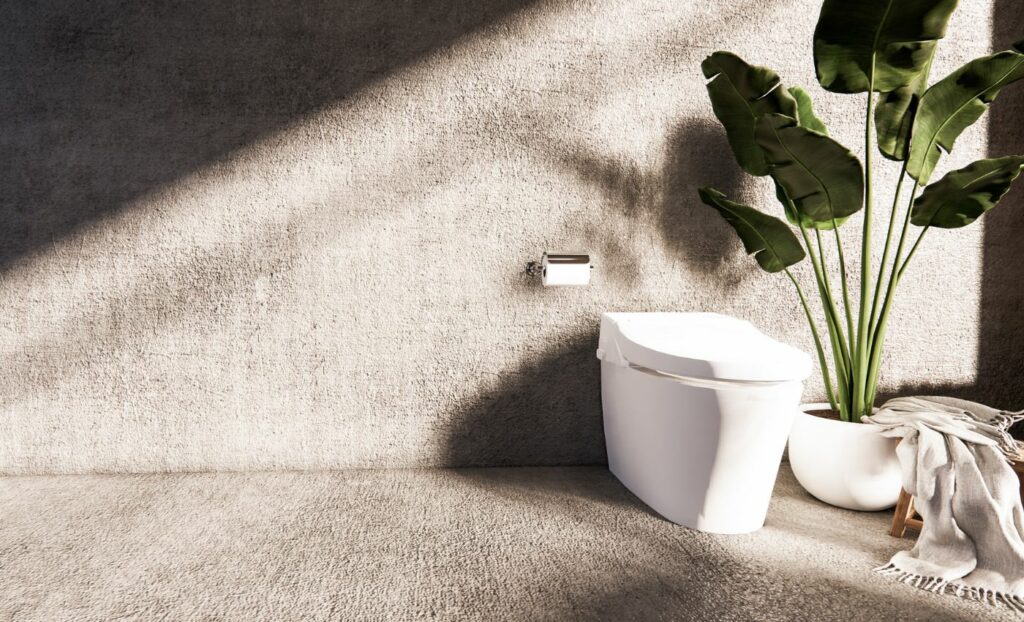 Clean the sink
Your sink probably simply needs a quick cleaning. Apply a cleaning solution to the sink's bowl and scrub it carefully. After rinsing with water, your sink ought to be spotless. Because soap and toothpaste splatters are drawn to the faucet and knobs, make sure to check them for any residue.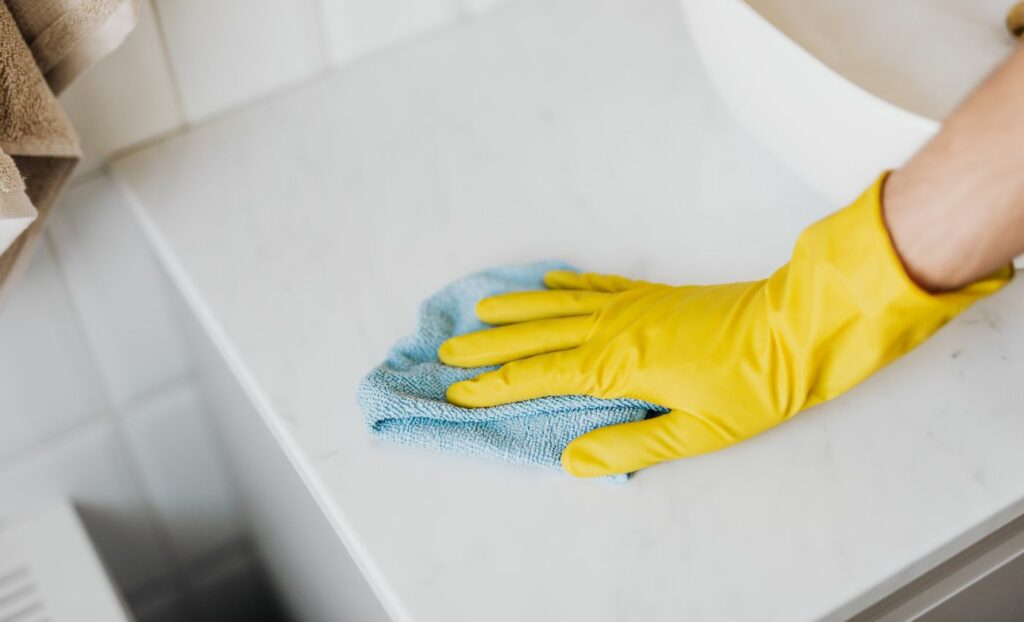 Let the toilet brush dry
Once you've cleaned your toilet, you'll probably feel you've conquered your most demanding struggle. However, don't be in a rush to spill toilet water on your freshly-cleaned floors. Placing the brush between the toilet seat and the bowl will allow it to dry while being cleaned.
Deal with Hard Water Stains
Lemons are the solution in your kitchen if your fixtures have stubborn hard water stains. Use a lemon cut in half as a scrub brush. Voila!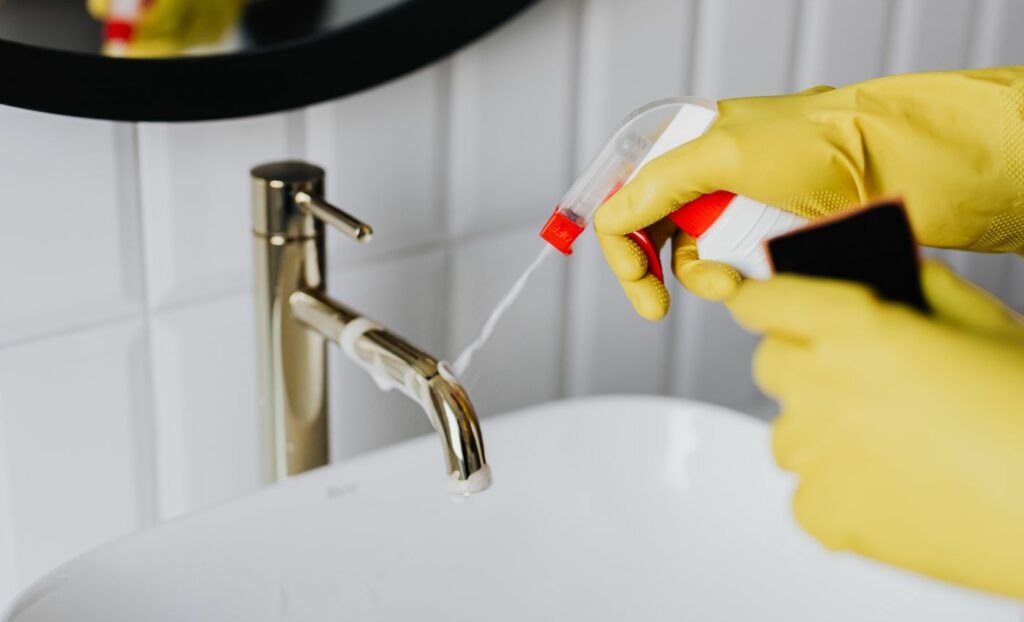 Eliminate Mildew
If mildew has taken hold on your shower curtain and you are tempted to throw it away, resist the urge and try using vinegar and baking soda instead. Be assured that it will be confined in your washing machine before you worry that you will trigger an eruption on the scale of a science class. Put your shower curtain in the washing with a half-cup of baking soda added to your detergent to get rid of mildew on a warm wash setting in the washing.
Add a half cup of white vinegar right before the rinse cycle is scheduled to start. After washing, let the curtain fully dry before reinstalling it in the damp area.
Avoid letting the trash can smell
No matter how often you empty the trash cans in the bathrooms, they can rapidly begin to smell. To eliminate odors, add a little amount of baking soda to the bottom of the can on the day that the trash is picked up.
Remember the Fan
Your bathroom fan is undoubtedly collecting dust if you don't use it very often. It's fantastic if your vacuum can extend to the bathroom ceiling. Use it to clear the air of dust. If not, you might want to use canned air or another type of duster to accomplish the task. Whatever you decide to do, make sure to finish it before cleaning your floors.
Use a mop to clean the upper walls.
The highest parts of your bathroom walls are probably out of your reach, and a lot of moisture can accumulate there. Wipe the walls with a flat mop to get rid of extra condensation and stop mold growth.
Get Behind the Toilet Seat
It can be easier said than done to clean up unattractive urine splashes behind the toilet seat. Disinfecting wipes can be pushed behind the seat with a knife if removing the seat to clean behind it is not a possibility.
Wash your bath mats
Put your bathmats in the washer before you start cleaning the bathroom. They probably have begun to smell. You'll be prepared to set them down on your freshly mopped floors by the time they're finished in the washer.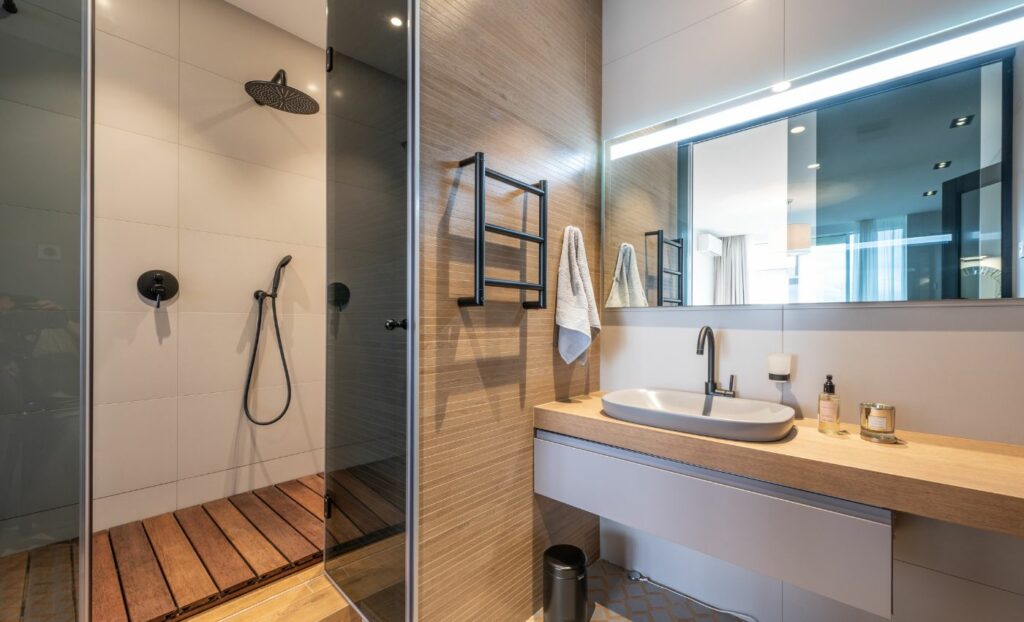 Clean Toothbrush Holder
Similarly to your soap dispenser, your toothbrush holder also picks up lots of grime. If possible, consider running it through your dishwasher. If that's not doable, wipe it down with a disinfecting wipe.
Use a bleach pen on the grout
Use a bleach pen straight on the grout line for a quick touch-up to make your grout shine.
Next time your bathroom needs a thorough cleaning, spend some time utilizing these tips, and when you're through, reward yourself with some soothing self-care.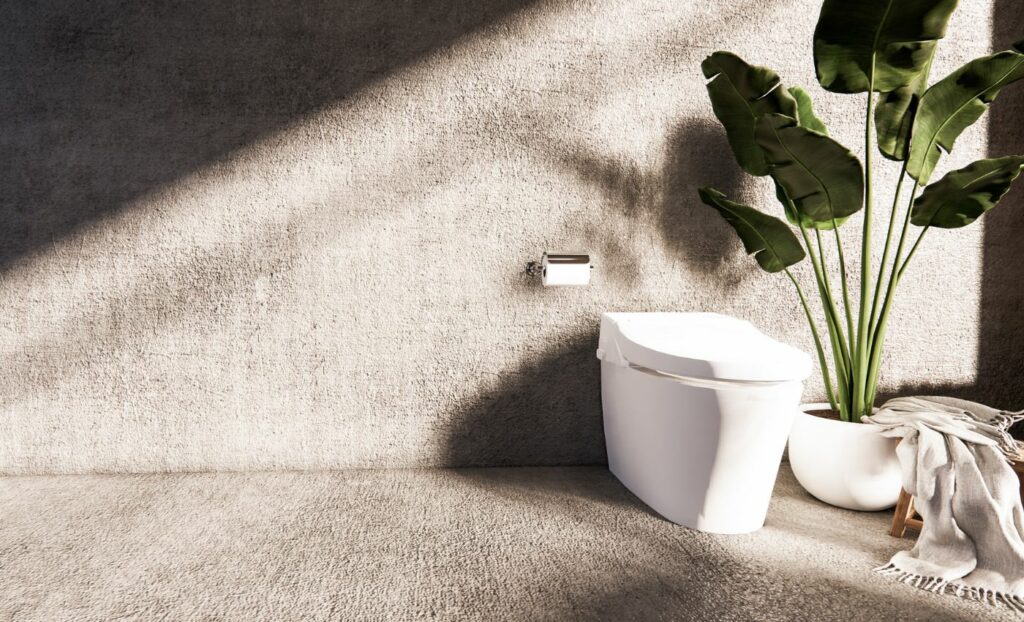 Now you have useful tips about how to clean bathroom in hand, let's get started!
We hope you figure out how to clean the bathroom effectively and get a checklist of what to do when it comes to shower cleaning.
The bathroom can be sparkling and hygienic at all times if you stick to the daily cleaning plan.
Too busy to tackle? Let us do it for you
We understand it's not easy to maintain discipline due to your busy work schedule or just simply because you want to have some time for yourself.
If this is your case, we recommend our standard cleaning service for you. With our service, you won't need to worry about house cleaning anymore and can use your time for other things you prefer.We not only provide cleaning services but also helpful tips for making your space dust-free!
In case you want to book our services, feel free to contact us today! Our experienced cleaning experts are waiting for you!
If you want to check our availability and pricing, please check here.
Since my major in university is Marketing, I always grasp the chance to improve my skills to become an all-rounded Marketer in the future. This job, to some extent, has brought me a lot of knowledge about multiple areas, which will be beneficial to my study career. In my free time, I'm into reading and watching classic movies. My favorite genre of all time is romantic comedy.