Do you have an office where many people come in daily? Are you too tired of sweeping or mopping the floor every day and now looking for a professional solution for floor cleaning?
If that sounds like you, you've come to the right place.
We understand that all business owners want to receive the greatest service since the appearance of your office may significantly influence your employees, partners, customers and future buyers.
All you need to know to choose the right commercial floor cleaning services are right below!
Why do you need commercial floor cleaners?
Here are some facts about your floors:
Your office visitors won't notice if it is clean, but they will see if it's not. Such an impression will stay with them for a very long time.

Job performance will decrease 3–8% due to minor dust-related discomfort symptoms (for example, itchy eyes).
So, if you want to avoid a terrible first impression, boost your team's productivity and increase business profitability, let's go for a professional, trustworthy commercial cleaning service.
Hiring a professional cleaner to clean your floors may seem extravagant, yes. Yet doing so will be an investment with a high ROI. Here's why:
Professional commercial cleaning companies can do it more effectively
By hiring an expert janitorial company to handle commercial cleaning, you can expeditiously complete the cleaning of your property.
To accomplish the task according to industry standards, a reputable cleaning firm tends to employ the most cutting-edge and effective floor cleaning techniques and products, such as stain removers, gum removers, scrubbing, stripping, buffing, etc.
With their experience, they also know which cleaning agents to be used for particular commercial flooring materials, such as marble, VCT, tile, terrazzo, etc.
You can transfer management-intensive responsibility
As a facilities manager or business owner, you may spend much time taking care of the floor. That seems simple, but ensuring sparkling floors in every corner, especially in the bathroom, can be tedious and stressful.
Outsourcing a cleaning service can reduce your burden and free up your time. This way, you can focus on other key management responsibilities at your organization.
When you hire a floor cleaning company, that firm takes full responsibility for managing any cleaning-related tasks.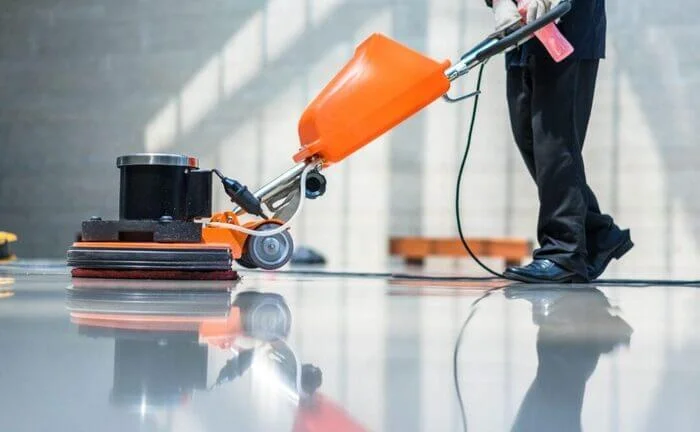 Commercial floor cleaning companies help save time and cost
By outsourcing the cleaning services, you are more likely to stick to your budget plan and save money.
Professional cleaning businesses tend to be transparent in pricing, making it easy for you to plan your budget. Additionally, you won't have to pay for employing, training, and supervising an internal cleaning staff.
Also, cleaning firms may purchase supplies and equipment at much more competitive prices thanks to bulk discounts.
Related: About Cleaning The Office Some Ideas For You
6 things to consider before choosing commercial floor cleaning companies
So how to choose the right one among several commercial floor cleaning services near me? – You may ask.
Below are essential things you should consider before hiring a floor cleaner.
Experience
You'll want to know that your business floor cleaner is knowledgeable about the most current standards and best practices in the cleaning industry. The more experience they get, the more likely they will do the cleaning well.
Here are some benefits of hiring experienced floor cleaners:
They can handle a variety of floor types.

These companies tend to be professional in communication and willing to comply with different rules.

With experience, commercial cleaners may also know how to maintain your floor and carpet properly, keeping your facilities safe.
Thus, you should go for a commercial floor cleaning company with at least 3 years of experience or professional staff. But how to ensure that?
The ideal commercial cleaner should have experience in how to clean different types of floors. You can check their websites to see whether they specialize in handling them.
If a company has previous experience cleaning a church, clinic or school, they should also be prioritized. These companies tend to be familiar with strict standards of cleanliness, sanitization and disinfection.
2. Recommendations and Ratings from Previous Clients
Asking other business owners for recommendations is a wonderful way to start, so do not hesitate. Here are some questions you can request to get a grasp of their floor cleaning services:
Did the staff show up on time every time?

Was the client satisfied with the services?

Has there been any unforeseen cost?
What if there are no personal suggestions? You can check up on nearby services, ask them for at least 3 contactable references and browse Internet reviews.
3. Liability Insurance
Insurance is another crucial factor that determines an excellent cleaning service.
If someone or property is harmed while the commercial cleaning service is working in your facility, they are covered by general liability insurance.
Additionally, insurance guarantees that you won't be held responsible if someone is injured while on your premises.
Before hiring a cleaning service, get their insurance policy number. By contacting the insurance company, you can confirm it.
4. Examine their cleaning method
Every business has a somewhat distinct approach to cleaning and could have various inclusions and exclusions.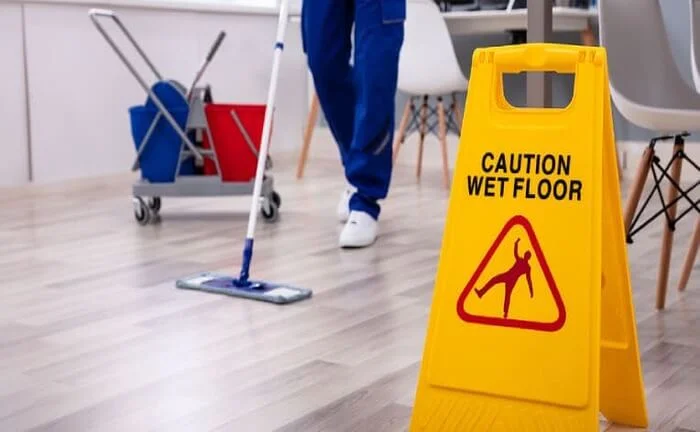 Before you start, go through the cleaning procedure with the firm to ensure you both understand what will be provided. To ensure that nothing is overlooked, several commercial cleaning businesses give their staff checklists, which may be shared with you.
Related: How To Clean Office Floors Properly?
Before hiring a floor cleaning service, you should confirm that they are fully equipped with proper equipment and disinfectants. The service should include high-performance commercial vacuums, waxing equipment, and industrial-strength sprays.
You should also check whether their staff is equipped with protective products. Cleaners should safeguard themselves with appropriate knee pads, gloves, and shoe coverings. Cleaning supplies, including brushes, scrub pads, and soap scum removers, should be available.
If the cleaning companies use eco-friendly tools and products for cleaning, give them a big plus!
6. Transparency of rates and service scope
Depending on different criteria, commercial floor cleaning service pricing will vary. Typically, the actual fee you will pay is based on the size and requirements of the cleaning service, as well as your location.
Before signing with one, you should receive quotes from at least three other nearby businesses that have viewed our place of business. This way, you can be confident that the amount you'll be paying is acceptable for your location.
If you are still unsure whether it's a good price, here's a hint. As per the commercial cleaning rates chart 2022 from Priceishere, the average cost per square foot of floor cleaning services is:
Floor Cleaning, Mopping, Scrubbing: $0.11 – $0.24

Vacuuming: $0.10 – $0.20

Scrubbing Tile Flooring: $0.12 – $0.22

Floor Buffing: $0.05 -$0.13
Bear in mind that a part-time cleaner using outdated commercial floor cleaning machines won't be able to deliver the same results as a full-time expert using modern tools. Compare the scope of the service being offered along with the pricing.
Related: How To Clean Office Carpets In Different Ways
Your Ideal Commercial Cleaning Service
We hope this article has helped you choose the right commercial floor cleaning companies.
Looking for the top commercial cleaning service in California? You've come to the perfect place. For more than 5 years, Sparkling & Beyond has constantly worked on offering the best quality cleaning. Schedule a meeting with us now to make your floor sparkle!