Reputable cleaning and sanitization service providers will invest in the most recent and advanced commercial cleaning equipment to achieve excellent results. After all, customer satisfaction is the foundation of a successful brand reputation. It is advantageous for the company to have the best cleaning tools for the job. Sparkling and Beyond is familiar with standard janitorial and office cleaning services. We are looking for more specialized sanitization and sterilization services. Here is some cutting-edge commercial cleaning equipment we use to clean our customers' workplaces.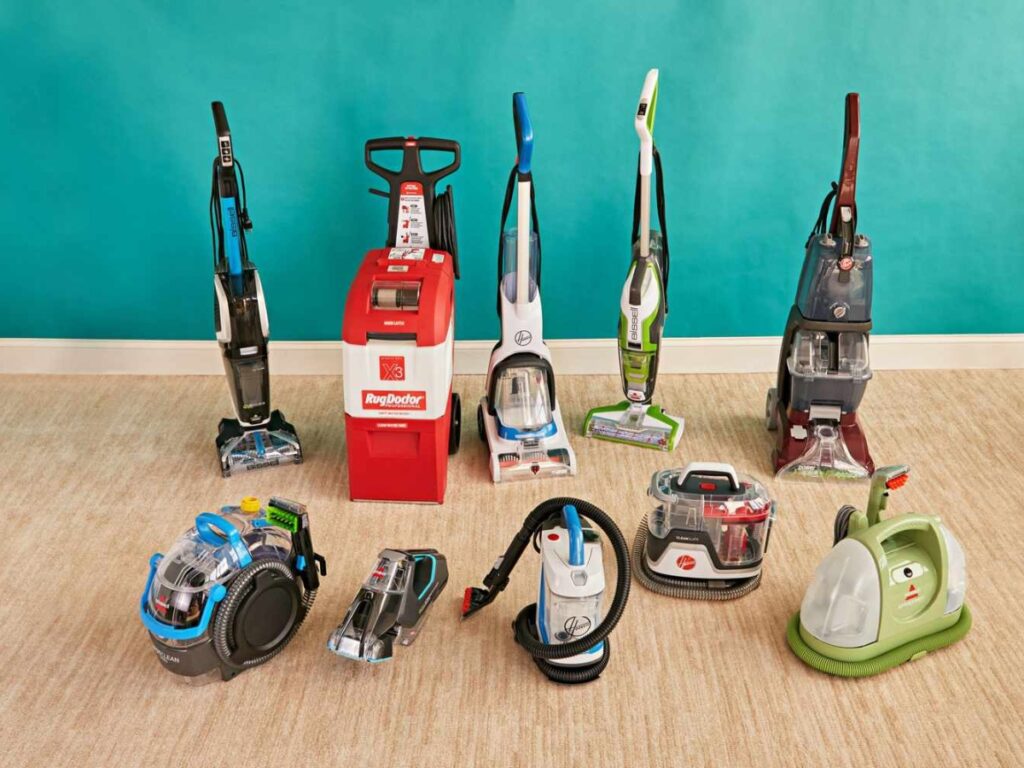 Commercial Floor Scrubber
All modern floor scrubbers with a roller or disc brush head operate similarly. When detergents are added to the freshwater tank, the cleaning solution is mixed, or in the case of automatic dosing systems, just in front of the brush head itself. The brush's rotation and contact pressure work together to remove dirt. 
The dirty water is then absorbed by the squeegee and collected in the tank, thanks to the turbine's suction power. Scrubbers, however, lack both a turbine and a squeegee. This is why wet/dry vacuum cleaners collect loosened dirt
Floor scrubbers all work the same way, but not every model suits every application. Nonetheless, thanks to a wide range of designs, sizes, brush head systems, and drive technologies, finding a machine that meets your specific needs is simple. You understand the size of your surfaces and whether they are filled with objects, and you are familiar with the structure of your floors and the degree of soiling. With dozens of floor scrubber models available, Kärcher can assist you in locating the best floor-cleaning machine for your needs.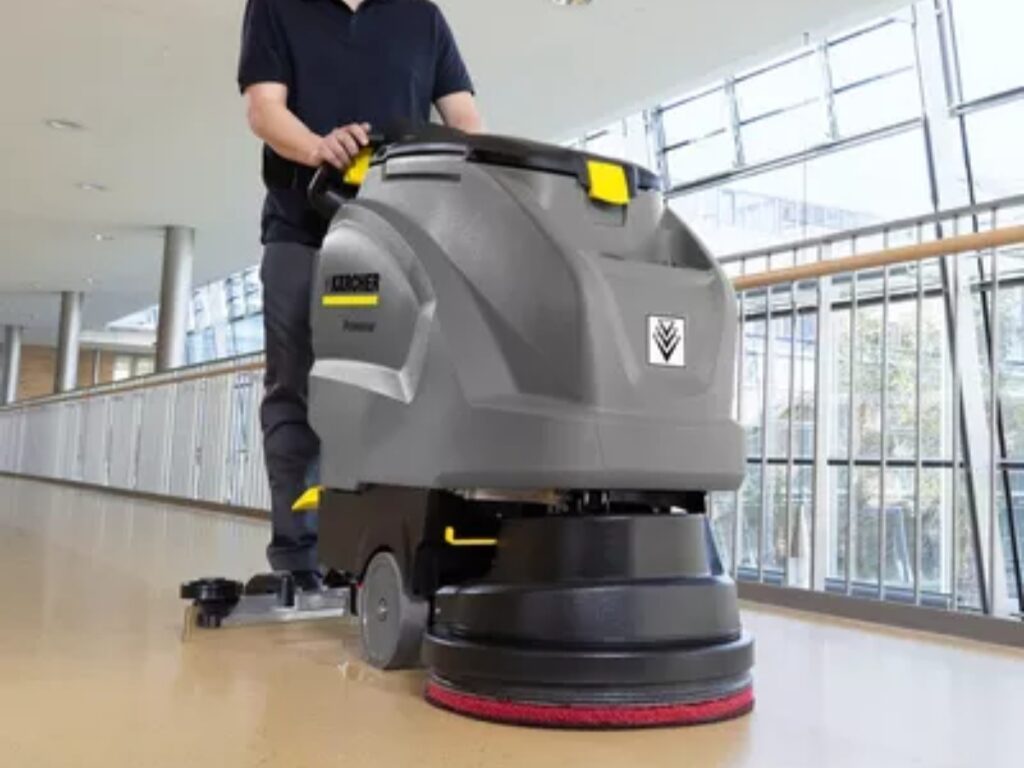 Electrostatic Spray Technology
Cleaning large office spaces can be difficult, especially if those spaces contain a variety of difficult-to-clean and disinfect surfaces. Staff must clean and disinfect multiple exercise machines and equipment, computers, locker rooms, restrooms, etc.
While effective, traditional wipes and trigger sprays require a lot of effort and are prone to human error, such as missing surfaces. However, regular and thorough disinfection of these surfaces is critical for limiting the spread of disease-causing pathogens. This is where electrostatic spray technology can help.
Electrostatic spray technology is a new method of applying cleaners, sanitizers, and disinfectants to help facilities treat surfaces more quickly and effectively than traditional cleaning methods.
Electrostatic sprayers work by electrostatically charging liquids (such as cleaners, sanitizers, and disinfectants) as they pass through a sprayer nozzle. This produces charged droplets that repel one another and actively seek out environmental surfaces to adhere to and wrap around to coat all sides.
As a result, sprayed objects have a uniform coating of sanitizer or disinfectant, including hard-to-reach areas that manual cleaning can miss. The technology also helps avoid the liquid pooling commonly associated with trigger sprayers.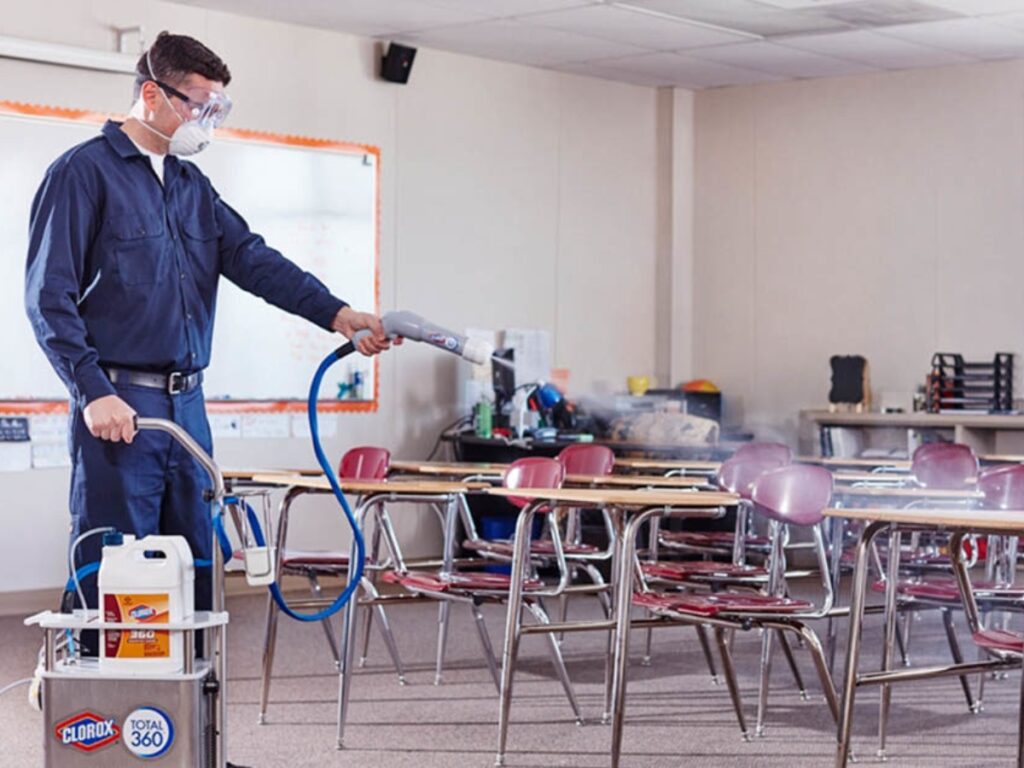 Steam Cleaning Technology
Steam technology has been so successful in the office and living space sanitization industry that steam machines are now considered a must-have for any modern cleaning company committed to keeping workplaces safe. Increasing-level cleaning techniques are in high demand in office buildings and indoor public places.
Instead of wiping surfaces clean with detergent, applying disinfectant, and waiting for the chemical to take effect, dry steam vapor performs both tasks at the same time, leaving all surfaces free of contamination.
Tricky areas that cleaners would struggle to reach or even see are easily decontaminated, and porous surfaces, such as unvarnished wood, and non-smooth, textured, and rough surfaces that harbor biofilm, are easily penetrated to eliminate contaminants. Steam cleaning saves time, and labor costs, and can easily cut chemical cleaner costs in half.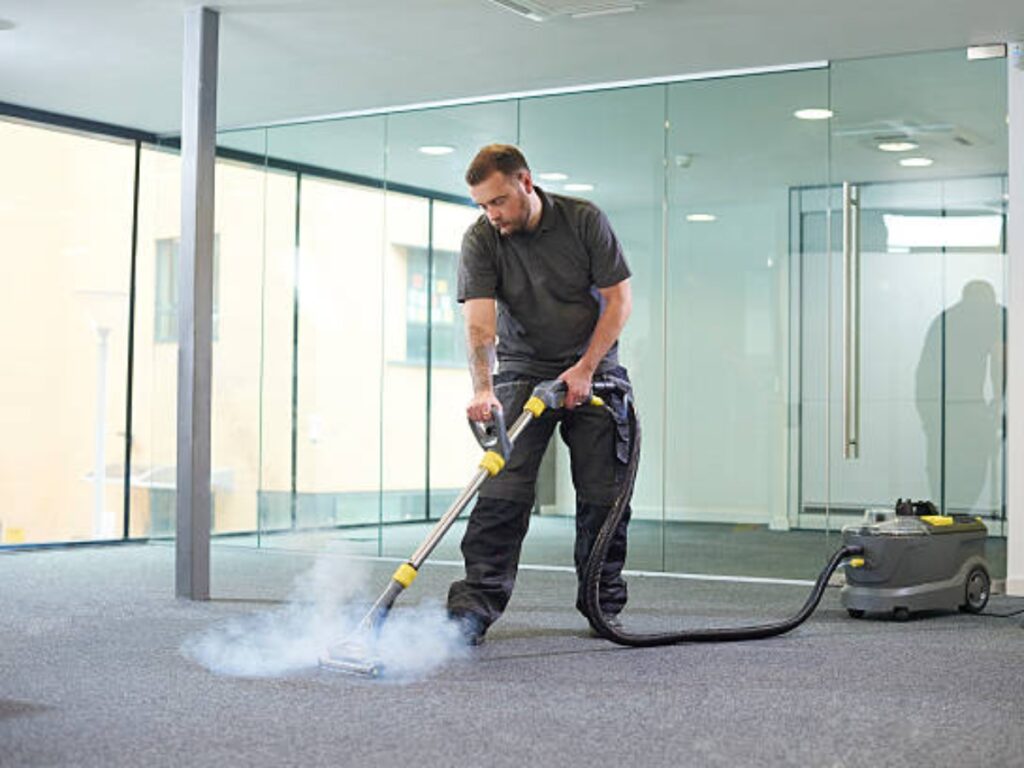 Other High-Tech Commercial Cleaning Equipment
To fully deep clean your workplace, we also employ a wide variety of technology-driven cleaning equipment, tools, and supplies, such as window cleaning machines, all-in-one floor cleaners, automated cordless vacuum cleaners, power scrubbers, blind cleaners, pressure cleaners, industrial vacuum cleaners, and so on. A variety of cleaning equipment and tools will be required for various parts of a commercial cleaning job. This is why a cleaner should always have a variety of cleaning supplies on hand.
Aside from cleaning equipment, it is necessary to upgrade other cleaning supplies and products used in your cleaning business on a regular basis. Things like cleaning chemicals, brushes, buckets, microfiber rags and cloths, spray bottles, mops, dusters, brooms, floor cleaners, squeegees, and other cleaning supplies should be upgraded frequently. Use the most popular and effective cleaning products within your price range.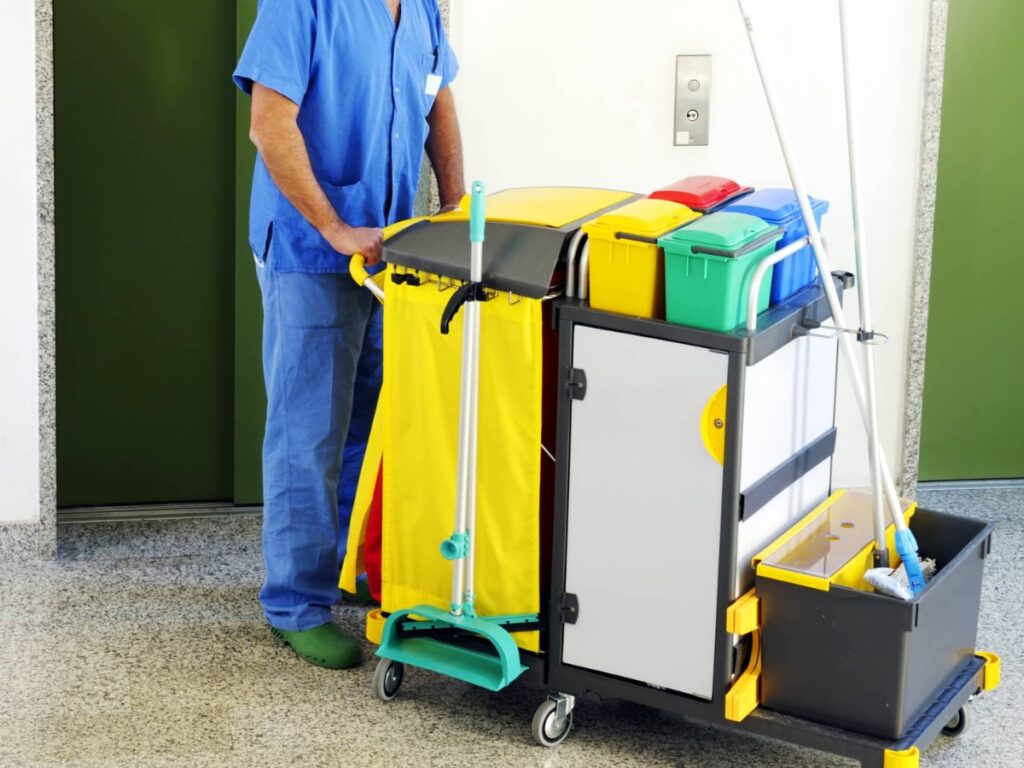 Sparkling and Beyond has experience providing cleaning services for different types of living and working spaces. We are confident to be the one that you can absolutely trust to always provide the most cutting-edge cleaning services for your commercial cleaning needs by utilizing a wide range of cutting-edge commercial cleaning equipment and some of the most advanced and eco-friendly cleaning methods.
If you are planning to clean your workplace, those articles may help your plan, too:
The Only Commercial Office Cleaning Checklist You'll Ever Need
How Much to Charge for Office Cleaning in 2022
10 Office Cleaning Services You Need to Know For a Spotless Workplace
Need some tips? We're here to help
Are you struggling to maintain cleanliness in your home or office? We hope our new insight in commercial cleaning equipment has helped you with your cleaning plan.
In case you need a professional cleaning team to help you with your office, at sparklingandbeyond.com, we provide you with affordable and reliable cleaning services and a lot of helpful tips.
Feel free to contact us today! Our experienced cleaning experts are waiting for you!
If you want to check our availability and pricing, please check here