With people or pets walking around the house, it is hard to keep the baseboards, which are at the corner of the floors, to be dirt-free. Therefore, you may want to include the baseboards cleaning into your regular cleaning checklist to make them fresh and shiny. Today, Sparkling and Beyond will recommend 2 cleaning tools for baseboards cleaning to help you polish your baseboards with great success!
What's good to clean baseboards?
There are 2 common cleaners you can choose to clean the baseboards, vinegar and liquid fabric softener. Vinegar is wided used in house cleaning and you can also use them to clean the baseboards. Although liquid fabric softener is used for laundry, it is also effective to refresh the baseboards. We will look into how to use these 2 products for baseboards cleaning in the following article.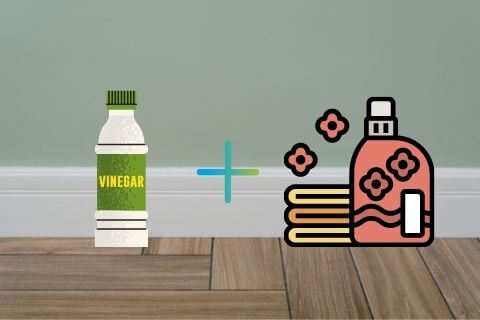 Clean your baseboards with vinegar
To clean the baseboards with vinegar, here are the tools you need to clean baseboards:
White vinegar
Vacuum with a hose attachment
A microfiber cloth
Broom and dustpan
Dishwashing soap
A bucket
Dryer sheet
Cotton swab
Toothbrush
Cotton balls
Toothpick
Here is a step by step guide for baseboards cleaning:
In order to clean the whole baseboards, move the furniture away. You can ask your family members or friends to help you.
Before using the vinegar, we need to remove the dust and dirt. You can simply use the broom to brush through the baseboards and vacuuming them. If your vacuum cleaner is strong enough, you don't need to use the broom first. On the other hand, if you don't have a vacuum, then a broom is usually enough to do the job to get rid of the dirt.
Now it is time to tackle the stains with vinegar. Mix a few drops of dish soap and 1/2 cup of white vinegar in a bucket of warm water to create a cleaner. Then, soak the microfiber cloth into the clear and squeeze the excess water out. Now, use the wet microfiber cloth to mop through baseboards. Finally, use a toothbrush to remove the more unyielding spots.
To clean the small gaps on the baseboards, simply use the toothpick to clear the dirt in these gaps. Also, dip the cotton swab into the cleaner and clean the narrow spaces.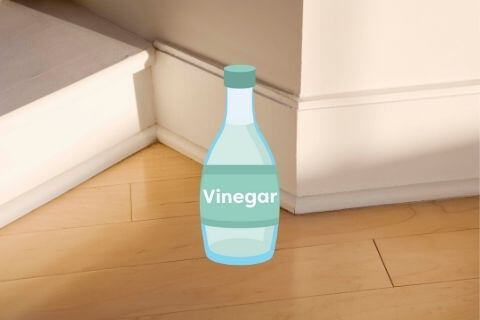 Clean baseboards with dryer sheets
At this point, the baseboards will be fresh and shiny again. However, in order to keep the baseboards dust-free for a longer time. We suggest using the dryer sheet to wipe the baseboards once again.
This special sheet can effectively prevent the dust from staying on the baseboards and keep the baseboards white and clean.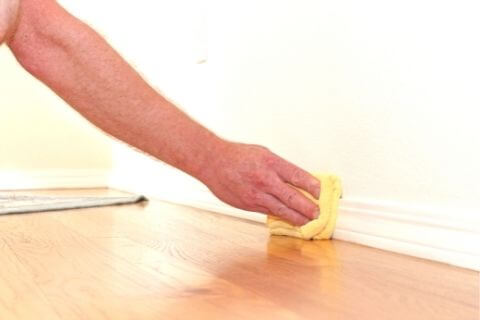 Clean baseboards with liquid fabric softener
The second product we recommend is liquid fabric softener, let's see how to use it in a step by step process.
Similar to the previous method, we need to dust the baseboards first. You can actually do this with a feather duster or use a long vacuum attachment so that you don't need to bend over to clean. After clearing the dust, take a wet duster to wipe the tricky spots and angle. You can do this every few weeks.
You can purchase a baseboard mop that can properly mop the baseboards without bending over to clean.
Mix the fabric softener with a bucket of warm water as the clear. Then, soak a cloth or sponge in the cleaner and squeeze it properly. Use this cloth or sponge to wipe through the baseboards to remove any stains and dirt. After this, the baseboards will be spotless and even smell nice.
Lastly, use a dryer sheet to mop the baseboards again to protect them from future dust.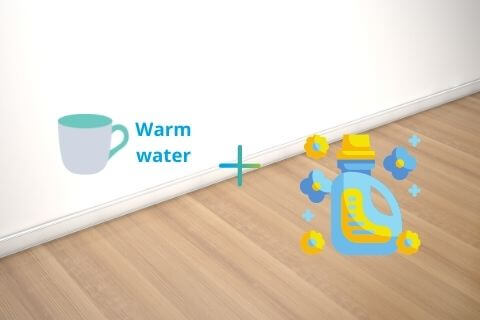 Another way of cleaning, simply contact us!
With the simple steps we offer, these 2 products can effectively make your baseboards fresh and shiny again.
If you simply don't have the time to clean your house, we are here to help! Sparkling and Beyond have abundant experience for regular house cleaning.
We understand that you may be busy with your work or you need to take care of the children. Therefore, we can visit your house to help you tidy up the place on a regular basis. In this way, you don't need to worry about cleaning chores anymore. Although baseboard cleaning is an extra cleaning in our service, we are always happy to include this service into the standard cleaning for you.
Moreover, if you are having an important event coming at your house and preparing everything is already stressful enough, you can also try our deep cleaning service. Deep cleaning service will clean up the house more thoroughly than the standard cleaning. In this way, you will have a truly spotless house to get fully prepared for the important event. Also, you can also choose a deep cleaning before regular standard cleaning so that the standard cleaning can maintain a higher level of tidiness.
If you are looking for someone to clean the commercial building, we can also do the job. Our office cleaning service can be customized to meet the needs of each business. We will make sure your office is spotless and dust-free to impress important clients. Simply visit our website to get a free quote today! We also provide all kinds of cleaning tips on our website. If you are interested to read more cleaning articles, visit this link to check more!