Even though you are a regular house cleaner, have you ever noticed that your kitchen is not completely clean because you have overlooked these important positions? Let's find out the secret to keeping the house clean with 3 important places in the kitchen that you always forget to clean below!
Oven – Clean the oven with oven cleaner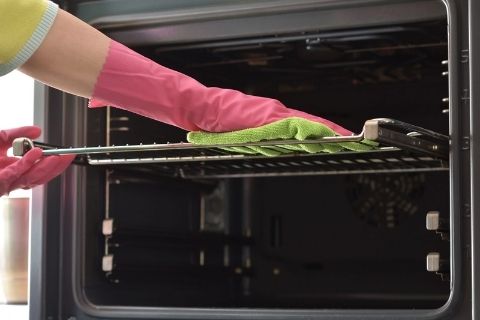 Although the oven is a commonly used item in some households, it is still a difficult item to clean that many people often only lightly wash or completely ignore in the kitchen.
Cleaning your oven is kind of like going to the dentist. Few of us look forward to the experience (and some of us outright loathe it), but oftentimes, it's the thought of cleaning that's worse than the cleaning itself. In order to clean the oven, you need to follow these steps:
First, remove everything from your oven: racks, pizza stone, thermometer, etc. Lay out newspapers or paper towels on the floor beneath your oven. Put on your gloves and safety glasses.
Spray the oven cleaner around the inside of your oven, covering the back, sides, bottom, top, door, corners, and crevices. If you have an electric oven, don't spray the oven cleaner on the heating elements; instead, simply lift them up and spray underneath. If you have a gas oven, don't spray the oven cleaner where the gas comes through. Close the oven when you're done.
Let the spray of the oven cleaner sit for the time listed on the label (most cleaners will need about 20 – 30 minutes).
In the meantime, take your oven racks outside, spray them with the oven cleaner and place them in a large plastic garbage bag. Either tie or twist the top shut. Leave racks outside in the bag for the time listed on the cleaning label.
Once the appropriate amount of time has passed, take a dampened cloth rag, open the oven and wipe down all surfaces. If there are extra sticky spots, use wet scouring pumice, a microfiber sponge, or other abrasive tools to remove all grime. Be sure to really hit every crack and crevice so that you aren't leaving any traces of dirt or cleaner behind.
Remove racks from the bag and rinse them in your sink with hot, soapy water. Again, use the pumice, sponge, or another abrasive tool as needed on any crusted-on chunks. Dry the racks and place them back in the oven.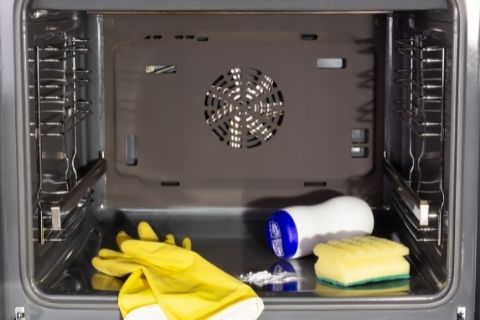 (Credit: cookinglight.com)
Dishwasher – Clean dishwasher with vinegar and baking soda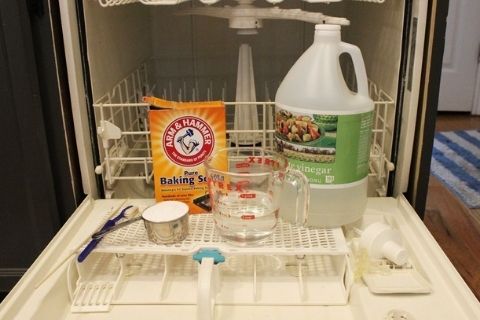 Dishwashers, like other household devices, need to be cleaned on a regular basis in order to perform efficiently and last as long as possible.
Don't know how to choose the right dishwasher cleaner for your dishwasher because there are so many cleaning solutions on the market that you have to select from?
If you're having such a headache, we're going to offer you an alternative solution that is made of natural and easy-to-find components residing within your house – vinegar and baking soda.
To begin, remove the dish trays and scrub the interior of the dishwasher with a sponge. This process prevents leftovers from clinging to the tray's walls, which helps reduce odor collection.
Next, inspect the dishwasher's drain filter, which is located towards the bottom. Remove any residual residue adhered here with an old toothbrush soaked in vinegar before removing them from the tub.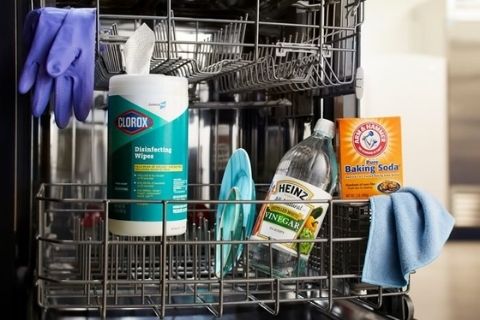 Additionally, you can clean the water jet cranks with a toothbrush to remove deposits. To begin the drum cleaning cycle, place a cup of white vinegar on the top rack to start the drum cleaning cycle instead of the dishwasher cleanser.
When the first cycle is over, sprinkle a cup of baking soda on the inner floor of the dishwasher. Run a short hot water rinse cycle (skip the drying step) and then open the dishwasher door to help dry the wash compartment.
The vinegar will get rid of any grease accumulation, while the baking soda will get rid of the stench. Note that if you use vinegar and baking soda in the same cleaning cycle, the washing compartment may froth up, making cleaning difficult.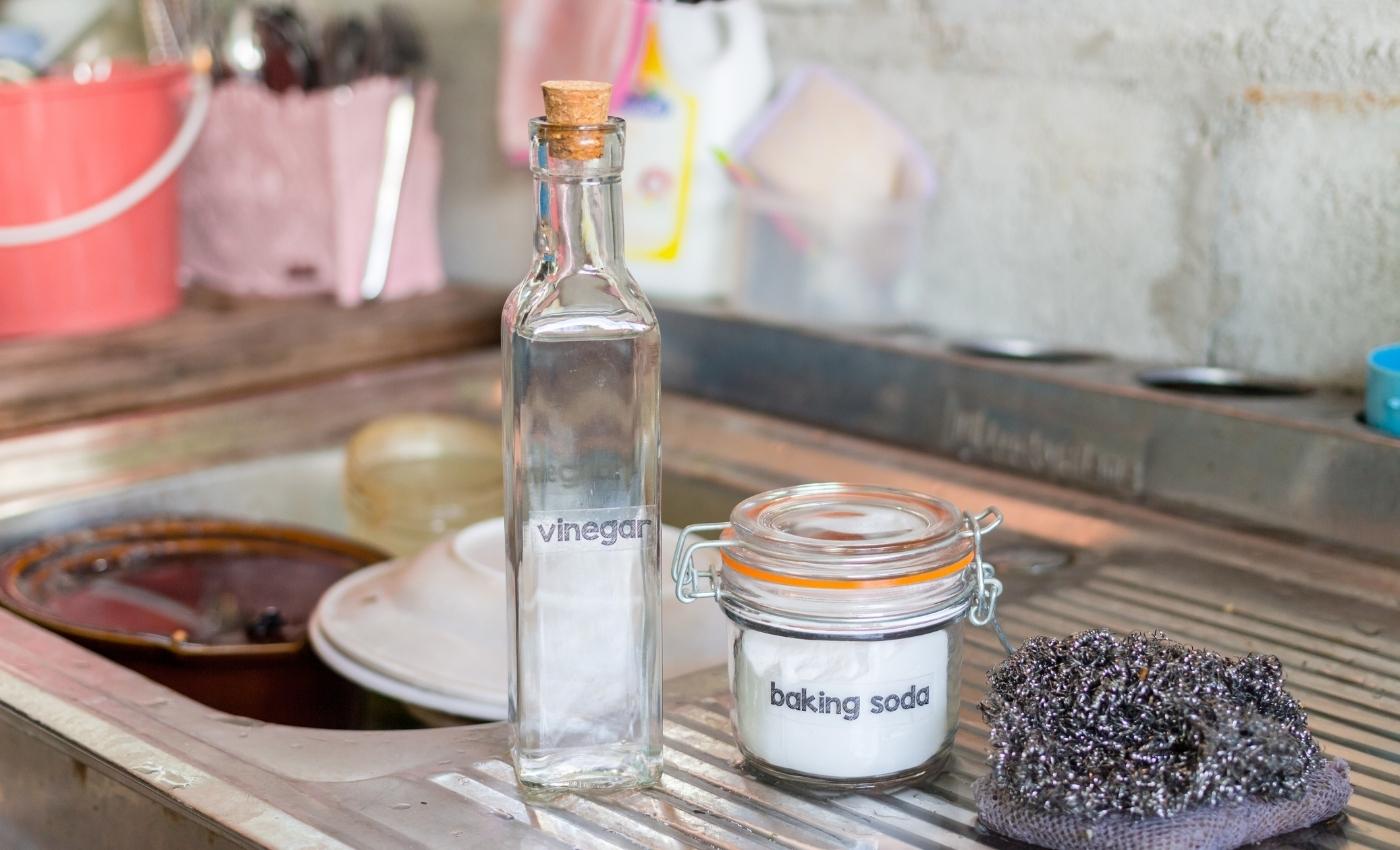 Removing grease from kitchen cabinets with natural products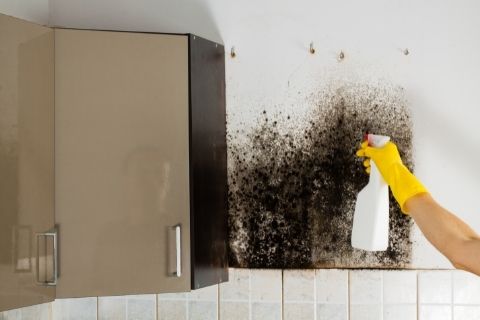 Wooden kitchen cabinets are often the highlight of the entire cooking and kitchen space. However, wooden kitchen cabinets in general often have a high shine, so they will easily adhere to grease. This grease from your kitchen cabinets is difficult to clean with just plain water.
If your wooden kitchen cabinets are excessively oily and tough to clean with typical methods, baking soda might be a useful cleaning solution. Baking soda powder may be used in a variety of ways, including cooking, cleaning, and bleaching garments.
To begin, sift baking soda onto a clean cloth. Then rub it all over the kitchen cabinets surfaces. After that, wipe it down with a dampened clean towel. Finally, dry the cabinet with a dry towel. All stains and grease will be readily removed with this procedure.
Read more: Aftercare for Kitchen Cupboards
Wood cupboards will require a little extra attention after cleaning. Removing the grease from wood cabinets will also remove the moisture and protection, so it is important to replace this.
Consider using protection products containing beeswax as this will stop the wood from drying out and repel kitchen grease.
Read more: Preventing a Grease Build Up
To avoid grease building up on kitchen cupboards, wipe the hob and cupboard doors clean every week. Simply use a soft cloth and a degreaser to remove any new grease marks.
Regularly wash your hands when cooking. This will prevent the grease from transferring from your hands onto the cabinet doors.
Now your kitchen is sparkling clean, it's time to turn your attention to other areas in your house.
If you want to know more about cleaning tips and tricks, do check our website sparklingandbeyond.com for more valuable content coming up!