In the US, many firms are currently operating normally. To continuously sanitize and disinfect their entire facility, company owners enlist the help of professional office cleaners.
In fact, many people now believe that having a clean workplace has several advantages for both the company, employees and customers. After the hit of Covid-19, office cleaning is now needed for an undue sense of sanitization, health and safety in offices.
In this post, we'll discuss what you can expect from advantages and how a tidy workplace can do wonders for your company.
Don't you want to miss any chance to better serve your stakeholders in person? Keep reading further on this article.
Tasks included in
office cleaning services
Daily cleaning
Many people may think that cleaners only deal with deep cleaning, which occurs in workplaces occasionally. But that's not true.
Professional commercial cleaning service providers can help your business with day-to-day cleaning tasks.
The list includes the minimum duties required to maintain an office's cleanliness and hygienic conditions for employees. Shared parts of an office, such as the entrance or lobby area, workplaces (desks or cubicles), restrooms, and the staffroom or kitchen, will all be covered.
These are what a professional office cleaning will likely do for you daily:
Mop floors with disinfectant

Change garbage bags and remove trash cans.

Vacuum rugs and carpets, particularly the ones near your entrance.

Wipe down wood and other touchpoint surfaces

Clean desks, workstations, and other equipment with horizontal surfaces

Wipe the inside glass and the entry doors' glass.

Maintain the cleanliness and organization of commonly-used spaces, such as your welcome area.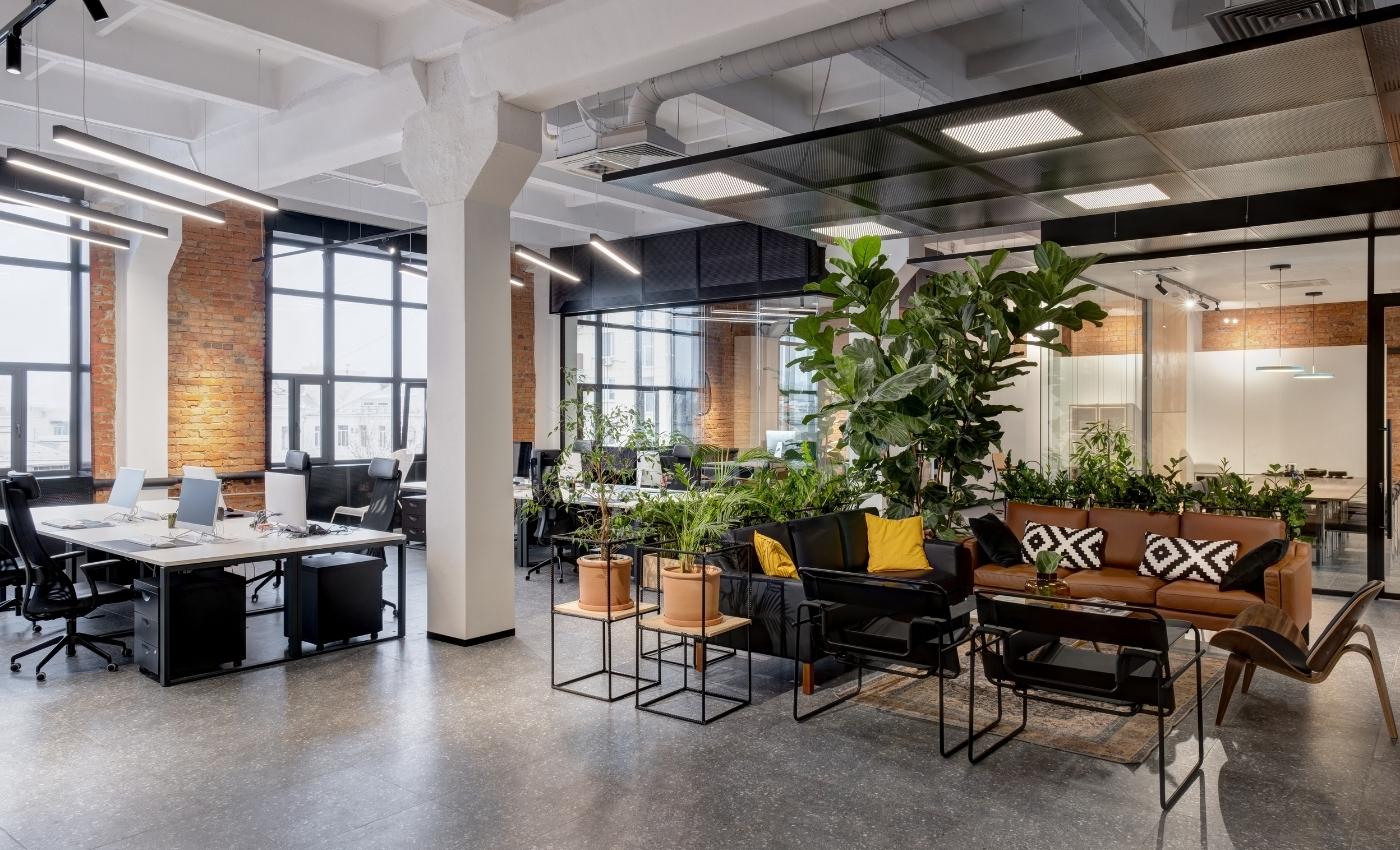 Also, it goes without saying that a sanitized bathroom is required to stop the transmission of germs. Thus, bathroom cleaning is also an essential part of commercial cleaning services. For example:
Wipe down mirrors and glass surfaces

Wipe hand dryers and paper towel dispensers

Spot cleanse bathroom floors, walls and fixtures in the washroom

Disinfect sinks

Remove garbage cans

Refill soap dispensers
If your workplace has a kitchen space, it must be cleaned frequently.
This guarantees that it remains a friendly environment for your team during breaks. Additionally, it implies they do not take time off from their jobs to clean the shared rooms.
Office cleaners will:
Empty bins and trash cans

Clean and sanitize the counters

Clean the kitchen's refrigerator and

stoves

If there're sinks, they will

clean them up

so that it continues to seem spotless.
Related: How To Get Stickers Off Mirror Or Glasses Windows
Deep cleaning
This can be done on a weekly or monthly basis. This covers some spaces or areas that are hard to clean daily (for example, high-reach ceilings) but still play a role in maintaining officers' good health and safety.
Here are some deep cleaning tasks provided by professional cleaners:
Spotless windows both inside and outside so that they look shiny

Steam clean carpets, mats, and cushions

Clean the outdoor areas

Clean and sanitize fridges both internally and externally

Clean air and other vents

Vacuum all surfaces, including fabric chairs or upholstery

Wipe down ceiling fans and light fixtures

Dust lamp shades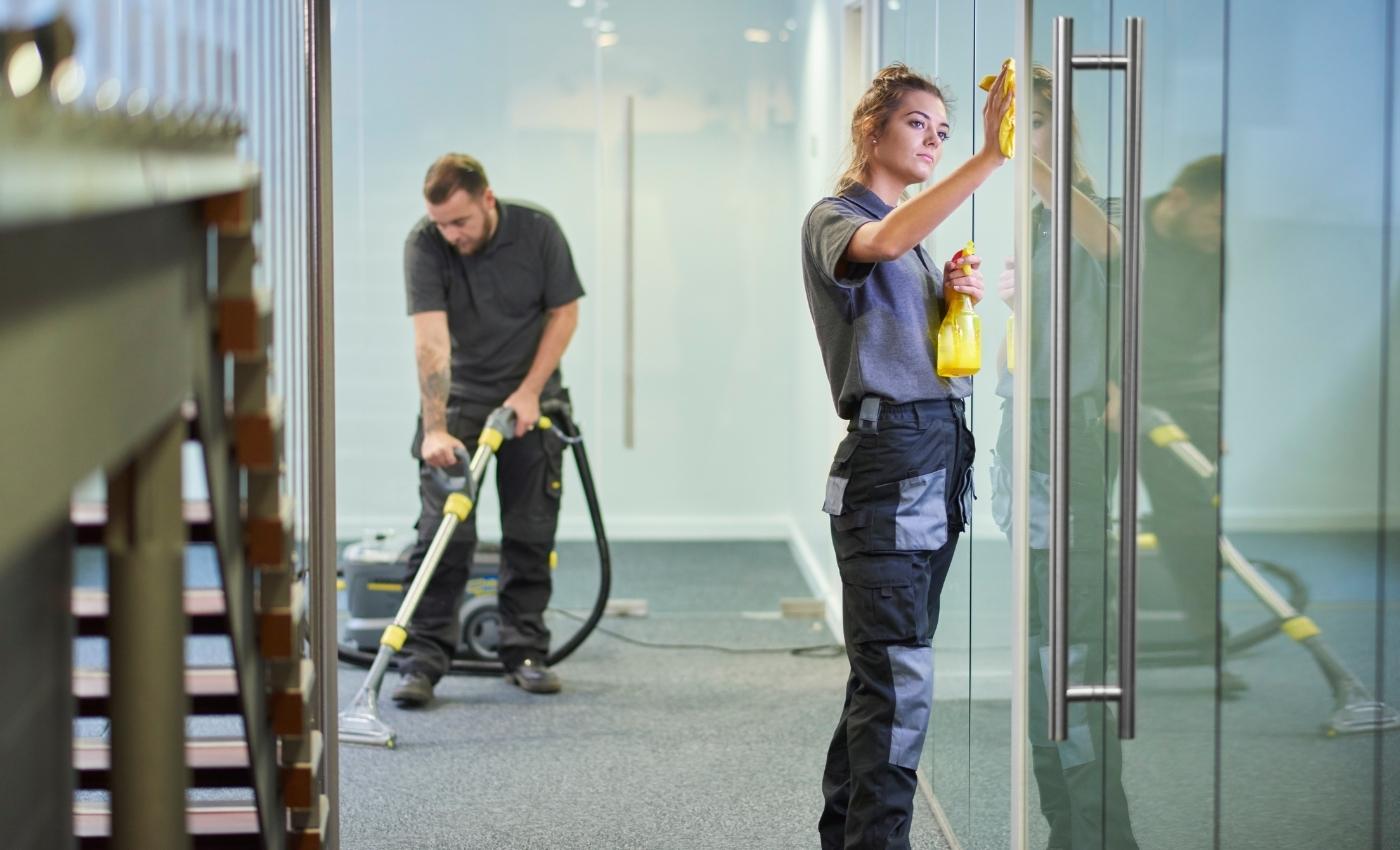 Typically, deep cleaning requires more complicated equipment (vacuum, spray disinfectant, large carpet cleaners, carpet steamers, etc.). This task also focuses more on sanitizing and disinfecting than just sweeping or wiping.
Related: How To Keep Hardwood Floors Clean – A Simple And Effective Guide
How can
office cleaning
tasks help your business?
Increase the
health and safety
of staff and customers
All the furnishings, items, floors and walls in your workplace will be thoroughly cleaned by a professional cleaning crew using a variety of potent disinfectants. They will work on places like door knobs, keys, screens, and light switches that serve as germ centres.
This shields your employees against a broad spectrum of pathogens. With periodical deep cleaning of your workplace, you'll see a reduction in the number of sick days taken by your personnel.
Boost stakeholders' satisfaction
It is crucial to take care of your employees' surroundings since it has a significant influence on their productivity.
There are fewer distractions when there is less debris, grime, and mess throughout the office. Your employees will find it much simpler to concentrate on the current work.
Potential customers will also view your workplace as the first thing, and an untidy office makes a terrible first impression. So maintaining your office's gorgeous appearance is worth the time and work.
Increase the life span of office furniture
If furniture items are cleaned and preserved correctly, they will be less likely to wear down or damaged.
Professional office cleaning services can keep them clean, durable and sparkling. In this way, you can save a great deal on running costs!
FAQs on Office Cleaning Service
How can I make a checklist for an
office cleaning service
?
The answer will depend on your hygiene standards. However, as a professional cleaning service provider, our suggestion is that you should determine tasks for daily, weekly, and monthly cleaning.
For example, below are what you may need to do monthly:
Vacuum carpets, mats, and floors around and under desks and tables

Clean inside and outside of fridges in your pantry

Disinfect all surfaces

Polish woodwork
Related: How To Clean Upholstery By Yourself?
What are the qualities of a good
office cleaning company
?
Similar to the first one, the answer to this question may also vary from one company to another. Yet, in general, here are something you should take into account before reaching a final agreement:
Are their staff hard-working and well-trained?

Do they have professional communication skills?

Do they employ proper cleaning equipment?

Is their quotation transparent?
Sparkling and Beyond pride ourselves on a team of professional cleaners and up-to-the-date technology. We are always committed to transparency on office cleaning service quotes and contract execution. If you are looking for a trustworthy partner, contact us right away!
Conclusion – Tasks included in
Office Cleaning
We hope this article has provided helpful information about what should be included in office cleaning.
Although some tasks may seem easy, a thorough and deep cleaning service is needed to ensure your workplace's hygiene, boost clients' and employees' satisfaction, and save you a great deal of time and money.
Do not hesitate to drop us an inquiry if you want your office and furniture clean and sparkle!
I am a passionate writer who aims to lead the life to its fullest