Due to their diverse style and durability, leather shoes have always been popular. We believe most of you have at least one or two pairs of this classy footwear at home. In order to make leather shoes last long, regular maintenance is important as all shoes will be worn or get dirty after frequent usage. Today, Sparkling and Beyond will provide simple and effective ways of how to clean and maintain your leather shoes to keep your shoes functional for years.
Are leather shoes easy to clean ?
Are leather shoes easy to clean? Yes, it is not that difficult! It is not necessary to seek professional shoe cleaners to clean your leather shoes. The only tricky thing is the timing. As long as you know how to clean leather shoes with the following steps and you can spare some time to clean the shoes, your leather shoes can be polished and preserved for a long time.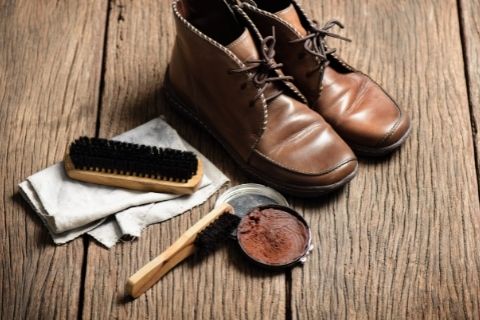 How to clean leather shoes
For regular leather footwear, the following method is sufficient. If your leather shoes are made of suede, the cleaning procedure is different. We will talk about the maintenance of suede shoes later.
The tools for leather shoes cleaning:
Shoe cleaning brush
Soap and water
Shoe polish
Shoe protector spray
Cloth
The first thing about how to clean leather shoes is to make sure to put newspaper or towels on the surface where you will clean the shoes. In this way, the surface will not be damaged and also easier to be cleaned up later.
During the leather shoes cleaning process, water and polish can contaminate the shoelaces. Therefore, the laces should be removed first. If the shoelaces are also dirty, you can throw them into the washing machine or simply replace them with a new pair.
Constant walking outside can trap dirt on the leather shoes. Unfortunately, dirt can weaken the leather and induce cracks that are beyond repair. Therefore, use the shoe brush to scrub off any mud, grime or salt on the leather surface. Also, be gentle to the scuffed part when brushing to avoid further damage. If you can, it is suggested to remove the dirt after wearing them each time in order to polish the shoes easier at a later time.
To take care of stubborn stains, soak the shoe brush in soapy water and scrub the spots. Remember not to dampen the shoes too much. If the stains are still there, repeat this process more times rather than applying more water and soap.
After dealing with all the stains, use a dry cloth to wipe away the soap. Wait for 20 minutes to an hour to dry out the shoes completely. In the meantime, shoe stretchers can be put inside the shoes to maintain their shape.
At this stage, it's time to polish the shoes. Use a soft cloth to put on the shoe polish on the leather shoes in a circular motion to the whole surface of the shoes. Make sure the polish is transparent or has a similar color to the shoes so that your leather shoes' color won't be changed. Shoe polish can avoid stains, maintain the leather and enrich the shoe color. However, the color of shoe stitching may be different so do not let the polish contact it.
Wait for some minutes to let the polish stay on the shoes. After this, swipe the shoes in a short and steady manner with a clean soft cloth or a brush to make the shoes shiny. Next, dry out the shoes in an open-air area. Remember not to expose them under the sun or near a heater as this can make the shoes lose their color or cause the leather to break.
The last step is about maintenance. After polishing the shoes, spray the protector on the shoes around 30 cm away. The projector can make the leather tender and waterproof. It is suggested to apply the protector at least 4 times per year, particularly if the area you live in has constant rain.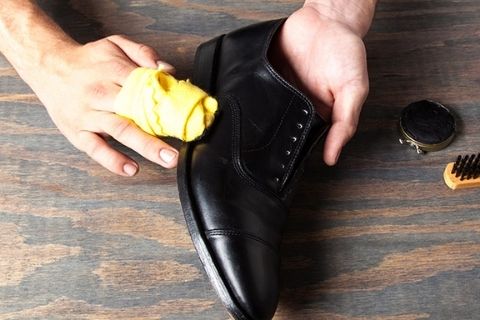 How to clean suede leather shoes
Suede leather shoes are popular for their classy texture and perfect match for all kinds of occasions in fall and winter like weddings or social events. Because of their special texture, cleaning leather suede shoes needs a different cleaning procedure.
The following list is the tools you need to clean leather suede shoes:
Suede brush
Suede eraser or regular eraser you use in school
Soapy water
Shoe brush or toothbrush
Paper
Clean towel
Waterproof spray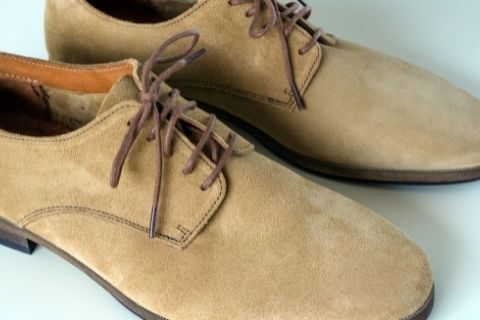 Steps to clean leather suede shoes:
Firstly, we need to wipe off any larger dirt. To do this, simply scrub the shoes lightly with a shoe brush or toothbrush.
We are going to wash the shoes in this step. Dip the shoe brush or toothbrush in the soapy water and brush the shoes firmly in circular movement. Don't worry if the suede becomes darker as this is natural for soaked suede leather. After this, rinse the shoes with water and wipe them with a clean brush to make sure the soap has been completely removed. Finally, shake away any remaining water on the shoes.
Bring the towel and wipe the shoes dry as much as possible. Then, fill the shoes with paper and wait for a day to let the shoes dry out.
The suede shoes have been cleaned at this stage. There are only a few things we should do. Take the suede brush to scrub the suede surface in order to re-fluff the leather. Finally, apply the waterproof spray on the shoes and leave the shoes to dry out for an hour.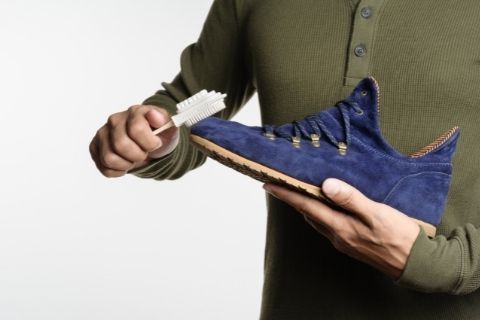 Occupied by other cleaning chores? Let us do the job!
As we mentioned in the article, cleaning leather shoes will take some time. In order to spare some time for you, Sparkling and Beyond will help you clean the house! We offer standard cleaning and deep cleaning service to make sure your house is spotless and fresh!
Here is our house cleaning service checklist
All rooms cleaning service:
Remove reachable cobwebs
Dust ceiling fans and reachable A/C vents
Dust wall art
Clean mirrors
Dust window sills and ledges
Dust doors and door frames
Dust blinds
Dust baseboards
Dust furniture / feather dust cluttered surfaces
Feather dust knick-knacks & lamps
Vacuum floors (carpet and hard surface)
Mop hard surface floors
Bathroom cleaning service
Clean and sanitize toilet and toilet area
Remove soap scum & mildew in shower/tub
Sanitize counter tops
Sanitize sinks and polish fixtures
Vacuum bath mats
Remove trash and reline trash can
Kitchen cleaning service
Wipe counter tops
Dust counter top items & small appliances
Spot clean cabinet fronts
Clean/polish appliance exteriors
Sanitize sink and polish fixtures
Remove trash and reline trash can
Bedroom cleaning service
Change linen (if fresh linen is left out)
Make beds
Dust headboard
Extras
not in standard, available as add-on
Hand wash dishes
Clean Inside Oven
Clean Inside Fridge
Sweep Inside Garage
Detailed Interior Windows
Detailed Baseboards
Clean inside cabinets and drawers
If you want to check more cleaning tips and tricks, visit our website for more cleaning articles. New articles will be uploaded each week!