A microfiber sofa, frequently seen in neutral shades like brown and grey, can stand out, appearing vibrant and luxurious. Because of its exceptional stain resistance, microfiber sofa and chairs are popular for upholstery in households with children and pets.
When appropriately cared for, microfiber sofas may outlast other fabric types by years. But when there are spills or stains, it's a must to thoroughly clean the upholstery.
Want to keep your microfibre couch clean and comfy? Follow these easy cleaning instructions!
First, get to know your couch's cleaning code
Since 1969, American furniture producers have been required to include a tag to indicate the safest and most effective methods for cleansing the upholstery and safeguarding cushion fillings. Looking behind the sofa and under the cushions, you will find the right "cleaning code": a piece of cloth with a letter on it.
Each code gives you guidelines about how to best clean your sofa as follows:
"W" indicates that water can be used to clean it. Cleaning agents made of water, such as mild soap, dishwashing liquid, and upholstery cleanser, are efficient.

"S" suggests that water should not be used to clean it. Cleanse your couch with water-free cleaners, including baby wipes, dry cleaning solvent, rubbing or clear alcohols, etc.

"S-W" suggests that water or a solvent can be applied.

X" indicates that a vacuum is the best way to clean. You should take these fabrics to a cleaner for deep cleaning.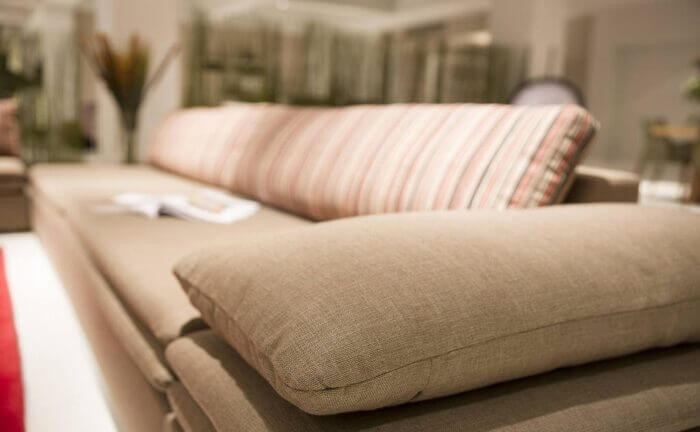 Related: How To Clean A Fabric Sofa Without Water
Then, vacuum to get rid of the dirt
This is the next step to do before using water or any solvent to clean the sofa.
Couches made of microfibre cloth are incredibly soft because of their thin, dense fabric. Yet, microfiber is not immune to bothersome dust and debris, much like other textiles like leather.
Just add the upholstery attachment to your vacuum to remove debris from your couch (if you're not sure what we're talking about, it has a wide, flattened nozzle). Use the equipment over the whole surface of your sofa, including the front, edges, and crevices. To avoid the growth of bacteria, we advise doing this at least weekly.
If the fibres on your sofa appear to flatten after you've vacuumed, you may quickly return them to their original by using a dry, soft-bristled brush (like the one used in the bathroom), which may cost only $10-15 on Amazon.
Here is a small tip: Vacuum the sofa whenever you clean your floor or carpet. To reduce pet hair, consider not allowing your pets to be on your couch.
Related: How To Clean Upholstery By Yourself?
Clean a microfiber couch
How to Clean a Microfiber Couch With Rubbing Alcohol
This works for those with the "S" cleaning tag.
Use cleaning solvent: Starting from the top of a cushion or portion, softly mist the fabric with rubbing alcohol after placing it in a spray bottle.

Scrub dirt away: Use sponges or a dry, soft-bristled brush to scrub the dirt away from the sofa while it is still moist from the rubbing alcohol. Before repeating the cleaning, soak the sponges in fresh water to get rid of any dirt and wring it out as much as you can.

Dry and fluff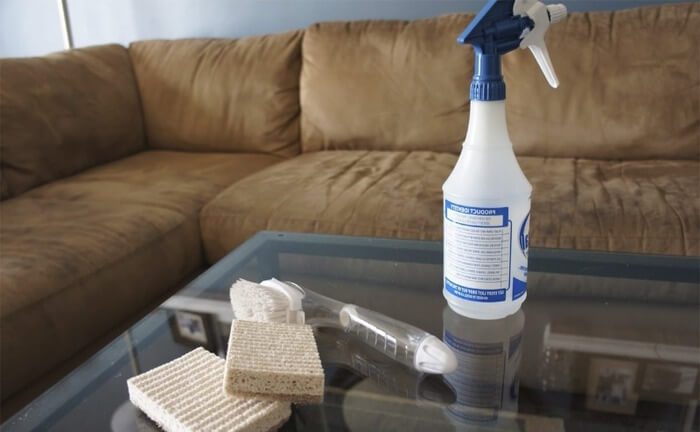 How to Clean a Microfiber Couch With Soap Suds and Water
Step 1: Mix the Cleaning Agent
Put 4 cups of warm water in a big basin or bucket. Pour 1/4 cup of dishwashing soap into the mixture . Make a bunch of soapy suds with a whisk. Pour the water into another bucket.
Step 2: Dip a Soap Sud and Scrub
Simply submerge the scrub brush or sponges in the soap suds (remember not to put it into the water). Distribute the suds evenly and clean thoroughly, beginning at the top of a cushion, the sofa back, or the armrests.
Step 3: Fluff and rinse.
After cleaning, use a microfiber cleaning towel that has been gently moistened with water to dry the surface. Allow the cloth to fully dry in the air. To fluff any stuck strands, vacuum or brush.
How to Tackle Tough Stains and Odors
For wet stains, just pick up a moist towel and softly wipe it away, careful not to scrape it into the fibres. If that's a minor spill, baby wipes can help.
Dry stains like chocolate can be a bit harder to clean thoroughly. You will need a clean, soft-bristled brush. Gently brush back and forth over the stain until it is removed. Use a moist cloth to wipe away any lingering markings (only if your cleaning code is W or S-W).
For oil stains, you will need dishwashing soap or WD-40. When a stain appears, apply the soap straight to it, wipe with a cloth or sponge, and then gently wash it away.
Although microfiber couches may be cleaned at home, certain stains and accidents are unavoidably challenging to remove. Hire a professional like Sparkling and Beyond to help keep your sofa and the entire house clean and tidy all the time.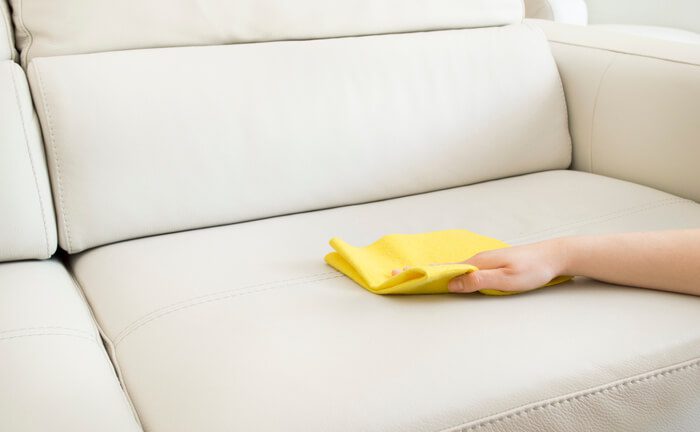 Related: How To Get Milk Out Of Carpet
FAQs about How to Clean a Microfiber Couch
How often to clean a microfiber couch
?
A sofa is a piece of furniture receiving the highest traffic at home. Not only you but your guests and dogs touch it all day. Dust, dirt, oil, pet hair, etc., will all be under your cushions.
A microfiber couch might feel and look its best with regular upkeep. From our experience, here is the schedule you should follow in cleaning a microfiber couch:
Vacuum the sofa weekly to get rid of surface debris and grime before it gets pressed into the fibre. This is especially important if your pets regularly get on the sofa.

If there are any spills and stains, try to handle them as soon as possible. You may only need to use basic cleaning methods at first.

The sofa has to be deep cleaned at least once a year. If your kids and pets use it often, have it cleaned thoroughly more frequently, like seasonally. You will need special equipment and tools, so let's hire a

professional residential cleaner

like Sparkling and Beyond.
What are some helpful equipment or products to clean a microfiber couch?
As mentioned, what you will need depends on the cleaning code of your microfiber sofa.
Here is what you'll need to clean a microfiber couch:
Vacuum

Soft-bristled brush or sponge

Microfiber cleaning cloth

Liquid dishwashing soap (to remove grease)

Water

Rubbing alcohol

Upholstery or carpet cleaner (optional)
Bring your couch to back its best with Sparkling and Beyond
We hope that this article can help clean your microfiber couch properly. Noticing its cleaning code is important, and don't forget to protect it while using the sofa.
Want to have your couch and house clean and tidy? Let Sparkling and Beyond help you. Our team are hard-working and well-trained with more than 5 years of experience in residential cleaning. Do not hesitate to schedule a walk-through now at our best pricing!