Since human is trying to adapt to the existence of the pandemic COVID-19, it is sure that people will pay much more attention to the quality of the air in their office than ever before. No matter where the building is, levels of fresh air should be maintained at optimal to avoid the spread of dust, notably and viruses. However, do you know if your office is good at ventilating or not? Sparkling and Beyond will introduce you to the general standard of Ventilation in Commercial Buildings.
The Importance of
Fresh Air intake
in Commercial Buildings
Proper air ventilation, whether natural or driven, is essential in every commercial environment since it serves a variety of purposes:
Brings in fresh air from the outside while taking away stale air from within.

Removes or dilutes airborne contaminants like carbon monoxide, mold, and pollen.

Reduce the spread of respiratory diseases.

Controls humidity levels.
If you are a building manager and you haven't been keeping up with the ventilation systems, we strongly advise you to take action on the matter for the sake of the occupants' safety.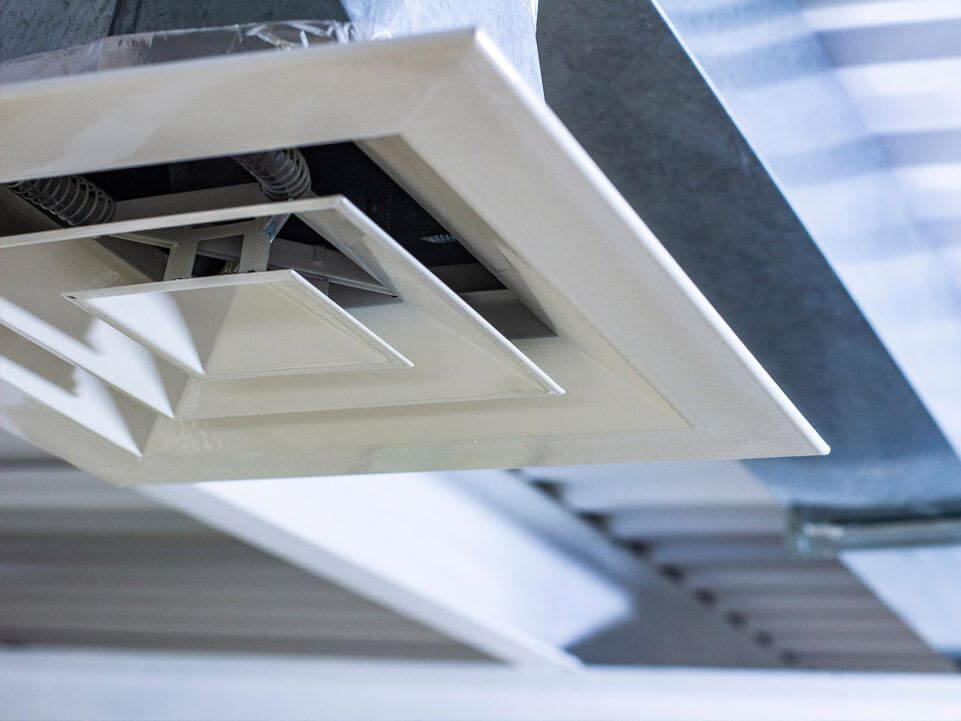 HVAC Fresh Air Intake Requirements
in Commerical Buildings
ASHRAE Standard 62.1 & 62.2
In 1989, the American Society of Heating, Refrigerating, and Air-Conditioning Engineers (ASHRAE) came up with Standard 62-1989 to define indoor air quality. The main goal of the standard is to "specify minimum ventilation rates and indoor air quality that will be acceptable to human occupants and are intended to minimize the potential for adverse health effects."
Though rules vary depending on the state, over the years, the ASHRAE Standards 62.1 and 62.2 still remain the core standards when it comes to ventilation in commercial buildings. They are updated annually, so be sure to visit their website and follow new changes to the standards.
Significant updates to the 2019 edition include the following:
The scope is changed to remove commentary and to more specifically identify occupancies previously not covered.

Informative tables of ventilation rates per unit area are included for checking existing buildings and design of new buildings.

The Ventilation Rate Procedure is modified with a new simplified version for determining Ev and a more robust option for determining values of Ez.

The Natural Ventilation Procedure is significantly modified to provide a more accurate calculation methodology and also define the process for designing an engineered system.

Natural ventilation now requires considering the quality of the outdoor air and interaction of the outdoor air with mechanically cooled spaces.

Air-cleaning devices that generate ozone are prohibited.

Humidity control requirements are now expressed as dew point and not as relative humidity.

The standard now defers to ANSI Z9.5 on ventilation for laboratories handling hazardous materials.

Patient care spaces in the scope of ASHRAE/ASHE Standard 170 now follow the requirements of Standard 170; ancillary spaces not previously classified have been added.

OSHA Standard 1910.94
With Standard 1910.94, the Occupational Safety and Health Administration (OSHA) focuses on Occupational Health and Environmental Control. It is applicable to general industries, so in cases of shipyard employment, long-shoring, and construction, visit the OSHA website for more details. All employers must strictly comply with any OSHA standards that are applicable to their business.
How to maintain standard
HVAC fresh air intake requirements
in commercial buildings
Most high buildings have their own HVAC systems to maintain the fresh air inside the building's rooms. Therefore, the system should be taken care of on a regular basis. Here are some HVAC fresh air intake locations you should focus on to keep your HVAC system running efficiently while maintaining the freshest air possible within your site:
1. Air filters
Keeping your air filters in good condition is an easy method to save a lot of money. If the filters become blocked by outside impurities, your system will take more energy than usual to maintain the same level of airflow in the building. Filters that are clogged might also cause health problems for renters who are allergic to dust and pollen. If you're still using MERV-8 filters, talk to your HVAC technician about changing to MERV-13 filters, which will help keep your recirculated indoor air cleaner.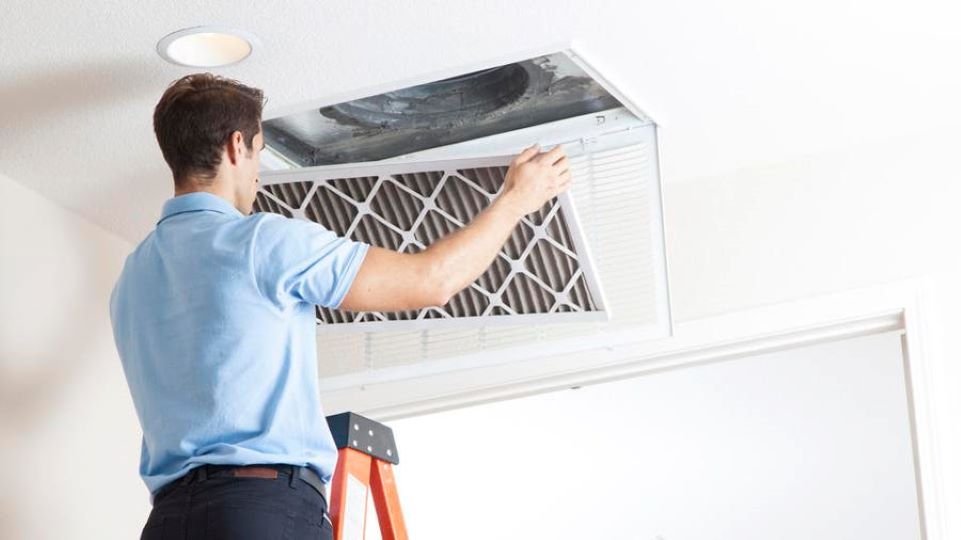 2. Air Ducts
Ducts are the "veins" of the structure, delivering passages of clean, fresh air to every room. They are often the most ignored elements of an HVAC system. Because of its importance in maintaining indoor air quality (IAQ), inspecting for structural damage and potential corrosion concerns is critical to your system. System flaws might result in wasted air and increased energy expenditures.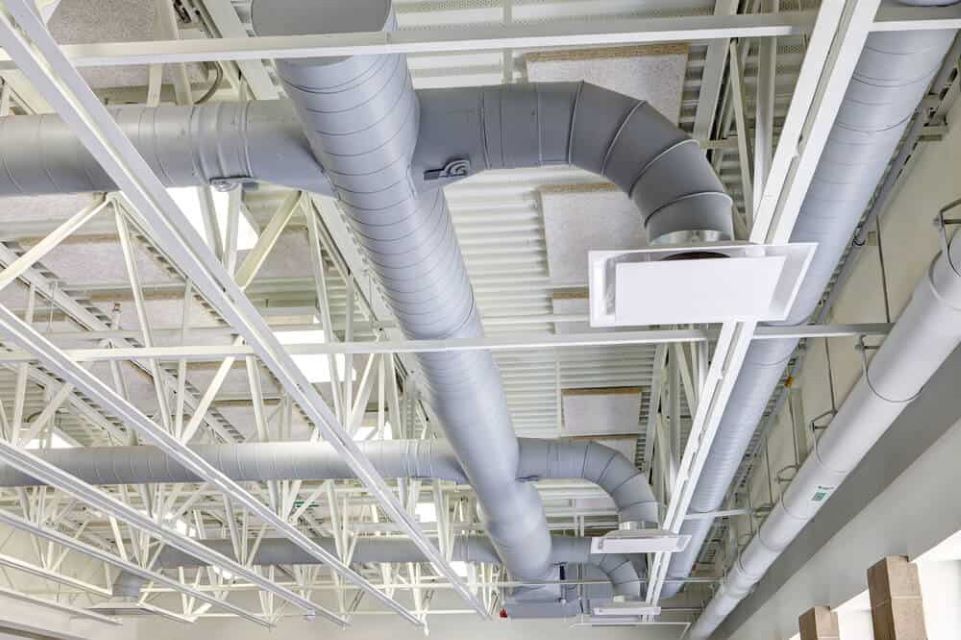 3. External HVAC Components
Throughout the year, external components such as the condenser are exposed to weather factors and high temperatures. To allow airflow into the HVAC system, pollen, leaves, and other obstructions should be eliminated. Maintenance on a regular basis can assist maintain everything clear and unobstructed, reducing pressure on your fans, cooling towers, and coils.
There will be moisture anywhere there is a large temperature differential in the air. Excessive moisture can cause mold development within your HVAC system, posing a number of significant health risks to your building's inhabitants. Inquire with your HVAC service personnel about mold control measures.
4. Worn Parts
Regular inspections may also reveal items that need to be changed as soon as possible to avoid a system shutdown. It's especially important to inspect the heating ignition systems, heating control devices, heat exchangers, and fan belts for wear since their failure will have an impact on the overall functioning of your system.
FAQ
What is the HVAC system?
Heating, ventilation, and air conditioning (HVAC) is the use of various technologies to control the temperature, humidity, and purity of the air in an enclosed space. Its goal is to provide thermal comfort and acceptable indoor air quality. HVAC system design is a subdiscipline of mechanical engineering, based on the principles of thermodynamics, fluid mechanics, and heat transfer. "Refrigeration" is sometimes added to the field's abbreviation as HVAC&R or HVACR, or "ventilation" is dropped, as in HACR (as in the designation of HACR-rated circuit breakers).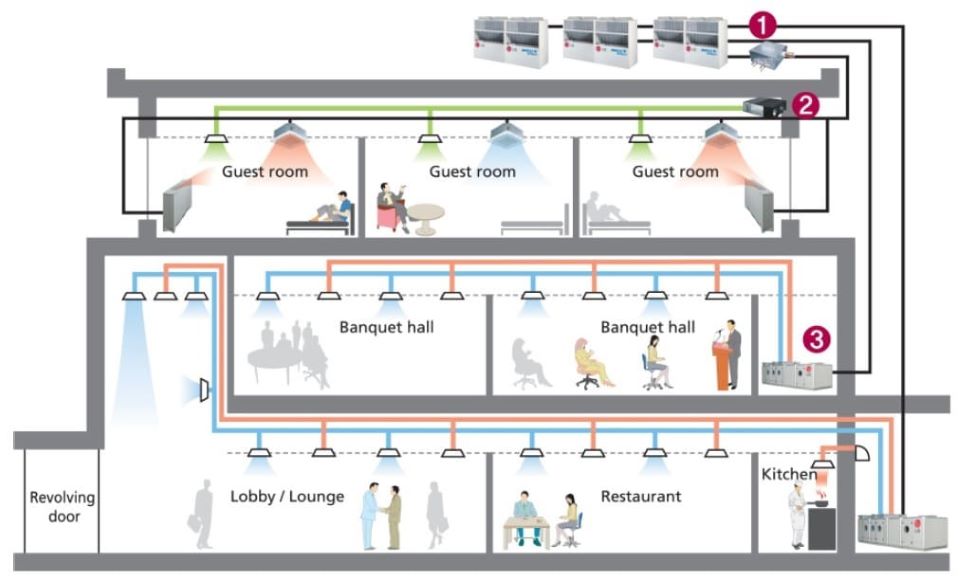 How Much Fresh Air is Enough?
The percentage of outside air can be calculated using these three simple temperature measurements.
Outside Air Temperature (OAT)

. This is the temperature of the air entering the system or equipment from the outdoors.

Return Air Temperature (RAT)

. This is the return air entering the equipment. This temperature may be different from the temperature entering the return grilles due to duct loss or gain.

Mixed Air Temperature (MAT)

. This is the air temperature past the outside air inlet where the temperatures of the return air and the outside air have mixed together. This may be in the return plenum, or in the blower compartment.
The formula is:
Fresh Air % = [(MAT – RAT) ÷ (OAT – RAT)] X 100
Does the ventilation filter capture COVID-19 virus?
Actually, the virus generally does not travel through the air by itself. These viral particles are human-generated, so the virus is trapped in respiratory droplets and droplet nuclei (dried respiratory droplets) that are larger than an individual virus.
Other topics
How To Clean Office Floors Properly?
How To Clean Your Office Desk A Step By Step Guide
About Cleaning The Office Some Ideas For You
How To Choose The Right Commercial Floor Cleaning Services
Further help in keeping your office sanitary
Ventilation rates in commercial buildings can be a confusing subject since there are various standards and requirements for indoor air quality. However, you can count on Sparkling and Beyond for ventilation advice as well as our trustworthy Office Cleaning Services. If you are finding a provider who can help you handle any cleaning tasks in your office, give us a request immediately for a schedule. Our customer service representatives are willing to support you at any time.