Perhaps anyone of us have at least once or twice felt the temptation of professional cleaning services. With the right people hired, you can have weeks worth of cleaning problems taken care of while having that juicy weekend for yourself, for some quality time with your friends or family. And it breaths quality into your daily life as well, with the tremendously improved home environment you get from the deal.
Nonetheless, most people would feel reluctant to book these services. One one hand, the primary concern is the price, as a cleaning service section definitely gives the impression of a clunky, heavy-duty operation that would cost a lot. And on the other hand, the equally primary concern is the quality of the service in question; you initiate this grand operation, get the wrong people for the job, and don't get the desire outcome from the service.
If you are a homeowner in San Jose, this article is to help you solve these concerns. In this article, we will introduce you to the cleaning services of San Jose, how they work, how they are priced, and how you can make the most value out of these services.
Daily House Cleaning Services in San Jose, CA?
Typically, daily professional house cleaning services in San Jose should cost between $35-$70 an hour. Some cleaners in San Jose and Santa Clara County may accept the job for less, but not necessarily with the same level quality. So here's what you can expect from these different hourly rates"
There are actually a number of variables that make up the value of each maid service and, hence, their different prices. These variables are, namely:
The personnel's experience level and customer ratings
The quality of the equipment and supplies
Scheduling accommodations and location in San Jose
Background checks and licenses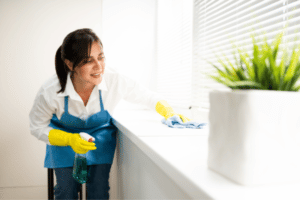 For example, a cleaner on Craigslist accepts the job for a $20 hourly rate, but there is a good chance that they may have little experience and need you to provide them with cleaning supplies. And as some our cleaning guides may have entailed, cleaning is no simple work; a lot of things can go wrong, and it might not be best left in inexperienced hands. You most likely will get better value from a professional cleaner that charges $45/hour but brings his/her own supplies and has an excellent track record.
How Do Local House Cleaners price their services?
While hourly rate is one way to do it, not all San Jose house cleaning services offer hourly rates for their projects. The reason is because the equipment and size of the cleaning crew may vary between different cleaning services; some companies simply have better cleaning teams in their hands. which deliver the same level of cleanliness in shorter amount of time.
So another way that cleaners offer their cost estimates, which is meant to not underprice or overprice the services, is a square-footage rate – a rate charged based on of the home's floor area (in sqr ft). In San Jose, CA, the rates would most likely lie around $0.06-$0.14 per square foot. Some house cleaners may offer a flat starting rate based on the number of rooms, in case the square-footage rate doesn't scale too well for the specific home..
What Affects House Cleaning Service Costs in San Jose?
The general principle is, cleaning costs will scale up depend on the amount of time and effort the house cleaners need to expend for the project. By that logic, the messier the house is, the higher the cost will be, for it to be returned to a satisfying level of cleanliness. Similarly, a larger home will take more time and effort to clean, and thus count for a higher cost for the cleaning job.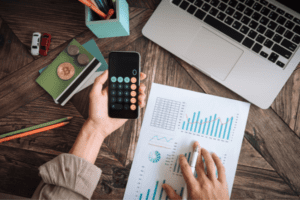 Another factor that affects the prices is the type of cleaning services that you order; are you looking for a standard house cleaning that would do the conventional cleaning, or are you looking for an intense deep cleaning session that would take care of even the trickier nook and cranies of the home? Would you accept the service provider to clean your home using chemical cleaning products, or you would prefer the job to be done with the pricier all-natural solutions. Any of these details can affect the number printed on the final bill.
Typical Costs of Standard House Cleaning Services in San Jose
As a customer, you can book a standard house cleaning as a one time service or in a weekly, bi-weekly, or monthly service, depends on your need. With a session of standard house cleaning, here are the services that you can expect to receive:
Cleaning sinks, toilets, bathtubs, and mirrors
Wiping countertops and exterior of cabinets and appliances
Sweeping and mopping floors
Vacuuming rugs
Taking out trash
Dusting high and low and around windows
You can also add to the list some extras, such as washing dishes, cleaning the fridge or oven, window cleaning, or washing and folding clothes. Any of these services would most likely add to the total cleaning time 30-60 minutes, and add to the bill accordingly.
Cost of Weekly and Bi-Weekly House Cleaning Services in San Jose
The longer the interval is between scheduled cleans, the more there would be to clean, the more hours the cleaning will take . This increase in cleaning hours is reflected in your final bill as well. For example, in San Jose, the cost for a weekly cleaning service for a 2,000 square foot 3-bedroom/2-bath home would average between $150-$300, while a bi-weekly service for the same home may cost up to $200-$400.
So if you add these up, you will find that the bi-weekly course would save you money in the long run despite its higher unit price. But of course, you should take into account your demands as well – what works best for your specific home. If you are expecting a lot of activities, lots of pets, lots of children, the weekly course would yield more value. On the other hand, if you live alone, and your home is less likely to get messy, a bi-weekly service would be sufficient.
Deep House Cleaning Rates in San Jose
In a deep cleaning session, on top of the regular cleaning package, the crew is expected to cater for the nooks and crannies of the home that are usually not touched – the jobs that the homeowner would most likely cannot do by themselves, or at least not very efficiently so. Here are the deep clean services usually provided in one of such package:
Cleaning baseboards, door frames, and windows
Dusting and disinfecting surfaces
Scrubbing tile and grout
Cleaning appliance and cabinet interiors
Cleaning upholstery
Sanitizing trash cans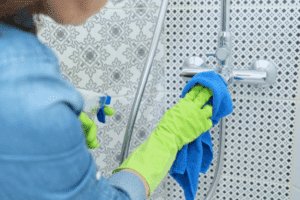 The average cost for deep cleaning services is most likely double that of the average for standard house cleaning. For example, for a 1,800 square foot 2-bedroom, the cost of standard cleaning would be expected to average around $150-$180, but for deep cleaning service, the same house would cost $300-$350.
The cleaning crews have to spend more time on each room, bringing in more machinery and supplies, moving things around to be able to reach the hard-to-reach spots and, most likely, have higher qualified personnel for the job, which would add more to the bill.
The good news is, though, that you wouldn't have to call for such service as often as the standard one. A deep cleaning service is typically called for once every 1-3 months. They might also be booked in case of special occasions, such as when the houseowner is preparing to host a party or any other important social gatherings.
As a note, cleaning companies in San Jose typically only offer deep cleaning services for indoor spaces. Heavy-duty outdoor maintenance, such as exterior power washing, gutter cleaning, or air ducts cleaning that require industrial vacuum are most likely done by the specialists in such operations. So, for such jobs, you should find a specialist company.
Move-In/Move-Out Cleaning Service in San Jose
Before moving in a home, or moving out of it so another owner can move in, it is only inevitable that you will need deep clean service. A move-in cleaning service is excellent to quickly ready the home for living, thus making it liveworthy for yourself if you are moving in, or make it more marketable if you are moving out. The cleaning session may also reveal areas of problem within the home that you need to pay attention to for them to not turn into bigger problems.
Typically, in San Jose, as a renter, you are expected to hire home cleaning service before moving out. Because if the home is not restored to its initial satisfying service capacity, your landlord is entitled to, and most likely will, withhold some or all of your security deposit, which, by Californian norms, should worth around 3-month of rent.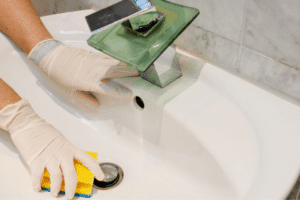 As we have mentioned, a move-in/move-out cleaning service is rather similar, and thus is similarly priced as deep cleaning services. Nonetheless, you should definitely enquire the cleaning company on the service beforehand, telling them that it's for a move-out. As experienced professionals, they may advice you on additional services suitable for your needs, such as garage cleaning; they also may have other package of services specifically tailored for the need, as well as favorable prices.
Undecided on which company to choose? Call Sparkling and Beyond!
Still undecided on what service to choose? Good news for you! If you care for reliable cleaning services at affordable prices, our company Sparkling and Beyond does provide our cleaning services in San Jose. We offer cleaning services for any kind of need, including move-in and move-out services. It would be our pleasure to make your San Jose home a lovely place to live.