It can be difficult and stressful to move out of a home or apartment, especially when it comes to cleaning. Before leaving the property, you must complete the necessary move-out cleaning. Make sure the space is spotless and prepared for incoming tenants or homeowners. We will cover all you need to know in this comprehensive guide to move-out cleaning services so that the move-out process is simple and stress-free for you.
What is move-out cleaning
Definition
Cleaning a house before moving out is referred to as move out cleaning. Move-out cleaning aims to leave the place spotless and meet the landlord's standards. It entails cleaning every room in the residence, including the kitchen, living room, bedrooms, and bathrooms. In other words, move-out cleaning is a specific type of cleaning done to prepare the house for new owners. You need to give every room in your home or apartment a complete cleaning from top to bottom, similar to deep cleaning. 
Move-out cleaning services will have about  2-3 cleaners in each cleaning session. The cleaning company may also send a supervisor to inspect the entire cleaning process.
Features of Move out cleaning
An ultimate move-out cleaning checklist may include two stages: drying cleaning and wet cleaning all surfaces. It is essential to pay attention to cleaning and follow all the steps in a move-out cleaning guide.
The former tenants often neglect hard-reach-places in the apartment of homes. Therefore, move-out cleaning services must take care of such surfaces during cleaning. Overall, the move-out cleaning tasks are similar to a standard cleaning guide. You should be attentive to such specific areas as:
Areas under your beds and cabinets
Internal and external surfaces of your properties
Electric equipment and lighting devices
Grout and tile in bathrooms
Windows and floors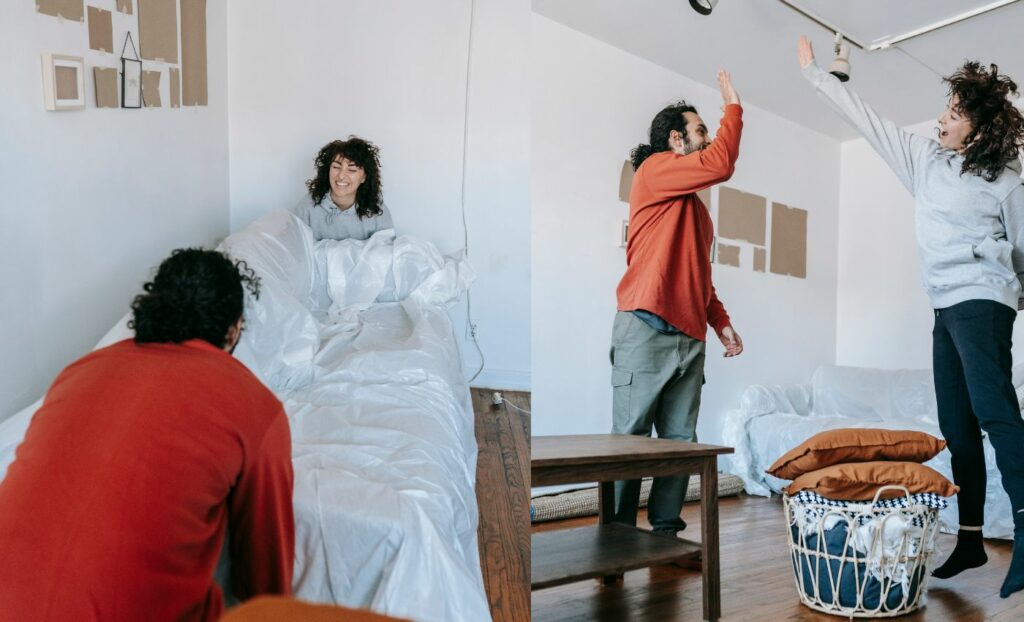 Why is move-out cleaning important
Moving out cleaning is crucial for several reasons. First, most lease agreements emphasize that the property must be left orderly and clean. If you fail to do so, you might risk losing your security deposit and even worse you can face legal consequences. Moreover, leaving a place unclean could be problematic for the subsequent tenants or owners. Additionally, it can result in health risks and bug infestations.
The ultimate guide to moving out cleaning services
Bedroom
It's essential to ensure that you get the bedrooms as clean as possible, even though move-out cleaning concentrates on the main areas of the house. Since people rest and sleep in the bedroom, put more effort into making this area dirt-free. If the room is thoroughly cleaned, not only can the former owners sleep soundly when they leave, but the latter can also feel more at ease.
You should clean the bed linens, clear the drawer or closet, and put any clothing away in the bedrooms. Along with vacuuming the floors, washing the walls and windows, and cleaning the bathroom (if there is one), you should also clean your room. Using an all-purpose cleaner is among the greatest ways to clean your room. Any other surfaces such as floors, walls,… in your room can be cleaned with these products.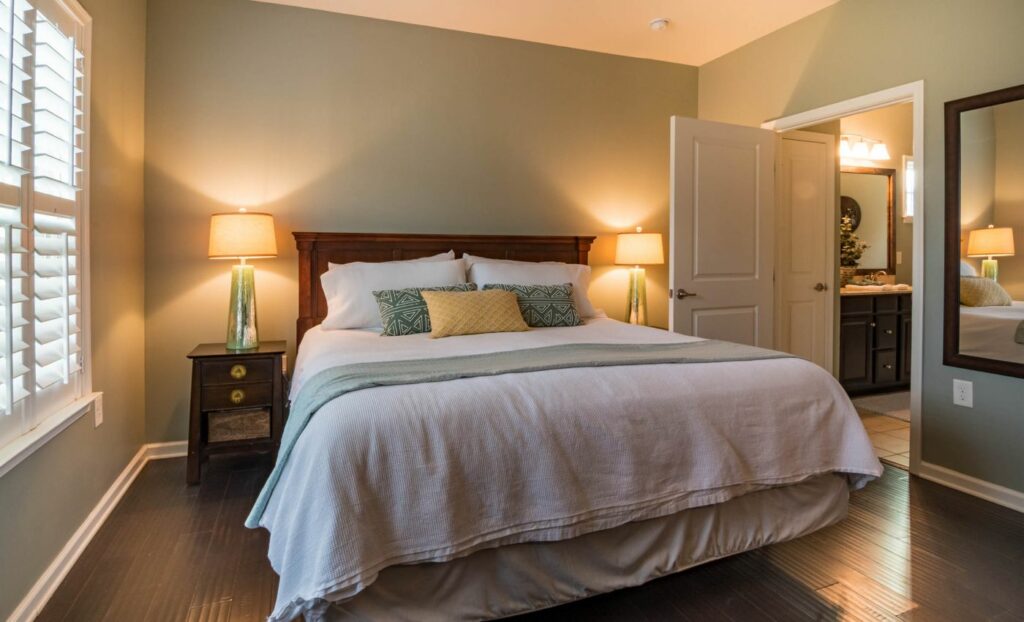 Bathroom
One area that move-out cleaning teams will pay close attention to is the bathroom. Before the cleaners show up, the house's owners can take a few steps to ensure the bathroom is clean.
The first step is to clear any stains from the floor or the tiles after ensuring the bathroom is empty and removing any leftover cleaning supplies. Use a commercial cleaner or a vinegar and water solution to accomplish this. Additionally, make sure the sink and toilet are both spotless. Make sure the grout is clean and in good condition if you have a shower.
Here is a mini move-out cleaning checklist for you:
Clean the faucet and sink handles.
Remember to use the restroom!
Clean the bowl first, then wipe off the exterior, including the tank.
Clean and organize all cabinets.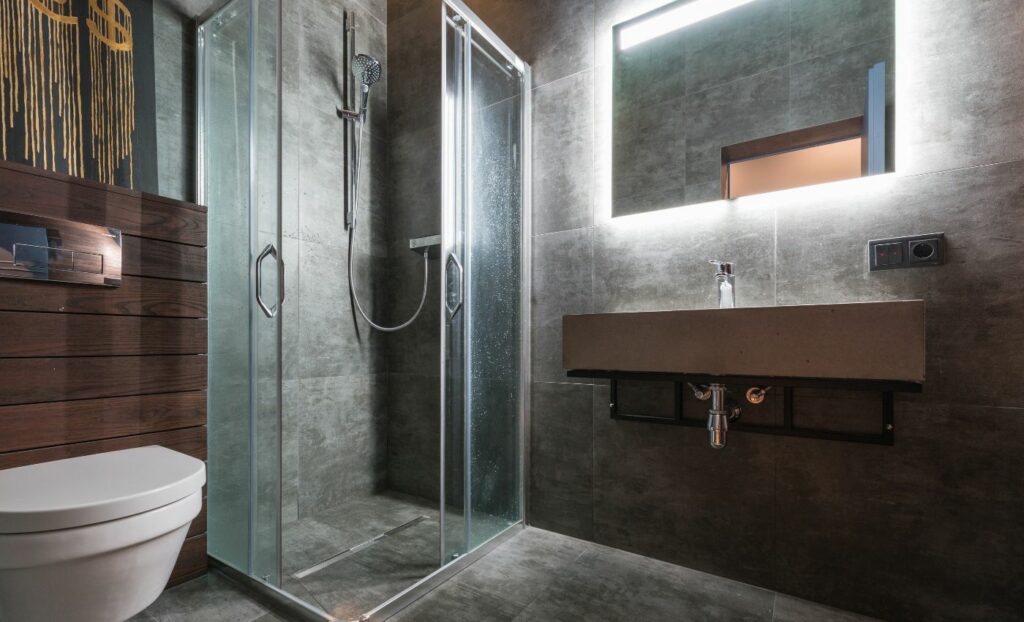 Cooking area
It is essential to clean the kitchen thoroughly as you can. After all, it's the messiest and dirtiest area in the home, and a lot of muck and germ may have accumulated over a long period of cooking.
You should clean the kitchen cabinets, counters, and appliances. You can accomplish this by using scrub brushes to clean the cabinets, all-purpose cleaners to clean the counters, and water and a rag to wipe the appliances.
After washing and drying your appliances, you can disassemble and pack them away while cleaning the kitchen. Moreover, you can clean the floor thoroughly, put away any pots and pans on the stove, and clean the sink and faucet.
Staircases, Hallways, And Windows
Although people usually ignore them during move-out cleaning, the stairwell, hallway, and windows need just as much care as the other rooms in your home.
Use a vacuum with a brush attachment to remove dust and debris from the stairs. Then you should vacuum the margins of each stair where a lot of dust and grime can pile up.
Use a squeegee to remove dirt from the windows before washing them with glass cleaner. During the hot, muggy days, you might want to open the windows if your rental agreement permits it. As a result, the apartment will stay clean and fresh for the next tenants.,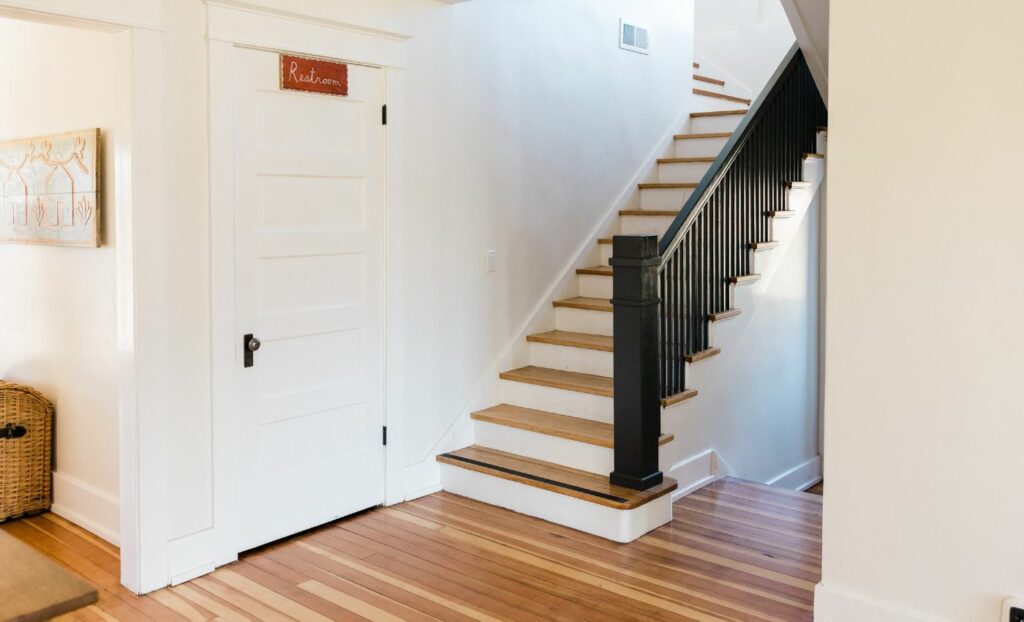 FAQ about move-out cleaning services
How much do move-out cleaning services cost?
According to Angi and HomeAdvisor, hiring professional cleaners to do a move-out clean is an extra moving expense; move-out cleaning costs between $110 and $650, with an average price of $360.
You can take this article as a reference when considering move-out cleaning services.
How long do move-out cleaning services take?
The time spent in a move-out cleaning process may vary depending on the house or apartment size, the number of properties, and their condition. The more rooms your home has, the longer it takes for the cleaning crew to tackle all the tasks.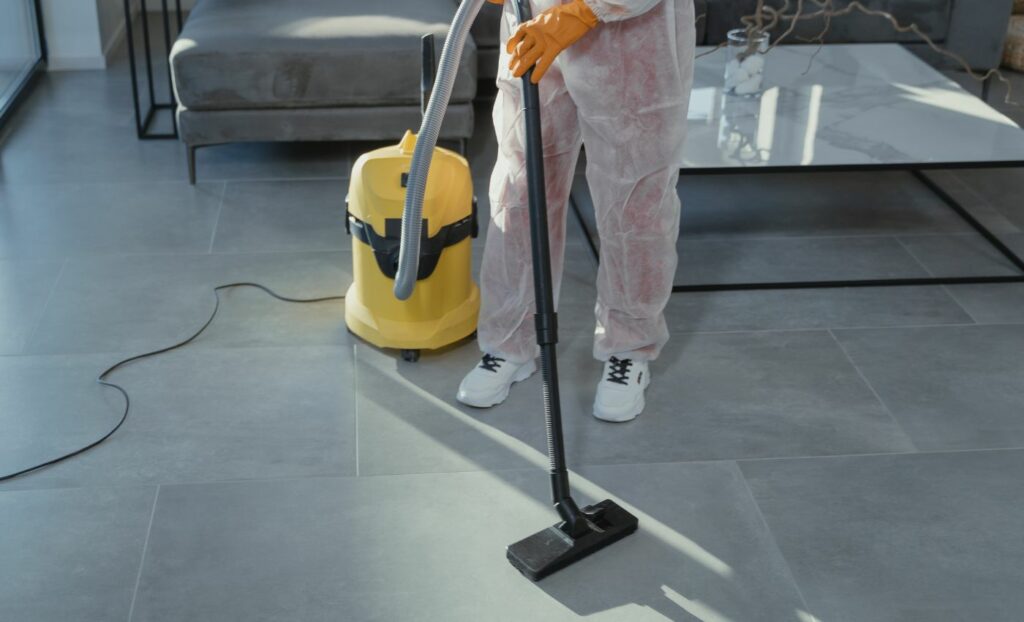 What to expect during move out cleaning services
Depending on the company, cleaning techniques will vary, but there are some standard requirements. Crew members will start in the kitchen, restrooms, and shared spaces as soon as move-out cleaning begins. Then they will proceed to the closets, storage spaces, and bedrooms.
The cleaning team will try their best to keep your house spotless, including washing the windows, cleaning the bathroom, and scrubbing the kitchen. The cleaners will reduce dust and vacuum the floor and furniture in the living room and foyer. Additionally, they will inspect the bedroom's wardrobes and drawers thoroughly. The crew will focus on sanitizing the surfaces and ensuring the area is as pristine as possible.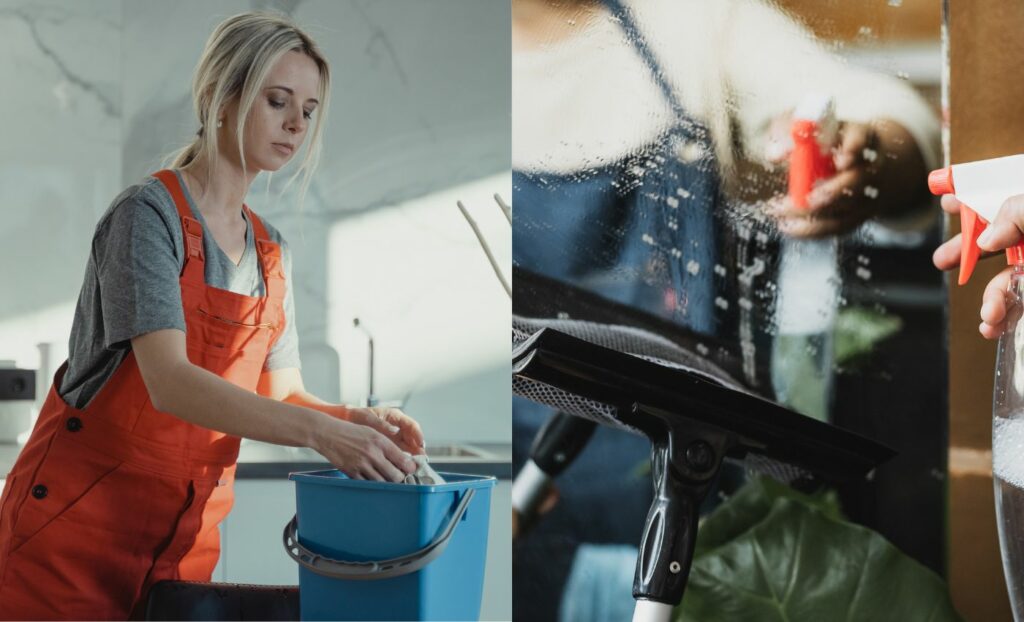 Wrap up
Moving out cleaning is a crucial task that requires a lot of attention, skills, and precision. That is why we help you leave the house in great shape by creating this comprehensive checklist to move out cleaning. 
Make sure to concentrate on cleaning the kitchen, bathrooms, bedrooms, and living areas. Also, invest in some cleaning supplies if necessary. If you don't have the time or energy to do it yourself after you relocate, you can also contact professional cleaners.
Schedule Your Move Out Cleaning Today
When you move, you have a lot on your plate. Schedule immediately with Sparkling and Beyond professional teams to clean your property can save you hours or even days.
Not only provide reliable and affordable move in/move out cleaning service with customizable service packs, we also share many tested-and-true cleaning tips for your house and offices. With our eco-friendly cleaning supplies, the right products to clean any surface and fully trained and insured experts, you can be confident that your space is clean and safe.
Moving out cleanings, new home cleanings, a la carte services, routine cleanings, and so on, Sparkling and Beyond approaches each job with enthusiasm and experience to ensure that each customer is satisfied.